That's not even counting the Olympic gold. You'd expect a little more arrogance and a little more swagger, but despite the fact that he's on a world tour, Durant doesn't call much attention to himself.
A KD Hyper Court Team All-Star Challenge was put on in Araneta Coliseum, which could really have been called Kevin Durant: Live In Concert. There was a DJ pumping out smooth hip-hop tunes accompanied by live rappers and violinists. The crowd filled the stadium all the way into the nosebleed seats, and everyone actively cheered "KD" as he arrived. The stage was set filled with bright, dynamic lights and smoke machines, and a hydraulic lift that added a theatrical touch to Durant's descent onto the court.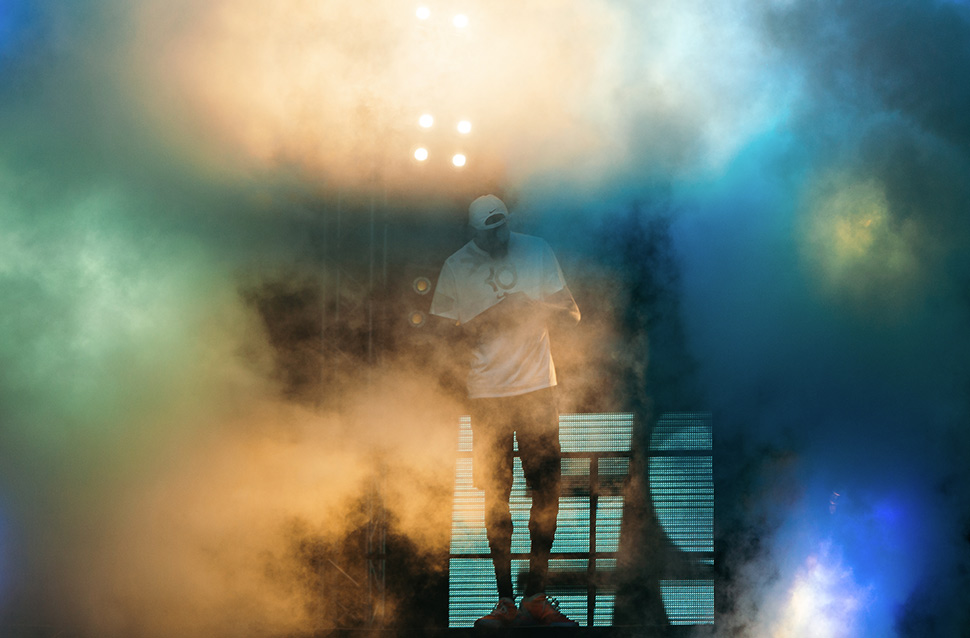 Here, he was set to engage in a friendly game between the KD Hyper Court Team and Nike's All-Star Team. Durant had previously spent time with the Hyper Court team in intense training, teaching them some of his signature moves and giving feedback on their game. Having been known to carry a backpack with him everywhere, especially when he was starting out, Durant passed on the torch by gifting the Hyper Court players with a KD backpack holding a basketball signed and with a personally written message.
ADVERTISEMENT - CONTINUE READING BELOW
During the game itself, Durant could've easily stolen the scene and made a spectacle of himself, but he chose instead to give the Hyper Court players a chance to shine. There were some beautiful assists during the match, and he tried to give players on his team every opportunity to literally take their shots. Durant still gave the eager crowd a few great alley-oops—but, funnily enough, missed a few shots himself during the game. While the crowd still seemed thrilled just to see him play, he apologized at the end of the game saying he hadn't really stepped on a court since the NBA finals last June. Durant proceeded to make up for it by throwing out some signed basketballs into the audience, making the most of his wingspan by tossing them quite close to the nosebleed section.
"I think the best moves come when you're just out there playing, making mistakes, and trial and error is one way into a spectacular play." He shrugs, adding, "Keep it simple and have some fun."