Sixty-four-year-old Lucena Obelza has been running her general merchandise store at the old Freedom Park complex at Carbon Market in Cebu City for 40 years. Business was so good back then that she would regularly earn about P300,000 a day.
But on July 18, 2022, the stalls at the old Freedom Park and Warwick Barracks were demolished to give way to a new Carbon Market. The project is based on a joint venture agreement (JVA) between the local government of Cebu City and listed engineering and infrastructure firm Megawide Construction Corp.
Drone view of Carbon Market on the second day of demolition, July 19, 2022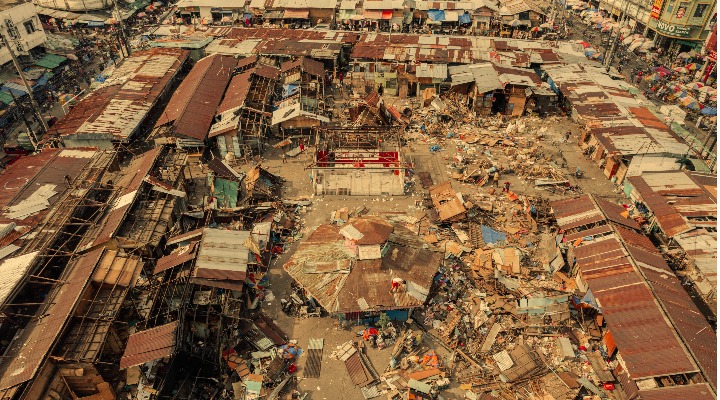 Obelza and over 700 other vendors were forced out of their stalls. Some of them transferred to an interim market a stone's throw away from the old site. Here the vendors tried to pick up where they left off and continue their business. But for many of them, it's just not the same.
ADVERTISEMENT - CONTINUE READING BELOW
"Malaki ang kaibahan," she says when I ask how much different life is now since she relocated her store to the new site. "Yung benta namin, almost kalahati ang nawala."
It's a similar story with 19-year-old Christ Felices, whose family ran a native gifts shop at the old Freedom Park. The business is as old as he is. He says the stall's daily earnings used to reach about P2,000 to P3,000 per day. Now, in the new stall at the interim market, he says there are days when they make as little as P15 a day.
Meanwhile, 52-year-old Antonio Remedio, who also used to run a gift shop at the old Freedom Park, has a different problem. After the demolition, he was provided a stall at the second floor of the interim bulding, just above Obelza's new store. But he says he never opened his shop there because he knows he would lose customers. Now he's been served a notice that if he doesn't operate his business, he'll be charged penalties that may include closure of his stall and forfeiture of the privielege of being a market lessee.
"Paano yung mga customers ko?" he says when we get to his designated stall at the interim market. It's empty and there's a layer of dust on the shelves, just like many other stalls we pass on the way there. "Hindi sila pupunta dito."
Instead, Remedio says he opted to move his business to another area on a busier part of the market, along P. Lopez Street near the University of San Jose Recoletos. But even there he says he earns far less than what he was making at the old site.
ADVERTISEMENT - CONTINUE READING BELOW
Recommended Videos
"Yung kasama ko, kumikita sya dati ng mga P20,000 a month," he says. "Ang P20,000 doon sa dati, mga P5,000 na lang dito. Paano mabubuhay ang pamilya nila?"
Obelza, Remedio, and Felices are all members of vendors' groups that have united under the umbrella organization Carbohanong Alyansa to challenge the planned redevelopment of Carbon Market.
"We're not against modernization," Remedio says. "We're against privatization. We believe the project should be handled by the Cebu City government, not Megawide."
Carbon Market in Cebu has been in existence in one form or another since 1919