Onboard an industrial sardine carrier vessel, the travel time from Zamboanga City to the fishing site somewhere in the middle of the Sulu and Celebes Seas takes approximately seven and a half hours. We get there at dusk and transfer to a smaller Sonar vessel called Chase where we would be spending the night. My first question to one of the nine-person crew onboard is where exactly on the map we are.
"That's the island of Jolo right there," he says in Tagalog, pointing to a shadowy land mass fast disappearing in the fading afternoon light.
So we're near Sulu. The next question is obvious and immediate.
"May mga Abu Sayyaf ba diyan?" I ask with a nervous laugh.
"Ah, marami," he says, matter-of-factly. But he is quick to add that throughout his many years as a fisherman, he's never experienced any trouble with armed terrorists or so much as glimpsed any member of the group, known to inhabit the islands of one of the most southernmost points in the country.
"We just leave them alone, and they leave us alone," he says.
It's a Friday evening and we're floating on a sea vessel in the middle of the ocean upon the invitation of Mega Global Corp, which manufactures the Mega brand of canned food products. Most people pick up a can of sardines from the supermarket or neighborhood sari-sari store without giving much thought to how exactly it got there. I was about to find out.
ADVERTISEMENT - CONTINUE READING BELOW
And it's not just me. Besides a few other Mega employees, joining us on this trip is the founder, president and CEO of the company, William Tiu Lim, as well as his son, Marvin, who is the company's vice president for sales and marketing.
"We make it a point to go to Zamboanga for our business review once a year," Tiu Lim tells me. He is sitting on the captain's chair of the sea vessel Pinky, after asking permission from the ship's actual captain. "At the same time, we come here (in the middle of the sea) so the people know that we appreciate them; for them to see that they are being supported, by the fishing group and by the management (team) from Manila.
Mega Global's fishing vessels line up at sea. The company now counts over 80 ships used for fishing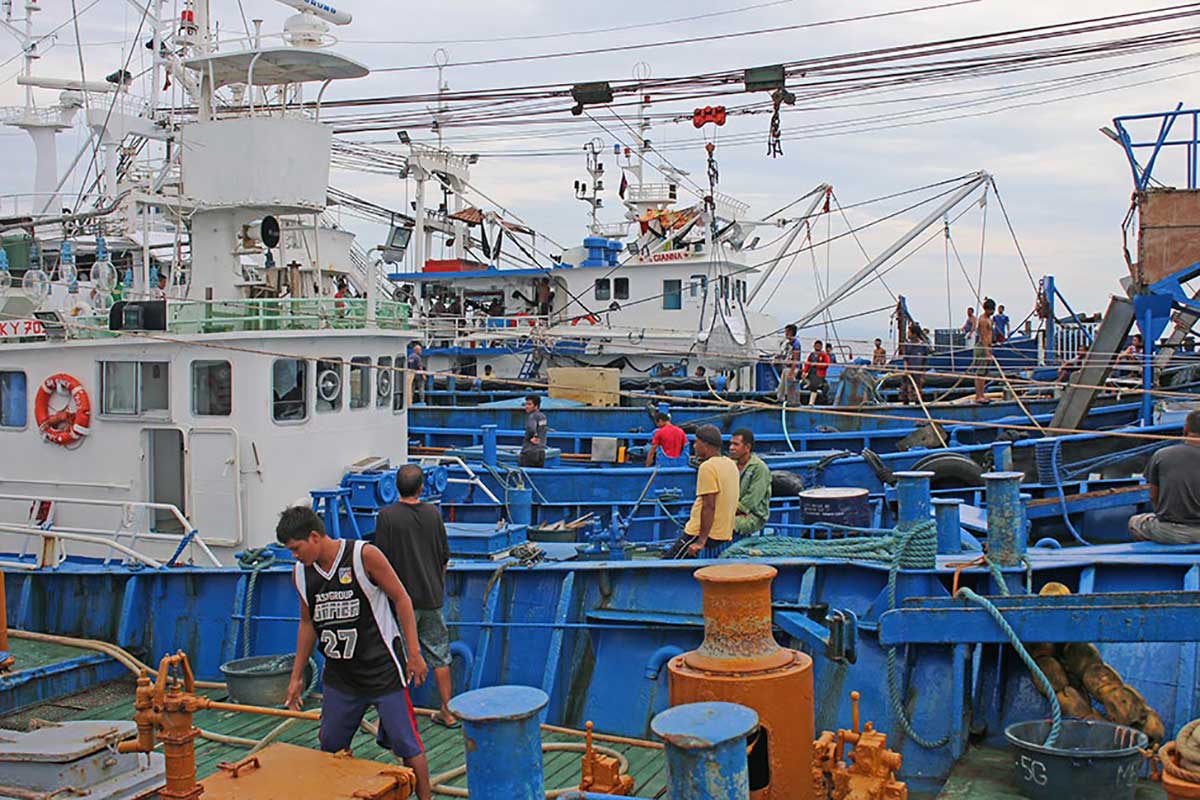 Once every couple of months, Mega Global's fishing crew gathers for its town hall, where targets and actual performance are presented and discussed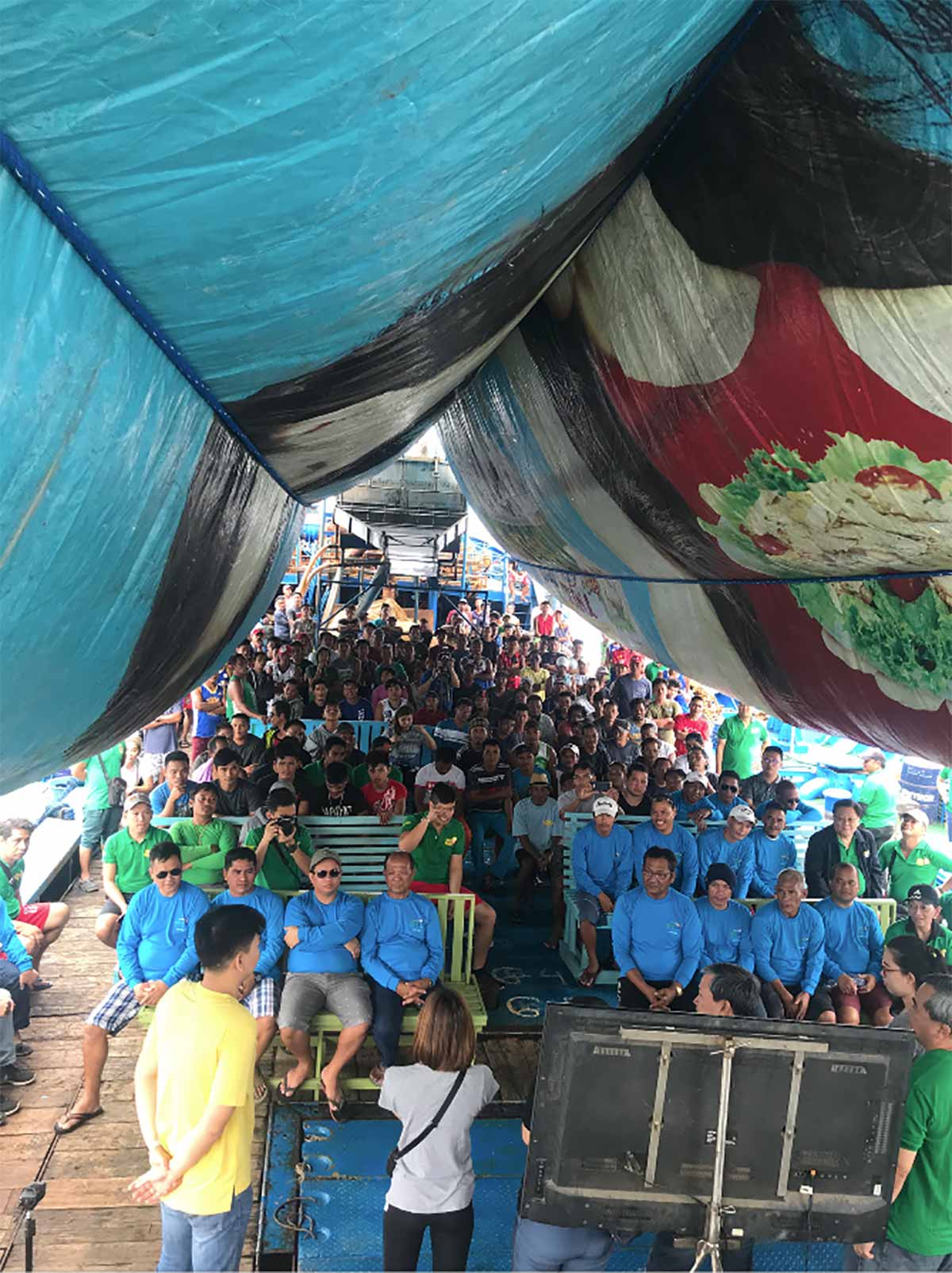 Every couple of months, Mega's fishermen and crewmembers gather together for their version of a "town hall," although this one is held at sea. The vessels line up and are tethered to one another while all the captains, engineers, cooks and fishermen transfer to the biggest boat, where they sit and listen to management present the period's numbers. Every vessel and team has its own targets and KPI (key performance indicators), and the best-performing ones are given incentives.
It's all good news this period. Target fish catch is 129 percent over target and 161 percent above the same period last year. Average catch is also up 135 percent compared to 2018. I ask one of the Mega sales officers and she mentions a total number of about 185,000 tubs of fish caught per month.
ADVERTISEMENT - CONTINUE READING BELOW
Management is happy, but Tiu Lim, who longtime staff affectionately call "eight-eight," his old radio call sign, says they can do better.
"Pagbutihin ninyo ang huli, para mas marami tayong benta," he says during his speech speaks in front of the fishermen on the boat. (Do a good job catching fish so we have more to sell).
The best-performing crews are called one by one in front and given citations as well as T-shirts. One fishing vessel captain expresses his gratitude to the company for providing for him and his family. Because of his earnings, he is able to buy a house and lot and is now able to send one of his children to an exclusive school in Manila. Tiu Lim thanks them one by one and encourages them to keep up the good work.
"It's because of you that our company is doing so well," he says.