The resurgence of wrestling in the Philippines began as an underground movement—staged in a boxing arena (instead of a real wrestling ring…because that would be too expensive); men hurling their bodies at each other, most likely mimicking videos they would watch off YouTube. The last effort at Philippine wrestling was RJ Jacinto's Pinoy Wrestling Federation, and that was back in the late '80s.
Today, wrestling events are hosted every few months, and the rooms get packed. Monobloc chairs are sandwiched in rows, and an insane amount of testosterone fills the air. The audience, mostly high-strung boys nursing their Red Horse beers, gleefully heckle at the performers, who in turn use the roaring and the cheering and the jeering of the audience as permission do something bigger, crazier, more dangerous.
In the beginning, it felt like a kitschy Fight Club: The stunts are a little bit crude around the edges, but the fact that they are even executed at all is a hell of a thing to watch. Keep in mind: There is no wrestling school in the Philippines, no formal training where they can ascertain that the stunts they perform are safe. They just kind of go for it. And hope they don't leave with a broken rib.
The movement here in the Philippines, which has, since its early beginnings, caught the attention of TV outlets and a niche market of regular goers (and some federations can, thankfully, finally afford a real wrestling ring), the phenomenon is not so concerned with what is "real" versus what is a scripted stunt—we are all fully aware of what it is: Men dressed in costume engaging in contact sport, all neatly wrapped in the art of entertainment. But for these wrestlers, who juggle day jobs and alter egos outside of the wrestling ring—it provides them with an escape unlike any other. Some of them are lawyers, students, call center agents, corporate workers… they are not at all the athlete-type, rarely do they have a background in sports. Surprisingly, they are just normal men, who are really into wrestling. And they want to be taken seriously.
ADVERTISEMENT - CONTINUE READING BELOW
There is no wrestling school in the Philippines, no formal training where they can ascertain that the stunts they perform are safe. They just kind of go for it. And hope they don't leave with a broken rib.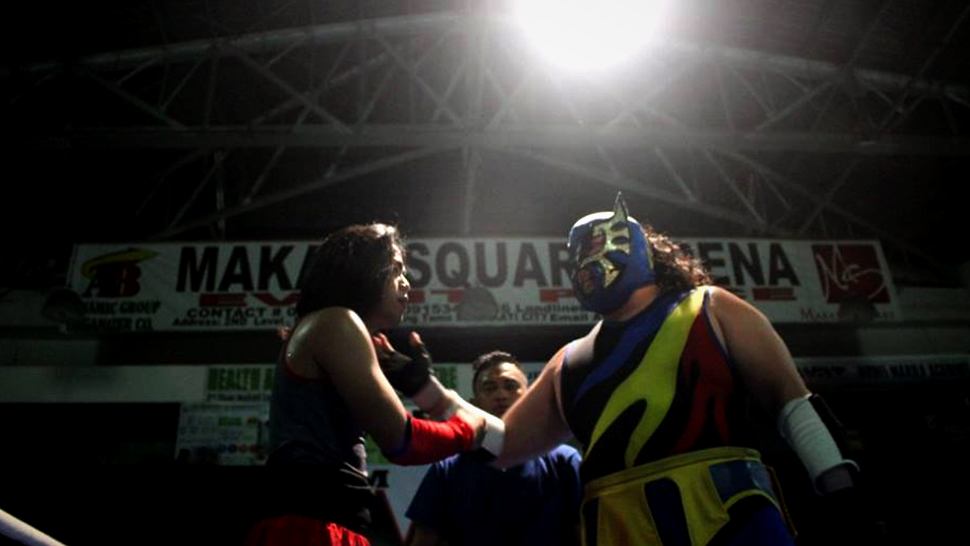 When I meet up with wrestler Robin Sane at a coffeeshop, he has just clocked out of his day job at a gaming resource company, where he works odd hours as a gamesmaster for an RPG.
His shift started at 11 p.m. the night before, and ended at 8 a.m. the following morning. He has a small, lean build, and his hair falls to his shoulders. "Did you know that wrestling started as a carny, in a circus," he says to me, as he brushes his shoulder-length hair away from his face. "Sa circus kasi may parang contest na wrestling—pero an hour lang siya of two men fighting for real, which isn't really fun for everybody. So they thought of making it predetermined, with a story. People enjoyed it. And then, ayun na, nag evolve siya into what we know today."
His first encounter with wrestling was when he was five years old—remembering that he saw it on TV in a resort: "This very huge guy na naka brief lang. His name was Big Show."
But it was when he was about nine or ten that the entertainment show had turned into a full-blown hobby. "I was really hooked. When I first saw Rey Mysterio, I was like, 'Ugh… I want to be this guy. He's high-flying. He's very quick. He's always energetic. When I first saw that, I was like, 'Is there more?'"
By the fifth grade, he wanted to be a wrestler, a masked luchador. But by then, the local TV networks had pulled wrestling out of their channels. And naturally, Robin Sane was reaching puberty. He started to go through what most teenage boys do—getting rid of their childhood reveries and replacing it with things more attuned to reality: music, teen angst, girls. Deep inside, he knew that he was always still into it… he treated it like a guilty pleasure. But he assumed that everyone else around him thought it was baduy… "I didn't care [that it was fake]…it was that exciting. It seemed real to me, no matter what they said. Kasi there's blood… totoo yung physical things that they do. But the stories are predetermined."
And then, cut to 2014 WrestleMania season—the biggest event in the wrestling industry. Usually, some shopping malls would screen the event in their movie house, but when the major movie houses stopped doing that too, fraught, he decided to search online for a possible viewing party. And then he stumbled upon a Facebook page called The Philippine Wrestling Revolution.
ADVERTISEMENT - CONTINUE READING BELOW
"I didn't care [that it was fake]…it was that exciting. It seemed real to me, no matter what they said."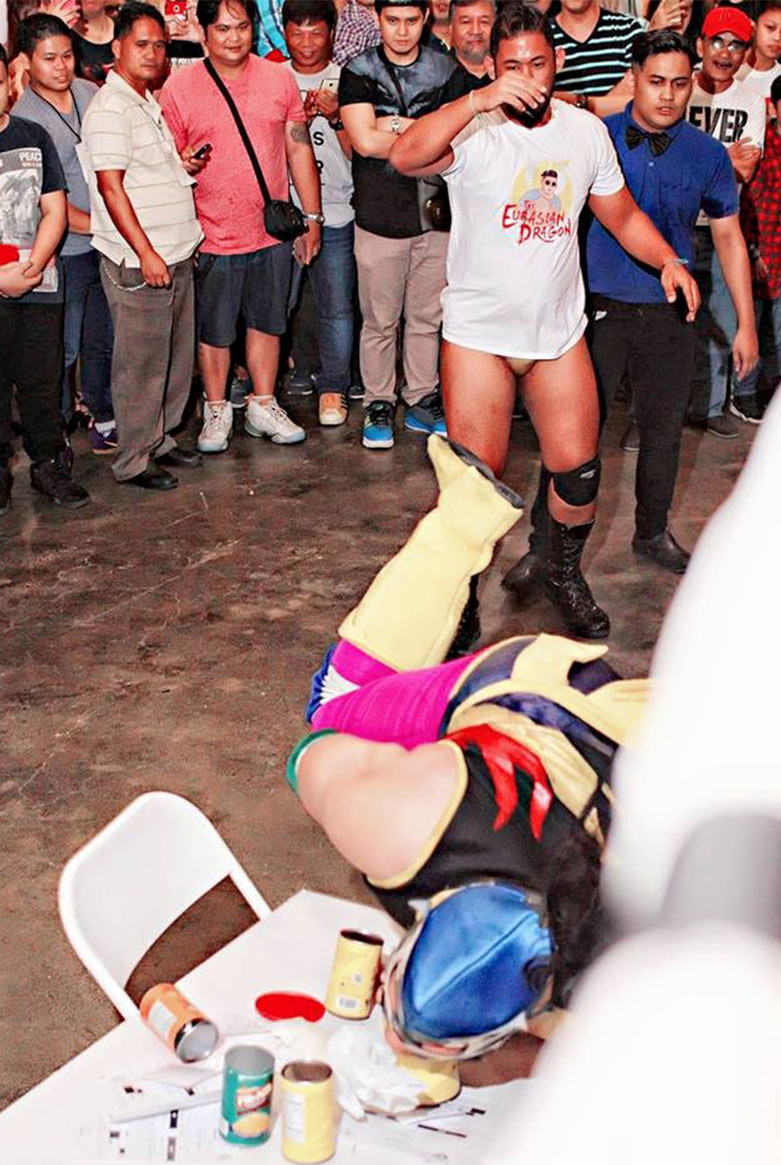 The Philippine Wrestling Revolution today is credited to be the first group to have ever seriously considered making wrestling come alive again. For a while, they were the only wrestling group around. And they were the first group to actually stage a show in 2014. The Philippine Wrestling Revolution was expecting 40 people to show up. Funded by money from their own pockets, they used garbage bags as curtains and made do with what they could afford. But by their third show, with a surprisingly growing fan base, 400 people walked in unexpected. It became a standing room event.
"I saw this group sa Facebook, and it said 'Philippine Wrestling Revolution,'" says Robin Sane. "Akala ko it was just the name of the party, but nung pumunta ako sa page nila, I saw people inside a boxing ring… and they were Filipinos. I was looking at their videos and they were doing rolls, and basics. And I didn't even know how to do basics. At that time, they got a former WWE wrestler to support their show here. And I was like, 'I think… I want to be a wrestler.'"
Robin Sane eventually found a Wrestlemania viewing party, organized by the same guys who were doing rolls in the Philippine Wrestling Revolution. When he arrived at the viewing part, he says, the energy was infectious. "It was the first time for me to be with people who were really so into wrestling. They were cheering…. I never knew that I could be with them sa isang viewing party. After n'un, I wanted to stay. Siguro because I knew that some of these guys were wrestling. I tried to talk to the people that stayed. And then nakikiusyoso lang ako—nakita ko sa cellphone ng isa na they were doing something inside a boxing ring. They were wrestling. So nilabanan ko na lahat ng hiya sa katawan ko tapos sabi ko, 'Excuse me po, kayo po ba 'yung sa Philippine Wrestling Revolution? Gusto ko kasi mag wrestling.'" And that is where it all began.
His persona, Robin Sane, was born after much thought. "Robin Sane is a daredevil high flyer, and his catchphrase is, 'Handa na ba kayo? Tara, let's go!' Because I believe that you should always move forward and never look back," he says wistfully.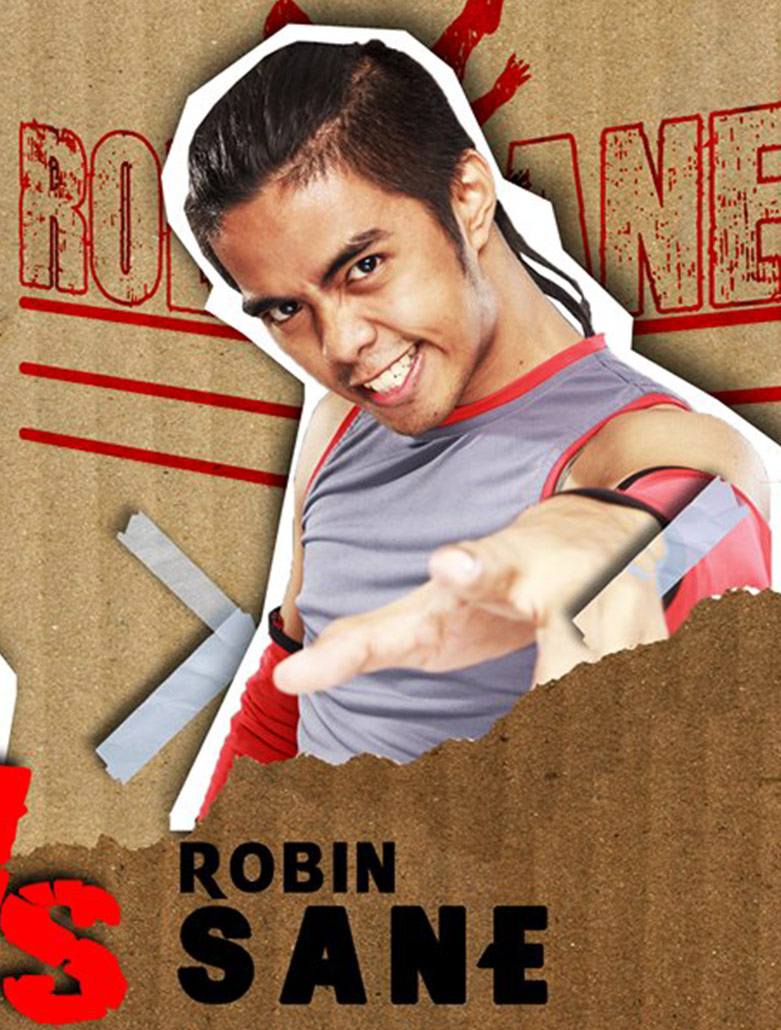 ADVERTISEMENT - CONTINUE READING BELOW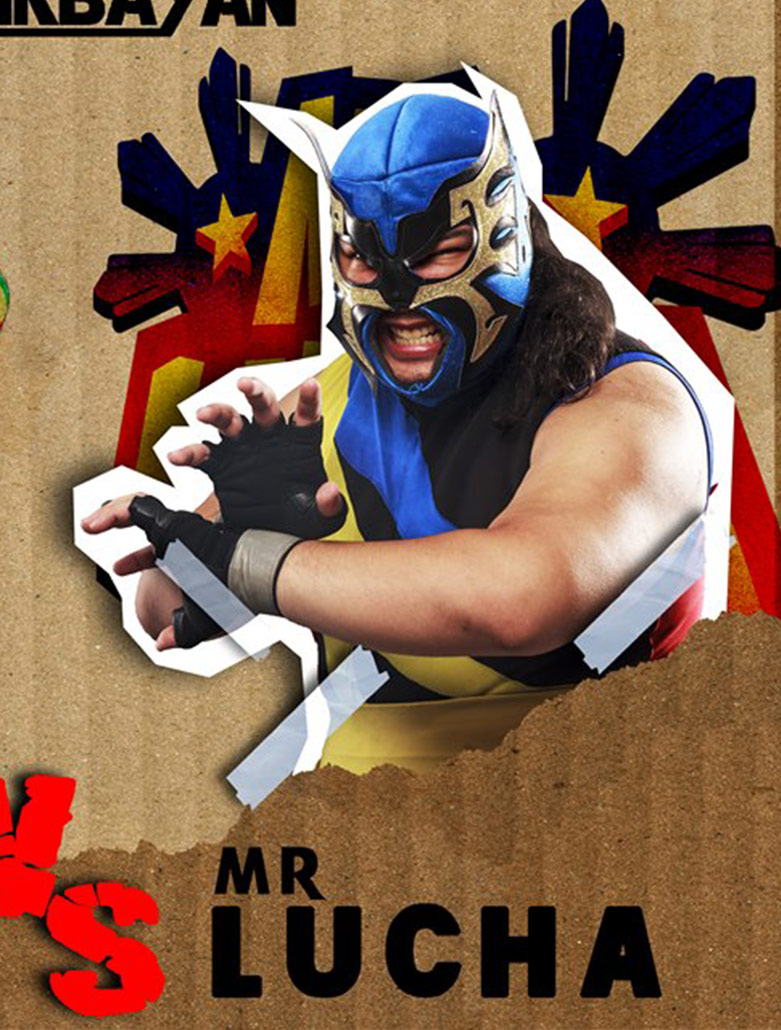 "Whenever you get inside the ring, you're Robin Sane. You're in character. You don't get to be too concerned about your personal life, kasi you're trying to tell a story. So if you try to break character, they will interpret the whole thing wrong. Before I go inside the ring, sobrang nervous ako. But when I'm in the ring, it's very exhilarating…the roar of the crowd, I'm always hungry for the cheers. So I tend to do crazy things."
He describes his biggest moment in wrestling happened during his first event with the Manila Wrestling Federation—a separate group from The Philippine Wrestling Revolution that he started with some friends, the result of a schism that happened due to conflicting views.
During the first show of the Manila Wrestling Federation, the pressure was on for him to make their federation memorable.
He was scheduled to to be in the ring with Mr. Lucha, a Filipino-themed masked luchador. "Of course, in a wrestling match, you need to practice the choreography. There were two moves there that I never practiced on anyone, never even told them. I bounced off the ring and then jumped on him when he was outside the ring. I never told him that. I just said, 'I'll try to jump, catch me…' no one has ever done that before."
And it's true. In other shows, the jumping off the ring onto someone near the audience is not uncommon. But usually, the wrestler feels safe because there are about ten guys on the floor anticipating his jump and waiting to catch him. In Robin Sane's first match, there was only Mr. Lucha to catch him—and Mr. Lucha had no idea that Robin Sane was really going to go for it.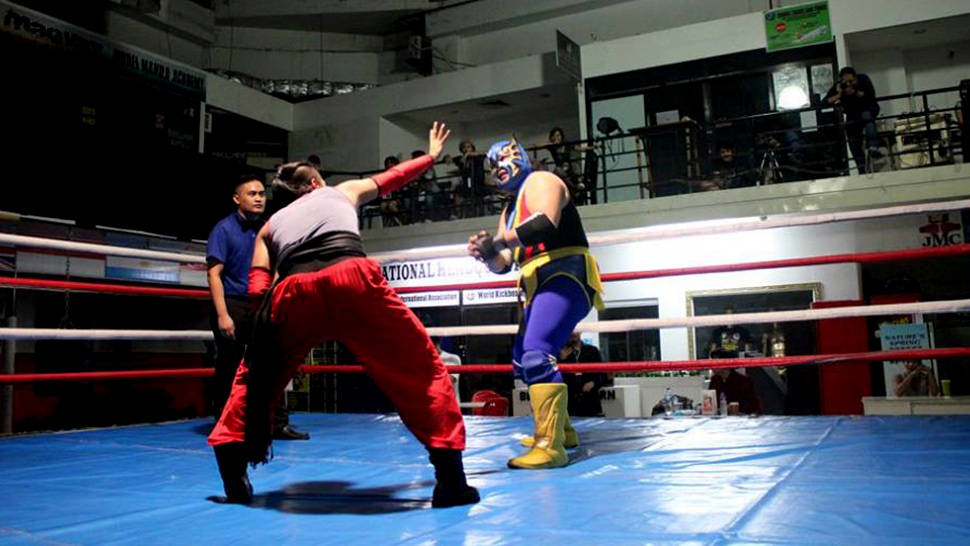 ADVERTISEMENT - CONTINUE READING BELOW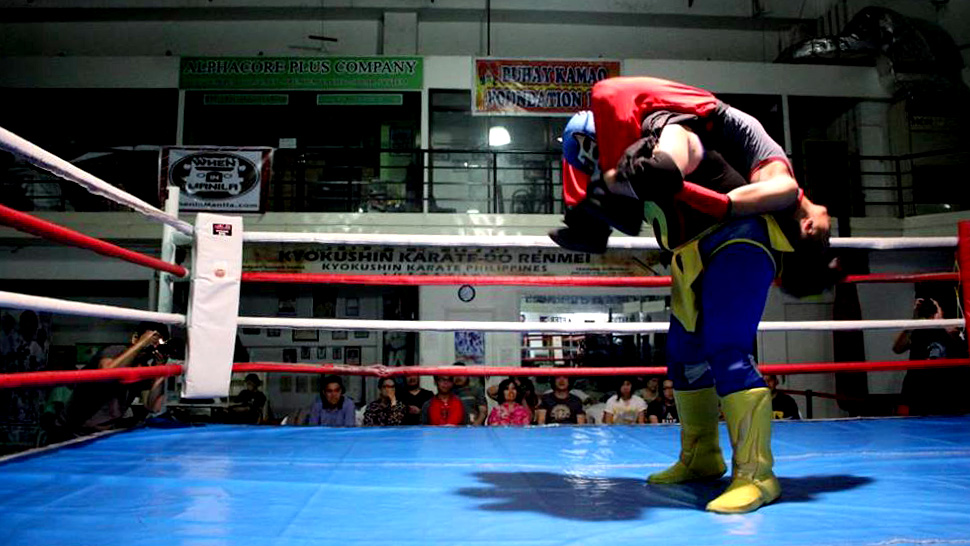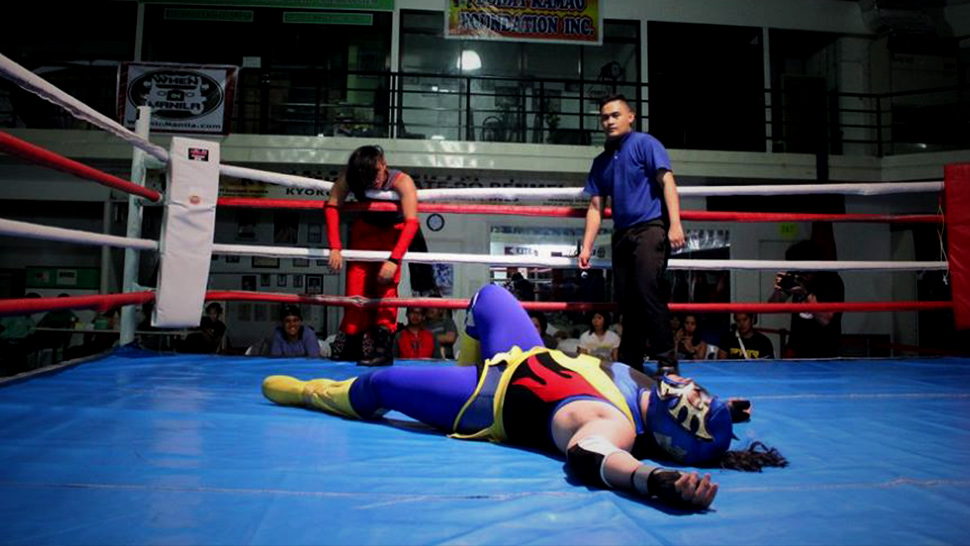 And then there's the big move. Toward the end of the match, Robin Sane felt unsatisfied with his own performance—so he knew that he needed to end the show with some kind of miraculous stunt.
"I felt that I wanted to catch the attention of the audience…I felt I was lacking. So my opponent was lying na sa gilid ng ring, then I went to the top rope… I told him that I was going to jump. He assumed I was just going to do a splash or whatever, but I felt like my performance was lacking. Time stopped. And I said to myself, what should I do: should I do the normal thing that I always do, or the 450 splash, which I'd been practicing."
When he tells this part of the story, he takes a fork from the coffee table to recreate the scene. "This is me," he says, taking a fork and floating it on the air. Then he takes a spoon and lays it flat, "this is him." From the air, he spins his fork in a somersault. "I jumped 450 degrees to land on him. I never practiced that before. And it's not even a wrestling ring, it's a boxing ring. So masakit pag land. And ang nasa isip ko lang was to impress. I practiced it in a foam pit so many times, but never with anyone. It took all my energy, and I landed it."
It was his first 450 splash attempt ever with a real person. And when he landed it, it was the first 450 splash to ever be performed in the country. Like…Tonya Harding would be proud. "No one knew I was going to do that, not even me. That's Robin Sane—he will do anything to get people to go crazy."
ADVERTISEMENT - CONTINUE READING BELOW
When the bell rings, and people are watching you, that's your escape. I would never trade that, even for a beach vacation. That's the ultimate escape.
.
When he's not wrestling, he is juggling a typical office job for about nine hours every day. And then every Saturday, they train. But, he stresses, wrestling isn't just about throwing bodies around—there's also the business aspect of it: the promotions, the marketing, the shows. Without the shows, there's no point in even trying. But shows take time, effort, and management—so who knows how much time and brain space it actually takes up?
In the end, he says, it's all worth it. Come event day, for every match, he says, the feeling of being inside the ring is something else.
"If you go inside the wrestling ring, during an event, that's your escape. When the bell rings, and people are watching you, that's your escape. I would never trade that, even for a beach vacation. That's the ultimate escape. I get to be myself. Maybe other people would translate it as, you get to be your own wrestling persona, which means that, you know, you get to be someone else. But for me, in another perspective, that's just me… times whatever."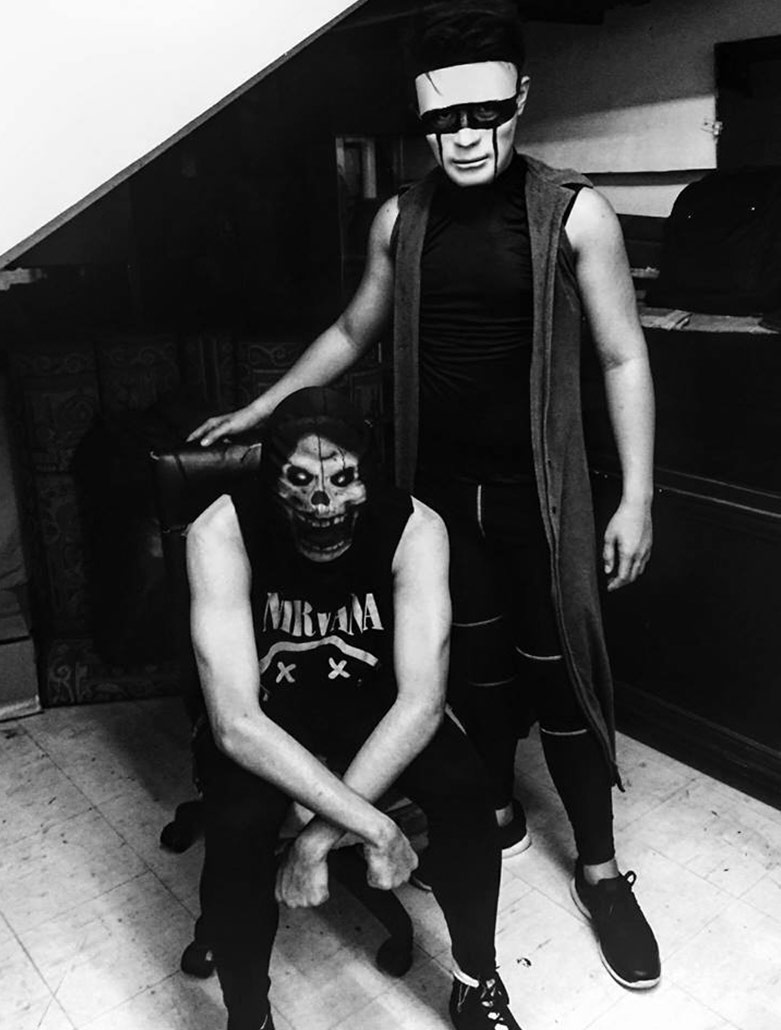 Which I interpreted to mean that, for Robin Sane, when he is in character, he gets to be the kind of the person that he has always dreamed to be… and it is evident. In the videos of him performing, his highly energetic, crazy performance is a stark difference from the meek, polite man I am talking to in the coffee shop.
"Imagine months of waiting and training, just for 15 minutes for one match," he says, "your 15 minutes of fame."
"It feels good, I can imagine…" I tell him. To which he replies with a dreamy sigh. "Yeah. You get to express yourself, you get to punch another person's face. You get to overcome your fear of social interaction. It's everything you can't do in real life and everything you've watched on TV growing up, and finally, you get to live out your dream."