There's a lull in the action, so after three hours gamely getting dressed and undressed, sitting six or seven different ways on the same armchair, lowering himself in and out of an empty bathtub and leaping through (and back through) empty doorways, Henry Golding flops onto a huge white bed, presses play on his iPhone and closes his eyes.
"Have you heard this?" he asks, as ambient low-fi beats fill the room and various photographers, groomers and handlers clear out of it. "It's called 'Chill-hop'. It's a playlist on Spotify. I use it all the time..."
This is life right now for the 31-year-old British-Malaysian, whose first film—make that first acting job whatsoever—has transformed him from a little known TV presenter (on BBC's The Travel Show) into a trailblazing Hollywood leading man and Instagram pin-up ('Henry Golding Is Ready To Make You Swoon' say Cosmo). Which is to say: he grabs a moment where he can, to breath between the madness, to stick on a little chill-hop and relax.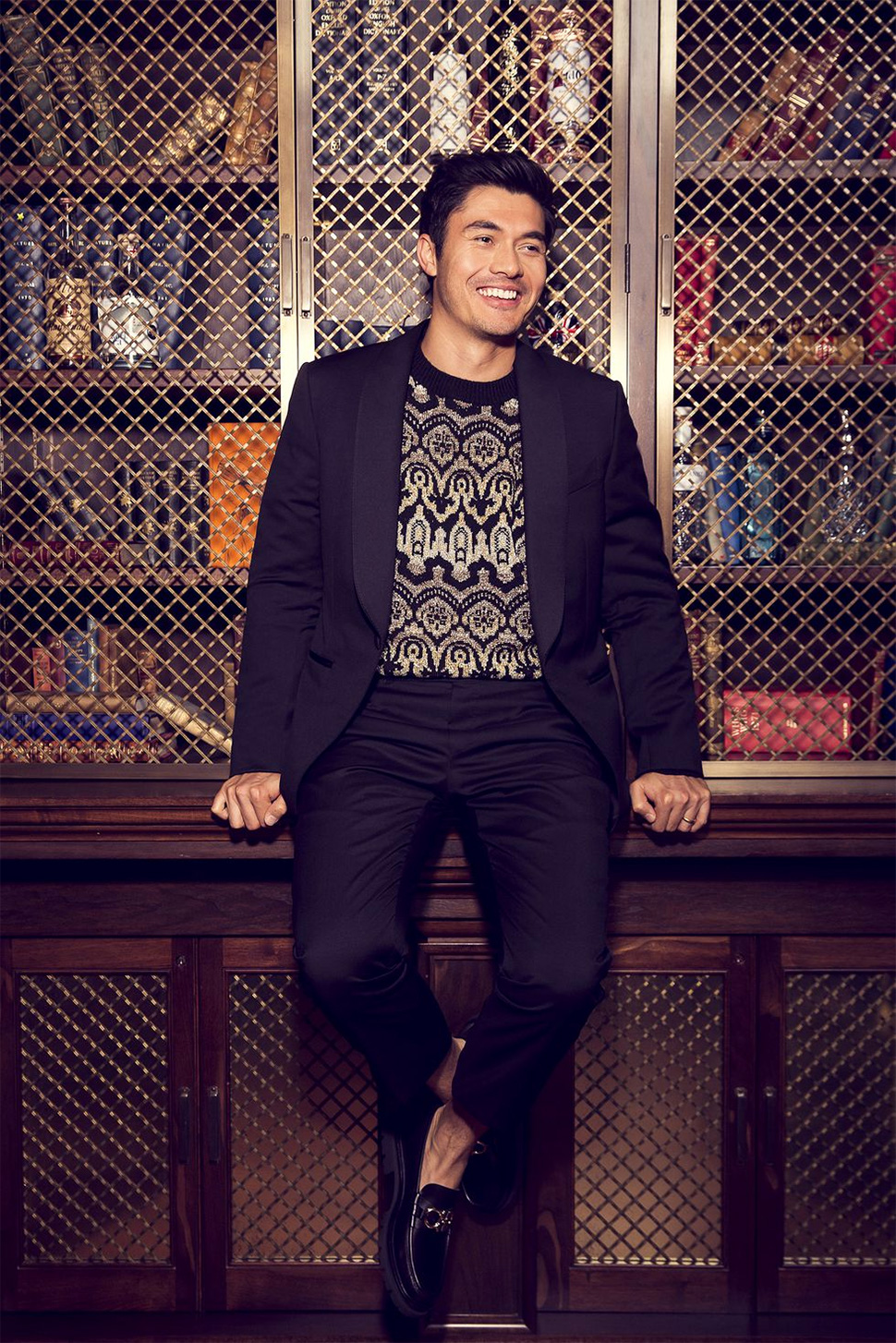 ADVERTISEMENT - CONTINUE READING BELOW
Golding is in London being photographed by Esquire the week before the UK release of Crazy Rich Asians, the rom-com that has spent several weeks at the top of the US box office charts. The film, which has an entirely Asian cast, was considered a gamble—one already paying off, critically and commercially—and Golding is the gamble within that gamble.
"It was pretty nuts," he says with a smile, both of us now lying back on the four-poster bed. "I was really an Eleventh Hour option for them."
An adaptation of the popular 2013 novel by Kevin Kwan, Crazy Rich Asiansalready had an impressive origin story. Kwan and director Jon M. Chu were reportedly offered unprecedented creative control, a guaranteed trilogy and a huge seven-figure pay out for the film's stakeholders by Netflix. The problem was that, by going with the streaming service, Crazy Rich Asians wouldn't have got a cinematic release. So, with a gulp, they made a deal with Warner Bros. instead, determined to fulfil their dream of putting an American-Asian story with Asian actors on the big screen.
"MY FIRST AUDITION WENT BADLY... I WAS WAY TOO SERIOUS"
Golding's involvement began when Chu, frustrated at not being able to find the right leading man to star alongside Constance Wu and Michelle Yeoh, followed a last ditch recommendation from a friend who'd met Golding briefly at an event many years before.
"Jon fell down that rabbit hole watching me on Instagram and YouTube, and liked what he saw" Golding explains.
But none of what Chu saw involved any acting, which is why Golding initially refused the offer of an audition. He was just a TV presenter, after all, and this film was going to be huge. But then he relented, and found himself on a plane to LA.
CONTINUE READING BELOW
Recommended Videos
"For the first round of auditions, I went to an acting coach," he says. "It completely threw me off. I was way too serious."
Chu told his producers he thought Golding was trying too hard, and convinced them to give him another shot. "He told me to be myself so I gave it a go and it was much better."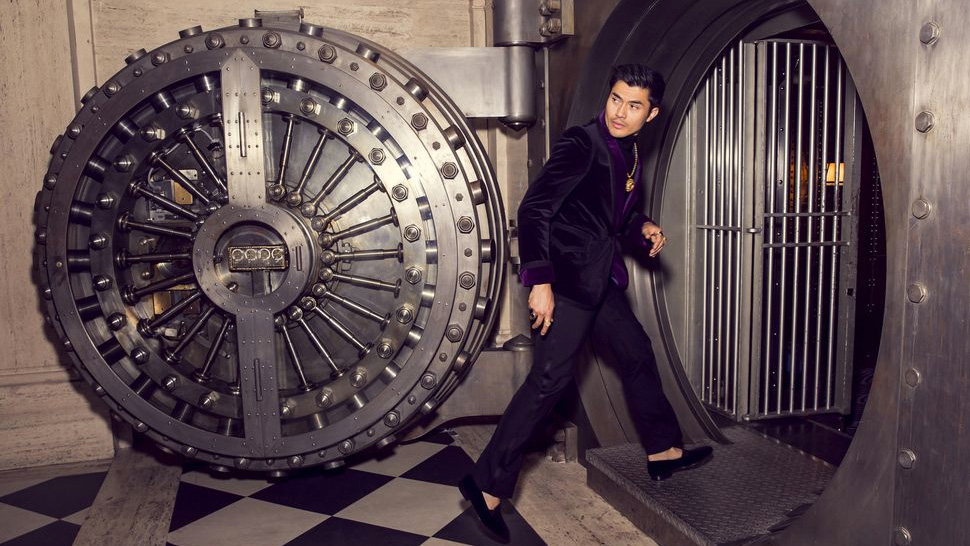 If you were looking to tell the story of Henry Golding's life so far, plane journeys into the unknown would be a pretty good way of doing it.
But before that audition in LA, you have to go back to the very first - and most significant—flight of them all, when he was just 9 years old.
That was when his father, a helicopter engineer, and his mother, a homemaker, took Golding and his two elder siblings (one brother, one sister) from the beaches of East Coast Malaysia they'd known all their lives to Surrey, South London.
ADVERTISEMENT - CONTINUE READING BELOW
"Everything was new," Golding says of his earliest memories of England. "The smells. The sweets in the corner shop. I remember distinctly walking to school for my first day of primary school and seeing the playground field was dewy. I'd never seen dew before. Even if there was any in Malaysia, it would evaporate very quickly. So I put my hand down on it to play. I was like: oh my god this is the weirdest thing. That always stands out to me."
"THEY CALLED ME EVERY SWEAR WORD UNDER THE SUN"
He quickly learned to fit in by playing football, a sport he had no idea about, and adapting his "weird international American accent" into a British one (Golding still speaks in a softened RP: 'yah' instead of 'yes').
School, he insists, was "great", but his different background left him vulnerable.
"Kids are ruthless. Specially back then. I was one of three kids of colour in our school. There was a young black brother and sister, and me. So we stood out.
"They called us all the swear words under the sun. It didn't even matter if you were even of that particular race, they'd still call you it. So you either take it, or you stand up. I got into a couple of little scraps in the beginning, and then everyone was like – OK, we won't bother him anymore…"
As a teenager, Golding found his first calling while working at a barbers shop. Sweeping the floors on a Saturday, he realised he wanted to cut hair too.
ADVERTISEMENT - CONTINUE READING BELOW
"My options were either to go to college, or go straight to a salon and do it that way. I hated the academic side of [school], that way of learning. I needed to experience things for myself, rather than be shown by some teacher doing it half-arsed. So as soon as I finished GSCEs, I went for it."
Admirers of Golding's magnificent slick-back will not be surprised to learn he made a good fist of it, becoming an accomplished stylist at a prestigious salon on Sloane Street. It was there he began to formulate the idea for the second great plane journey of his life.
"I ALREADY KNEW WHAT IT WAS LIKE TO START AGAIN"
"There were some clients from Malaysia who used to come in and they say: you'd do really well on TV, they love Asians with a British accent out there. I thought: that's interesting. I remembering going back there in the summer and watching MTV Asia and thinking, that looks fun, I'd like to do that one day."
So one day he did. Aged 21, he bought a one-way ticket to Kulala Lumpur, packed a single backpack and left.
"I was naïve. I didn't know anyone out there. But I think that move when I was 8 or 9 helped, because I already knew what it was like to start again in a totally different culture. I knew what to expect.
"Plus, I figured: if it didn't work out, I could just go be a hairdresser in Melbourne or something."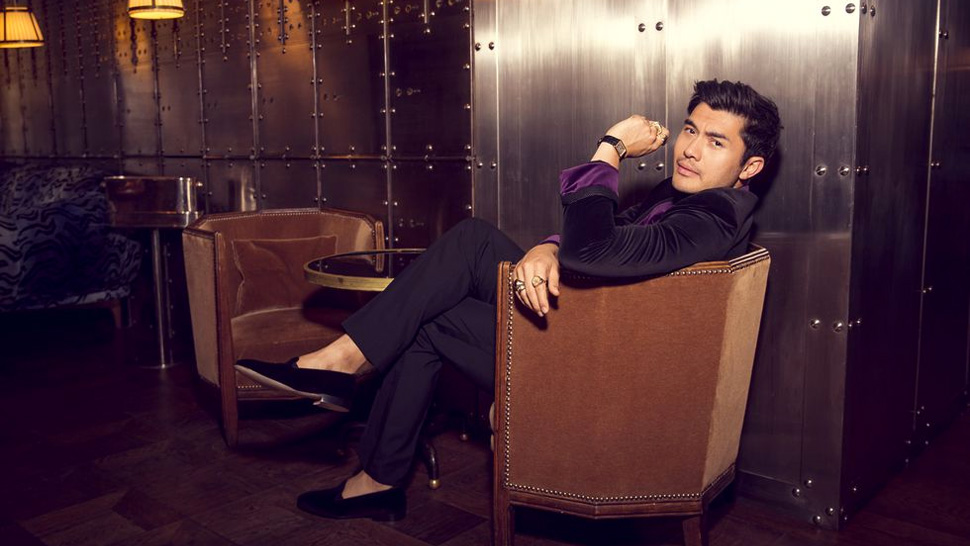 ADVERTISEMENT - CONTINUE READING BELOW
If Golding's story has the feel of a modern fairytale about it—modestly successful TV presenter, plucked by fate to star in the most talked-about film in Hollywood—then Crazy Rich Asians couldn't be a better fit.
It is, essentially, Cinderella for the Instagram age, in which a young Asian-American called Rachel (played wonderfully by Wu) accepts her new(ish) boyfriend's invitation to visit his family in Singapore, where she discovers he is in fact heir to the richest fortune in the city.
Navigating the world of the insanely wealthy (or crazy rich, if you prefer), Rachel finds herself - despite being a university lecturer living in New York—cast as a gold-digging pauper, forced to do battle with cruel ex-girlfriends, snobby relatives and, most terrifyingly of all, a deeply disapproving potential mother-in-law (Yeoh).
In other words: standard rom-com stuff, just with sharper lines, a superb supporting cast and probably the best ending to a film of this type I've ever seen. Then there is the huge cultural significance of it being the first Asian-led, big budget Hollywood film since The Joy Luck Club way back in 1993. (There were reports, from early screenings of Crazy Rich Asians, of Asian-American audiences walking out in tears or whooping for joy, echoing the reaction from African-American audiences to seeing Black Panther earlier this year).
"WE DON'T HAVE TO BE ACTION MAN HEROES, GUZZLING GASOLINE AND SMOKING CIGARS"
In the midst of all this stands Golding, who plays Rachel's well-meaning (if somewhat forgetful) boyfriend Nicholas, finding himself not only a first time movie star but a sudden torchbearer for Asian actors around the world.
ADVERTISEMENT - CONTINUE READING BELOW
It's a responsibility he appears to be growing into. When I ask him, for example, how it feels to be the film's eye-candy (there's more than one slow shot of his chest and abs, while the female cast go mostly un-ogled), he tactfully parries:
"To be honest, having this type of lead was a good statement for Asians. Usually you're either the kung-fu master or the funny guy—not just a lead for being a lead, someone who doesn't have to be funny all the time and can be the gentleman."
'Lead' here is a euphemism for handsome, and there's no denying Golding fits the bill. And he's right. There is, perversely, something progressive about an Asian actor playing the hunk.
Not that he doesn't put plenty into the role. In such a modern-feeling film, Golding's performance in Crazy Rich Asians is actually something of a throwback to the self-contained, quietly debonair era of Carey Grant. It's a comparison he'd probably be pleased with.
"I'm a big fan of old Hollywood," Golding says. "I loved early Paul Newman films. He just had this effortless charm. And Marlon Brando—in certain Marlon Brando films where he wasn't playing an asshole. For me that's something that has been missing recently."
It's clear where his idea of being a leading man comes from, and it's not Jason Statham or The Rock.
"I just think there needs to be more roles written for men that aren't just overwhelming masculine, or examples of toxic masculinity," he says.
ADVERTISEMENT - CONTINUE READING BELOW
"We don't have to be action man heroes, guzzling gasoline and smoking cigars. Just respectful men having quality screen time with a strong female lead."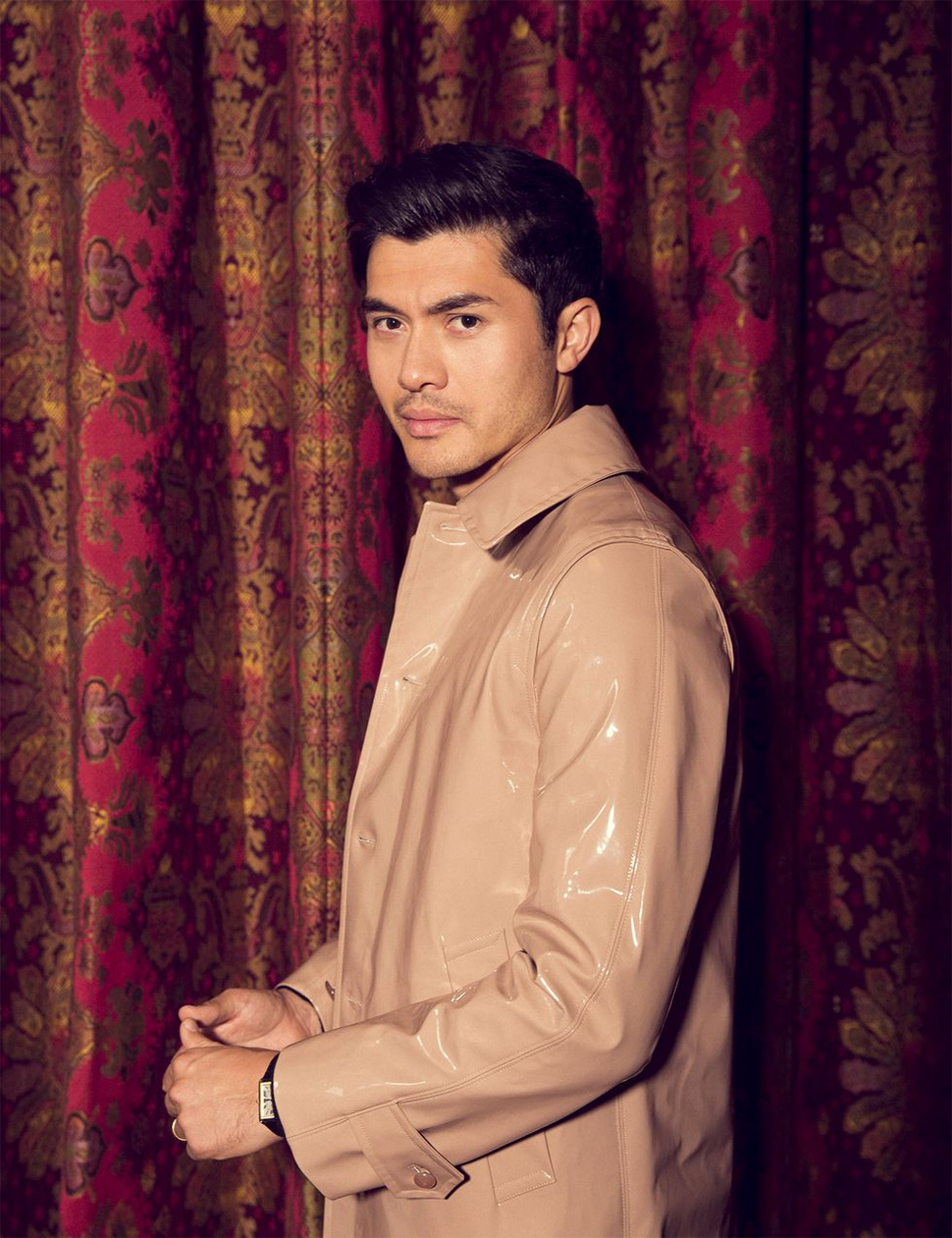 Whether Golding can be that leading man is something we'll have a far clearer idea about by the end of 2018. Certainly, he's already won over director Paul Feig (Bridesmaids, Ghostbusters), who fought to cast him alongside Anna Kendrick and Blake Lively in forthcoming comedy-thriller A Simple Favour. It is, Golding insists, an example of colour-blind casting:("there's no explanation as to why I'm Asian. I just play 'Shawn Townsend'").
After that he has his first art house movie, Hong Khaou's Monsoon, in which he plays a gay British Vietnamese man returning to Saigon for the first time in 30 years after fleeing the Vietnam-American War.
"[Monsoon] is a much more subtle role," he says. "It really stretched what I want to be able to achieve as an actor. It's the project where I found my feet, and felt like I deserve to be where I am."
ADVERTISEMENT - CONTINUE READING BELOW
Beyond that, who knows. But it's not a bad start, is it? The hit comedy of the year, a role alongside two of the world's biggest actresses and then a serious drama all to one's self.
"Being number one on the call sheet brings its own pressures," he says of Monsoon. "You need to be a leader for that, and I believe I had the qualities it takes, to be able to set the tone for a movie."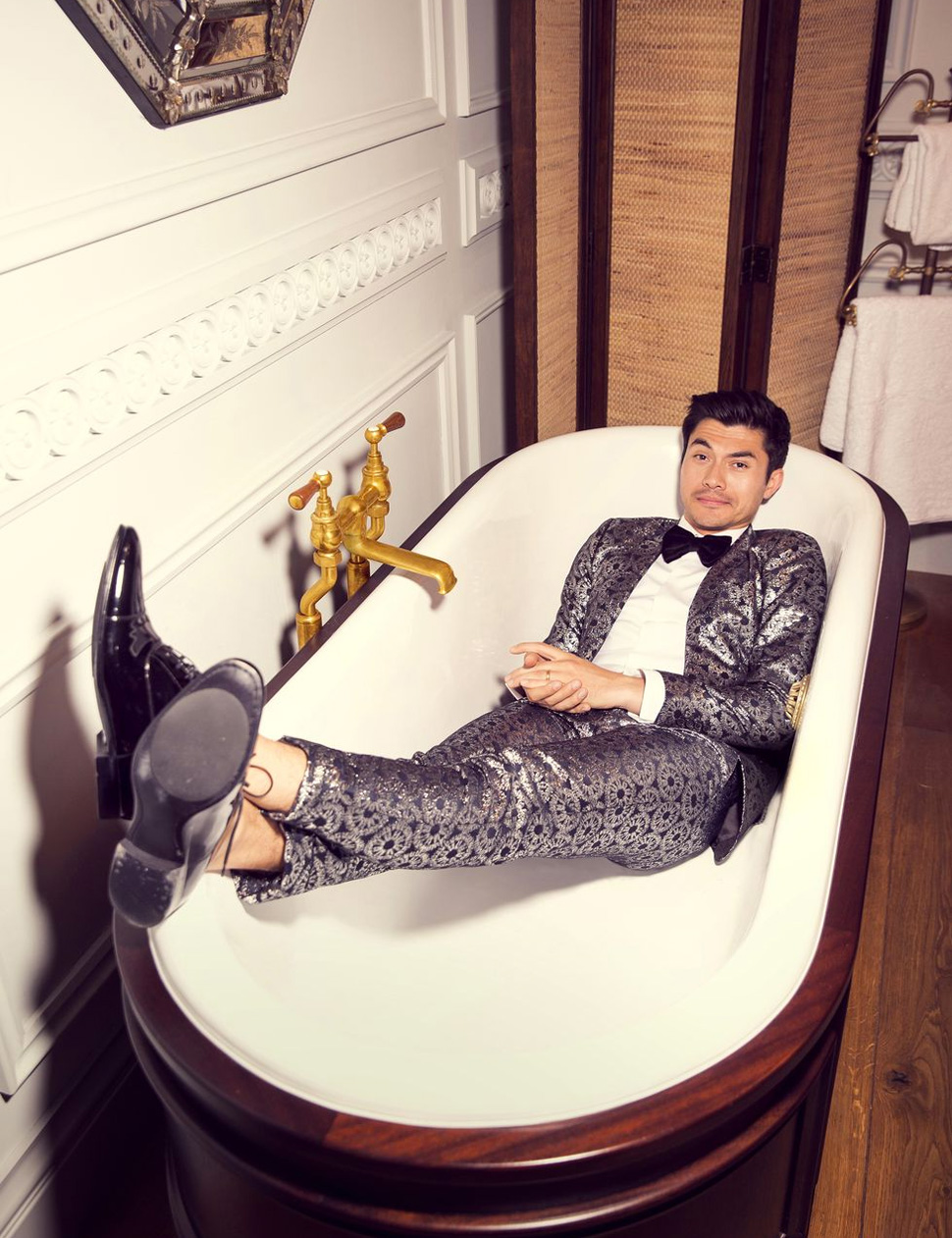 It's an interesting time to catch a person, in this first flush of fame. Golding's answers fluctuate between honest and open – just a guy lying on a bed, trying to make sense of the whirlwind he's in – and the more practiced lines that come with doing interviews hundreds of times.
ADVERTISEMENT - CONTINUE READING BELOW
As is custom for any handsome British actor in a successful project – particularly one that involves wearing Tom Ford suits – Golding is already facing calls from fans to play James Bond one day. He and his team, wisely, want to avoid the subject, aware of how it has dogged actors like Idris Elba for years.
But it is precisely that sort of thing – intrusive press, over zealous fans – Golding is going to have to get used to if these next projects go as well as he is hoping. So, is he ready?
"I'm 31 years old," he says evenly. "I'm no spring chicken. I'm not easily swayed by being told: 'you're gonna be rich and really famous!' That's the least of my worries. I'm just concentrating on the work."
Golding has spoken recently about the pressure his success has put on his marriage (to TV presenter Liv Lo). Their honeymoon was cut short for his Crazy Rich Asians audition. That can't have been easy.
"It was very jarring in the beginning," he agrees. "But it's definitely settled a lot more than before, now that Liv has come to terms with what the roles entail, and we've become much better at communicating what's happening. She understands the business a lot more, but it's project to project. We're learning together."
And with that the room begins to fill up again, with stylists and managers and people wanting his time. With a smile, Henry Golding gets up from the bed, turns off the chill-hop and prepares for another flight into the unknown.
ADVERTISEMENT - CONTINUE READING BELOW
Styling by Murray Clark, photos by Will Bremridge, grooming by Emma White Turle @ The Wall Group. Henry Golding was photographed at The Ned in London.
This story originally appeared on Esquire.co.uk.
* Minor edits have been made by the Esquiremag.ph editors.