See him: The small skinny kid rubbing his eyes. Sometimes he wears glasses, sometimes he doesn't. Doesn't matter. He looks like a nerd with and without. He looks like he could be picked on by bullies. But he also looks like he could stand up for himself, if not by brawn, then by smarts. He looks like he can slay with a smile, or melt the coldest heart with an innocent, bewildered glance. All this is true.
This is Herbert Constantine Maclang Bautista, circa 1978. Barely 10 years old, he's already one of television's most recognizable faces. Soap opera fans know him as Reneboy, the unassuming but welcome comic relief to Janice de Belen's long-suffering eponymous character in Radio Philippine Network-9's Flordeluna (1978-1984), one of the most memorable dramas in the history of Philippine TV. At his age, and on this show alone, he's already been directed by the best—Tony Santos, Sr., Benny Rivera, and his father, Herminio "Butch" Bautista, who is also an actor, writer, producer, and budding politician. Herbert sure has the world at his tiny feet—but really, all this kid needs is a full night's rest.
Rossana Jover, who plays the nasty stepsister Aida in Flordeluna, knows how he feels. She needs sleep, too. She sees him sometimes after school. He goes to San Beda; she goes to Centro Escolar, which are located across each other in Mendiola, in the busy university belt of Manila. "There he is again," she says to herself, seeing her co-star waiting for his ride. "Lango. Pareho kaming zombie." Their typical working days are made only for the strongest of wills and hearts: get off from school at 4 p.m., proceed to 5:30 p.m. taping, finish at 6 a.m. Rinse and repeat.
ADVERTISEMENT - CONTINUE READING BELOW
On the set, Herbert and Rossana are met by Janice. The youngsters know how to make things easier for themselves. Herbert's difficulty at memorizing lines, or producing tears at the right moment—on account of his lack of sleep—are laughed off. Janice and Herbert give into childish play and silly jokes. The nights run late and long, but not wearily. They catch what sleep they need when their takes allow them. The grown-up actors—the formidable actress and director Laurice Guillen and "Drama King" Dindo Fernando—are supportive and kindly towards their younger co-stars. During these dark hours, they form a family.
Finally, morning breaks, the studio lights are shut off, and it's a wrap for the day. His fans follow him home, call it a day. It's goodbye and good night, or good morning, for everyone, till they meet again in 12 hours.
There is a casting call for the second batch of Kaluskos Musmos (1978-1986), the wildly successful edutainment show on RPN-9, and all three Bautista siblings—Herbert, Hero, and Harlene—try their luck. Hero gets the role of "Islaw Dacuycoy" with his comb-in-pocket stunt. "'Di bale nang magulo ang lahat basta 'wag lang ang buhok ko," is what he likes to say. He's more outwardly cocky than his kuya, who tends toward introspection, but is always ready with a quick punchline. Harlene, the youngest of the Bautista siblings, disarmingly cute, passes the audition, too. Herbert doesn't make the cut, but their father—an actor, director, and screenwriter himself—suggests that he try again.
ADVERTISEMENT - CONTINUE READING BELOW
Recommended Videos
Herbert's audition takes longer than a full taping of Flordeluna. It's a dream sequence, and Herbert is portraying Jose Rizal as he's being executed by the guardia sibil. He's to recite four verses of Mi Ultimo Adios in Spanish. It takes him 17 takes, from 3 p.m. to 5:30 a.m. By the end of the last take, the 10-year old still hasn't gotten it right, and is about to collapse with exhaustion.
Nevertheless, he gets the role, and it's another trademark character: Voltaire Samson, the sassy genius with the spectacles rigged with wipers. It's a high camp version of his off-screen self: grave, with mischief bubbling underneath the surface.
So, on a Saturday morning, see them: Herbert, and his siblings, Hero and Harlene, and another young actress named Maricel Soriano, riding a taxi to RPN-9. They can hardly afford it, but the studio is located in the isolated hills of Tandang Sora, Quezon City amidst shoulder-high cogon grass, and it's hard to get a ride to and fro. Surrounding it is farmland, up until the U.P. Diliman campus, and way up to Novaliches.
The only indication of cosmopolitan progress for kilometers around, is RPN-9's neighbor Celebrity Sports Plaza, a swanky new country club that serves piping hot lasagna, which the Kaluskos Musmos cast indulges in—they love it, even if it never fails to scald the roofs of their mouths—from time to time. But not today. Today is a regular day, and the Bautista siblings and Maricel come to work in a "regular" taxi, one without air-conditioning. No matter—Metro Manila streets are still narrow but free, traffic is sparse, and stepping out to "get a breath of fresh air" promises you just that. Nothing extra to cause you asthma, and no gray diesel dust to mar Maricel, or "Ate Cel's," complexion, that luminous glow she'll be famous for in later years. Not that she'd mind. She's spunky and smart and a bit of a tomboy, and doesn't mind hanging out with these younger kids.
ADVERTISEMENT - CONTINUE READING BELOW
Once they reach RPN, the three dig into their pockets to split the fare. They bound off to meet the other cast members. There are the grown-ups: Lola Estrella Kuensler, Gary Lising, Chichay, Bert "Tawa" Marcelo. The older kids: Maila Gumila, Sharon Manabat, Ronald Daguio, Siegfried Garcia , Jayboy Samson. The younger kids: Roderick Suacillo, Dranreb Belleza, Princess Aquino, Lovely Rivero. Ate Cel plays a character named Jaclyn Pusit, and Carlos de Leon plays Rando Batumbakal.
Looking at the cast, you might think Kaluskos Musmos is a gag show, a kid-oriented comedy. But it's more than that. This is an Imee Marcos production, and you could say it's part-artistic venture, part-vehicle to further her father President Ferdinand Marcos' ideology of Bagong Lipunan (New Society). Launched after the declaration of Martial Law in 1972, this New Society promises a better Philippines—one with reforms in peace and order, land ownership, education, labor, government, the economy, and social services. It's a society wherein every Filipino can hopefully reach his brightest potential. The show is also a sideways promotion for Kabataan Barangay (KB), the youth chapter and legislature of each barangay or community, which was created in 1975 via Presidential Decree 684.
Being such, Kaluskos Musmos is infused with history lessons and social commentary, delivered in digestible and delightful manner by the highly talented players. There are re-enactments in full costume, sketches and skits against full sets. Aside from the show, the cast members are given roles in First Lady Imelda Marcos' outreach sorties. They accompany her on a bus, and help her give out rice and other goods to the masses. It's an exercise in public relations, an eye-opener on the plight of the common man. Ronald Daguio, who's around three years older than Herbert and a San Bedan himself, reflects later on: "The show taught us to be independent. We were working at a young age and we got know the value of money and the value of people." They are child stars as well as budding politicians; at nine and 10 years old, they are appointed the youngest Kabataan Barangay representatives, presented in a gathering at Amoranto Stadium in Quezon City.
ADVERTISEMENT - CONTINUE READING BELOW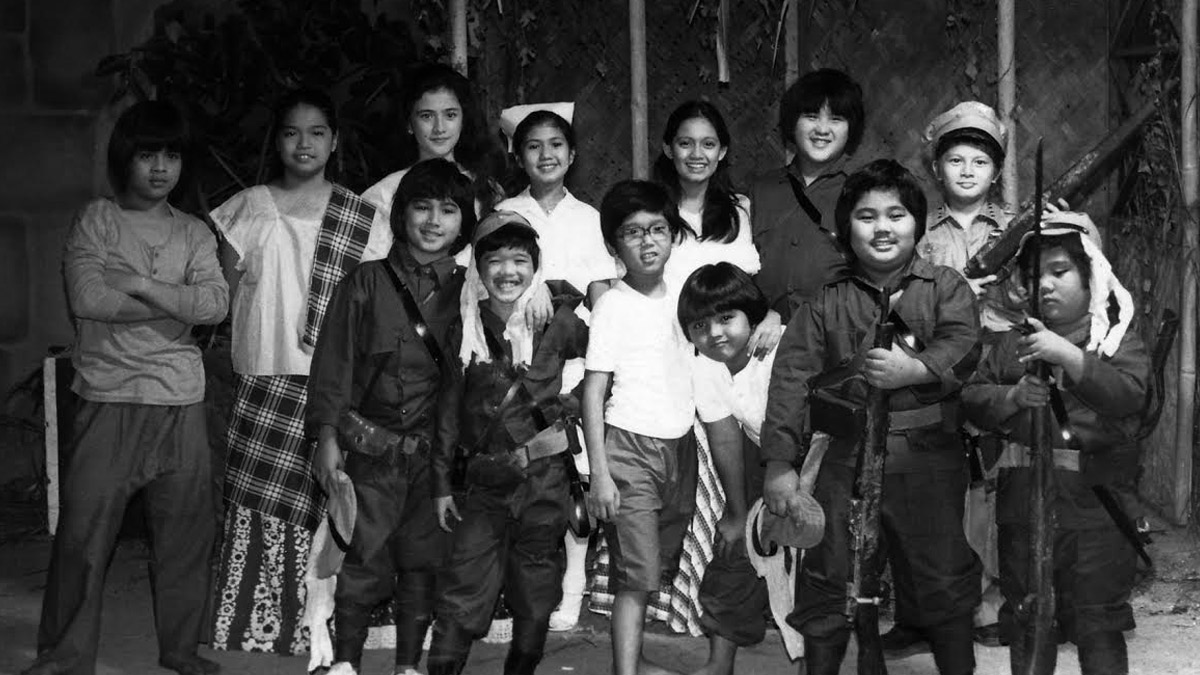 They are also learning plenty about rigor. While outside, the times call for unbridled play and adventures—scampering about with your playmates till dusk, getting dirty and scraped—there is a flipside to this laxness, this flexibility of space, for child actors. There are no child labor laws. Just as far and as long as you wished to take your BMX was just how long and hard you are expected to work—up to 24 hours if needed, which is what Herbert and Janice experienced on their first day on the set of Flordeluna. Just as a heap of old tires and construction material could do for a jungle gym, a dressing room could just as well be a walled-off section behind a set—no doors with double locks, or private baths. Catered meals? Forget it. Pack your own. There is no distinction between "child" actors and "actors"—you're all just professionals. If you're good enough to be on the set, then that means that you are also mature enough to accept the rules.
ADVERTISEMENT - CONTINUE READING BELOW
In this free yet tough environment, only the hardiest and most stable of child actors survive. And perhaps due to the curious mix of freedom and restriction, this system produces not entitled little psychos, but kids with amazing work ethic and humility. For most part (we'll get to that bit later), the kids of Kaluskos Musmos are punctual, organized on the set, down to earth, respectful.
The balance of heavy subject matter and irreverence on Kaluskos Musmos is achieved, seemingly effortlessly, by a first-time director named Johnny Manahan, a fresh UCLA graduate in his twenties. At its height, it's a show that everyone enjoys—kids, parents, teachers, even the very same people who watch Flordeluna—and for a time, it tops the ratings, beating PBA games (and you know how much Pinoys love our basketball!), and Nora Aunor's Superstar.
The tapings themselves are also fun. They have to be, what with the number of kids on the show. On the set, there's skateboarding, games, the absorbing of tsismis (it's easy when you're a kid and can weave in and out of adult circles, unnoticed). On the days Ate Cel and the Bautista siblings don't have lunch money, they're behind the elaborate sets, sipping water to curb their hunger. They giggle the pangs away, and don't think much of it. They don't know it yet, but this experience will strengthen their friendships in the future, and their resolve to overcome difficulties. "May mas hihirap ba sa iinom ka ng tubig, at pag nainom mo napakahapdi, at napapaluha ka?" Ate Cel says, years later.
ADVERTISEMENT - CONTINUE READING BELOW
This hardship is more the norm than the exception—so much so that when food is provided by production, Ate Cel, Herbert, Hero, and Harlene cannot help but get excited (like on the set of Oh, My Mama (1981), in which all four appear. "Uy may pagkain tayo!," they gush with glee).
Off set, there are weekend sleepovers in the Bautista house in New York Ave., Cubao; Ronald's house in Matimyas, Sampaloc; in Dranreb's house in Don Manuel in Manila, and when there, Sunday outings to Army Navy Club. Parents get to know the other parents; yayas form friendships with the other yayas, or, in the Bautista's case, Tito Peto, their tiyo-slash-driver. The Kaluskos Musmos cast morphs into one, giant family.
But Kaluskos Musmos, like all good things, has to end. Despite—and maybe because—of its format and lofty purpose, the show is not sustainable. As the older cast members grow into young adults, it is announced that they are to "graduate" to Kuskos Balungos. This shock is traumatic on the tight family bonds it has created. "Bakit kasi naglakihan kayo," Lola Chichay says through her tears, as they all learn that Ate Maila, Ate Sharon, Ate Cel, and the other older kids have to go. "Ayokong maghi-hiwalay tayo."
Everyone breaks down. "I hate it! I don't want to be left behind!" Dranreb cries.
A reunion is soon arranged, however, and nervous hearts are calmed somewhat. It's to be in Malacañang Palace, with their producer's dad, President Marcos himself. On the night of the dinner, they're first gathered in the historic hall where Marcos declared Martial Law. Then, they're led to the garden. There are other kids out there. One is crying and telling the President in Ilocano, "They destroyed our school!"
ADVERTISEMENT - CONTINUE READING BELOW
It's not clear who "they" are, and why the children are there, but the President stops to listen to the little girl's plea, and calls over a man in a military uniform. He whispers something in the soldier's ear, and turns back to the girl. "Please stop crying," he says, like the Apo (elder) he is. "Your school will be repaired." It's a scene that's sure to leave a mark on young, impressionable minds.
Finally reaching the dinner table, the Kaluskos Musmos youngsters turn to each other. "What next?" They wonder. It's a question that needs a literal answer—kakain na ba tayo?—and a more abstract one—what will happen to us, and the show?
It's something he himself will declare to his friends at different points of his life as he grows up. "Pangarap kong maging presidente ng Pilipinas."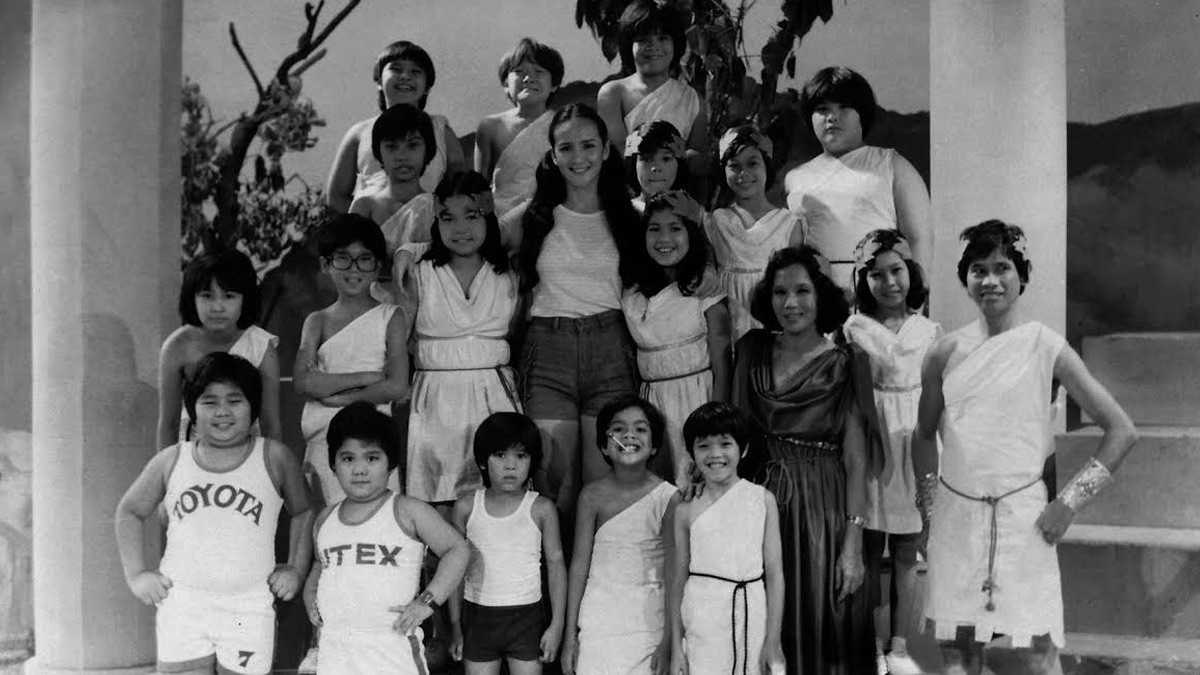 Only Herbert is sure of what's next—or at least, has an inkling of what the far future may hold—and as usual, he's deep in his thoughts. Way before tonight, when Kaluskos Musmos was dominating the airwaves, Direk Johnny took he and Dranreb aside and fed them these lines:
ADVERTISEMENT - CONTINUE READING BELOW
Andres Bukid: Anong pangarap mo?
Voltaire Samson: Ang pangarap ko ay magsilbi sa bayan.
It's a scene that may or may not have a connection to what President Marcos has told him tonight. Nevertheless, it gets Herbert's gears going: "Magiging kang presidente balang araw," the President said. It's something he—and those within earshot—will remember for decades to come.
It's something he himself will declare to his friends—Ronald, Janice, Eula Valdez—at different points of his life as he grows up. "Pangarap kong maging presidente ng Pilipinas."
It's 1982, and Herbert has landed the role of a lifetime. It's not a big one, but it does help him hone—and prove—his chops against a comedy giant, Vic Sotto, and reunites him with his beloved Lola Chichay from Kaluskos Musmos. It's on another network, Banahaw Broadcasting Channel 2, and the show will only last a year, but it gives him iconic status. The show is 2+2, and Herbert's role is that of "Bistek," short for "Bisayang Intsik." It's a name he will carry and it's what the general populace will remember him by. For years to come, "Bistek" and "Herbert" will be interchangeable.
As "Bistek," Herbert shines. There is a dearth of comedians during those years, especially those Herbert's age. He's found his niche—and, as they say, success is mostly about being at the right place at the right time. Other actors who aspired to be comedians of his caliber have missed the boat.
ADVERTISEMENT - CONTINUE READING BELOW
Then of course, Herbert has a headstart. He's already worked with Maricel Soriano, another actor with impeccable comic timing and wit. His cerebral approach to his work also means that he respects the genre, and uses his brain, rather than mere physicality and slapstick, to execute it. "Mas madaling gumawa ng drama kesa sa comedy, 10 times mas mahirap ang comedy," remarks Herbert's longtime friend and movie scribe Ed de Leon. "Pag nagkamali ka sa timing, tapos ka. Di ka na nakakatawa."
His looks help, too. Sure, Herbert is matinee idol material, but not the lollipop-candy kind. He doesn't have the swarthy sensuality of a William Martinez, nor the dashing, mestizo looks of an Alfie Anido, and definitely not the peaches-and-cream playboy beauty of a Gabby Concepcion. Endearing, a bit clumsy, and 100 percent earnest, Bistek is cute. When he goes on campus tours, girls squeal because they want to take him home to mom; not because they want to be ravished by him. Well, some, maybe.
This, in Ed de Leon's opinion, is what sets him apart. Herbert knows he's not drop-dead gorgeous, so he has nothing else to fall back on except his intelligence and talent. Eula Valdez, whom Herbert would date on and off after co-starring with her in Bagets, concurs. "Pretty face? No. Pero malamán (ang utak). Kaya siya stand-out. Nakuha niya ako (dahil doon). Pag magde-date kami, tatanungin sa akin: Anong assessment mo sa buhay mo? Sus katorse lang tayo! Tuwing magde-date kami feeling ko may assignment ako."
ADVERTISEMENT - CONTINUE READING BELOW
Even his fans agree. "Kaya namin siya nagustuhan kahit hindi siya guwapo," they say, guffawing. "Cute siya!"
See him: the adolescent Bistek, slight of build, the unfashionable haircut. He smiles happily but sheepishly into the camera, pushes up his glasses on his nose—a gesture that sets girls' loins afire.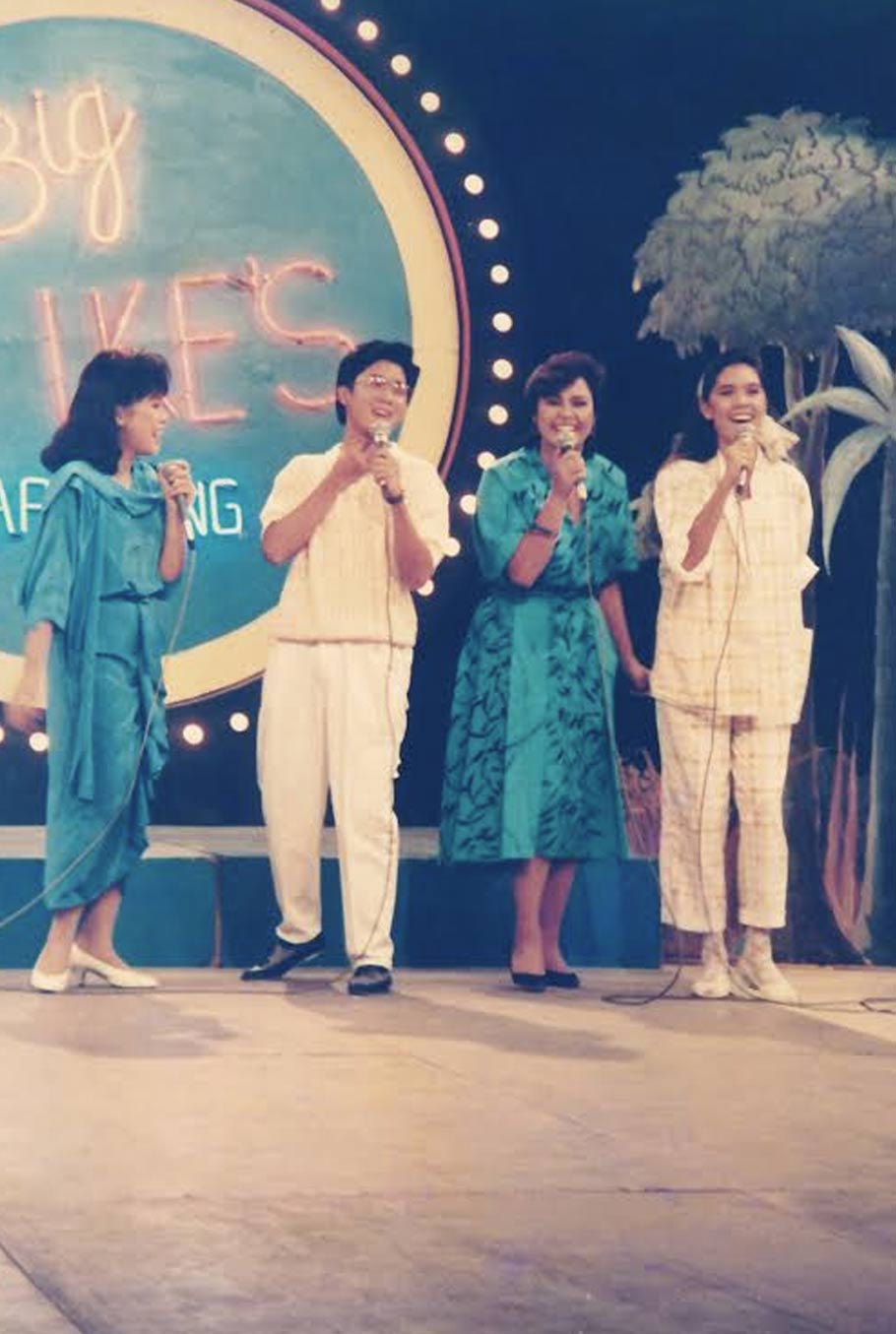 See him: the adolescent Bistek, slight of build, the unfashionable haircut. He smiles happily but sheepishly into the camera, pushes up his glasses on his nose—a gesture that sets girls' loins afire. As Bistek's star grows, so do his fans and fan clubs. From the few supporters who volunteered their time on the set of Flordeluna, there are now groups called Solid Herbert Bautista, Original Herbert, 24K, and Successful Herbert. By 1985, they will have consolidated to form Bistek International Fans Club.
Bistek's posse follows him around on tapings and television guestings. Sometimes, they aren't allowed to enter the studios, but he makes sure they do get in and are always treated to a good meal. He may only be 14 or 15 years old, but he is already a gentleman. "Kumain na ba kayo? O sige punta kayo sa canteen…" It's a kind of chivalry and manliness influenced by his dad, his godfather Fernando Poe, Jr. (whom he calls Ninong Ronnie), Berting Labra, and Boy Francisco—the cast of Lo' Waist Gang, the barkada movie of the '50s—who hung out in their house in New York St., Cubao. "Nakita namin kung gaano silang ka-responsable sa pamilya, at tumutulong sila sa ibang tao, kahit di nila kilala," remembers Hero, later on.
ADVERTISEMENT - CONTINUE READING BELOW
One time, during a guesting on Big Ike's Happening the guard bars Bistek's fans from entering, saying the studio is already full. He comes out and rebukes the guard: "Papasukin niyo 'yan. Pag hindi niyo sila pinapasok, hindi ako magsho-show." Pasok ang fans. Bistek knows how to repay their time and loyalty, and fans don't forget. Especially if you take them on your tours; in one instance, Viva Films provides a bus just for his fans, a "Bistek exclusive."
His fans attest that beyond the spotlight, Bistek remains the same. He still irons his own uniform. He still helps his mom out in their little sari-sari store. He and Hero still feed Hero's pet pigs, Michael and Jordan. They see how sleep deprived he still is, how devoted he is to his studies. They are first witness to how he shuttles from his shootings and tapings to school, taking along his books, studying in between takes.
They grow so close to Bistek and his family that they practically live in the New York house.