She was tending to bonsai, and embarking on some prolonged travels—bathing for more than the cursory one or two days under the Tuscan sun. She had been in the government payroll continuously for 39 years and 10 months, and was already a historic figure—the tenth woman to be appointed to the Supreme Court, and the first woman to administer the oath of office to an incoming President of the Philippines. As her date of retirement drew near—June 19, 2011—Carpio Morales was prepared to leave public service.
The last several months in the Supreme Court had been especially tense. She was the sole dissenter in De Castro v. Judicial and Bar Council, the decision that enabled then-President Gloria Macapagal Arroyo to appoint Renato Corona as Chief Justice in the weeks before the President's term of office expired. During the one year that Carpio Morales served under the Corona court, she found herself penning dissenting opinions in several high profile cases—Biraogo v. Truth Commission, where the majority had invalidated the creation by President Aquino of the fact-finding Truth Commission; Republic v. Sandiganbayan, where the majority awarded to Danding Cojuangco disputed San Miguel Corporation shares allegedly purchased using coconut levy funds; and in Re: Letter of the UP Law Faculty Entitled "Restoring Integrity," where the majority had sanctioned members of the faculty of the UP College of Law for criticizing the absolution of Justice Mariano del Castillo from charges of plagiarism. Stories about internal bickering among the Justices had leapt from the cloister and into the pages of the newspapers. Just months after Carpio Morales left the Court, Chief Justice Corona was impeached, and ultimately removed from office following his conviction from the Senate.
ADVERTISEMENT - CONTINUE READING BELOW
The list of public officers who now stand as accused before the Sandiganbayan after having been criminally indicted under Ombudsman Carpio Morales' term is a Who's Who in the Philippine political scene.
At least Carpio Morales was going to leave on her own terms. Yet there was already some buzz that perhaps the retiring Justice was not yet to join the ranks of the retired. The Ombudsman of the Philippines, Merceditas Gutierrez, was impeached by the House of Representatives by a vote of 212 to 46 for betrayal of the public trust. Ten days before her impeachment trial was to begin in the Senate, Gutierrez resigned. Carpio Morales was tipped as the likely new Ombudsman. At a party, Carpio Morales was greeted by former Ombudsman Aniano Desierto, who told her, "Uy Chit, kausap ko si PNoy, ikaw daw ang susunod na Ombudsman. Bagay sa iyo. Matapang ka, Ilocana." She replied, "Huwag mo akong bolahin."
She was not keen on postponing the pleasure of retirement, on taking on a new, high profile, potentially controversial job. Then, even before she made up her mind, the critics weighed in, saying she was too old for the job. Leading the charge was Aniano Desierto himself. "We need a much younger Ombudsman—perhaps someone 50 to 60 years of age who can still be active and strong. Someone 70 and up might not cope with demands of that job," Desierto told The Philippine Star.
The claims that she was too old and would dodder at the job unleashed Carpio Morales' desire to render public service once more. She decided to accept her nomination as Ombudsman. Her appointment was announced by President Benigno Aquino III on July 24, 2011, at his second State of the Nation Address. She remained furious at Desierto. "I nursed a grudge against him, bakit niya sasabihin matanda na daw ako."
ADVERTISEMENT - CONTINUE READING BELOW
Recommended Videos
Around that time, she was trying on a pair of shoes at Rustan's in Shangri-La Mall when her son told her, "Mama, I saw Desierto having coffee at Le Coeur de France." Carpio Morales rose, asked the guard to point her towards Le Coeur de France. She saw Desierto having coffee with another person. She confronted her predecessor. "This is the old woman you are talking about!"
Desierto rose. "Sandali lang Chit, sandali. I was misquoted. In fact, I wrote a letter to the editor." She knew that no such letter was published by The Philippine Star. "Was it published in the Star?" she interrogated Desierto.
"Yes."
"You are lying!" With that, Carpio Morales turned on her heels, and walked away.
It would take two years before Carpio Morales reconciled with Desierto ("time heals all wounds"), but the comments about her age still sting. "Don't say to a woman na matanda na siya. I was not keen on getting this job. But when everyone was saying matanda na raw ako, nabuwisit ako. Punyeta."
.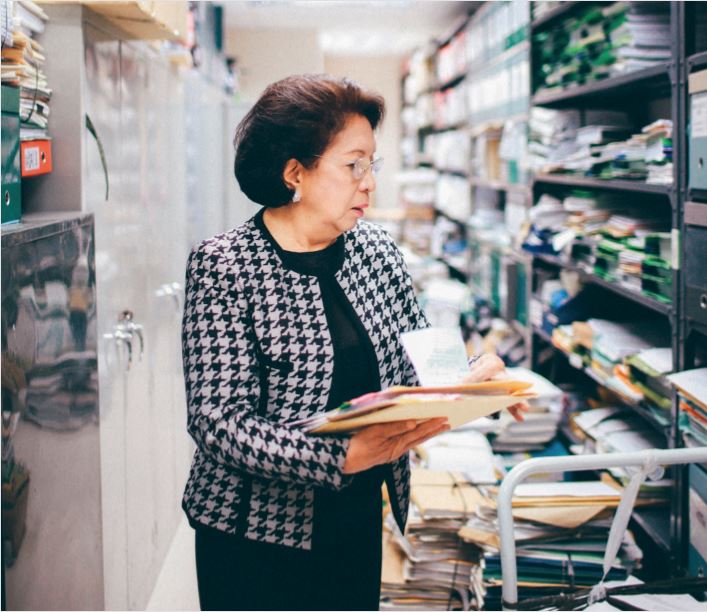 ADVERTISEMENT - CONTINUE READING BELOW
.
Her father, the Hon. Lucas Carpio, was a Justice of the Peace (now equivalent to a trial court judge) in Paoay, Ilocos Norte, where she lived from her birth in 1941 until completing high school. Paoay was a small town—no movie houses then, only free film screenings at the plaza, sponsored by the makers of Cortal pain reliever. "You would all know most of the people engaged in the cases," she says. She did not consciously plan to become a lawyer, but she grew up surrounded by law books and copies of the Official Gazette. "Perhaps subconsciously," she now offers, "I found the law profession exciting."
Her mother was Catholic, her father a member of the Iglesia Filipina Independiente. She was baptized Catholic, but admits, "I was balimbing." The singers at the Independiente were better attired, garbed with crepe paper crowns. "Kung gusto kong mag-suot ng crepe paper sa ulo, I would go to the Independiente." She was the only one of among six siblings who was not educated in a Catholic school. These days, she confesses to remaining Catholic, "but I'm not religious. I've always been very vocal about it…I don't think my Catholic upbringing had any impact on my work."
She was the valedictorian at her elementary school (Paoay Elementary School) and at her high school (Paoay North Institute.) She then moved south to study Economics at the University of the Philippines ("kahit nagangamote ako sa math and algebra.") Carpio Morales enrolled at the UP College of Law, where she graduated in 1968. While waiting for the results of the bar examination, she joined the Atienza Tabora & Del Rosario Law Offices. She counts her boss then, Atty. Arturo B. Atienza, as among her role models. He would bring her to court hearings where he would face off undaunted against the likes of Jose W. Diokno. "Ang lamig-lamig niya," she says of Atienza. "He mesmerized me to no end."
ADVERTISEMENT - CONTINUE READING BELOW
It was harder then to find role models among women lawyers, as there simply were relatively few of them. Carpio Morales was fortunate to find two of them at her next stint, at the Department of Justice. "You just count on those who were outstanding in their practice…since I was at the DOJ, my role models were Lorna Lombos dela Fuente, [Assistant Chief of the Legal Division of the Department], who was to become a Court of Appeals Justice, and [Assistant Chief State Counsel] Minerva Gonzaga Reyes, who was to become a Supreme Court Justice. They were women of integrity, of competence, of uncrackable reputation."
Carpio Morales never returned to private practice after joining the DOJ in 1971. She worked under then-Secretary Vicente Abad Santos, her former law professor and the long-time Dean of the UP College of Law. Abad Santos, who also later became a Supreme Court Justice, was a taskmaster who was fond of admonishing, "ang dami mo pang kakainin," when confronted with substandard work of junior lawyers. One of her fellow junior lawyers working for Abad Santos was future Senator Miriam Defensor Santiago. Carpio Morales would review resolutions of state prosecutors in criminal complaints that were ultimately bound for the Secretary. "Medyo nahasa naman ako kahit papaano."
In 1983, Carpio Morales was appointed as judge of the Regional Trial Court of Pili, Camarines Sur. She commuted weekly from Camarines Sur to Manila and back to be with her two young sons, Eugenio III and Umberto, on the weekends. She started her hearings at 8 a.m., sharp. At the DOJ, she had a relatively anonymous desk job. As a presiding judge, she now was performing at a public stage, and people took notice. She recounts that when she first arrived at Pili, she was escorted around the municipality by a local fiscal as she looked around for available lodging. Shortly after, several lawyers scheduled to appear in her court, including the helpful fiscal, arrived past her 8:30 a.m. start time. He stood up, asked if he could make an oral manifestation in court.
ADVERTISEMENT - CONTINUE READING BELOW
"I said, go ahead, and he started: 'Your Honor, I would like to manifest that the province of Camarines Sur is very fortunate to have a very young…', kung anong kabolahan niya. Sagot ko sa kanya, 'are you done?'
'Yes, your Honor,'
'The Court notes your manifestation, as it notes your tardiness.'"
"Maraming bolero. Politicians, lalong bolero. I deal with them like I deal with a lion. It's not difficult for me to handle those matters."
* * *
Ephyro Luis Amatong, one of the current Commissioners of the Securities and Exchange Commission, was a senior law clerk for Carpio Morales when she was an Associate Justice of the Supreme Court. He remembers his former boss as having what he called "a judge mode," especially evident during hearings or oral arguments, which he characterizes as a "combination of impassiveness and sharp probing questions… when she has her 'game face' on, it is impossible for even her staff, let alone an advocate or party-litigant, to know exactly what she is thinking. Many an advocate, after presenting their oral arguments before the Supreme Court, had no clue as to whether they had managed to sway Justice Carpio Morales one way or the other. They might have been surprised to find out that, in the privacy of her chambers, the Justice could be quite generous in her appreciation for a well-presented argument; or sympathetic to a passionate, if inexperienced, young counselor arguing his or her first case before the Supreme Court." The purpose of "judge mode," as far as Amatong could tell, "was to elicit as much truth as possible from the lawyers and witnesses appearing before her—without telegraphing opinions she might have begun to form on the case."
ADVERTISEMENT - CONTINUE READING BELOW
In private, and many times in public, Carpio Morales has the gift for the well-timed quip, the cutting retort that strikes at the heart of artifice. Flattery is not the way to her good graces. "Maraming bolero. Politicians, lalong bolero. I deal with them like I deal with a lion. It's not difficult for me to handle those matters." She has heard that politicians fear her. "Takot nga raw sila sa akin. So when they meet me in social gatherings, they'd say, 'ang bait pala ng Ombudsman.'" She chortles. "Iyon ang akala ninyo, sabi ko naman."
When Carpio Morales assumed the role of Ombudsman in July 2011, she inherited a bureaucratic culture that needed to change. The Constitution designates the Ombudsman and his/her deputies as "protectors of the people," tasked with acting promptly on complaints filed against public officials employees of the Government. The complaints may come in any form—a handwritten note or an all-caps email message would do—and these have to be duly entertained, and investigated if necessary, by the Ombudsman. The actions taken on these complaints, including the investigatory findings, ultimately reach the desk of the Ombudsman in the form of action papers containing the recommendations made by her deputies.
The volume of work is overwhelming. When she assumed office in 2011, she inherited a caseload of 11,000 pending cases, both criminal and administrative. It is unsurprising if as many as 200 action papers are submitted to the Ombudsman. These days, she commutes daily from her home in Muntinlupa to her office at Agham Road in Quezon City. She leaves the house at 5:40 a.m., and arrives at her office between 6:10 to 6:15 a.m. On a weekday, she tries to resolve between 30 to 35 cases a day before leaving for home before 5:00 p.m. She also comes into her office every Saturday, when free from the routine conferences and meetings of the workweek, she is able to resolve around 50 cases.
ADVERTISEMENT - CONTINUE READING BELOW
The Ombudsman notes: "I understand that my immediate predecessor just crossed out Approved or Disapproved. After all, hindi naman siya ang gumawa. Mag-approve lang siya or disapprove. But that's wrong! Because you have to look at the substance of the case." Her closer scrutiny sometimes unearths basic errors in the drafting of these action papers—the names of the parties are mixed up, localities are misidentified. "There are some instances, they use highfalutin words. Is this word correct? I look at the dictionary sa cellphone. Naku Diyos ko, out of context." She demands that the lawyers in the Office of the Ombudsman write lucid action papers that could be understood by laypersons. This insistence unnerved the entrenched lawyers at first. "[T]heir culture was that they did not like their papers to be corrected. I am the last signatory. All I have to say is 'Approved'. But you see, it's not even understood by a layman, why should I not correct them. I am the Ombudsman, you have to toe my line." She estimates that she ends up rejecting around 20 percent of the recommendations made in the action papers. When she is unsure about a recommendation, she does not hesitate to assign the cases for further review to the lawyers who are assigned to her own office. Commissioner Amatong, her law clerk at the Supreme Court, remembers that "[w]e worked hard. She worked hard."
Ombudsman Carpio Morales also detected deficiencies in the investigatory methods being employed by the office she had inherited. The Office employs factfinding investigators who are assigned to investigate the complaints filed with the office. Some cases are complex enough to require the creation of a panel of investigators. Carpio Morales says, "I don't like to be immodest, but I'd like to believe that when I came in and I encountered a lot of difficulties respecting techniques of investigation, some kind souls especially from donor partners came up with recommendations. We saw the need to institute a lot of reforms, adoption of new investigative techniques. The American and British embassies have been very helpful in sharing their techniques." Under Carpio Morales's watch, investigators have been sent to the United States for further training. One area where the Office is seeking to augment its in-house capacity is in conducting forensic investigation.
ADVERTISEMENT - CONTINUE READING BELOW
Since her days with the Department of Justice, Carpio Morales has placed great emphasis in the findings of fact. Her experience with the DOJ prepared her "to marshal facts correctly. The most difficult part of deciding the case is marshaling the facts. The moment that you can marshal them, in the best way you can, then it's just a matter of applying the law, right or wrong." The identification and analysis of the facts of the case were skills honed not just at the DOJ, but also as a trial court judge in Pili and Pasay (where she served from 1986 to 1994), as a Court of Appeals Associate Justice from 1994 until 2002, and as a Supreme Court Associate Justice from 2002 until 2011. Carpio Morales opines that her methodology in approaching cases as an Ombudsman did not differ from her approach as a Supreme Court Justice. Commissioner Amatong remembers from his time as a law clerk: "On more than one occasion, she questioned me closely on the appreciation of the facts. She was very, very demanding as to the accuracy and integrity of the legal research. But she never asked us to sweat the small stuff. She shared her time, experience and wisdom freely. We were trying to discern the truth from the facts presented, and, as the Romans would say, 'render justice to every man'—or as much of it as we could."
Being the Ombudsman is, Carpio Morales admits, the most challenging job that she had ever taken. There is only one Ombudsman. In the Supreme Court, she had, through the vetting of her work by the other Justices, the assurance of greater quality control. "Kung di masyado maganda ang trabaho mo, at least you're confident that they'll call your attention. [As Ombudsman], you are alone. Mag-isa ka diyan magdecide. When you finally come up with an approach with a difficult question of law or a question which you cannot readily resolve, masaya ka na."
ADVERTISEMENT - CONTINUE READING BELOW
.
Every time I file cases, sasabihin politically motivated. I am apolitical. Wala akong pinapanigan.
.
The list of public officers who now stand as accused before the Sandiganbayan after having been criminally indicted under Ombudsman Carpio Morales' term is a Who's Who in the Philippine political scene. Former President Gloria Macapagal Arroyo and her husband, for their alleged anomalous involvement in the NBN ZTE deal. Vice-President Jejomar Binay and his son, Makati City mayor Jejomar Erwin Binay, for their involvement in the alleged anomalous bidding and construction of a carpark project in the Makati City Hall complex. Former Chief Justice Renato Corona, for alleged ill-gotten wealth. Former Philippine National Police Chief Avelino Razon, over the allegedly anomalous purchase of 75 defective rubber boats. Current PCSO Chairman Erineo Maliksi, for the irregular procurement of medicines worth P2.5 million while governor of Cavite. Cebu Governor Gwendolyn Garcia, over the allegedly anomalous purchase of land in Balili, Cebu. Pangasinan Governor Amado Espino, for allegedly engaging in the illegal black sand mining trade. Ilocos Sur Governor Luis Singson, over the alleged unlawful release of "financial assistance" for unspecified livelihood projects. Zambales Governor Hermogenes Ebdane, for the allegedly irregular issuance of mining permits. Capiz Governor Victor Tanco, Sr., for allegedly extorting P3 million from a contractor for a hospital project. Former Isabela Governor Grace Padaca, for failing to file her SALNs from 2007 to 2010. Former Governors Antonio Kho of Masbate and Casimiro Ynares of Rizal, for their alleged involvement in the notorious fertilizer scam. Taguig City Mayor Laarni Cayetano, for allegedly padlocking the Taguig City session hall and preventing the Sangguniang Panglungsod from convening. Former Cagayan de Oro city mayor Vicente Emano, for refusing to comply with a final decision of the Civil Service Commission. Former Puerto Princesa Mayor Edward Hagedorn, for allegedly untruthful statements in the SALNs he filed from 2004 to 2012. Former PAGCOR Chairman Ephraim Genuino, for multiple counts of malversation, including the anomalous purchase of 89,000 movie tickets for the movie Baler. Former TESDA Director General Augusto Syjuco, and his wife, former Rep. Judy Syjuco, for allegedly siphoning government funds from TESDA and diverting them into an ineligible NGO which they themselves had founded. Former PCGG Chairman Camilo Sabio, for attempting to influence the Court of Appeals in connection with a pending case. Former PCGG Chairman Magtanggol Gunigundo, for allegedly entering into a compromise agreement that was grossly disadvantageous to the government. Former MRT3 General Manager Al Vitangcol, for the alleged irregular award of the MRT3 maintenance contract. General Jovito Palparan, Jr., for the alleged kidnapping of the Manalo brothers.
ADVERTISEMENT - CONTINUE READING BELOW
The list does not include those who have been criminally indicted by the Ombudsman in connection with the misuse of the Priority Development Assistance Fund (PDAF). Senate President Juan Ponce Enrile, Senators Bong Revilla, and Jinggoy Estrada. Current and former Members of the House of Representatives Antonino, Biazon, Cagas IV, Cajayon, Clarete, Coquilla, Dangwa, Jaraula, Lim, Martinez, Miranda, Olaño, Pancrudo, Pingoy, Plaza and Valencia. Former Cabinet Secretaries Arthur Yap and Esperanza Cabral. Janet Lim Napoles.
Her critics have charged, what about the Abads, the Roxases, the Benigno Aquinos? Manila Times columnist and Aquino administration critic Rigoberto Tiglao has accused Ombudsman Carpio Morales of being the President's "deadliest political assassin," claiming that she had allowed Aquino to use her office as "[Aquino's] political assassination squad against his enemies that marks the depths of depravity of this regime." Vice-President Binay charged that she was employing selective justice, "exhibiting extreme bias against me" and "having convicted me in the bar of public opinion." Carpio Morales refutes accusations that she is susceptible to political pressure, especially from the President. "Fortunately there's no pressure, not from the President. You would be surprised. Pressure from work, yes. But not from any politicians." Not even from politicos of lower rank? "With more reason, i-isnabin ko sila."
In response to the Vice-President's charge of "selective justice", Carpio Morales has cited her June 2015 decision to dismiss from service former Philippine National Police Chief Alan Purisima, who is reputedly close to President Aquino. "That's the best argument [against allegations of] selective justice—iyong pagdismiss ko kay Purisima," Carpio Morales said in one of her rare press conferences.
ADVERTISEMENT - CONTINUE READING BELOW
In the same press conference held on July 1, 2015, Carpio Morales did not conceal her annoyance. "Wala nang ginagawang tama ang Ombudsman! Palagi niyo nang kinukwestiyon. If you feel that I am impeachable if I have done wrong, I welcome it. I will give my position on a silver platter…nabubuwisit na ako ha, every time I file cases sasabihin politically motivated. I am apolitical. Wala akong pinapanigan." Following that press conference, the Philippine Daily Inquirer published an editorial cartoon featuring a gauntlet-clad Carpio Morales, roaring as she delivers a karate chop, repelling an indistinct animal labeled "political bias." A framed copy of the cartoon now has its place of honor at a bookshelf in her office. She likes the Inquirer, cites them for "good reporting" in corruption cases, even if at times, it publishes editorial cartoons that feature her in less flattering light. In contrast, she says of the Daily Tribune, "My God, it's terrible, but sabi naman nila, wala namang nag-babasa."
.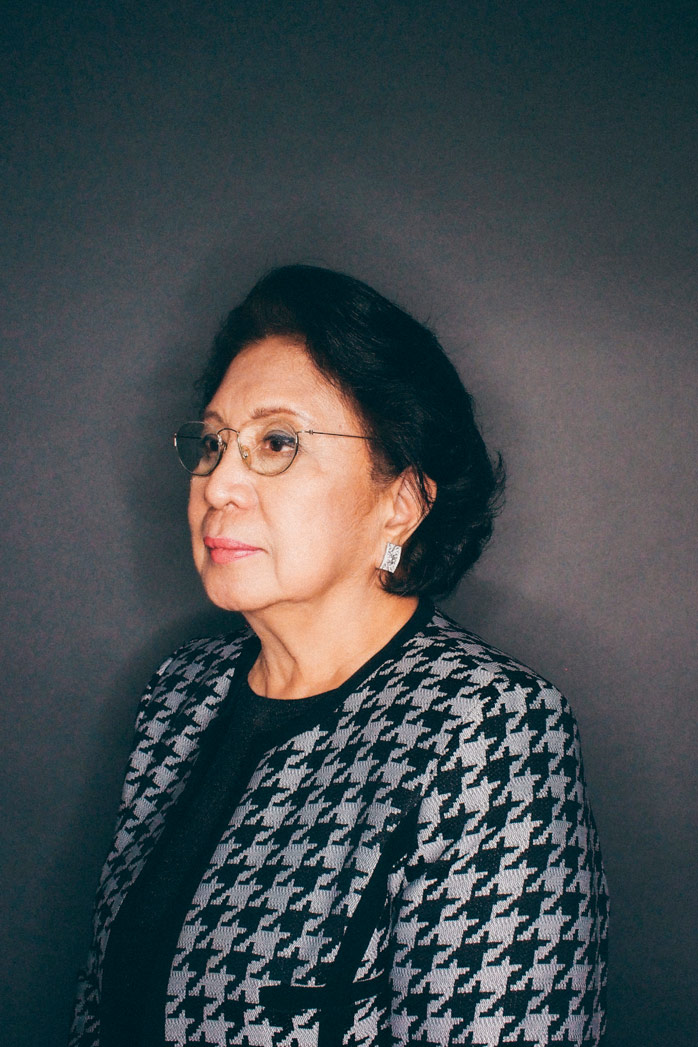 ADVERTISEMENT - CONTINUE READING BELOW
.
Few knew that even as Carpio Morales roared at the media during that July press conference, she was dealing with an intense personal crisis. A month earlier, Umberto "Bert" Morales, her youngest son, had been unexpectedly diagnosed with Stage 4 lung cancer, which had already metastasized. He had been her Chief of Staff at the Supreme Court, and at the Office of the Ombudsman. Bert did not smoke. He was an athlete, an avid mountaineer. He had two children, the youngest born just weeks before he was diagnosed. For those who knew Bert, the news was especially cruel.
When Bert was confined at the Lung Center, Carpio Morales would visit her son every morning, before heading to work, and every afternoon, before leaving for home. On August 19, friends of Bert staged a benefit gig at the Handlebar Makati. The Ombudsman was there too, as was Bert. By the time Bert celebrated his 41st birthday in late September, Carpio Morales had already made arrangements with Heritage Park as to where Bert's wake would be held. "I was being realistic. I had to accept the reality that anytime, he would go." She knew that Bert was not going to survive, but she tried to keep from him that she knew he was going to die. He cried when he realized that she knew.
Few others knew how dire it all was, not even in the Office of the Ombudsman. "They did know that he was sick. When they said, we will bombard the heavens with prayers, I said, 'Thank you, prayers would be great.' But you know, prayers could only complement the treatment being administered on him."
ADVERTISEMENT - CONTINUE READING BELOW
"I steeled myself, otherwise ma-aaffect yung trabaho ko, hindi ako maka-concentrate." Even as Bert's health declined, the Office of the Ombudsman remained the hive of activity. The dismissal of Purisima, the suspension of Mayor Binay, the indictment of former Customs Commissioner Ruffy Biazon and four other former Representatives, all happened during this time. On Friday, October 9, the Ombudsman promulgated a 103-page Decision ordering the dismissal from service and perpetual disqualification from holding public office of Mayor Binay. On Saturday, October 10, Bert Morales died after battling cancer for five months.
On Monday, October 12, the Office of the Ombudsman announced the indictment on criminal charges of Vice-President Binay and his mayor-son. The following week, the Ombudsman dismissed from service the Governor of Capiz, Vicente Tanco, Sr., and ordered the suspensions of the Governor of Camarines Norte, Edgardo Tallado, and the City Administrator of Bacolod, Rolando Villamor.
The day after Bert's remains were cremated, Ombudsman Carpio Morales flew to Ilocos Norte. An Integrity Caravan, involving a multi-sectoral forum aimed at building partnerships among all anti-corruption stakeholders, had been scheduled in Laoag City well earlier in the year. Carpio Morales herself felt that too much in pre-paid plane fares and hotel accommodations would be forfeited if they postponed the event. After returning from Ilocos Norte, she resumed her regular daily routine—up before dawn, reporting for duty more than two hours ahead of her lawyers. "Work would take me away from the feeling of sadness. I had to occupy myself, for if not…" Her voice trails off.
ADVERTISEMENT - CONTINUE READING BELOW
.
* * *
.
In April 2010, then-Justice Carpio Morales, writing for the Supreme Court in Atty. Salumbides v. Office of the Ombudsman, declared: "Public service requires integrity and discipline. For this reason, public servants must exhibit at all times the highest sense of honesty and dedication to duty…when a public officer takes an oath of office, he or she binds himself or herself to faithfully perform the duties of the office and use reasonable skill and diligence, and to act primarily for the benefit of the public."
Commissioner Amatong, who obtained a Master of Laws degree from Harvard Law School after his stint at the Supreme Court, cites Carpio Morales' combination of personal integrity and moral courage. "Modern American Legal Theory has it that adjudication is actually a highly political exercise. However, as far as I could see, Justice Carpio Morales' tenure on the Court was remarkable for its being highly apolitical. There was absolutely no attempt to curry favor with any particular personage or interest group. In no instance was an opinion rendered to conform to the 'requests' or 'instructions' of an authority other than justice and conscience. In fact, I cannot recall any instance when any of the staff were instructed to justify a predetermined conclusion or to modify any reasoning to fit a pre-ordained outcome."
"I did not give up because I did not like to be affected by this, because I knew I was right. But it was also kayabangan on my part because, bakit ikaw lang ba ang tama, but it's so unnerving because you think you are right, tapos talo ka. Those are the things that pissed me off and made me on the verge of tears."
There had been times, while serving on the Supreme Court, when she felt she nearly wanted to give up. No Justice deliberately stakes out to be The Great Dissenter. Her draft in De Castro v. JBC—the Corona appointment case—she says drew praises from her colleagues who, the very next day, would release their barrage of critical dissenting opinions. Her landmark ruling in La Bugal-B'laan Tribal Association v. Sec. Ramos, which invalidated the Mining Act of 1995 on constitutional grounds, was reversed on motion for reconsideration, with the Arroyo administration, she says, actively imploring for the Court to reverse itself.
ADVERTISEMENT - CONTINUE READING BELOW
"I did not give up because I did not like to be affected by this, because I knew I was right. But it was also kayabangan on my part because, bakit ikaw lang ba ang tama, but it's so unnerving because you think you are right, tapos talo ka. Those are the things that pissed me off and made me on the verge of tears."
Carpio Morales is certainly not known for backing down. Even as a child, in the more pastoral climes of Paoay, she would fight back when she felt she was in the right, even against her judge-father when he would forbid her from going to the plaza, wooden stool in hand, to watch the free movie show. "I've always been fierce, whenever I was pushed against the wall. They'll bury me alive." Did her gender, and the reduced opportunities historically associated with being a professional woman, shape her fierceness? "I don't think my being fierce has to do with being a woman. I'm made of that stuff, na talagang fierce."
The need for compromise draws mixed reactions from the crowd. The President in ensuring the passage of a pet bill, the Senators and Representatives in reconciling competing versions of a proposed law, Supreme Court Justices in search of a majority vote—all of them have found the need to engage in compromise. However, the public would be disappointed in an Ombudsman—that vanguard against corruption—who is prone to compromise. Carpio Morales understands that expectation. As a Justice of a collegial court, a certain form of compromise may have been necessary after an opinion has been circulated for deliberation. "Meron kang trabaho. You say it's black, there's a dissenter who says it's white. Pwede kayo mag-meet, mag-compromise, on how you approach the case." But to compromise as Ombudsman in running after derelict officials? "But yung sabihin i-kompromise mo na lang ito kasi ganito ganoon, no way. No. Walang mawawala sa akin."
ADVERTISEMENT - CONTINUE READING BELOW
Amatong adds: "Her opinions provide a ready record not only of her willingness to 'speak truth to power,' but also to use whatever power or authority she might have to speak the truth."
The Ombudsman also admits drawing rewards from reading positive comments posted by netizens on social media. She herself maintains no personal social media accounts, but her staff is not shy in alerting her when she goes viral. More psychic rewards are earned whenever the Supreme Court and the appellate courts affirm her actions as Ombudsman, those stand as "a testament to my hard work kuno."
The Ombudsman's term ends in 2018. Carpio Morales has further reforms for the office in mind. She is hoping that Congress would expand the powers of the Office to authorize it, to a limited extent, to conduct wiretapping. "Indonesia attributes its 100 percent conviction rate [in corruption cases] in Metro Indonesia to its use of wiretapping." She expects that new Rules of Procedure would be promulgated before the end of the year. She wants to conduct more Integrity Caravans, which are supported by the United Nations Development Program and other development partners. The reforms she has introduced, Carpio Morales wants institutionalized into the Office. "If you don't institutionalize, a new Ombudsman will come in and probably be destroying all of this."
Conchita Carpio Morales will be capping her five-decade career in public service in a maelstrom of activity. She is undaunted by what may happen after 2016. "We might have a President who is corrupt and will try to influence me? Excuse me! No way!"
ADVERTISEMENT - CONTINUE READING BELOW
.
.
This story originally appeared in the November 2015 issue of Esquire Philippines.
Minor edits have been made by the Esquiremag.ph team.