For the trucks converging at Anda Circle on the boundary of Intramuros and the Port Area, there are hardly any vehicles. The roads are clear. Even for a weekend this is unusual. The start of "-ber" months, or the Filipino Christmas season, is usually the heaviest of the year, especially around the shopping malls to which every major thoroughfare seemingly leads. It's been made worse in recent times by the record-high density of vehicles on the streets as well as the repeated breakdowns in the public rail system. The past week though, the nation's capital was the host city of the Asian Pacific Economic Conference or APEC. Since Tuesday, all work and school have been called off to ease the traffic and ensure that the world leaders and other VIPs in attendance would get to their appointments without delay. Roads were closed off and even commercial flights were cancelled for the event. Many residents left as early as the Sunday prior for their vacations, leaving the city almost deserted. This probably explains why it took less than 30 minutes from the Legaspi Towers in Malate to get to the slum area.
Earlier, at the swimming pool area of the Legaspi Tower's 4th floor, friends and supporters of Alfredo Lim gathered for breakfast with the former mayor. He stayed with them for only an hour before heading back upstairs to his apartment, promising that he would return shortly. In his absence, they continued to talk among themselves, most of them decked in yellow shirts and sitting on mint-green monobloc chairs, plates of pan de sal and cake still left on the table. Coffee was being served and consumed quickly, the cups taken away as soon as they had been drained of their contents to be washed for re-use. The talk was about the upcoming campaign and how it would be waged. Ultimately, it was about the incumbent in City Hall, Lim's chief nemesis in the last elections in 2013: former president Joseph Estrada.
ADVERTISEMENT - CONTINUE READING BELOW
Then suddenly, it's over. Everyone starts filing out, heading for the stairs and the elevators. Apparently, the former mayor is not coming back down to rejoin them—at least not here. He is rushing to the BASECO compound where he is also expected to speak this morning. Lim is not one to be late. (When he was mayor of Manila in the 1990s he was famously photographed stopping a passing motorcycle and hitching a ride to city hall so as to be on time for his meetings.)
Located within Barangay 649, the largest in the Port Area district of Manila, the BASECO compound was built on dreams of being the country's main shipbuilding facility. Frequently ravaged by fires, it has become infamous as a slum. It is home to Manila's urban poor, including a significant Muslim population. A karinderiya selling halal food stands incongruously opposite posters advertising cheap brandy. With the election coming up, the faces of officials and candidates for next year's local polls are plastered on to every surface. It is said that this area is also the hangout and stomping ground of notorious street gangs, but on this morning they are nowhere to be seen.
Inside the BASECO's evacuation center building, Lim is already speaking. He begins by apologizing that he will not be able to stay long with them. He tells them that after giving a short speech he will be going around other districts to distribute wheelchairs that he had promised to residents there. But he will be back soon in the coming months to be with them. Like many politicians, he starts off by acknowledging the leaders of the group that invited him here today. The group that invited him is the Bangsamoro Overseas Filipino Workers Organization Inc., which is celebrating its fifth year anniversary. Reading from a list, he gazes up after each name to look for the person that goes with it. Not everyone on the list is there. When a name is called and no one stands up, Lim quips plainly that the missing persons are probably with his opponent. "Okay lang. Masaya sila doon," he says.
CONTINUE READING BELOW
Recommended Videos
.
"Totoo bang corrupt si Erap?" he asks. "Eh, nung naging mayor si Erap, gumaan ba buhay ninyo?"
.
He then begins a tirade against Estrada whom he refers to by his popular moniker "Erap." For over 45 minutes, he takes shots at the sitting mayor. But first, he addresses the charge against himself that when he turned over the mayoralty seat, Manila was left bankrupt. Brandishing papers in one hand and a microphone in the other, he says that he is holding documents signed by Estrada's own appointed treasurer, dated a week after he left office, that proves the city had more than P778 million in its accounts. He enjoins the people gathered there to look at the documents. He has made photocopies of them to be distributed for their perusal and scrutiny. "Hindi ako magnanakaw," he says. "Ang magnanakaw ay ang nakaupo sa City Hall."
To illustrate his point, he then asks everyone to name all the presidents of the Philippines, one by one. When no one in the assembled audience is forthcoming with answers, he starts it off himself by reciting the name of Manuel L. Quezon, proceeding to go down the list until he reaches Estrada's name. He then points out that of all the presidents who have taken office, there is only one who has been convicted in our courts for plunder.
Lim then states that in his 54 years of public service, in the police force, at the National Bureau of Investigation, in the senate and as mayor, there have been no cases against him regarding corruption or the stealing of public funds. During his term as mayor, hospitals (which offered free medical services) and other buildings such as this evacuation center were built.
ADVERTISEMENT - CONTINUE READING BELOW
But he tells them not to credit him because it was their taxes that built these. "Kayo ang nagtayo nito! Kayo ang gumastos!" This last statement is met with loud applause and cheers from everyone present.
"Totoo bang corrupt si Erap?" he asks. "Eh, nung naging mayor si Erap, gumaan ba buhay ninyo?"
Lim doesn't wait for an answer. He points out that what was free during his time like hospitals and schools are not free any longer. He didn't raise taxes, though that was proposed when he took office. Neither does he have many women he needs to support. (Lim was widowed in 1994 but has since remarried.)
"Ba't ako natalo?" he asks, referring to his loss to Estrada in 2013, "dahil binili ang boto n'yo..."
"Pero sa susunod na halalan, kapag bigyan kayo ng pera… tanggapin ninyo! Pera ninyo yon, eh, kaya tangappin ninyo ang pera pero… iboto ninyo ang hindi magnanakaw… Dahil sasabihin ko kay Erap… Magnanakaw ka!"
With that, Lim finishes.
He then asks his staff to bring in the wheelchairs. This is something that Lim has done for years, even after he lost in 2013. Stacks of wheelchairs, still in their boxes, line the corridor outside his apartment. Every weekend he delivers them to the disabled around Manila. When he is asked to speak in poor communities he also brings a couple of them to give away. His staff brings four of them into the evacuation center here in BASECO. This is the time for pictures to be taken.
ADVERTISEMENT - CONTINUE READING BELOW
There is a little delay in the proceedings when only two elderly women are carried into their seats for the photo op. The leaders who've invited Lim here today take a few minutes to look for others to fill up the two other vacancies. After a few minutes, two other women, looking not quite as elderly as the first two, are produced and put into position in the remaining seats. With all four wheelchairs occupied, the former mayor demonstrates their practical use by pushing each occupant around. It is a little difficult. There isn't much floor space available as the rest of the crowd moves closer, hoping to get a chance to take a selfie with their guest of honor. After he is done, he poses for a few of them but not once does he smile. His face registers no annoyance, either. He remains placid, quite stoic even as he is surrounded by toothy smiles. He starts to make his way out of the building. Like he had told them earlier, he had many appointments to keep that morning and he is not one to be late. Despite this, he still stops for pictures when someone asks, even up to his car. It is something he has accepted as part of his duty and service to his people.
He spots me right before opening the door to his car. And for the first time that morning he addresses me directly: "Sasama ka ba?"
.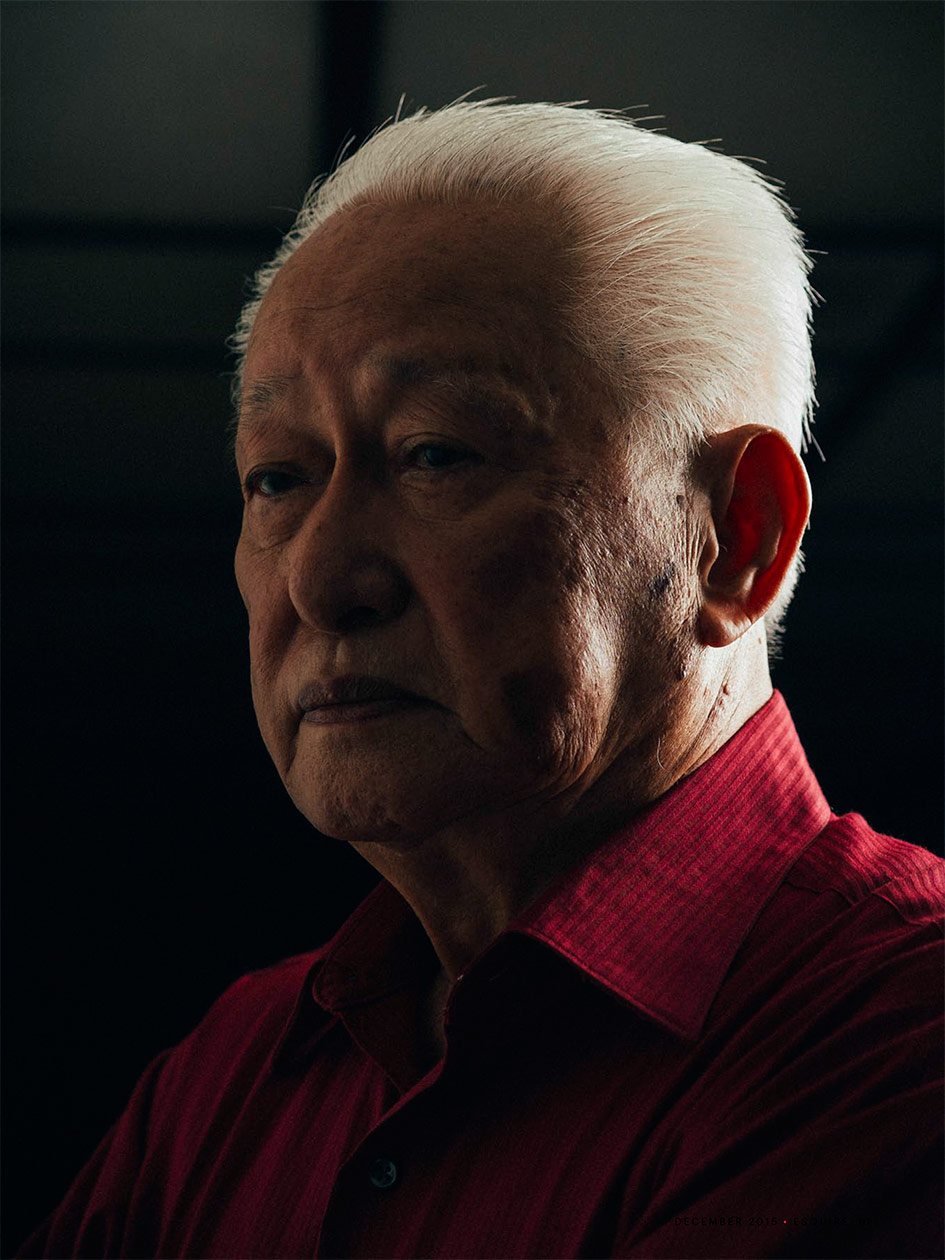 ADVERTISEMENT - CONTINUE READING BELOW
.
"I was born in 1929. During these times before World War II, they say that people were good. After World War II, something changed in their character. You know, because of their need. Whereas before, it's really prohibited to commit the act of stealing. But after World War II during the Liberation and even during World War II, because of the scarcity of food, people were compelled to do things, which were not accepted before."
Alfredo Lim is sitting across the table from me when he tells me this. This isn't him being wistful or nostalgic. It is an expression of horror and disgust at how things are now.
We are in his apartment for a sit-down interview, a few days before I watched him speak and dispense wheelchairs at the BASECO evacuation center. The last interview we did here was in 2009. The first time, however, was in late 1997, just as he was preparing for a presidential bid. His apartment back then looked very different. The room we are now in was sparser. Not drab, but harsher. Every piece of furniture was there for their utility and not much else. I also still remember that none of the chairs around the table in the living room matched. The overall impression—as the photographer with me at the time said—gave the whole place the look of a safe house, or the kind of place to which fugitives retreat, or a room where interrogations took place. (I have never been to one so I will just take his word for it.) Today, it looks brighter and a bit more furnished. Remarkably, all the chairs around the table are of the same make and design.
ADVERTISEMENT - CONTINUE READING BELOW
But the man is unchanged.
I ask him if he pines for an earlier time.
"Yes, because people then were decent, good, and respectable. And they respect each other's rights. There was minimal trouble then. But after Liberation, with so many different people congregating in Manila, that destroyed the character of Manila."
So has nothing gotten better?
"Not with the character. Because the people were good. They don't try to harm other people or (cause) trouble.
"But after Liberation, there's the change. There were so many problems already. Because we don't know each other. Before, people knew each other in the neighborhood, so there were less problems."
I'm sure Lim knows what he is talking about. He has lived in this city practically all his life. Born in Tondo, he was conceived out of wedlock and was left by his mother at the Hospicio de San Jose orphanage. He remained there until he was in Grade 3, when his maternal grandmother adopted and brought him home to Sampaloc. Most of the schools he attended, San Beda, Far Eastern University and the University of Santo Tomas are also located in Manila. And when he first became a policeman he was assigned to San Nicholas in Binondo.
"In my time, if you were given a beat, you pounded that beat on foot," Nick Joaquin quotes Lim as saying in his biography, when asked about his early days as a policeman. "You had to walk every inch of it."
ADVERTISEMENT - CONTINUE READING BELOW
"You come to know people in the neighborhood," he tells me when I ask him about that time. "There are three shifts: morning, afternoon, and nightshift. So you're given an assignment, several blocks of streets, and you patrol that during the morning for 30 days. Then the afternoon shift after that. You come to know people because you are walking in the streets.
"But in my case, it was strange because when I patrol, so many small kids followed me. It was a sight: a policeman being followed by children.
"And some of them were clinging to my pants or my shirt. I was happy because children liked me. But they didn't approach other policemen. I don't know why.
"Sometimes I bought them ice cream or candy."
I ask him if he still walks around the streets.
"No. I ride a car."
.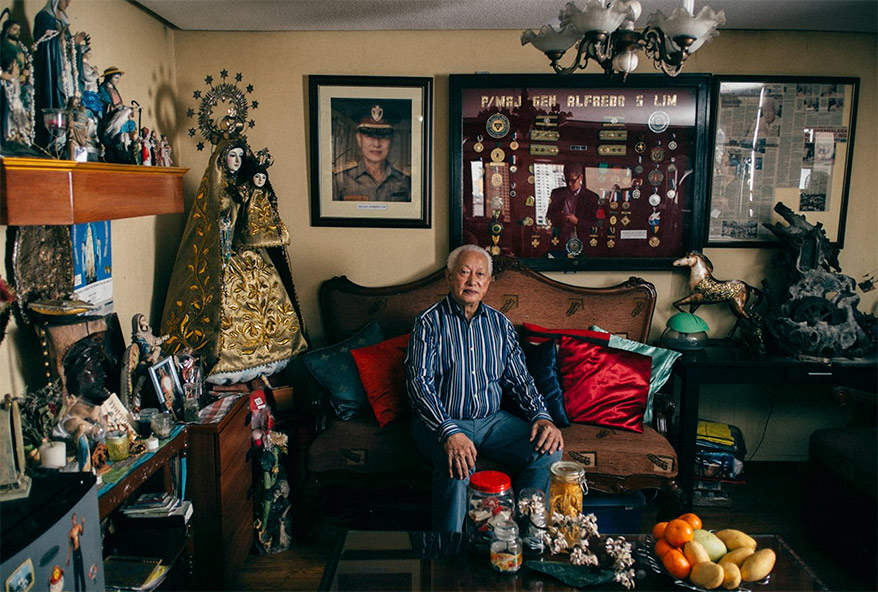 .
On the morning of August 23, 2010, a few months after the election of a new president and Lim himself had won re-election as Mayor of Manila, an ex-policeman named Rolando Mendoza boarded a tourist bus in Fort Santiago in Intramuros and held it hostage at the Rizal Park in Luneta. Inside with him were 21 Hong Kong tourists, two Chinese tourist guides, and a Filipino driver. He was demanding to be reinstated into the police force, claiming that he was set up for the charge of extortion. The Ombudsman refused but sent a letter promising to review the case, which the hostage-taker dismissed as "garbage." Mendoza's brother, Gregorio, also a policeman, came to the scene apparently to convince him to surrender. It was reported that Lim ordered the police to take the brother to the station in Tondo after negotiations failed. The hostage-taker was watching the media coverage on the television in the bus and witnessed his brother resisting while being taken away. Soon after, shots were heard being fired from within the bus. The SWAT descended and a shootout ensued. By the end of the crisis, eight hostages and Mendoza were dead.
ADVERTISEMENT - CONTINUE READING BELOW
The newly elected president Benigno S. Aquino ordered a probe. It found Lim liable along with Department of Interior and Local Government undersecretary Rico Puno and National Police Director General Jesus Verzosa of administrative and criminal culpability for mishandling the hostage crisis. But the president only approved the filing of administrative charges for "misconduct and simple neglect" against Lim. (The other two were cleared by Aquino.)
Despite this, there are many who still blame Lim. These accusers claim that he is already too old for the job.
I ask Lim if he thinks—as his critics and rivals claim—that his age has affected his judgment. Or what he makes of the rumor that he was falling asleep during the discussions during the hostage taking. "That's a big lie," he says.
"When that hostage crisis occurred, that was about 10 a.m., if I recall right. And the Chief of Police told me that he's going to handle the case. So I said, go ahead. I was at the office. Vice Mayor Isko Moreno was in my office and he heard about it. He said he would go there. I said, "Go ahead." That was in the morning. But I thought it would be settled after a few hours. After the hostage crisis dragged on into the afternoon, I decided to go there…
"The one handling the negotiation was the Chief of Police. I never interfered in his talks with the hostage-taker. I attended a hostage negotiation seminar for one month at the FBI Academy with other Chiefs of Police. And they taught us that we should not meddle with the hostage negotiation. To let the hostage negotiator talk. And the hostage-taker must not talk with anybody else except the hostage negotiator. That's the principle of hostage negotiation. That's why we're not interfering. The [media] do not understand the principles of hostage negotiation. The hostage negotiator can only concur with the Chief of Police if he feels that he could not decide what should be done. It's only the Chief of Police and him. Even the Chief of Police cannot talk with the hostage-taker, only the hostage negotiator."
ADVERTISEMENT - CONTINUE READING BELOW
To this day, Lim remains adamant that it wasn't his fault, pointing out again that he never handled the negotiations with Mendoza.
When I ask him if he was affected by seeing all the dead when he visited and inspected the scene after, he says that it is part of the job. "Sanay na tayo dyan, eh," he says.
On the subject of killing, I remind him that I asked him back in 2007 how many people he has killed. Lim had been accused of extra-judicial killings of criminals and I just wanted to know how many he would say died from his own gun. He answered a modest "six or seven." All in the line of duty, he qualified, then, during shoot-outs with the police.
Now I can see Lim thinking, remembering. Then, he starts to count with his fingers…
"I think it's more than seven," he tells me.
Does he remember how many?
"The first one was in Sta. Ana… There were five in the shootout at the precinct. Then later on… there were four. So that's nine. There were several others. I think there were another three…"
He runs out of fingers.
.
I'm not saying I'm the only man who could do things for Manila... But I think the record will stand, that I have not been involved in any shenanigans whether personal or official.
.
I ask him what he thinks of Mayor Rodrigo Duterte, whose admirers and critics compare him to Lim. In particular, his method of fighting crime, which has brought him the attention of human rights advocates. Such accusations have hounded Lim for decades and it was also the source of his appeal when there was a groundswell for him to run as president in 1998. The moniker "Lim Kwan Yew" was coined, in reference to Singapore's recently departed leader's so-called "benign dictatorship." (Lim eventually lost, coincidentally enough, to Estrada. He was the first major candidate to concede during that election.) He calls Duterte his role model, though he says they haven't spoken to each in years. "Kung mayroon lang dalawampung Mayor Duterte sa Pilipinas, aba, tatahimik ang bayan natin. Because they're fighting this criminal element."
ADVERTISEMENT - CONTINUE READING BELOW
His critics, like yours, cite his record on human rights.
"They do not know what's going on. Perhaps that's their impression or opinion. They're talking about the human rights of these criminal elements. They have their human rights, but what about the victims? Eto'ng mga pinapatay nila. Nakalimutan na nila? Eh ngayon, kung hindi naman aaksyunan itong mga kriminal na ito, eh di, papatay nang papatay yan. Alam naman nila na yung mga pinaggagawa nila, mga mabibigat na krimen, so they never surrender. Pag huhulihin na sila, lumalaban."
So you admire him.
"Yes, I respect him."
(He tells me later on that he wants Duterte to run for president. At the time of our interview, the mayor from Davao had not yet formally announced his bid for the presidency in 2016.)
Given that he appears to be number one in the surveys for the mayoralty post next year (with Estrada reportedly placing third), I ask him if he thinks he's the only man who can save Manila.
"I'm not saying I'm the only man who could do things for Manila. There are other candidates. [But] I think the record will stand, that I have not been involved in any shenanigans, whether personal or official."
Has Erap done anything good for Manila, though?
"Marami naman siguro. If I answer that, I'll be biased. Let the people answer. Kung may nagawa siyang mabuti, eh di good for him. Kung may nagawang masama, eh good for him also. Kasi hindi naman siya iboboto ng mga tao, eh. Malalaman natin someday."
ADVERTISEMENT - CONTINUE READING BELOW
.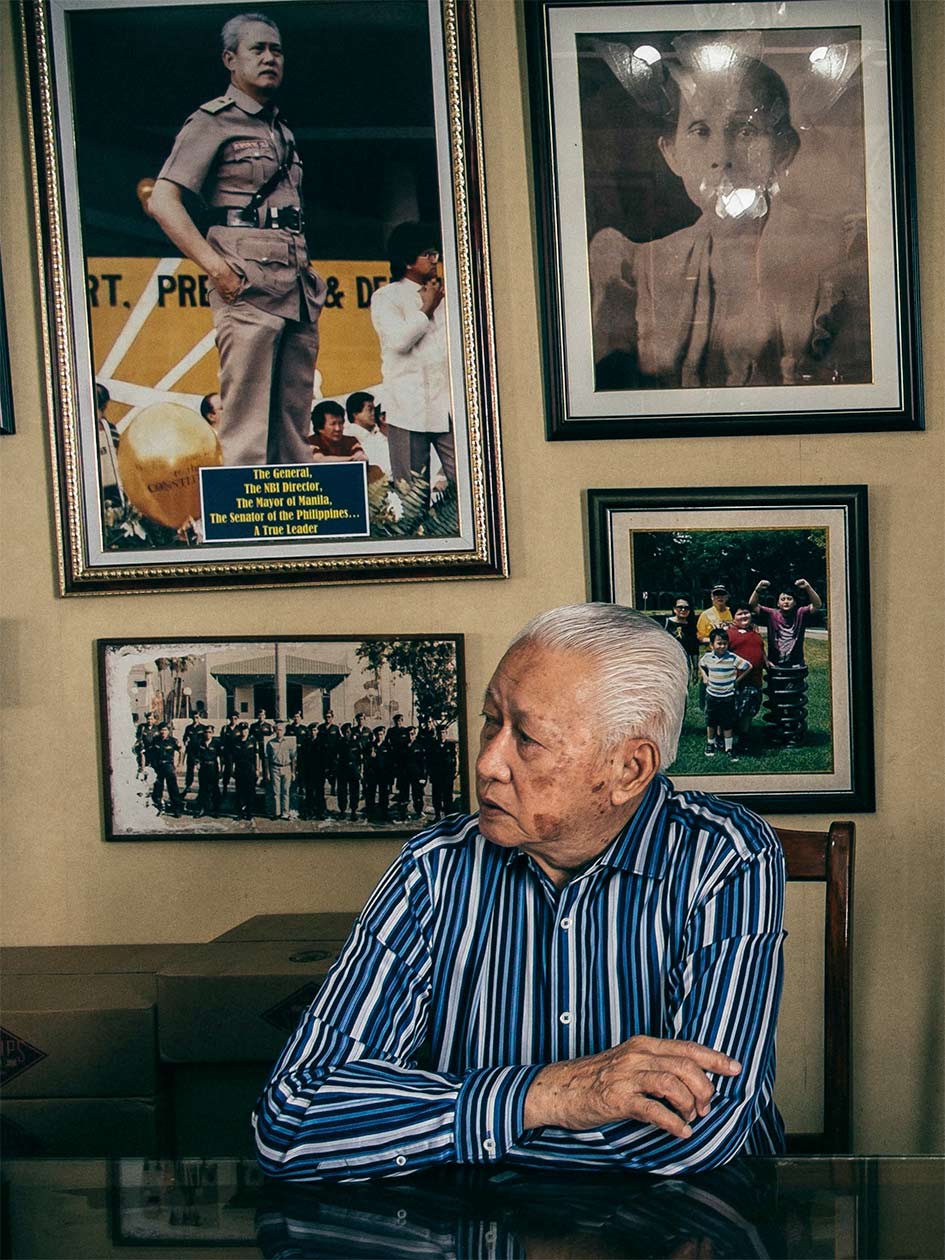 .
Back in 1998, during a televised interview on the program of the late columnist and journalist Teodoro Benigno, Lim wept. It was clear he was trying his best not to, taking out his handkerchief to repeatedly wipe his eyes. But despite his efforts to maintain his composure, he kept crying. It was a sight that moved even Benigno to tears.
Lim had been talking about his grandmother—the one who had brought him home after his mother left the young boy in an orphanage. (She would care for him until her death.) Opponents questioned his citizenship, given the circumstances surrounding his birth. There were charges that he was not a natural-born Filipino. In the heated rhetoric of election season, Lim was being branded "Intsik" even in mainstream media. The usually quiet Lim decided to clear up the issue once and for all. He had never before openly revealed that he was born illegitimate. Even in Joaquin's biography, it is merely implied.
ADVERTISEMENT - CONTINUE READING BELOW
I ask him if he still cries.
Lim tells me he does, especially when he thinks about his grandmother.
"She loved me very much. More than my mother. Kaya ako naiyak, noong namatay kasi ang grandmother ko, Japanese time, April 10, 1943. Kaya ako naiiyak, naging successful ako sa buhay, hindi ko man lang nagantihan yung pagmamahal na binigay sa akin. Pag may hindi magandang nangyayari, minsan naiisip ko, sana bata pa ako under the care of my grandmother."
I ask him what he thinks about the charges against Senator Grace Poe, who was also abandoned as an infant and is now running to be president.
"Politika eh, alam mo naman yung siraan. Di ba sinisiraan siya? Kung anu-ano sinasabi. Bakit hindi nila pabayaan na tumakbo na lang. And let the people decide. Kasalanan ba ng bata na foundling siya? Anong kinalaman noong sa pagkakapanganak sa kanya? Hindi maganda yun, eh. Atakihin mo ang tao sa karakter niya. Kunwari, nagsasamantala siya sa panunungkulan, o nagnanakaw ng kuwarta ng bayan. Iyon, atakihin mo doon. Hindi yung sa pagkakapanganak."
After departing from BASECO, Alfredo Lim makes his rounds, visiting other districts in Manila to deliver his wheelchairs. Unlike earlier though, there is no program set up for the turnover. In each of the areas he goes to, he alights from his vehicle, walks straight to the home of the intended recipient and knocks on the door. One of his staff follows him to carry the wheelchair, along with a couple of supporters.
He is, of course, expected.
ADVERTISEMENT - CONTINUE READING BELOW
After the wheelchair is taken out of its box, the disabled resident is brought out and placed in the seat. Like earlier, Lim pushes them for a couple of meters as pictures are taken.
Even on his way back to his car, he poses for selfies with the other residents in the area. Again, he never once flashes a smile. His face remains neutral throughout. Perhaps this is the Lim that the general public mostly recognizes and remembers anyway. Not the one who weeps. Not even the one who shows anger.
In fact, he looks like he is always alone, even in the company of people. There is the quality of a monolith about him, standing solitary and defiant amidst a changing landscape and the passage of eras. Something about him looks self-contained and that hasn't changed since we first met almost 20 years ago.
For me, there is something reassuring about that.
.
.
This article originally appeared in the December 2015/January 2016 issue of Esquire Philippines.