Money
Climate Action Network Series: Renewable Energy Is More Fun in the Philippines
Upsilon Sigma Phi highlights carbon-free energy on its virtual event series tackling the global climate crisis.
Upsilon Sigma Phi concluded its third installment of the Climate Action Network Series with the latest session focused on the current state, challenges, and opportunities in transitioning to carbon-free energy sources titled: "Renewable Energy Opportunities in the Philippines."

Speaker Carlos Lorenzo Vega, Trading and Economics First Gen Corporation's Vice President for Power Marketing, highlighted the country's power industry reforms and how energy policies enabled market forces to shape future pricing, supply, and mix of traditional energy sources versus renewable energy sources. "Global and local policies on coal and gaps in market rules infrastructure drives the continuous need for ancillary services to ensure flexible baseload capacity and robust energy supply. This exacerbates the long road to renewables as a consistently reliable and practical source," Carlos explains.




He further shared how economic growth directly lead to increased demand for energy supply and while that bodes well for investments in expanding our mix of energy sources, filling the gap represent challenges in achieving sustainability and ensuring grid security.

"It's more fun in the Philippines," Carlos referred to this famous slogan as he expressed his optimism on renewables in the country and its role in a decarbonized future. He emphasized that a progressive application of alternative energy sources in the Philippines is achievable despite the ongoing challenges of transitioning away from coal.

The Climate Action Network is a series of virtual events sponsored by Upsilon Sigma Phi. Led by government and private sector leaders from the Philippines as well as experts around the world, the initiative seeks to elevate ongoing discussions on the global climate crisis through information sharing, encouraging engagement, and empowering activism.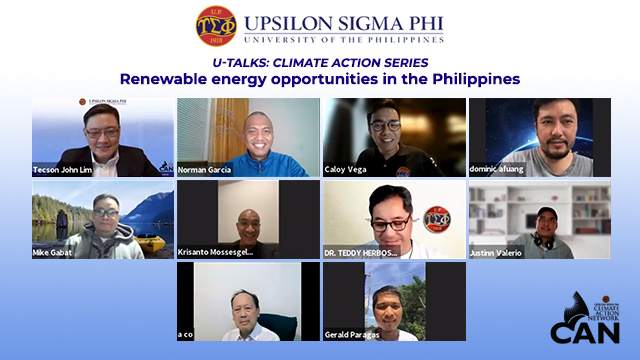 In pursuit of its slogan "Saving our Planet, One U-Talk at a Time!," the UpsilonCAN initiative will continue to host a series of online webinars to tackle the issue of climate change.

For more information on past and future events, sign up and visit Upsilon's official website.