Money
Meet the Coca-Cola PH Plant Managers Who Are Breaking the Gender Bias in the Manufacturing Industry
Did you know that nearly 50% of Coca-Cola PH's manufacturing sites are led by women?
Though we've made considerable progress in making sure that industries aren't gendered, certain sectors continue to be perceived as realms of men. The manufacturing sector, for example, with its images of production lines and heavy machinery, evokes images of all-male personnel.
But at Coca-Cola Beverages Philippines, Inc. (CCBPI) — Coca-Cola's bottling arm in the country — countless women have been putting on their hardhats and taking on leadership roles as plant managers.
Plant managers are integral to cementing Coca-Cola's reputation for quality, making sure that every single bottle of Coke is made following the highest safety and quality standards. They also are at the forefront of fostering the welfare, personal growth, and professional development of their fellow associates.
In celebration of Women's Month, CCBPI puts the spotlight on its women plant managers. Today, nearly 50% of CCBPI manufacturing sites are led by women, who take on the massive responsibility of smooth daily operations in the production of Coca-Cola products.
Zarahmie Trania, plant manager of Misamis Oriental Plant
At the helm of the CCBPI Misamis Oriental Plant — one of Coca-Cola's largest production sites nationwide — stands Zarahmie "Zarah" Trania, overseeing the day-to-day operations that support the beverage giant's sizable supply of products to both Mindanao and the Visayas region.
The eldest of four siblings, Zarah had been a working student — selling spices and dried and salted fish on the weekdays and going to school every weekend — to help support her family. With her talent, skills, and perseverance, Zarah made her way up the company ladder.
According to Zarah, CCBPI's advocacy and her capabilities were integral in further empowering her to reach her goals. "I can only sum it up as CCBPI having leaders who are big believers," she says.
Paula Calayag, plant manager of Sta. Rosa NRP Plant
Paula Calayag, an arts and crafts enthusiast, shares that she draws on the power of mindfulness and self-reflection, whether it may be in creative pursuits or professional goals. Working with Coca-Cola for 14 years, Paula never thought of gender as a hindrance to what one can achieve.
One of her priorities as a plant manager of CCBPI Sta. Rosa is to serve as a role model and an example of institutionalized progressive equality within the company. "It is important for women to know themselves well —from their personalities to their natural abilities and their learned skills — to be more confident in themselves," Paula says.
Rowena Bulandus, plant manager of Iloilo Plant
Rowena "Weng" Bulandus oversees the operations of the CCBPI Iloilo Plant and has been with the company for 14 years. While most of Weng's siblings are residing and working abroad, she decided that she would rather stay in the Philippines and pursue her goals while in the company of her loved ones.
Weng is a strong advocate of women empowerment. Being a plant manager allows her to lift other women up, and motivate them to do the same for others. "I encourage women associates in my plant to speak their mind," she says, "because, after all, every voice — no matter which gender it belongs to — must be heard."
Ayesha Castillano, plant manager of Tagbilaran Plant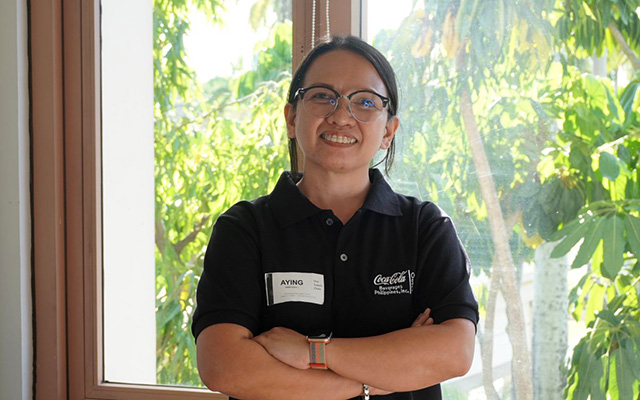 Ayesha Castillano is a mother of two children, with a husband who has constantly supported and encouraged her to pursue her career goals. Her husband's support enabled Ayesha to reach the 20-year milestone of being in the industry. Now, she serves as the plant manager of the CCBPI Tagbilaran Plant.
As a plant manager, she pushes her associates to desire improvement, and leverage mentorship and networking to expand one's knowledge of the industry. "In CCBPI, we provide exposure and experience to their field so they can really appreciate the scope of their role in the entire organization," Ayesha says.
Archelet Torregoza, plant manager of Meycauayan Plant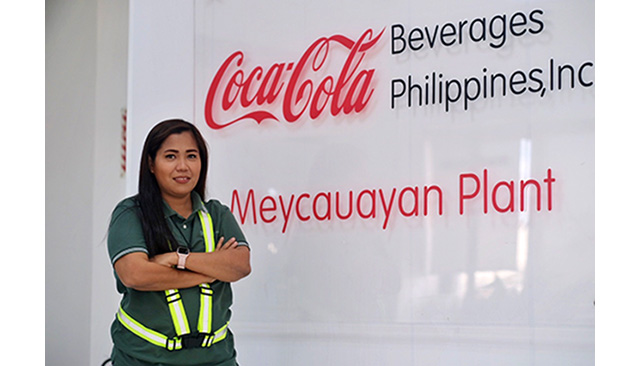 Archelet Torregoza, CCBPI Meycauayan plant manager, takes every opportunity to embolden her associates, especially women, to speak their minds, discuss their differences, and arrive at a solution where everyone can benefit.
She echoes to her fellow plant managers the importance of having equal opportunities in the workplace. According to her, it gets better every year in CCBPI as more women are being given responsibilities usually assigned to men.
"I'm working with the CCBPI management team to ensure that women are included matter-of-factly in leadership and career development training programs. Having a level playing field is beneficial to all genders," Archelet shares.
Joy Beleno, plant manager of Davao del Sur Plant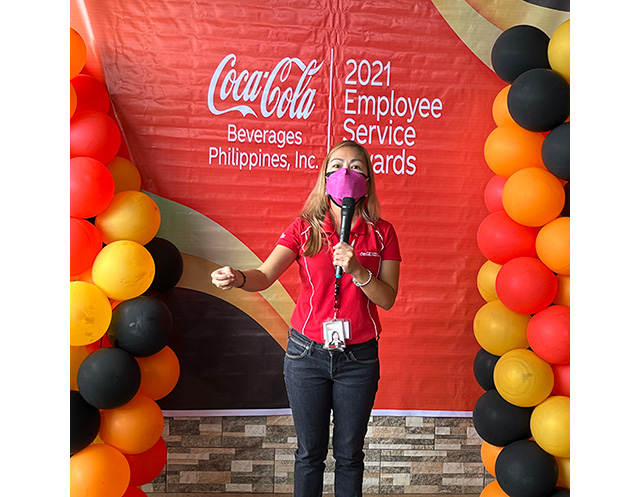 Joy Beleno, a licensed chemist, studied at the University of the Philippines in Diliman. She completed her internship at CCBPI Davao Plant and applied to CCBPI Naga where her beloved hometown is. Today, she is the current plant manager of the Davao del Sur Plant — just one of her many achievements in her 20 years in the industry — with the plant winning Best in Cost and Quality in CCBPI's Supply Chain Tiger Awards.
She believes that CCBPI's investments in women have propelled them to hone their skills further, allowing them to take on new opportunities and experiences as women.
"We really invest in women and provide programs that will optimize their capabilities," Joy says. "It really helps a lot of our women associates and gives them the confidence and motivation they need at work and in their personal lives."
Nancy Laurente, plant manager of Naga Plant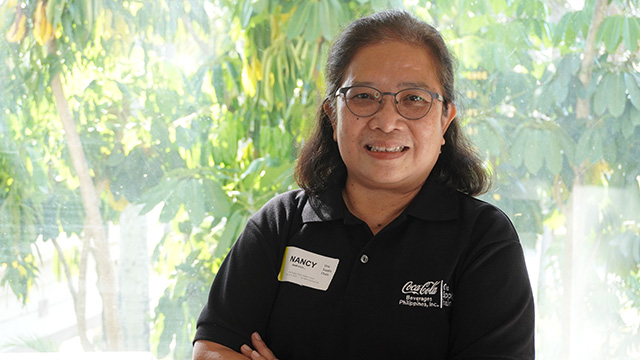 Nancy Laurente, CCBPI Naga's plant manager, acknowledges that men and women have different strengths and each person has their unique contributions that can benefit the organization. She is proud of her mentoring instinct as a woman leader and of her keen attention to detail regarding CCBPI production.
Working with CCBPI for three decades, she has been a witness as to how supportive associates are of each other's growth — men and women lifting each other up, and using a matter-of-fact professional camaraderie to create a better environment to thrive in.
"We recognize that our responsibilities coincide with one another and seek to be on each other's aid whenever it is needed," Nancy says.
Amy Mauricio, plant manager of Davao City Plant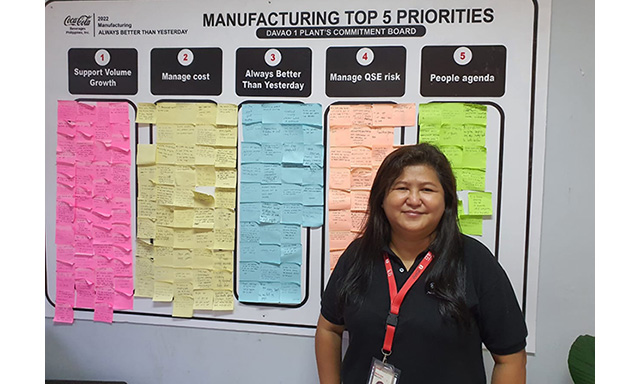 Amy Mauricio, plant manager of CCBPI Davao City Plant, encourages everyone in the plant to embrace their individuality and to continue to sharpen their skills and talents. "I believe women have unique skills and a strength of character, specifically geared to helping more people contribute to the vision and goal of their team," Amy says.
She, herself, is happy to provide one-on-one mentorship and professional coaching, if needed, taking inspiration from John Maxwell's 21 Laws of Leadership. Amy takes them to heart and puts them into practice as the plant was nominated Plant of the Year and Best in Cost in CCBPI's Supply Chain Tiger Awards.

CCBPI continues to help women #BreaktheBias through its programs, systems, and a dedicated diversity, equity, and inclusivity team to help foster an empowering and people-first culture for its LGBT, multi-generational, multicultural, persons with disabilities, and women associates.
CCBPI ensures that long-term institutional policies and partnerships are in place. Beyond its systematized upskilling and personal development roadmaps for all associates across all functions, the company provides its women associates with enhanced statutory benefits and a constant support system through open women networks.
CCBPI's People Vice President and Chief People Officer Oscar Medina says: "Our women plant managers add a different dimension to leadership and we are proud of the high standards they set for the manufacturing industry."
"They not only represent some of the best talents we have in Coca-Cola, but they also continue to open doors to innovation, transformation, and growth, both in the business and in their own communities," he adds.
Follow Coca-Cola Philippines Careers on Facebook.
About Coca-Cola in the Philippines
Coca-Cola has been refreshing Filipinos and making a difference in the Philippines for 108 years. The Philippines was Coca-Cola's first market in Asia to begin local bottling operations. Today, the Coca-Cola system in the Philippines has evolved into a total beverage company, offering 19 brands in its beverage portfolio and employing over 10,000 Filipinos in 19 manufacturing facilities and more than 70 distribution centers nationwide.
As part of its long-standing commitment to the country, Coca-Cola continues to #GOBEYONDGOOD as a business by continuously supporting safe water access programs in over 200 communities, empowering over 200,000 women entrepreneurs through training and peer mentoring, and accelerating packaging collection and recycling under its global World Without Waste initiative.