Money
Planning To Relocate Or Open a Business? You Might Want To Bring It To Bulacan
Big or small, there's a space for your business at Northwin Main Street in Megaworld's 85-hectare Northwin Global City
PARTNER COLLABORATION WITH NORTHWIN GLOBAL CITY

Growing up, many of us were somehow made to believe that to make it big in business (and in life) meant to be in and to set up shop in Metro Manila. While this belief does have some truth in it, it's not exactly as true as it was decades ago.
Today, businesses new and established, big and small, have already begun setting their sights on locations outside of the National Capital Region that have the potential to be just as successful as well-established central business districts in cities like Makati, Pasig, Taguig, and QC.
Enter: the province of Bulacan, where Northwin Global City, property giant Megaworld's 28th township, will soon rise along the North Luzon Expressway on an 85-hectare parcel of land straddling the municipalities of Marilao and Bocaue.
Spaces for every business


Northwin Global City is envisioned to be a thriving, world-class hub—Bulacan's first-ever—that some of the country's (or the world's, even) biggest companies will call home. But don't let this intimidate you; this township has plenty of room for smaller-scale businesses, too.
While bigger businesses occupy state-of-the-art office towers, others can opt for shophouses. These are structures that can be built up to three-storeys high for both commercial and residential or office purposes.
It's like this: A typical shophouse would have a retail; food and beverage outlets such as cafes, restaurants and bars; boutique hotels; and even outpatient clinics on the first floor. Then, on the upper floors, tenants can choose to extend their business by building an office or make use of the space to build their home.
These shophouses will carry exterior designs inspired by the beautiful and iconic French architecture, bringing a piece of Paris near home.
Commercial buildings, on the other hand, may be built up to five-storeys high and exclusively for commercial purposes, such as office or boutique hotels.
A world-class central business district


The shophouse district will be a part of Northwin Main Street, a 16-hectare property to be master planned like New York City's famed Fifth Avenue to become the Northwin Global City's central business district.
At Northwin Main Street, corporate buildings, shophouses, hotels, and commercial towers, abound while keeping the walkability of the district. Shophouse lot sizes range from 250-square meters to 550-square meters, while commercial lot sizes range from 450-square meters to 750-square meters.
In total, 145 prime shophouse and commercial lots will be offered, all lined up in pedestrian-friendly streets surrounded with well-curated gardens and parks.
The seamless convergence of work and leisure

For all the advancements and sleek tech that the township promises its future tenants and visitors, it makes sure to not compromise connectivity and mobility.
Northwin Main Street will be carefully master planned, with promenades and walking parks to be integrated between blocks of the district. Around 44% of the district will be allocated for green and open spaces. Leading to the district are main roads and avenues that will be as wide as 30 meters or eight lanes for both sides.
It will also feature green innovations and sustainable 'iTownship' facilities such as stormwater detention facility for flood prevention, fiber optic and underground cabling system for utilities, LED and solar-powered street lights, sewage treatment plant, central material recovery facility for waste recycling, as well its own Intermodal Transport Terminal and biking network facilities.
All roads lead to Northwin Global City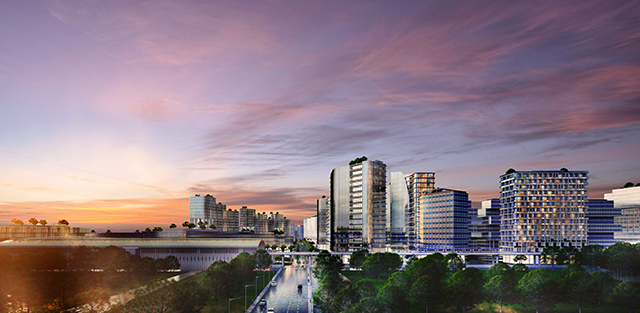 Soon, commuting to this side of Bulacan will be a breeze. Case in point: One of the main stations of the Manila-Clark Railway project will be located inside the township, offering convenient accessibility to the future workers, residents, and visitors of Northwin Global City.
It can easily be accessed several other ways, too.
"Since the township is just conveniently located along the North Luzon Expressway (NLEX), and just 20 kilometers away from Metro Manila, this will be the nearest business district outside of the capital where companies and businesses can build their shops and offices. We also encourage entrepreneurs to become part of this global business district, which will soon be just 20 minutes away from the much-anticipated New Manila International Airport in Bulacan," says Noli D. Hernandez, executive vice president for sales and marketing, Megaworld.
Positioned as Bulacan's global business district, the P98-billion Northwin Global City will also host residential condominiums, hotels, malls, mixed-use commercial buildings, educational institutions, and state-of-the-art office towers for BPOs and corporate headquarters.
Exciting times are definitely ahead for doing business in Bulacan!
For more information and updates, visit www.megaworldcorp.com and follow Megaworld Corporation on Facebook and Instagram.
This article is sponsored by NORTHWIN GLOBAL CITY.