Which Mobile Banking App Is the Handiest?
We tested a few and looked at features, ease of use, and security.
ILLUSTRATOR WARREN ESPEJO
Mobile banking apps can either be really helpful or the source of incredibly annoying minor inconveniences. Sure, there's the promise of efficiency and ease of use—"Do your banking anywhere!" as the ads usually go—but we're sure you've hit a snag or two while using the mobile apps. Not to mention that the apps of different banks usually have their own set of services and rules, so things change every time you switch to a new bank.
So, to make things easy for you, we tested out the mobile apps of a selection of local banks and ranked them based on design, user interface, services offered, and corresponding fees, plus their respective security measures. What are the best mobile banking apps right now? Here, we rank them for you.
More: 10 Online Services to Try for a Cashless Existence
6| Landbank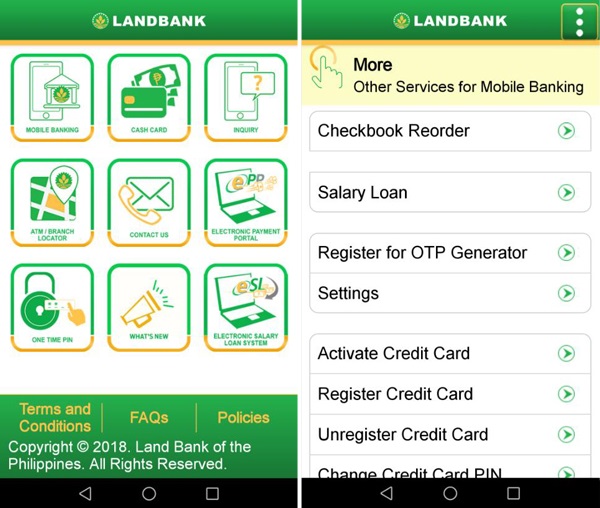 The Lowdown: "To be able to use the mobile bank app, I had to enroll my account to their iAccess program for online banking, which can be done through any browser. It [took] a couple of days to activate. The app itself is straightforward. When you log in, there's a homepage that features info and services from the bank (the actual mobile app is just one of the icons. I get all the basic stuff done: Check my balance, transfer funds, and pay bills. For the last item, there's a choice to either enroll merchants or just choose from the dropdown list they have. As for transfers, there's a P25 inter-bank fee for real-time transactions, though there is an option that costs P15 which will take a couple of days to reflect. There is the usual problem with OTPs, which always take a couple minutes, and the app crashing or sometimes not working at all.
ADVERTISEMENT - CONTINUE READING BELOW
"The Landbank mobile app isn't the prettiest one out there. The app is loaded with several features and icons that aren't necessary and just serve to make the interface confusing at times. It is also a slow one. One good feature it has would be the Mobilock one which I use to basically lock my account and protect it from other people withdrawing my money." —Aleli, Huawei Mate 10
The Verdict: Sure it will get stuff done, but you'll have to be extra patient with this app. The Landbank app does have all the basic features up—including Mobilock!—but whether they actually work may depend on other things. Plus, the design can get rather tricky to navigate. Landbank does have an informative tutorial series up on their official YouTube channel in case the parents ever have a question! So all in all, if you have a Landbank account, it would still be beneficial to download the mobile app, if only to keep track of your finances.
5| Banco de Oro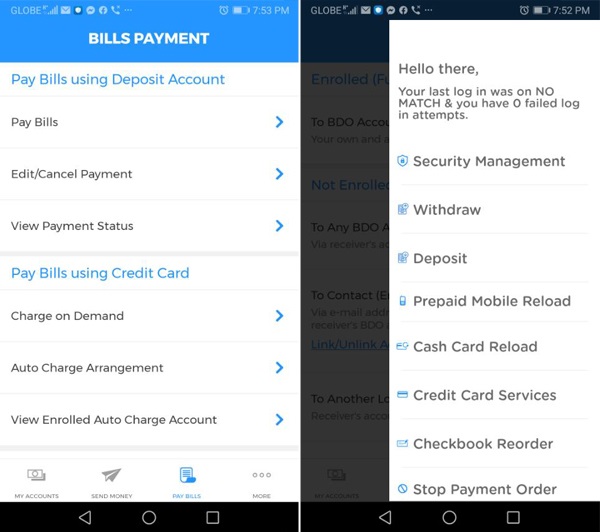 ADVERTISEMENT - CONTINUE READING BELOW
Recommended Videos
The Lowdown: "The BDO app has about zero frills. The design is pretty text-heavy so when you log in, the homepage shows a bunch of options listing what you can do. I mostly use it for basic services such as fund transfers and bill payments. For the first one, transferring to other BDO accounts is completely free, while inter-bank transactions cost P100 (they've waived the fee for now but I'm not sure for how long). You can also enroll utility companies and enable auto-charging with your credit or debit card for easier bills payment. My main gripe about the app is that transfers to my account aren't reflected in real time; it usually takes about an hour or two before I can confirm that the money came in. The app also crashes quite often and you need really good Internet connection to make it work smoothly." —Sandra, Huawei Mate 9
The Verdict: If you only need the mobile app to transfer funds or pay bills, then the BDO app does get the job done. We have our eyebrows raised at the P100 fee for inter-bank transfers but here's hoping that gets permanently waived. The constant crashing may add to your daily annoyances. On the plus side, the app does ensure you get your errands done!
4| Robinsons Bank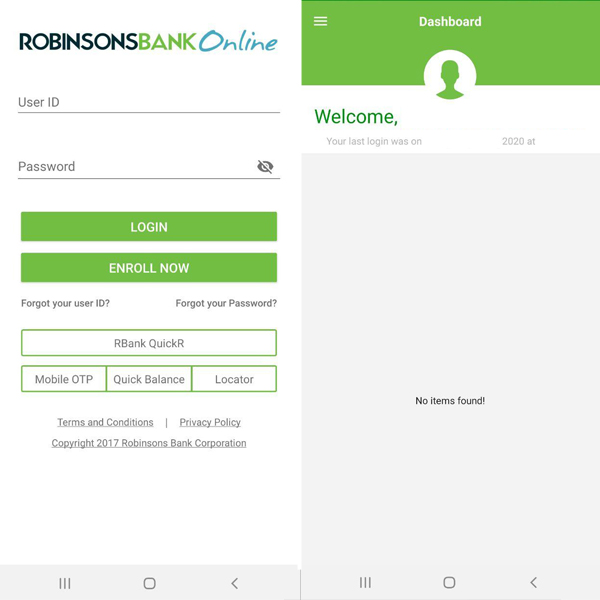 ADVERTISEMENT - CONTINUE READING BELOW
The Lowdown: "The first time you log into the app, it checks your device and asks you if you want to 'recognize' the phone you are using. Perhaps that's why you won't get OTPs when you access the app, as opposed to using the website where you'll get an OTP notification upon logging in. The app then takes you to the homepage, where you'll see your name in a huge font—sporting RBank green, of course—and the last time a log-in attempt was made, in smaller, almost light-gray text. It's completely sparse as those are the only two elements occupying the topmost part of the screen. The menu button is positioned on the top-left part of the screen, where you'd see your accounts, transfer and pay options, as well as additional items and app settings.
"The sections of the app are pretty straightforward, and it basically offers features that I would be able to do on the website as well. (One of my favorite features is being able to pay billers without having to enrol them, and it seems that the same can be done on the app.) The app is basically a no-fuss version of RBank's online banking portal. Everything was seamless: the app doesn't crash or lag, and using it was easy-peasy." —Mari, Samsung Galaxy Note 8
The Verdict: If you need to be able to transfer funds wherever, whenever, then the Robinsons Bank app is sure to help you do just that. There's a one-peso transaction fee for bank transfers via Instapay, which are credited in real-time. Aside from that, the app can also be used to request a new checkbook, apply for and open new accounts, and manage billers. The color scheme could make the interface a little confusing, so be sure to pay attention to what you're tapping! All in all, the Robinsons Bank app is a very straightforward app that gets the job done.
ADVERTISEMENT - CONTINUE READING BELOW
3| United Coconut Planters Bank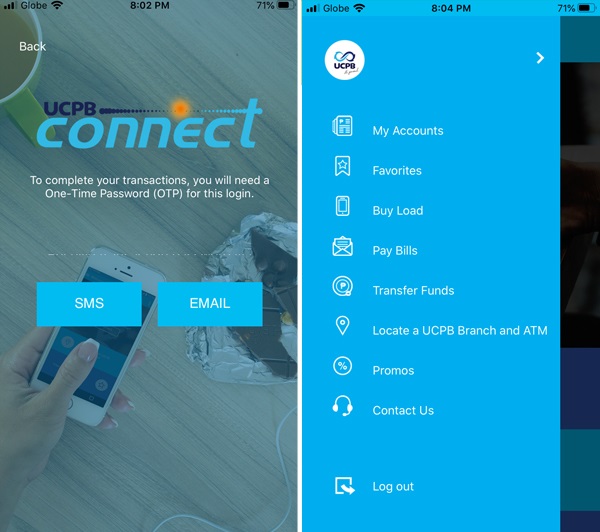 The Lowdown: "I have been using the UCPB app for more than a year now and it's proven to be simple and efficient. I use it for all the usual errands that once could only be done at the actual bank itself, such as transferring funds and paying bills. There is no fee for transferring to any bank so that's a huge plus. I also enrolled my credit card for auto-charging so I don't have to manually pay my utility bills through the app every so often. There's also the option to buy prepaid load for your phone through the app but I haven't used that yet. The overall design has been really easy for me to understand and use even if I didn't grow up with smartphones! The only thing is that the app asks you to put in an OTP for basically every transaction, which is great for security, but the feature sometimes glitches and you could end up either not receiving one or it taking much too long." —Marichi, Apple iPhone X
ADVERTISEMENT - CONTINUE READING BELOW
The Verdict: If you can find a way to make the One-Time-Passwords work smoothly, then this app is pretty much all you need. The UCPB app has a modern design that doesn't clash with its usefulness. You can get all your basic bank-related tasks done on the app, too, though we suppose steady Internet connection and strong signal is needed for the OTP. Aside from that, we're pretty sure folks with UCPB accounts would find the mobile banking app useful! Not to mention the major points it gets thanks to the fact that the bank waived fees for all mobile phone banking transactions in 2017.
2| Bank of the Philippine Islands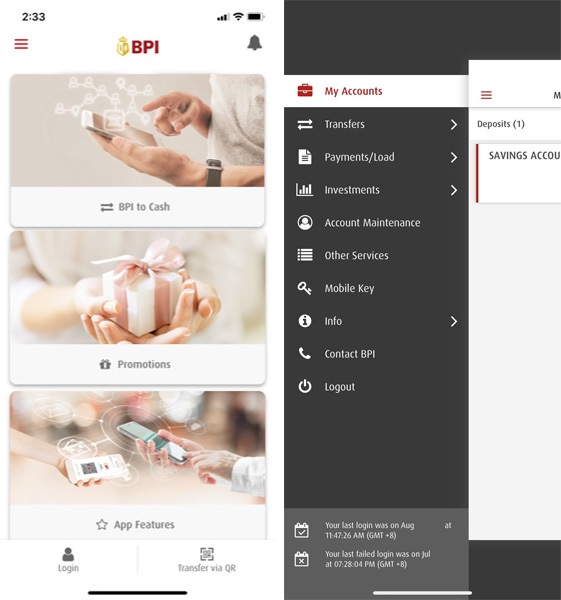 The Lowdown: "The BPI app is easy on the eyes and easy to use—it looks sleek and the design is clean and uncluttered, and it's easy to navigate even if you have several accounts with the bank. You can use it to check your monthly statements, request a checkbook, stop a payment order, or cancel your credit card in case of emergency. You can even create a QR code so you can share your account details safely. Ideally, the app could also make it easier for you to pay bills, but doing that requires the extra step of 'enrolling' a biller. All in all, it's a good, useful app that's handy for making payments or transferring funds." —Jo, Apple iPhone XR
ADVERTISEMENT - CONTINUE READING BELOW
The Verdict: The BPI mobile app is pretty much like having the actual bank on your phone. It's a no-frills app that lets you do all the basic transactions you would need to (though bill payments require an extra step of enrolling the biller). The fees are similar as well with the actual bank, meaning that there's a P50 fee if you're transferring funds to accounts outside your region. Plus points are in order for the safety measure of a text message sent every time a transaction goes through!
1| UnionBank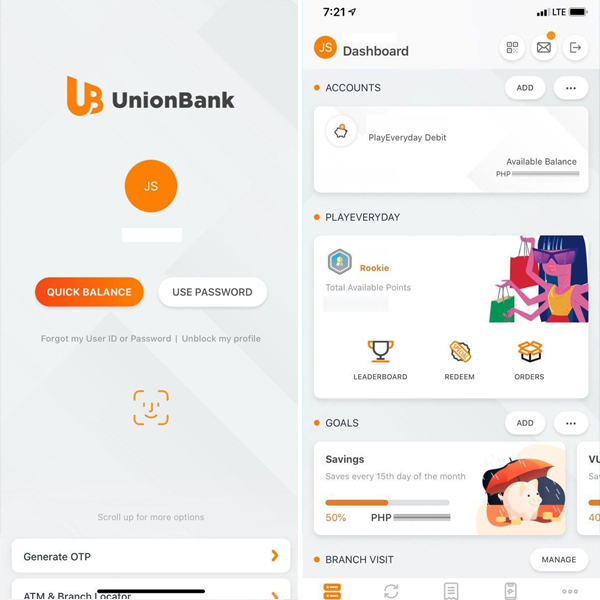 The Lowdown: "What I love about UnionBank Online is that everything is incredibly hassle-free. From opening an account to getting your debit card via mail to the user-friendliness of the app. Plus, there are several features I think other bank apps don't have. There's a neat 'quick balance' feature that you can turn on so you don't have to open the entire app just to see how much money you have. There's also a 'Request' feature which basically lets you request money or payment from other UnionBank Online users. You just input the amount you're requesting and the person you're requesting it from, and all they have to do is check their app for the request and accept it. There's also a 'Split Bill' function which takes away the guesswork from how much each person has to pay when you're sharing one bill.
ADVERTISEMENT - CONTINUE READING BELOW
"But my ultimate favorite feature, though, is the 'Goals.' The app lets you set Goals for whatever it is you're trying to save money for, if it's emergency funds, a new gadget, or insurance money. Basically you set up a Goal by putting how much you need by a certain date (example: P20,000 by December 25, 2020). Then, you can choose how much money you want to set aside and how frequently you want to do it, either weekly, monthly, or quarterly, and the app will do that for you up until you reach your goal. It really helped me set some cash aside and the best part is I don't even have to think about it at all, since the app 'transfers' my funds to my Goals automatically! It's like having multiple bank accounts in one.
"I've been using the app for almost two years and I've probably only experienced it being down once or twice—and even then, the 'downtime' was scheduled and I was notified ahead of time. If you're someone who's struggling with saving money or if you simply want a secure and hassle-free online banking experience, Unionbank won't let you down." —Jamie, Apple iPhone 11
The Verdict: UnionBank has definitely aced the game with their app. Not only is the design and interface easy to use, the app has a lot of features others don't. The "Split Bill" feature would come in handy for your nights out with friends, and the "Goals" feature is perfect for those wanting to save up for a wish-list item or even a trip. As for fees, fund transfers to other banks cost P10 but practically all other services are free. This app is definitely one that goes beyond the basic services and is sure to be a handy one to have on your phone.
ADVERTISEMENT - CONTINUE READING BELOW
This story originally appeared on Spot.ph. Minor edits have been made by the Esquiremag.ph editors.
More Videos You Can Watch