Vilma Santos and Loren Legarda Slammed For Voting For Anti-Terrorism Bill
Batangas 6th District Representative Vilma Santos-Recto admits to voting in favor of the Anti-Terrorism Bill of 2020, while Antique Congresswoman Loren Legarda says she voted against the measure.
IMAGE MARK ATIENZA / FACEBOOK
Batangas Representative Vilma Santos-Recto was heavily criticized after she voted in favor of the controversial Anti-Terrorism Bill of 2020. The 66-year-old actress-turned-politician, however, cleared that she was not among those who authored House Bill 6875.
Top Story: Pacquiao Ranks Second on 10 Greatest Boxers of All Time
The House BIll 6875 is a version of the Lower House of Senate Bill 1083, or the Anti-Terrorism Bill of 2020. On June 3, the Lower House approved the House Bill after a third and final reading. A few hours later, the list of members of the congress who voted in favor of the bill circulated online.
Shortly after, the Batangas 6th District Representative received backlash. Her son, television host Luis Manzano, was quick to defend his mother on Twitter. Through a message, Santos-Recto clarified that she did not author the House Bill. But, she admitted that she voted for the Anti-Terrorism Bill "with reservations."
"I am not a principal author of House Bill 6875. I'm in favor of it WITH RESERVATIONS. I have concern about the country's national security policy. I just hope that the law enforcement agencies will implement it in accordance with the Constitution, full respect to human rights and without any abuse whatsoever," she said.
ADVERTISEMENT - CONTINUE READING BELOW
It's Manzano's intention was to clarify things with his mother's critics. Instead, Santos-Recto's decision and explanation was met with more furor.
Among those who reacted to the tweet were actress Janine Gutierrez, who said "Kung 'yes with reservations' ang nararamdaman mo, hindi ba dapat mag 'no' ka nalang hanggang masolusyonan o matanggal ang mga bagay na ikinababahala mo?"
While a lot of people were disappointed with Santos-Recto for being in favor of the "draconian" bill. She was called an "enabler" and a "traitor." One user replied to Manzano's tweet saying "nasa kamay na ng nanay mo dugo ng lahat ng mamamatay sa bill na yan."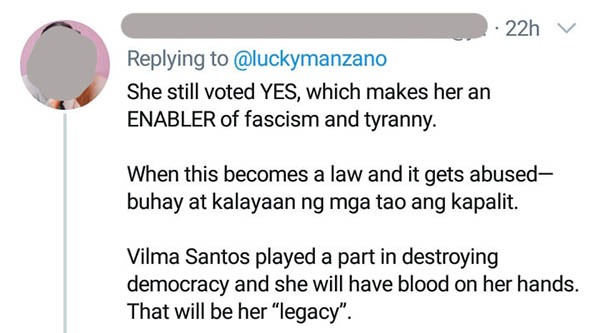 Another user said Santos-Recto's decision was misguided for "hoping" that authorities could implement it properly. Many clamored for Manzano to convince his mother to change her decision in supporting the bill.

ADVERTISEMENT - CONTINUE READING BELOW

In a tweet, another user said the current government doesn't listen to "reservations" while citing that the administration is "monstrous."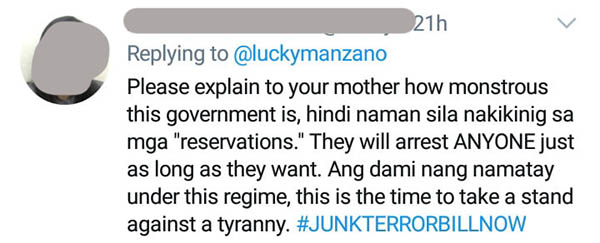 A lot of Santos-Recto's fans were also dismayed with the decision. Several were saddened that the actress-politician voted in favor of the Anti-Terrorism Bill even after starring in two iconic politically-charged films such as Sister Stella L. and Dekado '70. The actress led both films where she portrayed a brave activist.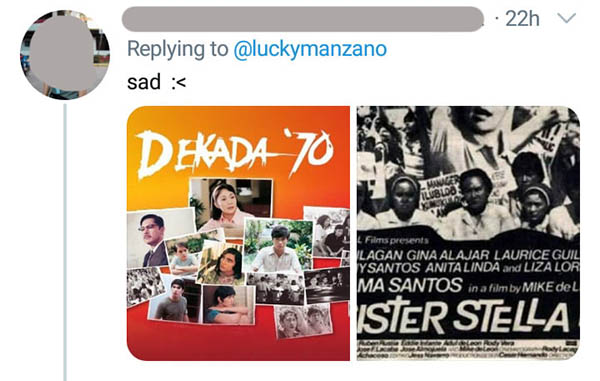 ADVERTISEMENT - CONTINUE READING BELOW
Manzano is known for replying to critics, but in this instance, the host remained mum and didn't reply to anyone.
Fellow celebrity politician Antique Representative Loren Legarda also drew ire for "lying" and "washing her hands" with regard to the bill. This was after the 60-year-old former broadcaster tweeted that she was not a co-author of the Anti-Terrorism Bill.
Legarda also said that she voted "no." Her tweet reads: "Just to clarify: I never signed a co author form re anti terror bill. In fact, I voted no to the measure."
Twitter users, however, were quick to present documents from the official website of the congress.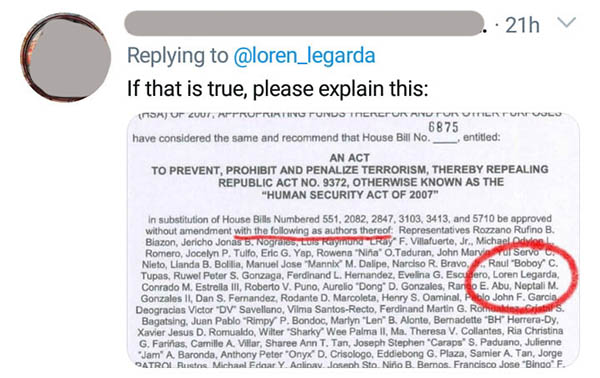 The tweets show Legarda's name on the official documents, and users labeled her as a liar.


ADVERTISEMENT - CONTINUE READING BELOW

Legarda has countered these claims by tweeting a screenshot of the copy of the approved House Bill 6875, "which clearly shows that I am not co-author of the measure."
In the photo, Legarda's name isn't among those who authored the bill. But the politician-journalist didn't release a statement of how her name came to be a part of the original list of co-authors of the Anti-Terrorism Bill.
This story originally appeared on Pep.ph. Minor edits have been made by the Esquiremag.ph editors.
More Videos You Can Watch