Fashion
The 16 Denim Brands Every Jeans-Wearing Guy Needs to Know
Need a new pair? Here's where to start.
IMAGE CHRISTIAN VIERIG / GETTY IMAGES
The key to building and maintaining your perfect wardrobe is starting with the essentials. And as far as pants go, denim should be on the top of your list. Great jeans have a home in basically every part of the modern wardrobe now, from casual weekend-wear to office-appropriate pairs. But the ever-increasing versatility of jeans means there are many, many brands to choose from. Consider this your guide to figuring out where to start. Ahead, the 16 best brands that'll help you build a denim wardrobe that'll last. 
Uniqlo Selvedge Jeans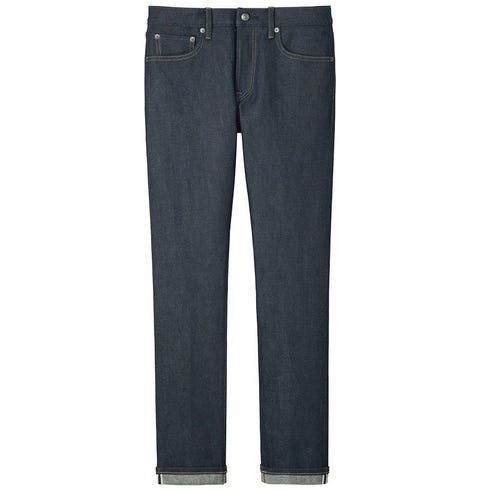 ADVERTISEMENT - CONTINUE READING BELOW
Uniqlo's denim is a favorite around the Esquire offices. It has a bit of stretch, so it's super comfortable while you're sitting at your desk. And at $40 a pop, the price is hard to beat.  
BDG Matcha Dad Jean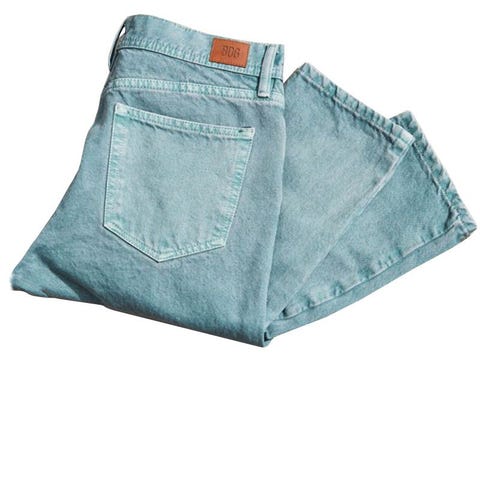 Urban Outfitters' BDG brand is great for well-priced, slightly trendy denim. If you're not sure whether a certain style is right for you, head here to give it a test drive.  
ADVERTISEMENT - CONTINUE READING BELOW
Everlane The Athletic Fit Jean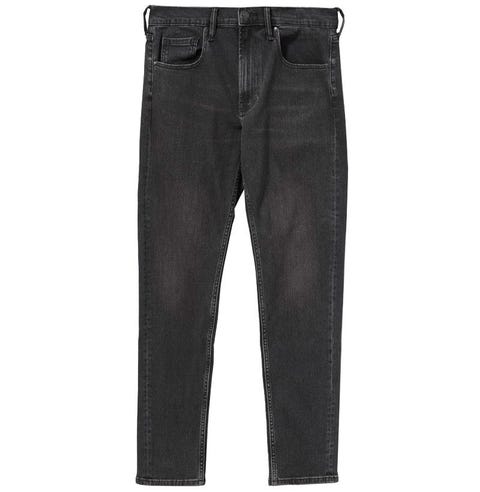 Everlane is the master of basics, and its denim is no different. This athletic fit leaves room in the thighs and butt for guys who don't skip leg day.  
Levi's 511 Slim Fit Jeans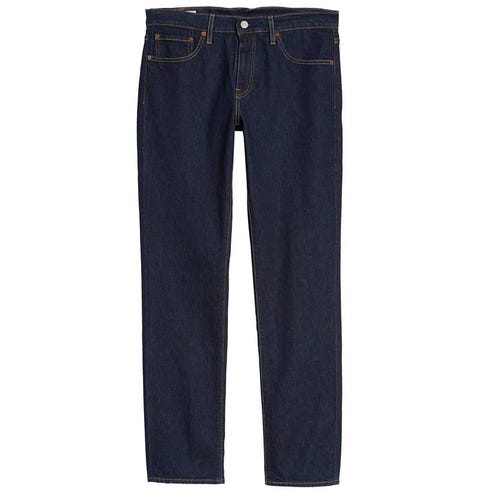 ADVERTISEMENT - CONTINUE READING BELOW
Levi's will never not be a denim brand you should have in rotation. Every guy could use a pair of (modern) classic 511 blue jeans.  
Abercrombie & Fitch Straight Jeans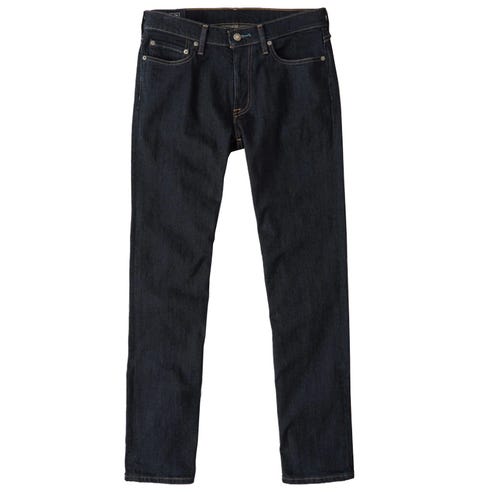 Abercrombie is still a staple spot for stocking up on basics, and the brand's dark blue straight jeans are a no-brainer.
DL1961 Nick Slim Fit Jeans
ADVERTISEMENT - CONTINUE READING BELOW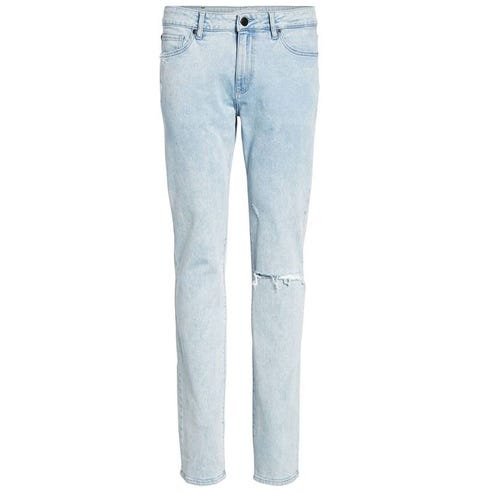 DL1961 veers into edgier shapes and detailing in a way that's not overwhelming. This super light-wash, lightly distressed pair is great for the warmer months ahead. 
Gap Selvedge Skinny Jeans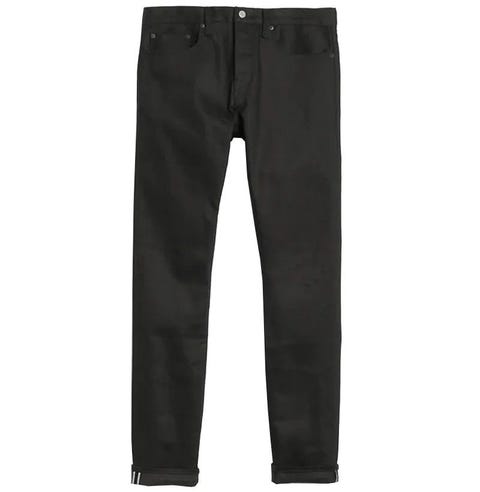 ADVERTISEMENT - CONTINUE READING BELOW
Gap denim is another favorite around the Esquire office, especially when it comes to something that's just plain comfortable. And for a pair of selvedge jeans, finding something under $100 is still a steal.  
More great denim: Viktor's Custom Denim
More great denim: Leon's Raw Selvedge Jeans
DSTLD Skinny Slim Jeans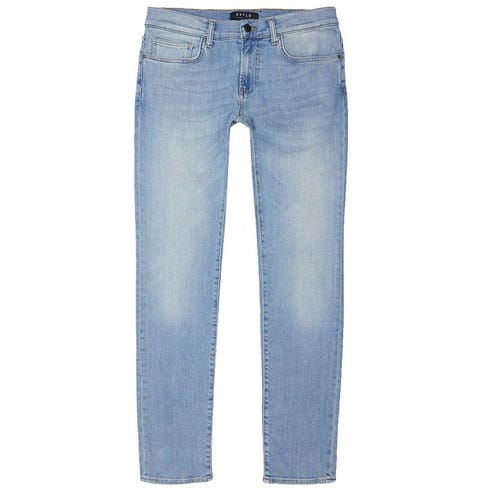 ADVERTISEMENT - CONTINUE READING BELOW
DSTLD's denim is great for all occasions, but the L.A. label's washed options are especially suited to the weekend. They're super comfortable, and look just as good dressed up as they do dressed down.  
Blank NYC Horatio Distressed Jeans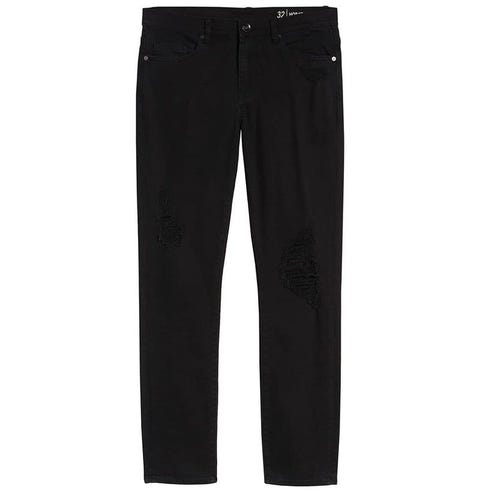 Blank NYC strikes the right balance of feeling stretchy without stretching out as the day wears on. These are particularly great for travel.  
ADVERTISEMENT - CONTINUE READING BELOW
Mott & Bow Wooster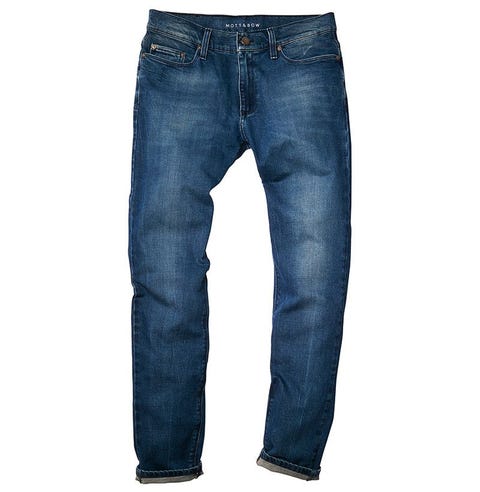 Mott & Bow makes a mean pair of denim for every day: slim fitting, with the perfect medium-blue wash. 
Madewell Straight Leg Jeans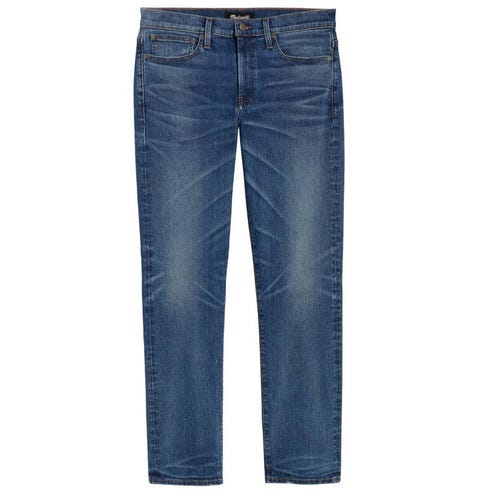 ADVERTISEMENT - CONTINUE READING BELOW
J.Crew's sister brand, Madewell, finally entered into the men's denim department—and it did so strategically. The selection is pared down and perfect for every occasion.  
7 For All Mankind The Standard Straight Leg Jeans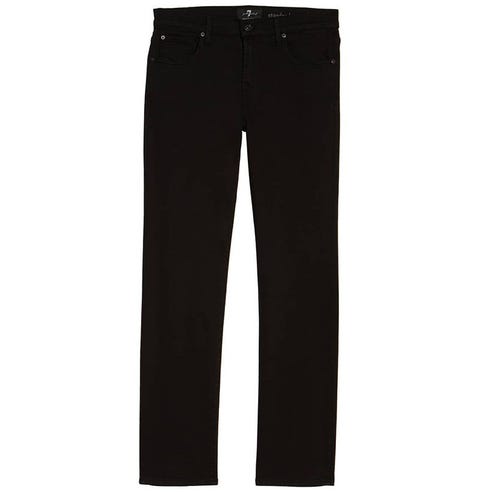 7 For All Mankind jeans always seem to fall just right; the construction of the leg is never too skinny, but you can also trust it not to poof out where you wish it wouldn't.  
ADVERTISEMENT - CONTINUE READING BELOW
Paige Transcend Lennox Slim Fit Jeans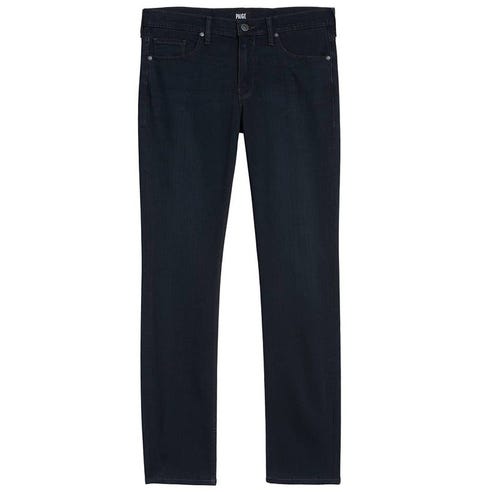 Paige's Transcend fabric disrupted what the denim world thought a pair of jeans had to feel like. These are very soft, and won't dig into your stomach when you're sitting.  
Rag & Bone Standard Issue Fit 1 Jeans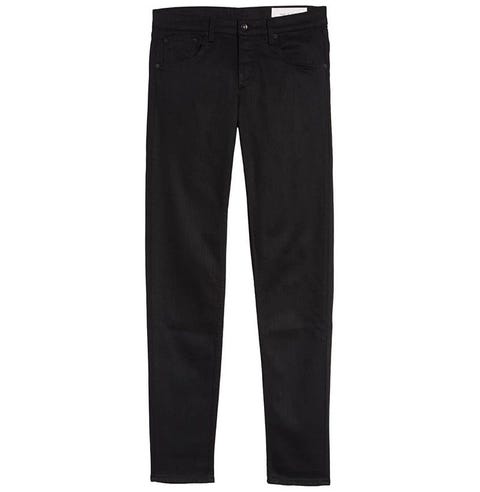 ADVERTISEMENT - CONTINUE READING BELOW
If you're looking to level up your denim staples, you can't beat a black pair of Rag & Bone jeans. They're long-lasting but don't need breaking in.  
A.P.C. New Standard Selvedge Jeans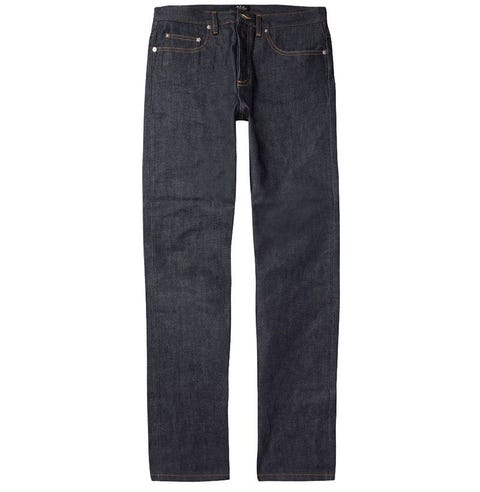 A whole generation of denimheads cut its teeth on A.P.C., and there's a very good reason why: The Parisian label's signature jeans are just that good. Do they take some serious wear before they're truly comfy? Sure. But that's kind of the point; you beat the hell out of them so you can make them your own. 
ADVERTISEMENT - CONTINUE READING BELOW
Acne Studios River Tapered Jeans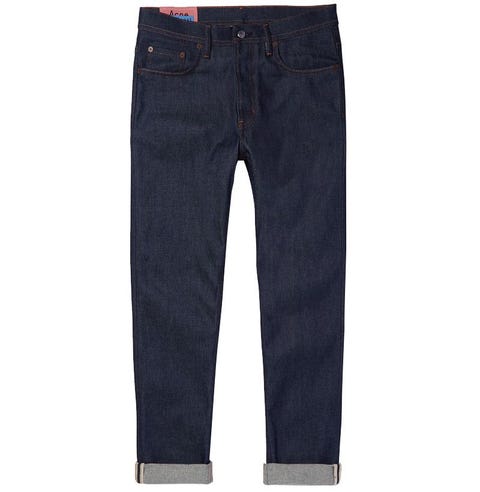 One of the OG players in the Scandinavian denim movement (it's real, and it's spectacular), Acne Studios got its start making great jeans before becoming a full-fledged fashion brand. Luckily, the company still makes a great pair. They're a little pricier, but thanks to the high-end construction and materials, they'll last you for years.
ADVERTISEMENT - CONTINUE READING BELOW
This story originally appeared on Esquire.com. Minor edits have been made by the Esquiremag.ph editors.
He's lost teeth and the tip of his finger, but most recently hurt his ankle filming Bond 25.
Why you don't need hectoring, pestering parenting books in your life
The new title from Respawn promises intense lightsaber combat, a new planet, and a wealth Star Wars lore.
You very, very nearly saw the House of M storyline on screen
Bad news for anyone who wants to catapult themselves hundreds of feet into the air
Such as: Why didn't Daenerys just fly directly to Cersei and kill her?
There's a lesson to learn about staying true to your style principles.
I spoke with experts and The Wire creator David Simon about the rampant outrage over spoilers.
It's the only satisfying way for this story to end. Anything else would be a disappointment.
You have to see their glass cottages!
After almost two decades of rumors, the new live-action adaptation is finally happening.
If you can find them and afford them, that is.