Who Is The Most Stylish Man Of 2018? Quarter Finals: Chadwick Boseman vs. Donald Glover
IMAGE Ana Davila
Last week, Armie Hammier failed to beat Ryan Reynolds for a spot in the final four. Let's see who'll be joining him.
'Well-dressed' is often a byword for classic, traditional. Which is all well and good. But sound style extends beyond what we're used to. It means taking risks once in a while—sometimes, big risks. Preferably the kind with Gucci embroidery on them, or an ankle-length cape, or a shade of flammable seventies brown.
Our final quarter finalists Chadwick Boseman and Donald Glover have done all of these things, and what's more, they've made them look good, reminding us in the process of the merits of good, old-fashioned peacocking.
Chadwick Boseman Makes a Statement With Color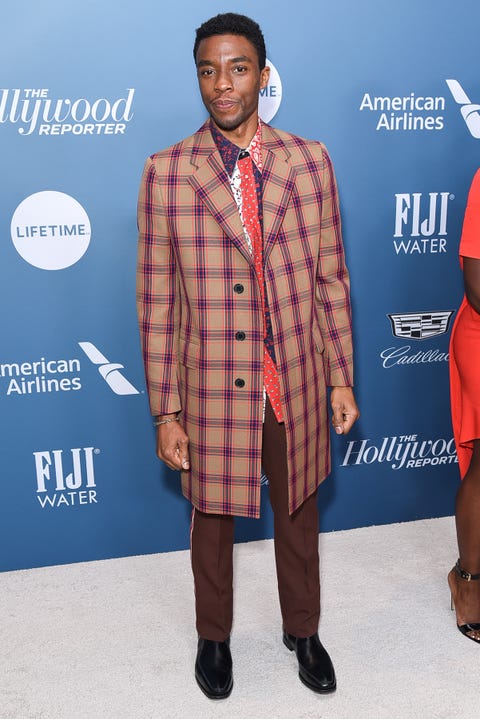 For the former, statement comes in color. Lots and lots of color. Just recently, Boseman popped up at The Hollywood Reporter's Power 100 Women event in a print clash he made work by sticking to a similar color palette throughout. He repeated the trick at the Academy of Motion Picture Arts and Sciences' 10th Annual Governors Awards, this time, in striking scarlet snake print.
ADVERTISEMENT - CONTINUE READING BELOW
And lest we forget everyone's favourite high fashion fancy dress: the Met Gala. It was here that Boseman really shone, lifting tricky all-white tailoring with very Catholic and very Heavenly Bodies embellishment. It's no surprise that a certain Donnatella Versace was behind such Italiano posturing.
Donald Glover Stands Out With Retro Flavor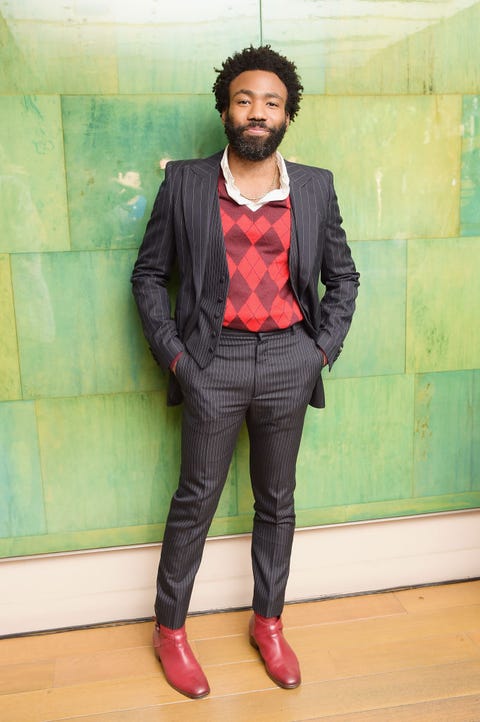 Glover, meanwhile, finds volume in the archives: that eyebrow-raising crypt of your granddad's threads that are inexplicably cool again. Take his argyle sweater vest at the FX Networks Vanity Fair party, the chocolate tailoring of a Solo photocall and the powder room blue suit at the Cannes Film Festival—all dips into the fashion past made to feel new.
The Atlanta star makes it work by both sheer gall and a formula that suits his frame: boxy shoulders to chime with his own, and a wider leg trouser. Since he's found the silhouette that suits him down to a stitch, it's easy to add the vibrant extras like swollen lapels. Find your own formula, and you too can exercise a little left-fieldism.
So who gets your vote? The man that spins the color wheel with aplomb, or he who is happier to make history?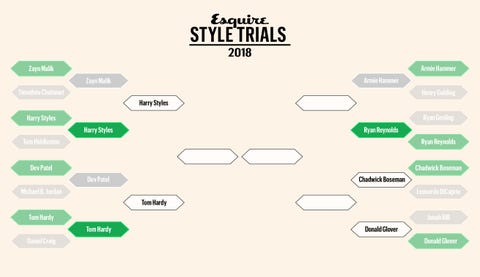 This story originally appeared on Esquire.co.uk. Minor edits have been made by the Esquiremag.ph editors.
Related stories:
Round 1: Timothée Chalamet vs. Zayn Malik
Round 2: Harry Styles vs. Tom Hiddleston
Round 3: Henry Golding vs. Armie Hammer
Round 4: Ryan Gosling vs. Ryan Reynolds
Round 5: Dev Patel vs. Michael B. Jordan
Round 6: Tom Hardy vs. Daniel Craig
Round 7: Chadwick Boseman vs. Leonardo DiCaprio
Round 8: Jonah Hill vs. Donald Glover
Quarter Finals: Harry Styles vs. Zayn Malik
Quarter Finals: Dev Patel vs. Tom Hardy
More Videos You Can Watch