Fashion
Who Is The Most Stylish Man Of 2018? The Final: Chadwick Boseman vs. Harry Styles
We made it. We finally made it.
IMAGE Ana Davila
So glad we made it. After 16 men were thrown in the ring to duke it out as Esquire Readers' Most Stylish Man, only two remain. And what a long and arduous journey it's been. We've had Twitter spats. We've had threatening e-mails. We've even been compared to Brexit. Let us pay thanks, then, to the glorious, wonderful Internet, and the finalists it's decided upon. Harry Styles and Chadwick Boseman.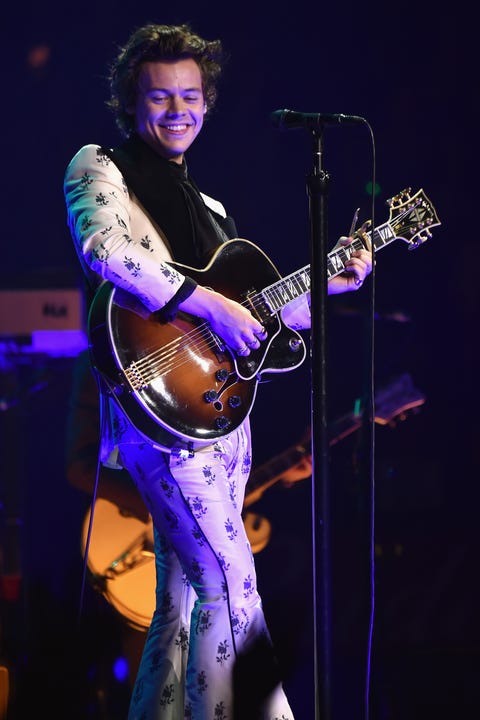 Two very different gents with two very different paths to victory, and initial odds that were modest at best. For the Directioneer, it was a cruel blow from the sweepstakes: Tom Hiddleston was a worthy adversary, whereas former bandmate Zayn Malik commands a fan following just as unwavering. Still, he squeaked through to the final, scoring four points ahead of Tom Hardy at the time voting closed.
Boseman was more of a surprise. Not that his wardrobe hasn't been impeccable—to the contrary—but the Black Panther breakout is still a relatively new face, and managed to beat two individuals seemingly born for meme stardom: Donald Glover and Ryan Reynolds. Goes to show that sound style speaks for itself.
ADVERTISEMENT - CONTINUE READING BELOW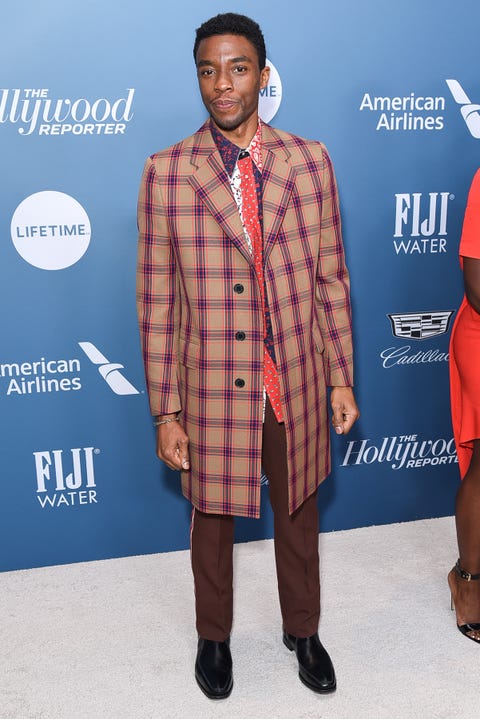 What's more, it's style that deviates from the norm. Neither finalist subscribes to the classic: the stuff that is solid, if not somewhat safe. Instead, Styles goes for Mick Jagger 2.0: flares, glitz, glamour—all the good bits of a rocker's heyday. Similar too is Boseman, who marked the Met Gala with one of the best looks of the evening—a Sicilian pastor lost in Versace—and continued to eschew the conventional.
So who wins? The man that broke out from boyband uniformity, or the sartorial sleeper hit?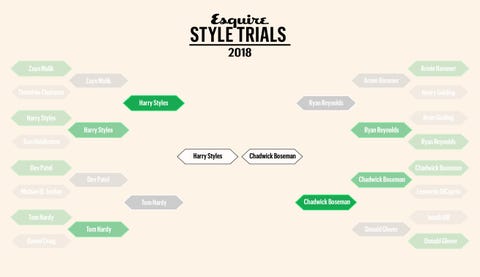 CONTINUE READING BELOW
Recommended Videos
This story originally appeared on Esquire.co.uk. Minor edits have been made by the Esquiremag.ph editors.
Related stories:
Round 1: Timothée Chalamet vs. Zayn Malik
Round 2: Harry Styles vs. Tom Hiddleston
Round 3: Henry Golding vs. Armie Hammer
Round 4: Ryan Gosling vs. Ryan Reynolds
Round 5: Dev Patel vs. Michael B. Jordan
Round 6: Tom Hardy vs. Daniel Craig
Round 7: Chadwick Boseman vs. Leonardo DiCaprio
Round 8: Jonah Hill vs. Donald Glover
Quarter Finals: Harry Styles vs. Zayn Malik
Quarter Finals: Dev Patel vs. Tom Hardy
Quarter Finals: Armie Hammer vs. Ryan Reynolds
Quarter Finals: Chadwick Boseman vs. Donald Glover
Semi-Finals: Harry Styles vs. Tom Hardy
More Videos You Can Watch