Fashion
Who Is The Most Stylish Man Of 2018? Semi-Finals: Chadwick Boseman vs. Ryan Reynolds
The penultimate Style Trial goes transatlantic.
IMAGE Ana Davila
As Tom Hardy takes on Harry Styles for a spot in the final, it's time for these two gents to do the same. Almost there. Promise.
It's easy for we Brits to get high and mighty about matters of style. It's part and parcel of our extraordinary ability to feel both deeply embarrassed and mightily superior all at the same time.
But our transatlantic brothers are just as adept at dressing themselves. Masters, even. And it's a match-up from across the pond in our last semi-final: Ryan Reynolds vs. Chadwick Boseman.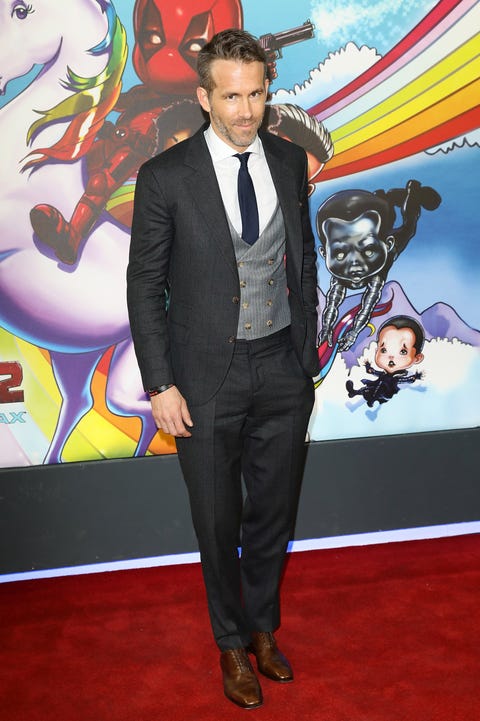 Ryan Reynolds is a C
lassicist
We've much to learn from the Land of the Free (and not just about charging people a small mortgage for a pack of plasters.) First, we've Reynolds. As a man that's just as comfortable in a three-piece as any lifetime Boodle's member, it's been a standout year style-wise: We saw classic tailoring a-plenty on the Deadpool 2 campaign trail, and better yet, fail-safe templates enjoyed a lift thanks to a smattering of texture or color.
ADVERTISEMENT - CONTINUE READING BELOW
Sounds easy enough, sure. But refreshing the tried-and-tested is no easy feat. Like Reynolds, you capitalize on a single detail: a tan waistcoat, for instance, or by playing to the strengths of Brunello Cucinelli (he's a favorite of the Marvel star, don't you know).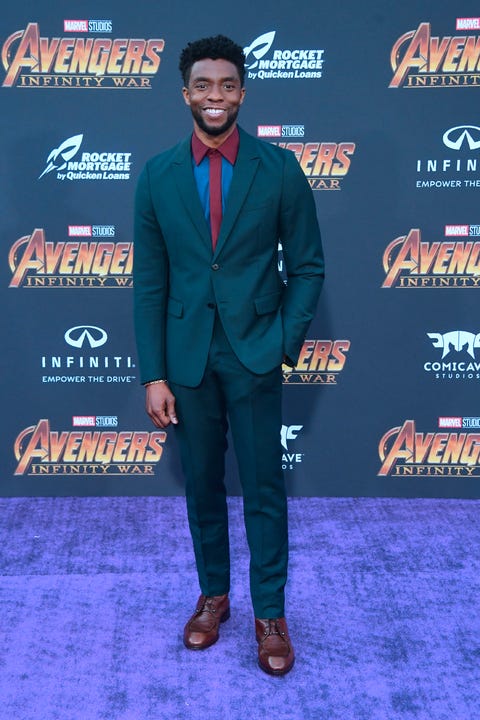 Chadwick Boseman is a Codebreaker
If Reynolds is the classicist, then consider his competitor the codebreaker. Boseman—still relatively new to the hysterical sycophancy of Twitter—has been causing lots of that very thing. That's because he isn't afraid to pop on the red carpet, a place where so many of his contemporaries prefer to fade into the bomber-jacket-jean uniform.
Take his all-white harnessed outfit for the 2018 ESPYs. Wavemaking, too, was the block-colored tailoring at the world premiere of Avengers: Infinity War. And how could we forget the cloaked Catholic crusader from the Met Gala—a real opportunity for high fashion fancy dress, and Boseman still outshone the veterans.
CONTINUE READING BELOW
Recommended Videos
So who wins? Reynolds—the man always destined for greatness—or Boseman, the sleeper hit that we didn't see coming.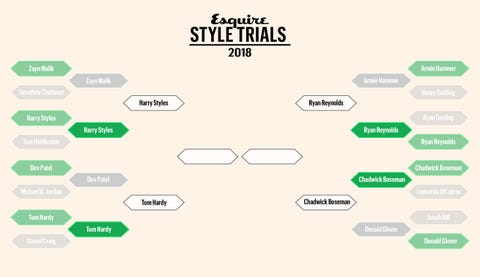 This story originally appeared on Esquire.co.uk. Minor edits have been made by the Esquiremag.ph editors.
Related stories:
Round 1: Timothée Chalamet vs. Zayn Malik
Round 2: Harry Styles vs. Tom Hiddleston
Round 3: Henry Golding vs. Armie Hammer
Round 4: Ryan Gosling vs. Ryan Reynolds
Round 5: Dev Patel vs. Michael B. Jordan
Round 6: Tom Hardy vs. Daniel Craig
Round 7: Chadwick Boseman vs. Leonardo DiCaprio
Round 8: Jonah Hill vs. Donald Glover
Quarter Finals: Harry Styles vs. Zayn Malik
Quarter Finals: Dev Patel vs. Tom Hardy
Quarter Finals: Armie Hammer vs. Ryan Reynolds
Quarter Finals: Chadwick Boseman vs. Donald Glover
More Videos You Can Watch