Take a Closer Look at the Classic Rolex that Wimbledon Champ Federer Wore on Court
The tennis phenom is rolling with the Rollie.
Tennis whiz Roger Federer won his eighth Wimbeldon men's singles title, a feat that pushes the 35-year-old Swiss into the echelons of sporting greats. To recap: He is now the men's champ with most Wimbeldon wins and the most Grand Slam singles titles (French, U.S. Australian, Wimbeldon) with 19 trophies. Also, he wore this on his wrist, while receiving the silver-gilt Gentlemen's Singles Trophy on Centre Court.
That right there is the Rolex Oyster Perpetual Datejust 41. You can almost discern its very money color combo from the news photos: a steel-and-yellow-gold bracelet, a pearlescent slate dial, and—the highlight, we think—emerald green Roman hour markers.
Here's a closer look:
ADVERTISEMENT - CONTINUE READING BELOW
This one's a true classic. In fact, the Datejust is referred to as the archetype of modern watches. When it was introduced in 1945, it was the first self-winding waterproof chronometer wristwatch to display the date in a window at 3 o'clock on the dial. That's a whole lot of groundbreaking things to remember, so just know that the last bit (the date in a window) is its most important contribution. Before the Datejust, the date was indicated by a hand pointing to markings around the dial, which was harder to read. Today, you can glance at most watches (Rolex or otherwise), read the number, and know that it's the 21st, a Friday (hooray!) right away.
We can't promise you that the Datejust will give you the ability to execute Federer's vicious inside-out forehand, but this model is a certainly a worthy beginning or addition to your luxury watch collection.
Here are a few more Datejust 41s that you may also like: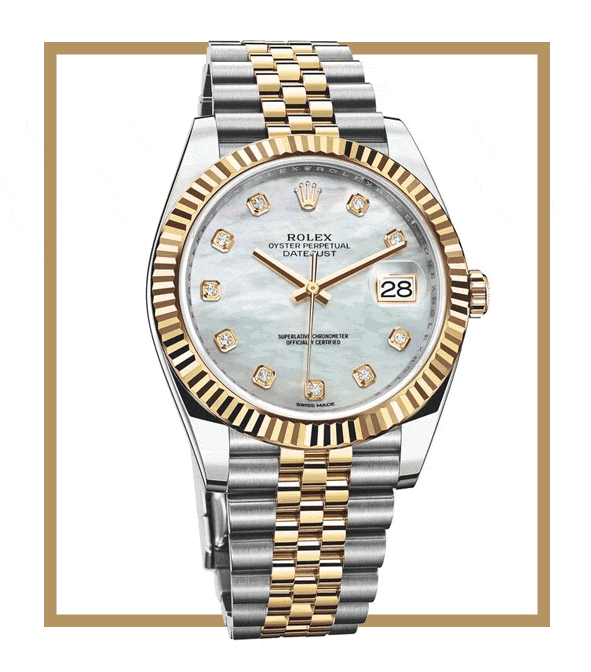 Glorietta 4, Makati City
More Videos You Can Watch