Fashion
Who Is The Most Stylish Man Of 2018? Semi-Finals: Harry Styles vs. Tom Hardy
Close to the finish line, it's our toughest head-to-head yet
IMAGE Ana Davila
Last Style Trial, Chadwick Boseman sailed through to the semi-final. And now to decide our first finalist. Nobody wanted this. Nobody.
Two British stalwarts from schools both old and new, head-to-head in what could be the most important vote since that one in 2016. But alas: such is the way of the random sweepstake generator. As Confucius once said: 'Fate can be a real arsehole.'
But arsehole or otherwise, the battle is not to be ignored. For as the final looms, it's a match-up between two titans with an unwavering command of the wardrobe (and an equally unwavering fandom): Tom Hardy and Harry Styles.
Granted, two very different men on the surface. Though look a little closer, and there's a real sartorial likeness between the Dunkirk co-stars.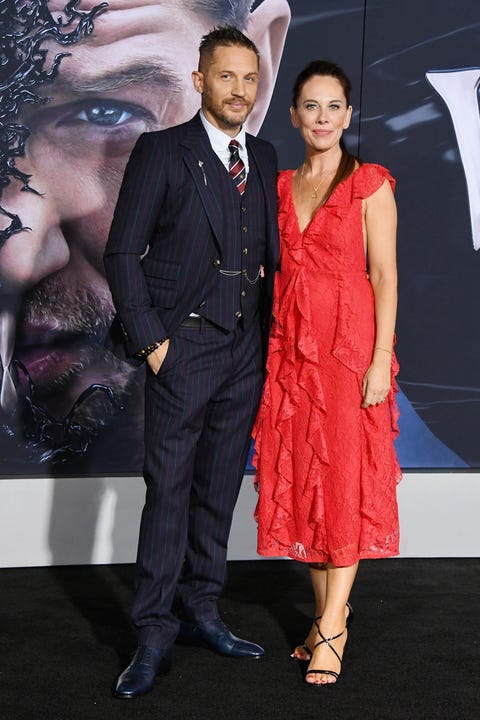 ADVERTISEMENT - CONTINUE READING BELOW
Tom Hardy is About Subtle Transgresssion
For Hardy, it's long been about subtle transgressions; the sort that trim down on the rulebook as opposed to total immolation. We saw, for instance, an all-white outfit at Comic-Con that didn't make him look like a new age progressive trance hippy in South Goa. Then, it was about multiple accessories on the Venom campaign trail, and graphic T-shirts that still work despite their status as a trend of yesteryear.
That's because Hardy doesn't follow trends. As a man happy to beat to the march of his own very confident drum, this self-assurance lets the 41-year-old dress how he pleases—and dress well in the process.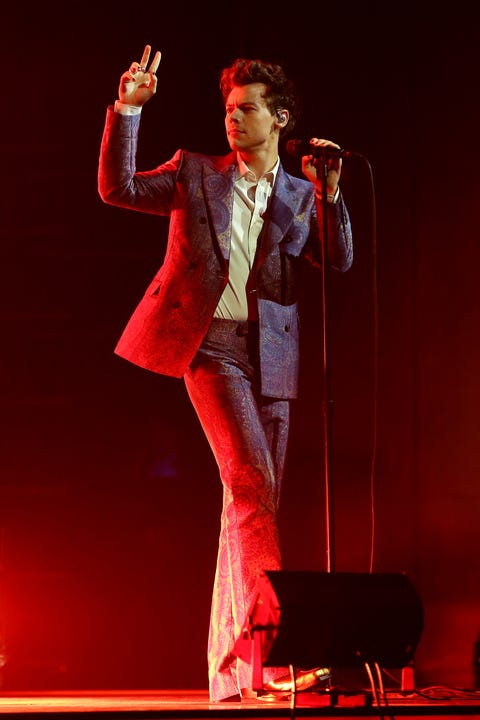 ADVERTISEMENT - CONTINUE READING BELOW
Harry Styles Looks to the Frontmen of Yore
It's the same quality that lends itself well to Styles, too. Though instead of deregulation, the former Directioneer looks to the frontmen of yore: Mick Jagger, Ronnie Wood, Keith Richards, and so on and so forth. Which means a lot of flares—granted, a bold move—and lots of color.
This stuff wouldn't work on the everyman. But it does prove the merits of risk-taking. Once in a while, every well-dressed man knows to dress outside his comfort zone. So while we're not exactly suggesting you enlist a sequinned three-piece, there's every reason to try a bold new print.
So, who sails through to the final? Tom Hardy, man wonder and destroyer of norms, or Harry Styles, the young gun that's re-educating his elders.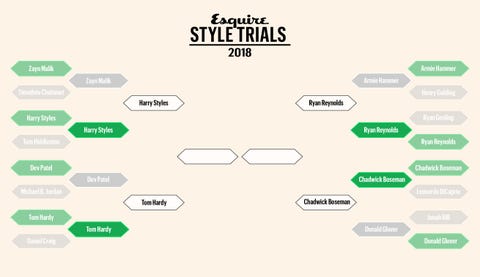 ADVERTISEMENT - CONTINUE READING BELOW
This story originally appeared on Esquire.co.uk. Minor edits have been made by the Esquiremag.ph editors.
Related stories:
Round 1: Timothée Chalamet vs. Zayn Malik
Round 2: Harry Styles vs. Tom Hiddleston
Round 3: Henry Golding vs. Armie Hammer
Round 4: Ryan Gosling vs. Ryan Reynolds
Round 5: Dev Patel vs. Michael B. Jordan
Round 6: Tom Hardy vs. Daniel Craig
Round 7: Chadwick Boseman vs. Leonardo DiCaprio
Round 8: Jonah Hill vs. Donald Glover
Quarter Finals: Harry Styles vs. Zayn Malik
Quarter Finals: Dev Patel vs. Tom Hardy
Quarter Finals: Armie Hammer vs. Ryan Reynolds
Emporio Armani's new fragrance frontman has a simple yet effective approach to grooming.
Data suggest a significant price drop soon, so maybe you should wait a while.
COVID-19 isn't a pandemic yet, but some countries are taking precautionary steps in case it becomes one.
Could they be any richer?
The human army's plan at the Battle of Winterfell was bad. Very bad.
These are apparently the top seven wings in the metro.
That's the power of a good film.
Former Chief Justice Reynato Puno, Senator Franklin Drilon weigh in on ABS-CBN franchise extension.
Fort Drum was napalmed in 1945. It has been abandoned since.
Generation Y is getting ready to settle down.
We help you find the best stocks to invest in.