Grooming
Introducing 2019's Must-Have Haircut: The Fashion Troll
You read it here first.
IMAGE Getty Images
Ah, fashion week. So hard to get right. Go too commercial, the frowgentsia call 'BORING.' Too abstract, they cry 'RIDICULOUS.' What's an impeccably dressed creative director to do?
During his brilliant A/W '19 menswear show in Paris, which took '50s-style suiting and deconstructed it several times over, designer Thom Browne found time to field the fashion week hairstyle to end all fashion week hairstyles. Presenting: the fashion troll.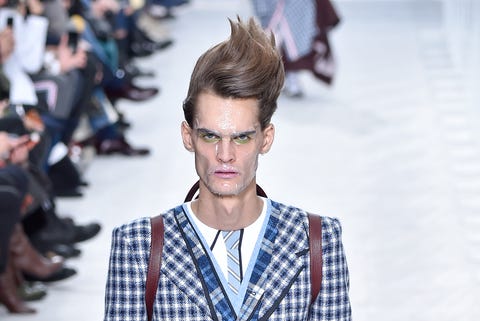 One part Dr. Seuss, two parts the chewed plastic eunuch on the end of your Year 4 pencil, these were coiffures that defied the laws of menswear and gravity as we know it, feats of follicular engineering that involved lots of hairspray, lots of boulder-jawed models and (probably) lots of hair extensions from far flung lands. And they were very, very fun.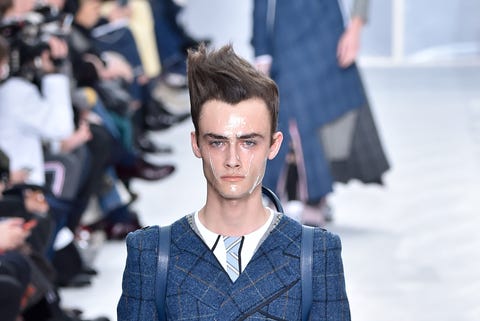 What better way to liven up the post-office drink than with an extra large '99 of human hair and Dax Wave and Groom? Think of the 2019 promotion prospects, too: what a fine head of hair, your line manager will say, get that man a pay rise: stat. Well-timed, as you'll probably need it to pay for the sundae-sculpting kit.
In a world of homogenous short-backs-and-sides, the fashion troll is the lid to give male grooming the shake up it needs in 2019. Coming to a barbershop window near you. Maybe.
This story originally appeared on Esquire.co.uk. Minor edits have been made by the Esquiremag.ph editors.
Anyone can be an archaeologist on Google Earth.
In another episode of alternate histories.
Keep your kicks fresh with these tips.
Read an entry from Jose Dalisay's latest anthology of short stories Voyager and Other Fictions.
The purple lightsaber-wielding Jedi's death was never confirmed.
It'll reportedly take place during the Targaryen civil war.
Dennis Gorecho once celebrated his birthday with Buddy Zabala over ice cream and an old movie.
His life and faith is a reminder of the hold of religion in the Philippines.
Gino's was the only Philippine establishment in an Asia-wide pizza ranking.
Look to the man that wears shades year-round.
Kobe Paras had a winning UAAP debut.