Grooming
Introducing 2019's Must-Have Haircut: The Fashion Troll
You read it here first.
IMAGE Getty Images
Ah, fashion week. So hard to get right. Go too commercial, the frowgentsia call 'BORING.' Too abstract, they cry 'RIDICULOUS.' What's an impeccably dressed creative director to do? 
During his brilliant A/W '19 menswear show in Paris, which took '50s-style suiting and deconstructed it several times over, designer Thom Browne found time to field the fashion week hairstyle to end all fashion week hairstyles. Presenting: the fashion troll.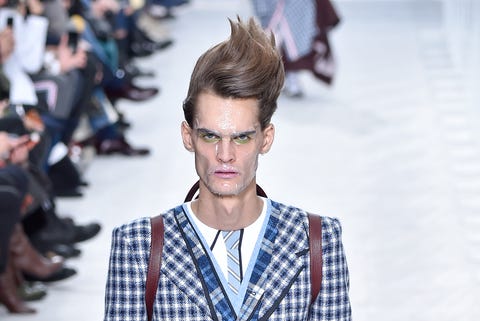 ADVERTISEMENT - CONTINUE READING BELOW
One part Dr. Seuss, two parts the chewed plastic eunuch on the end of your Year 4 pencil, these were coiffures that defied the laws of menswear and gravity as we know it, feats of follicular engineering that involved lots of hairspray, lots of boulder-jawed models and (probably) lots of hair extensions from far flung lands. And they were very, very fun.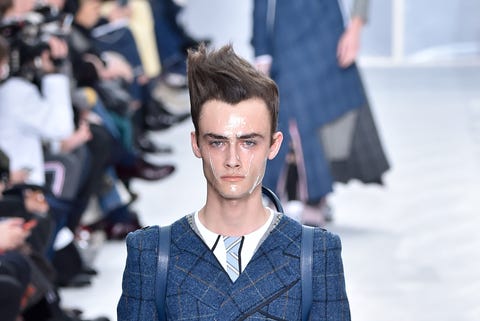 ADVERTISEMENT - CONTINUE READING BELOW
What better way to liven up the post-office drink than with an extra large '99 of human hair and Dax Wave and Groom? Think of the 2019 promotion prospects, too: what a fine head of hair, your line manager will say, get that man a pay rise: stat. Well-timed, as you'll probably need it to pay for the sundae-sculpting kit. 
In a world of homogenous short-backs-and-sides, the fashion troll is the lid to give male grooming the shake up it needs in 2019. Coming to a barbershop window near you. Maybe.
This story originally appeared on Esquire.co.uk. Minor edits have been made by the Esquiremag.ph editors.
Because even in the Philippines' perpetual summer, a hoodie can prove to be useful.
The Elton John biopic doesn't shy away from the darker aspects of the legendary musician's life.
The New C5 Southlink is expected to be completed by 2021.
That six-pack is somewhere underneath your coat of fat.
The Ayala Museum opens an online tour of its priceless collections and pieces.
New guidelines allow you to keep your number even if you switch telco providers.
Despite the rains in recent days, the National Water Resources Board lessens allocation to Maynilad and Manila Water.
Fête de la Musique celebrates 25 years with free-for-all music events around the Philippines, and free roundtrip tickets to France.
The classic look is being modernized and reinterpreted with new influences ranging from hip-hop to skateboarding.
There might be one final Iron Man and Peter Parker moment in the MCU.
"I'm a 28-year-old virgin."