For C. Mark Wilson, a childhood Christmas present turned out to be a gift that just keeps giving. When he was 13, he received a camera; over the holidays, spent with his cousins at the ancestral family home, Mark could not put the camera down: "I just photographed and photographed the house and its many details. It was a beaux-arts house, maybe by Juan Arellano or Andres Luna. It made me fall in love with architecture, photography, and composition at the same time."
Later, when he went to Harvard to pursue a degree in Art History, specializing in Western Art, he took photography as a minor. There he learned valuable lessons that he still makes use of today, as the creative director for Wilson Escalona Design, a firm specializing in light-centric interiors and architecture. "My professors always said to use the four edges of the camera as your frame, so when you are shooting 'in the moment,' you are already composing. You don't want to do a lot of cropping afterward, you want to immediately develop an eye for form or silhouette composition, using your frame," says Mark. "When I'm designing spaces, I'm always framing. I like to attenuate perimeter—the center to periphery— which comes back to that lesson. How do you design edges to make the spaces appear larger than they are? There are a lot of parallels. All those lessons are fundamental to design and art."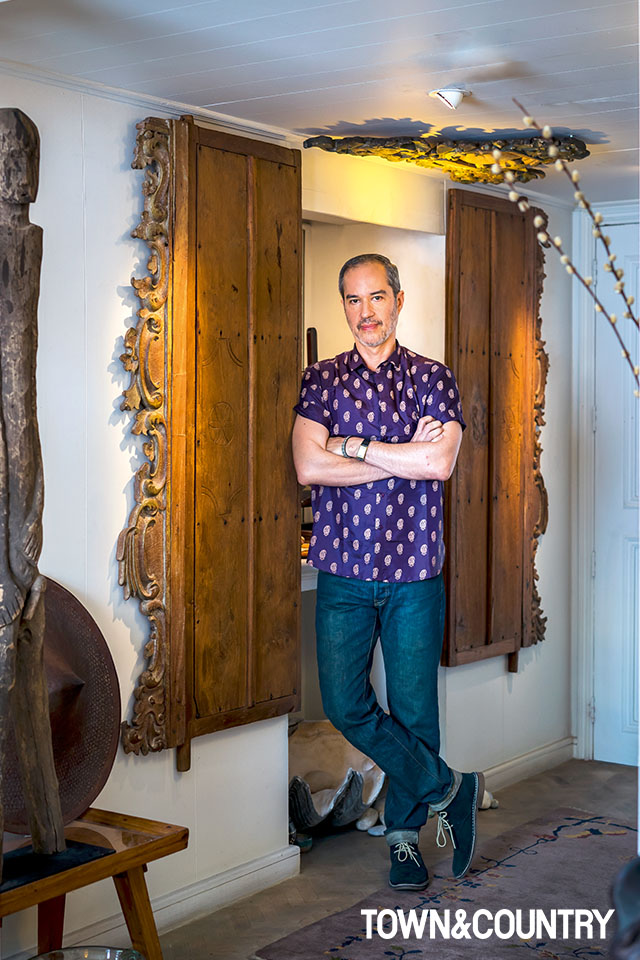 ADVERTISEMENT - CONTINUE READING BELOW
After graduating from college, Mark joined Knoll International, the firm famous for producing midcentury furniture, for two years in New York, before deciding to come home to study architecture at the University of the Philippines. The politically tumultuous mid-1980s scuppered those plans. "It was difficult to get to school and classes were sporadic, so after a year I moved into other fields. My parents really wanted me to get an MBA, so I did, at IESE in Barcelona, partly so I could enjoy that city and see the Gaudi buildings," he smiles.
After earning his MBA, Mark's education continued a few years later in California, where he took Interior Design at the highly regarded Santa Monica College. He was on his way to earning a master's degree at the Pratt Institute when he had a change of plans: "I decided I needed a niche. Although it was a really good course at Pratt, I needed a specialty. So I did the two-year MFA in Lighting Design at Parsons the New School," he explains. It was there that he met his partner at his design firm, architect Nikki Escalona-Tayag. "We got along like a house on fire. We started working together in student orgs, and I love her as a business partner. We do different things really well."
Bellas Artes Outpost, the art space of Jam Acuzar in Karrivin Plaza, is a recent example of the team's work, where they conceptualized everything from space planning to surface design, from lighting to furniture. Mark's interest in that last aspect, furniture, was influenced by his brief stay at Knoll, and further stoked by visits to the showrooms of legendary antique dealers Kit Roxas and Ramon Villegas. There, he fell in love with Filipino furniture; in his mind, the best examples are often undervalued and underappreciated: "they are handmade, made in small quantities, versus mass produced and industrial." For select clients, Mark sources antiques and gives them new life through meticulous refinishing, "taking something that's varnished and dark and then turning it into something beautiful," he says. "I'm not capable of doing carpentry, but I have very good finishers. They bleach and expose the wood, putting it in a state where the wood just feels like velvet. It's about tactility, surface, and form. People love unique, one-of-a-kind things that you can't really find anymore. The pieces I refinish can be combined in an eclectic way in modern homes, and they just lift up the room."
ADVERTISEMENT - CONTINUE READING BELOW
Recommended Videos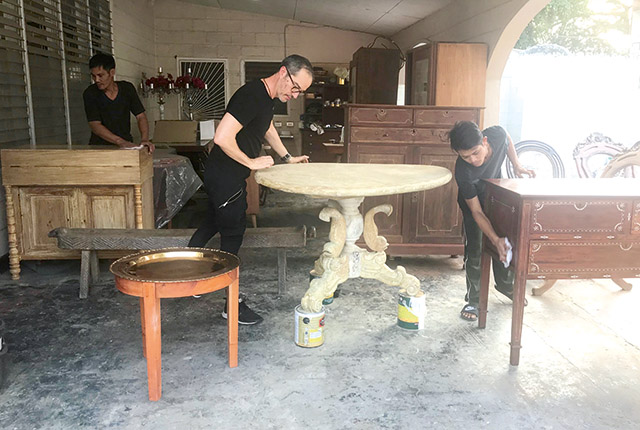 Mark and an assistant refinishing antique furniture at Mark's workshop in Parañaque.
Antiques of another sort have led to Mark's latest passion. After purchasing a collection of anting-anting—traditional Philippine amulets—a light bulb went off in his head. "I thought about recasting them and covering them in different finishes, silver and gold, and combine them with stones and pearls," he shares. This project reflects Mark's passion of putting together old things in a new way, much like his interior design projects, always done in good taste.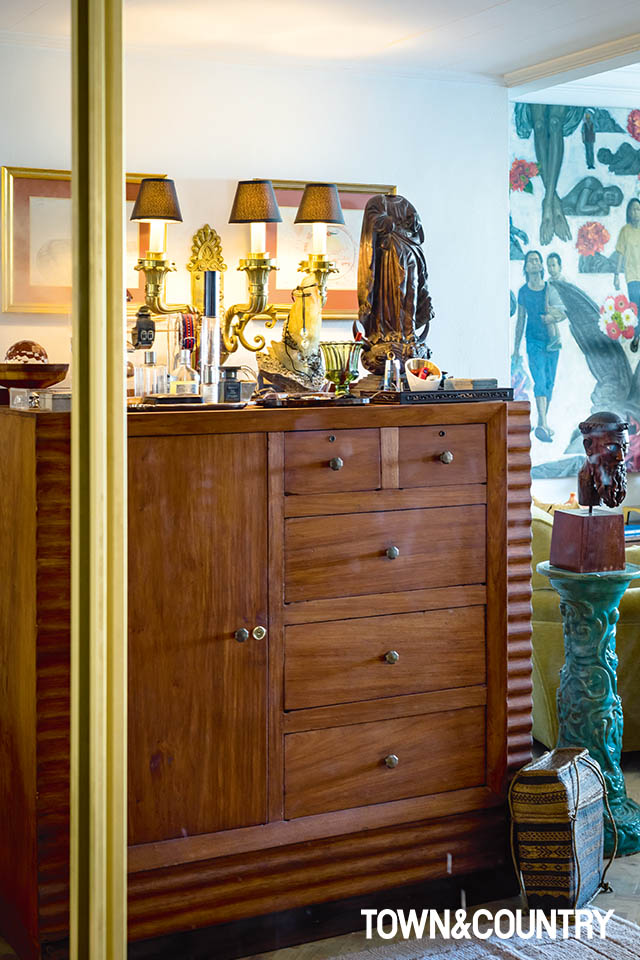 ADVERTISEMENT - CONTINUE READING BELOW
Mark's chest of drawers in the bedroom
On that subject, Mark has this to say: "My definition of good taste is taken from Vaclav Havel's, which is it is about sensitivity to others. Sensitivity to the way you present yourself to the world, consideration, and always trying to put your best foot forward. So, that comes into a design point of view as how you express yourself, or wish to be expressed, in your environment. Not flashy, a lot of understatement, and attention to quality and detail."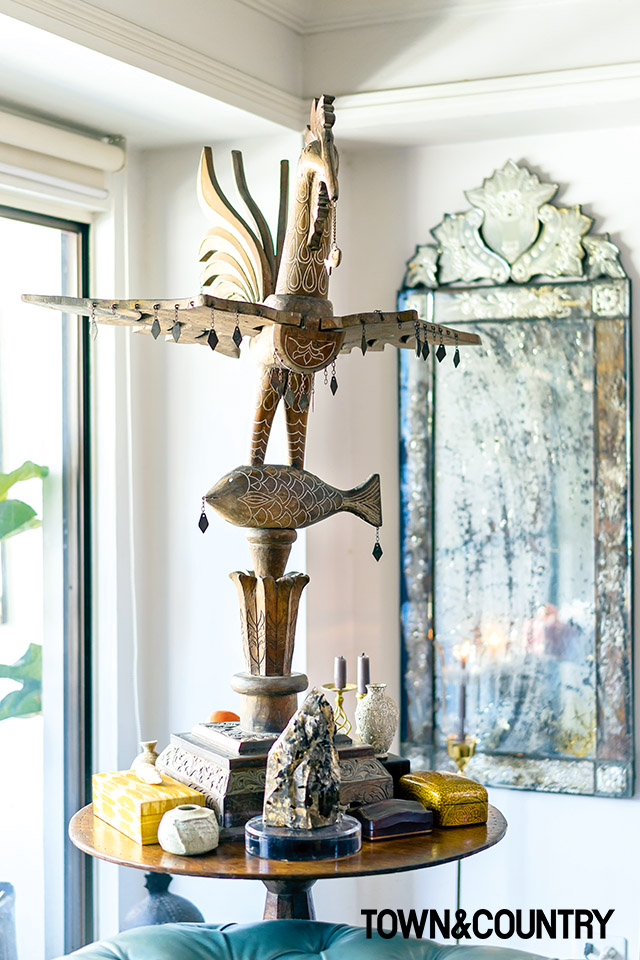 A sarimanok from the 1960s and an aged mirror
Greatest professional influence and sources of inspiration
Ramon Villegas has been on my mind at lot lately, because he helped train my eye to understand Filipino objects and furniture, and I am looking at a lot of Filipino things again. Federico de Vera for his command of juxtaposition, insistence on the finest in craftsmanship, and his artful all-black interiors. Pepito Albert for his deep understanding of point of view and his genius with apparel. Alfred Weineke for quality architectural design and execution; he has really raised the bar for high-end residential architecture in Manila. All these men have been very generous mentors to me, happily sharing their expertise and knowledge. And, my children, Claudio and Isabel—they keep me optimistic about the world!
ADVERTISEMENT - CONTINUE READING BELOW
Favorite project you've designed
I don't know if it's my favorite, but Outpost in Karrivin Plaza was a gesamtkunstwerk–not often is a designer asked to do that—from the architectural layout to the decoration of the walls and floors, to the design of the furniture and custom lighting fixtures—we did it all and had so much fun. And I gained a dear friend in the process, Jam Acuzar.
Most admired architects and designers
Louis Khan's Parliament Building in Dhaka blew me away; I visited it in February. Some buildings have a moral quality; that is a preeminent example. I saw Khan's Kimball Museum in Dallas; it moved me to tears—the elegant attenuated proportions, the tight materials palette, the rhythm of arches within rectilinear volumes. I have loved his work for 30 years, and seeing these buildings recently reaffirms to me how important he is. As far as current designers go, I am closely following the careers of Tomas Heatherwick, Bjarke Ingels, and David Adjaye.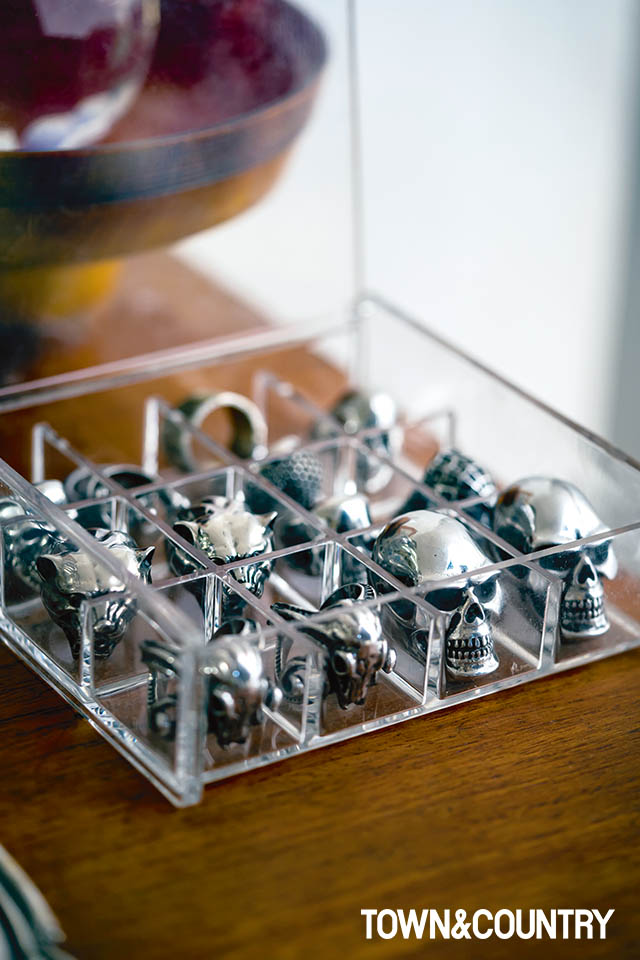 ADVERTISEMENT - CONTINUE READING BELOW
A collection of skull rings
Ways to discover new products/designers/trends
The new is all around us; sources of inspiration are all around us. The most important thing is to strive to train our eyes to discern, and develop a critical way of seeing—this is a life-long project, a way to keep our optics fresh. Travel is important, abroad of course, but also within the country itself
Idea of the perfect home
The perfect home in the Philippines has natural light and air, with windows that open up to the north, and are shaded on the west and south. It has rooms that multi-task so that the building does not have to be overly large. It has one TV or none, so the family can spend more time together. It is built of sustainably sourced materials, so that there are no toxic elements to affect the health of the family—especially the health of young children who are much more sensitive to the environment than adults.
Most treasured piece of furniture?
I have an early 19th-century all-balayong round table from Bohol that I bought in Cebu in the early 1990s. The dealer told me it came from the family of the local Bohol hero, Francisco Dagohoy. Balayong always makes my heart melt, and the one of this table is very dark chocolate. It feels like silk when you run your hands on the surfaces of it. That's one thing people don't realize about furniture: it's as much about the physical feel of it as about the way it looks. Touch it!
ADVERTISEMENT - CONTINUE READING BELOW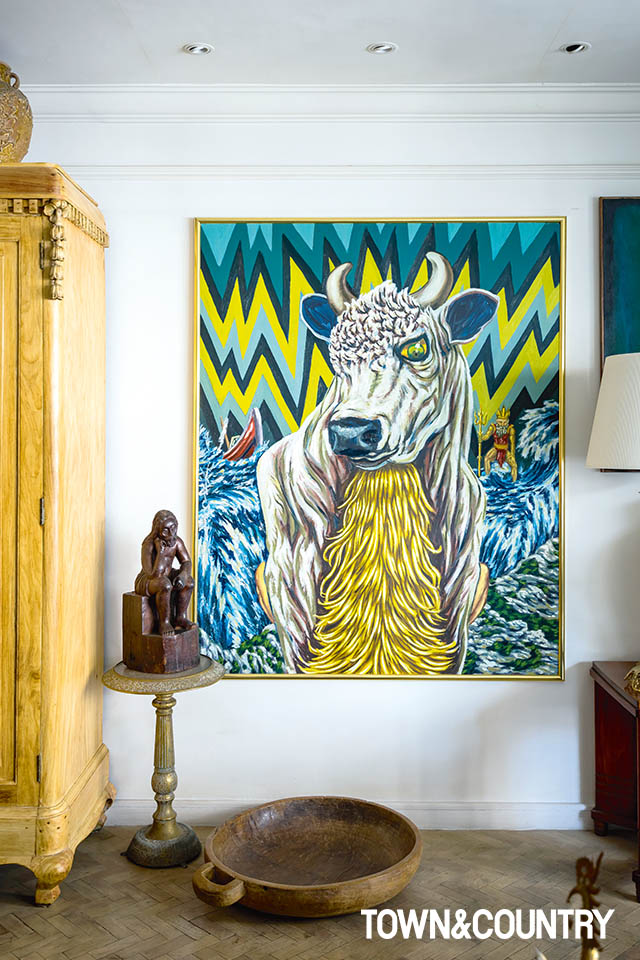 A painting by Redd Nakpil, the Patient Christ sculpture and a Filipino Art Nouveau cabinet
Favorite part of Manila to show guests
Right now I would bring foreign guests to Elmer Borlongan's retrospective at the Metropolitan Museum, and to Carlos Celdran's Manila Biennale in Intramuros. Dinner at Sala Bistro in Greenbelt, to dispel the impression that Manila has no trees.
Countryside hotel or resort
I had a wonderful few days at Fundacion Pacita Abad in Batanes last year. The vegetables, mostly grown outside the scenic windows of the restaurant, are organic and plentiful. The menu is a combination of Ivatan and more cosmopolitan fare. So you can eat really well there and feel healthy, not fat, when you leave. You do a lot of walking and hiking in very fresh air. There are 360-degree views of nature everywhere, and the local culture is fascinating.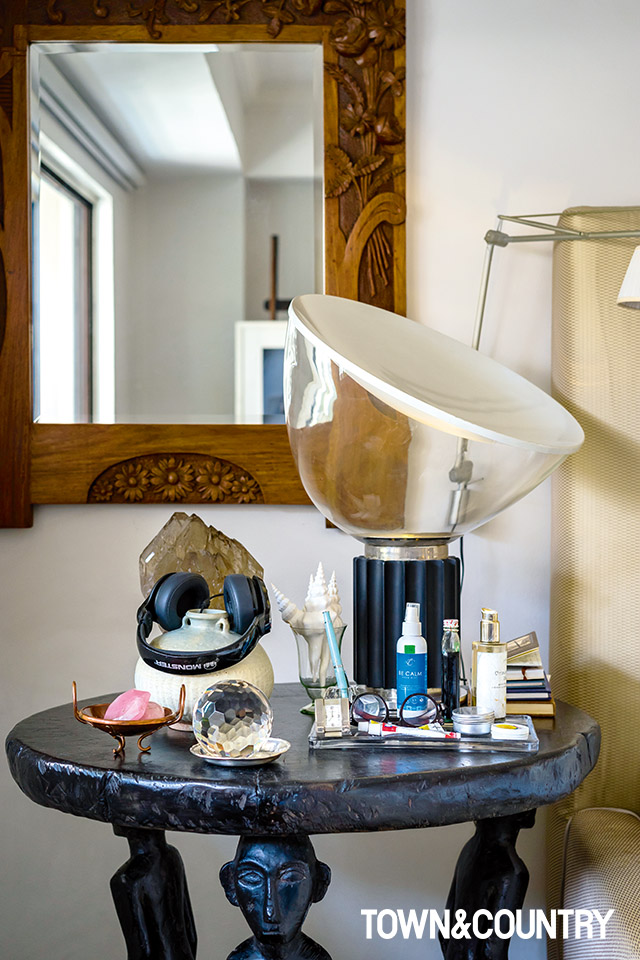 ADVERTISEMENT - CONTINUE READING BELOW
Pier Castiglioni's Taccia lamp atop a reproduction bulol table from Baguio
Places you've never been, but would most like to visit
Berlin to take in the local creative scene. Dornach to see Rudolf Steiner's Gotheanum, the world's first poured concrete building.
Way to rejuvenate
Contact with nature. Swimming. Meditation: for me it's Zazen.
Greatest hope for the future
I truly hope for world peace and for a sustainable future for our children. World politics seem so bleak now, but we must fight against induration, and inwardly strive to hold a vision of peace and sustainability.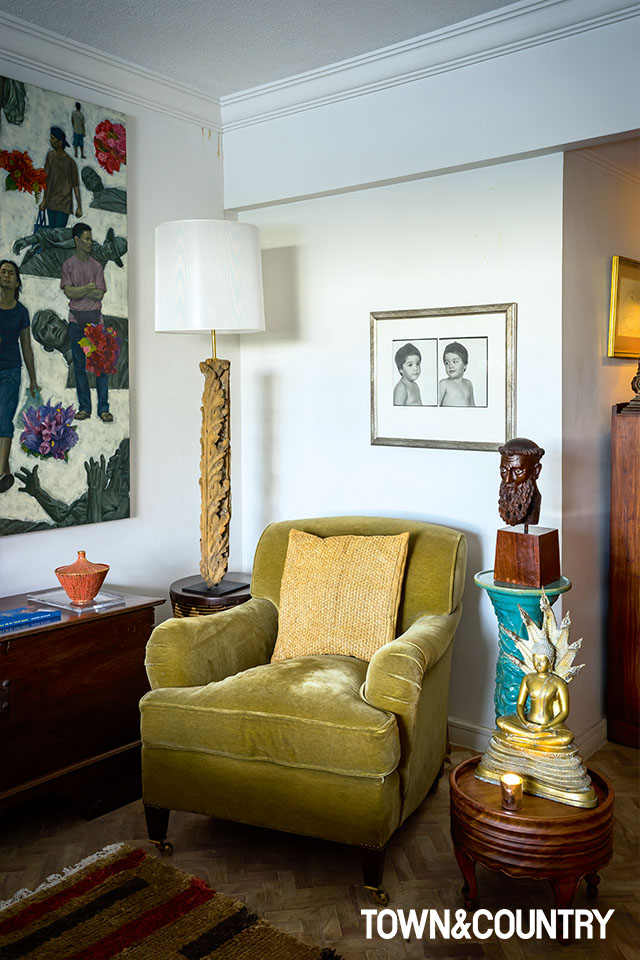 A Thai Buddha, balayong sculpture, and molave lamp flank the armchair in Mark's room
Favorite film
Recently I really enjoyed Call Me By Your Name, mostly for Timoth ée Chalamet's body language; the way he used his body to communicate awakening desire was fascinating to watch. And I loved the father's affirmative monologue towards the end: really feel our feelings, don't deaden them–that keeps us alive and fresh.
ADVERTISEMENT - CONTINUE READING BELOW
Current music playlist
I think The Weeknd is genius.
Define taste
Taste is how what you present to the world affects the world. Does it offend? Is it too loud? Does it demand attention? Or does it seek to fit within a context, aiming for appropriate self-expression? There is tasteful behavior and there are tasteful physical things, such as, in my field: interiors, lighting, objects. The two are related. The physical environment is an expression of our characters
This story was originally published in the April 2018 issue of Town&Country.