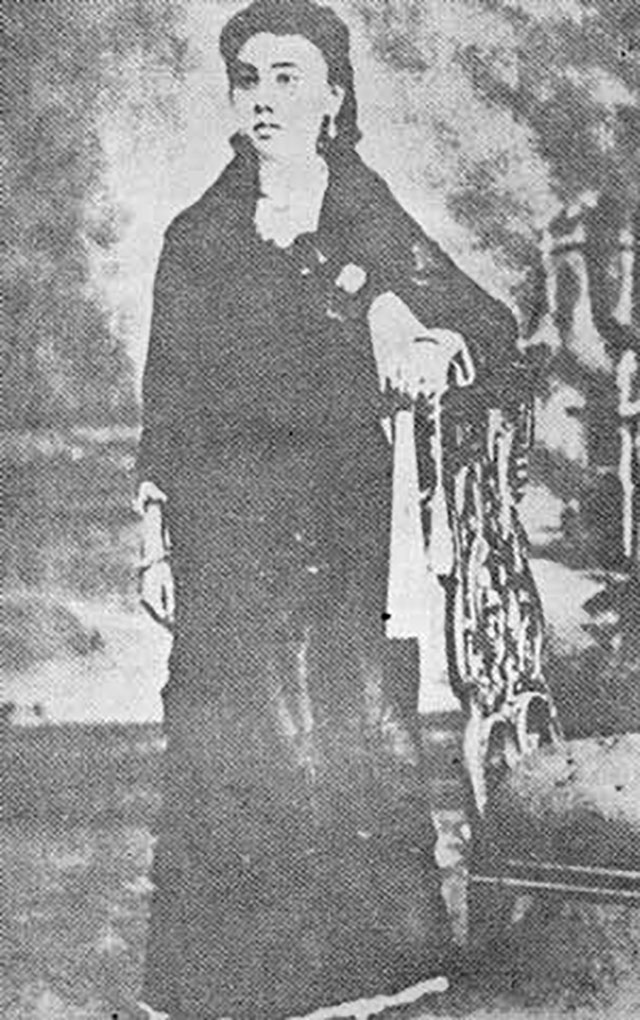 To Jose from his faithful cousin at fifteen years, eight months, and twenty-seven days.
Leonor Rivera
These were the words Leonor Rivera wrote to Jose Rizal on the back of a photograph in 1880.
At first glance, the words look innocent and consistent with the romantic style of writing of the period. What follows this inscription, however, arouses curiosity:
"A mi inolvidable y amadisimo amante; le dedica este retrato su apasionada. Taimis"
It is a very simple code that has been deciphered by historians. In plain language, it reads: "To my unforgettable and dearest lover I dedicate this picture. Your devoted Taimis." Taimis is the codename that Rivera used to refer to herself in her letters to Rizal.
This immediately posits at least three things. First, that Rivera and Rizal were cousins. Second, that they had a love affair. Third, that they kept their love affair secret (They used secret codes and codenames for each other in their letters).
Leonor Rivera was born on April 11, 1867 to Antonio Rivera and Silvestre Bauzon. She was six years younger than Rizal. Antonio Rivera and Francisco Mercado (Rizal's father) were cousins, making Rizal and Rivera second or third cousins. The Riveras were an upper-class family at the time, and, who, like the Rizals, were also part of the landed elite. In that period in the Philippines, you had to be well-connected to the government and the Catholic Church to become as wealthy as the Riveras and the Rizals—a crucial issue that later played a role in ending the engagement of the two flames. (In 1891, after Rizal published his second novel, the Rizals were evicted from the friar estates or haciendas they controlled.)
According to historian Austin Coates, Rivera was attractive, had soft, wavy hair, engaging dimples, and a captivating singing voice. She was intelligent and knew how to play the piano. She was reserved and soft-spoken, which, according to Rizal are ideal characteristics of a woman. Such was Rizal's idealization of Leonor that he immortalized her as Maria Clara in his two novels, Noli Me Tangere and El Filibusterismo.
Early Romance
Rivera studied at the Colegio de la Inmaculada Concepcion de la Concordia, more commonly known as Colegio de la Concordia or simply La Concordia. It was the same school where Rizal's sisters attended. Rizal was already in his second year of studying Medicine at the University of Santo Tomas in Intramuros when he met Rivera. He was a boarder at the house of Rivera's parents. According to Filipino historian Ambeth Ocampo, Rizal and Rivera met in 1880 and got engaged in the same year. He was 19, she was 13. Many people today would raise eyebrows at this very early engagement. How many parents would allow a prepubescent child to enter a relationship, more so get engaged to a teenage cousin who had not even finished school?
ADVERTISEMENT - CONTINUE READING BELOW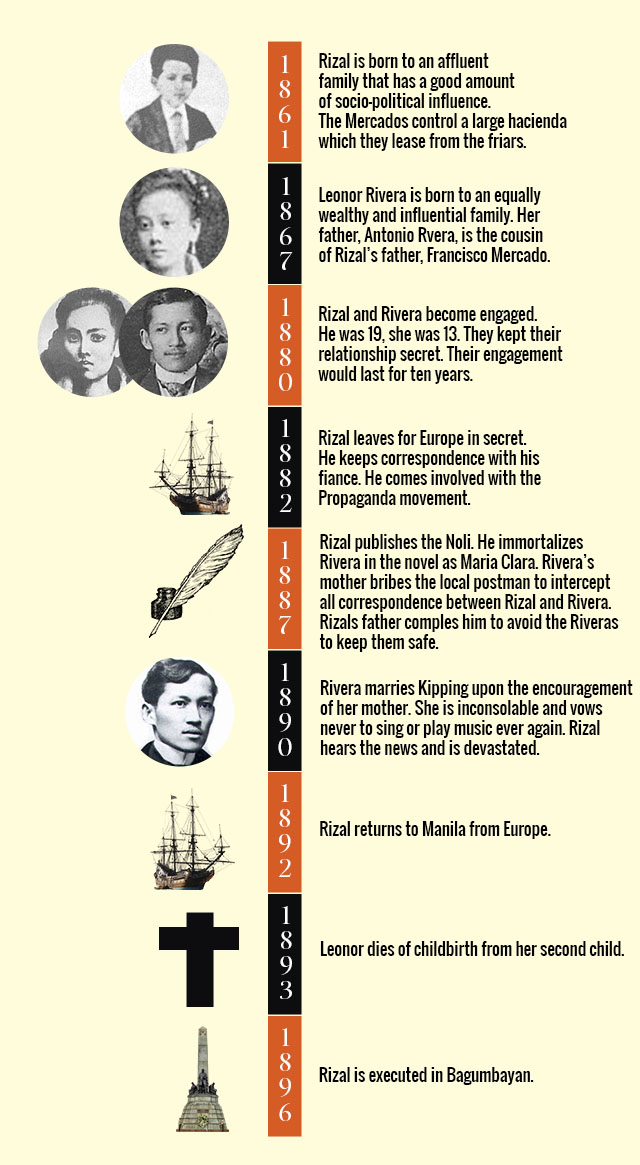 To put historical context into their engagement, however, it was done not out of intense and uncontrollable passions, but out of practicality.
We are already familiar with the traditional Filipino courtship practices in the past, when, in order to prove their loyalty and faithfulness, men used to render manual labor and various services and offer the most expensive farm animals (e.g., a carabao) to the family of the prospective bride. It would take a whole family's efforts to pay such a tribute. But no, Jose Rizal did not chop wood for the Riveras nor did he offer her family a carabao (the Riveras were wealthy, they already had plenty of those).
Wealthy families such as the Riveras and the Rizals did away with these traditional courtship practices, which they probably found inappropriate. In lieu of the hard labor and carabaos that men had to offer the women's family to show faithfulness and commitment, they had to enter very long engagements. In the case of Rizal and Rivera, their engagement lasted for over 10 years, and yet Rizal never received the consent of Rivera's parents that they be wed. Members of high society were expected to enter very long engagements to prove their commitment and patience, while having absolutely no assurance that the women's parents would consent to a marriage.
A Series of Complications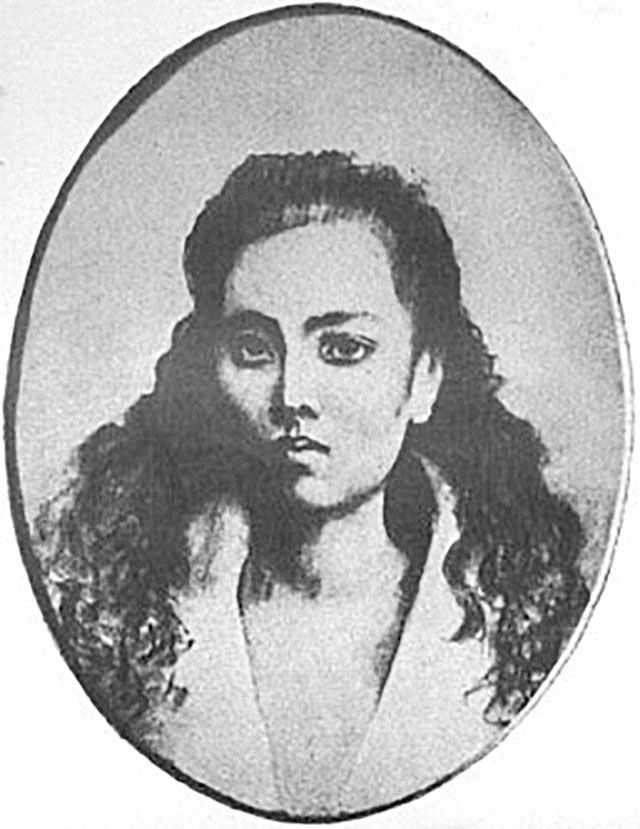 Inasmuch as consanguineous relationships are frowned upon by today's society as in cousins falling in love with each other, it was not a serious issue in the past. According to Ocampo, Rizal and Rivera kept their relationship secret only to keep their cousins from teasing them. Nothing was mentioned of immorality or incest. In fact, the only contention that Mrs. Rivera had against Rizal's relationship with her daughter was the fact that he posed a risk to the Rivera family's influence and power. Even at the onset, the relationship between Rizal and Rivera seemed strategic: A marriage between the two would preserve the two families' wealth from being diluted.
After Rizal published his widely criticized and "blasphemous" Noli in 1887, however, he became a hot target for church and government authorities, such that in 1891, his whole family was forcefully evicted from the friar lands they were leasing. That would simply not do for the Riveras. It was for this very reason that Francisco Mercado, Rizal's father, compelled Rizal to stay away from the Riveras. It was during this time when, according to Ocampo, mere possession of Rizal's letters became grounds for persecution. And Rivera had dozens of letters from Rizal. In the same year the Noli was published, the Riveras moved from Intramuros to Dagupan as a safety precaution.
Another issue that played in the physical separation of Rizal and Rivera was the pact that Rizal had made with his brother, Paciano. Ocampo says that the two brothers had agreed to dedicate their lives to the betterment of the Philippines, and to this end, only one of them would get married. Paciano financed Jose's education, who convinced himself that marriage was not for him if he were to seek reforms for the country, but not after having a tense spat with Paciano. Ocampo details how Rizal had initially insisted on marrying Rivera, till Paciano lost his temper and shouted, "Iniisip mo lang ang iyong sarili!" Jose took offense, packed his bags, and sailed for Europe.
When Rizal arrived in Europe sometime in 1882 or 1883, he immediately wrote Rivera. He received no response. He wrote her again the following year, but still received nothing. Rizal thought that Rivera was angry at him, but unknown to both of them, it was Mrs. Rivera who had been intercepting their mail with help from a postman she had bribed. Because of this, Leonor accepted the proposal of Charles Henry Kipping, a British engineer who worked for the Ferrocarril de Manila y Dagupan, the nascent form of the Philippine National Railways.
ADVERTISEMENT - CONTINUE READING BELOW
In Mrs. Rivera's defense, she was only protecting her family. She did not burn or dispose of Rizal's letters—she kept them, probably to show them all to Leonor before her marriage to another man—which is exactly what Mrs. Rivera did. Ambeth Ocampo tells us that in 1890, while Mrs. Rivera was at the market, one of the local postmen was remiss about his end of the bargain, and one of Rizal's letters was accidentally delivered to her daughter. She discovered that Rizal still loved her, and she confronted her mother with "uncharacteristic nerve." Cornered, Mrs. Rivera gave her daughter all the unopened letters from Rizal from over three years. Imagine Rivera's emotions, who at the time was still madly in love with Rizal.
Marriage to Kipping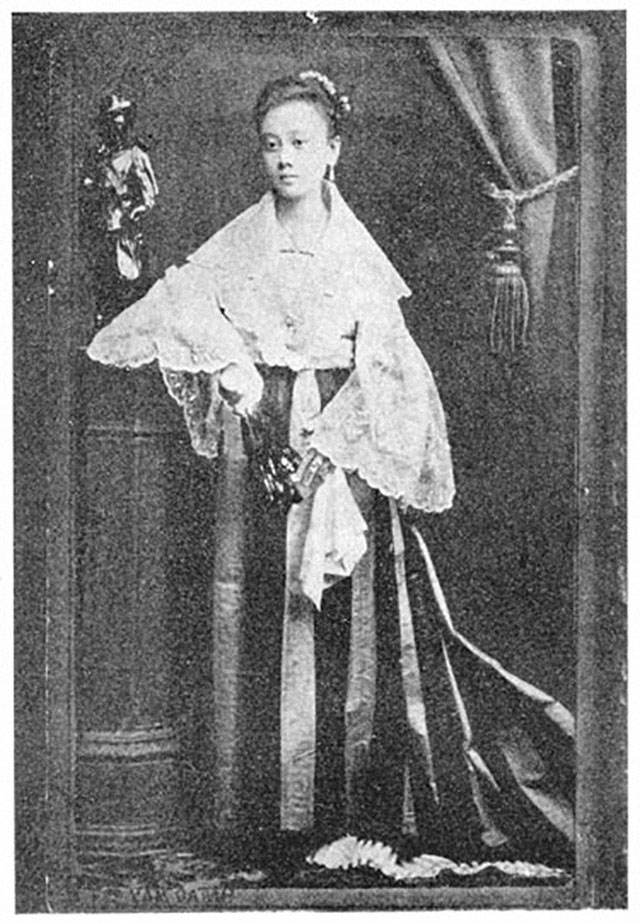 Ocampo writes that Rivera could not abort her engagement to Kipping, whom she had already promised to marry. Despite knowing the truth about Rizal's faithfulness (after years of not receiving any reply from her), she still quietly married Kipping, but not without her own silent protest.
She set two significant conditions for her marriage to Kipping. First, that she would never sing or play any music ever again. Second, that her mother would have to stay with them all throughout their marriage. Ocampo shares that Rivera allegedly burned all of Rizal's letters and had the ashes sewn into the fabric of her wedding dress.
At 23 years old in 1890, Rivera became Mrs. Leonor Rivera Kipping. She gave birth to her son Carlos in the same year. This news came to Rizal as a shock, as they had been engaged for over 10 years. Rizal was very hurt and heartbroken. According to Ocampo, some members of the Rizal family claim that before Rizal was exiled to Dapitan in 1892, he visited Rivera Kipping in Dagupan and "scolded" her for marrying someone else. He allegedly left in a hurry after she fainted in front of him.
On August 23 1893, Rivera Kipping died while giving birth to her daughter, who also died in childbirth. In the same month, Rizal's mother and two of his sisters immediately traveled to Dapitan to bring him news of his cousin's death. According to Ocampo, Rizal locked himself inside his room and brooded for a whole day. He had kept a lock of his love's soft, wavy hair, which he held close.
The Kippings Today
According to this family tree, Charles Kipping and Leonor Rivera Kipping had one child (Carlos), four grandchildren, and 21 great-grandchildren. Three years after Leonor's death in 1893, Charles became ill and sailed to Britain for medical treatment, where he eventually passed away. Their son Carlos was left to the care of Leonor's mother, Silvestra. Carlos studied at Ateneo de Manila University. He became the heir to the Rivera estates, which was why he became an agricultural businessman. Leonor and Charles' descendants would become successful in various fields. Some of them still attend ceremonies commemorating the heroism of Jose Rizal. Interestingly, Carlos Kipping married Lourdes P. Romulo, sister of Filipino journalist statesman and diplomat, Carlos P. Romulo.
ADVERTISEMENT - CONTINUE READING BELOW
Dr. Ma. Lourdes Kipping (daughter of Carlos Kipping, Jr. who is the grandson of Leonor), tells the Philippine Daily Inquirer how as a child, she would itch from wearing formal attire made from piña fabric. She questioned her parents about why their whole family had to be present at the ceremonies when they were not related to Rizal.
For many Filipinos and historians, Leonor Rivera was Rizal's only true love, despite names such as Dolores, Felipa, Margarita, Ursula, Nellie, Vicenta, Suzanne, Consuelo, Osei-san, Seiko, and others who were charmed by his good looks and witty manner. Such is the significance of Rivera's legacy that her descendants are always accorded a place of honor at Luneta Park every December 30.
>