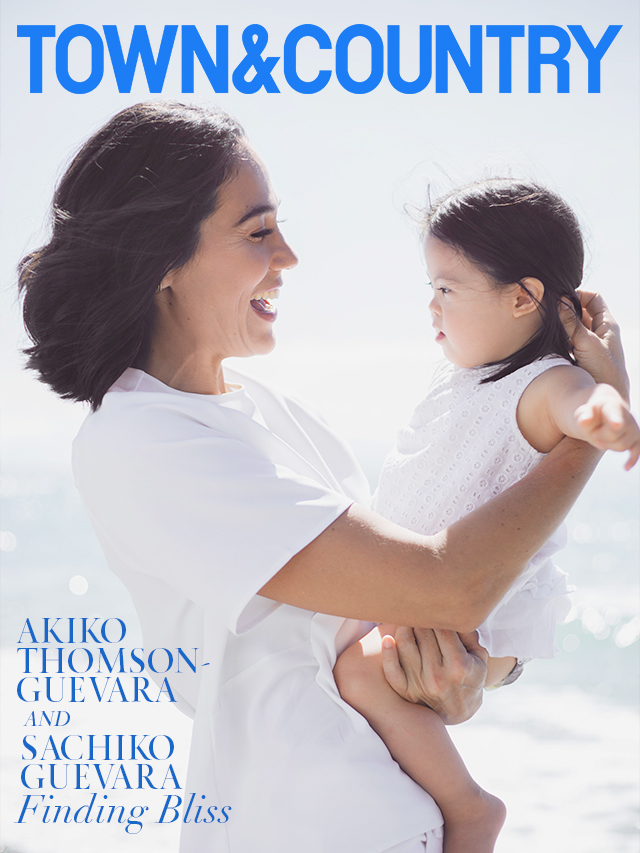 Some of Akiko Thomson Guevara's earliest childhood memories involve climbing trees in the backyard of their family home in Paco, Manila.
"We all had so much energy," Akiko says of her siblings, Julia and Josh, and herself. "I was a tomboy, definitely not the graceful girly type."
Today, in the town of Malabrigo, Batangas, Akiko, now 44, easily scoots up a rock that is at least eight feet high.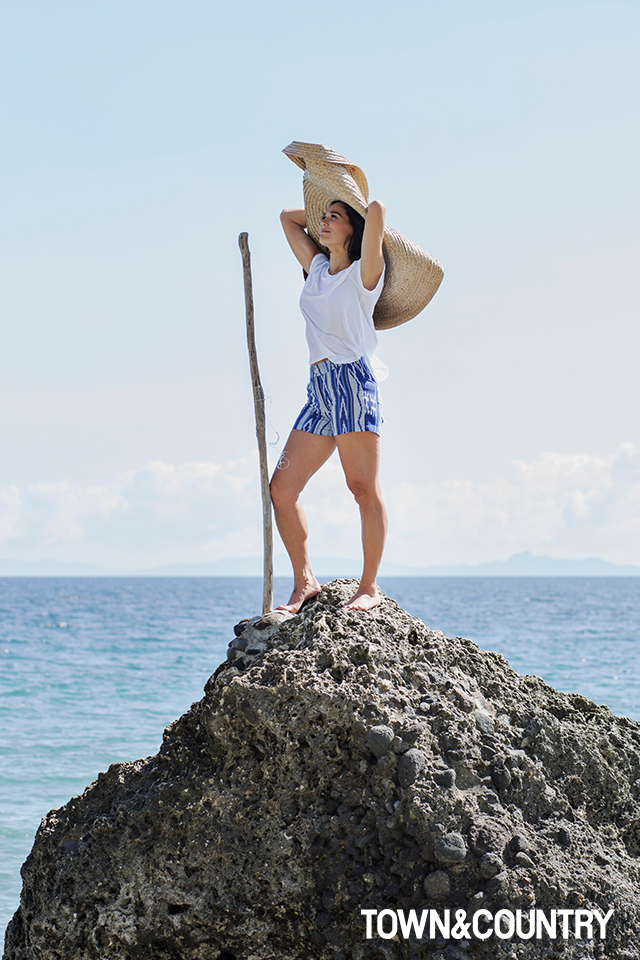 ADVERTISEMENT - CONTINUE READING BELOW
We are visiting the century-old Malabrigo Point Lighthouse, also known as Faro de Punta Malabrigo, one of 24 built during the Spanish Colonial period, overlooking Verde Island, Mindoro, and the Verde Island Passage.
More: Malabrigo Lighthouse: The Story Behind the Philippines' Oldest Working Lighthouse
In 2004, Akiko's father, Marsh Thomson, fell in love with the lighthouse, and, in an arrangement with the Philippine Coast Guard, the family adopted it, overseeing efforts for its preservation. Marsh built a home for his family right next door, where they spent many happy times gazing at the beautiful lighthouse that was designated a National Historical Landmark in 2006.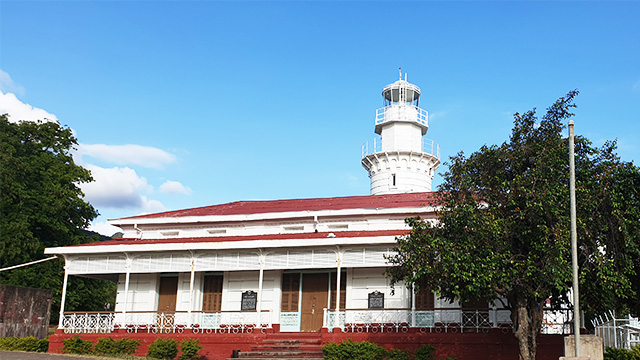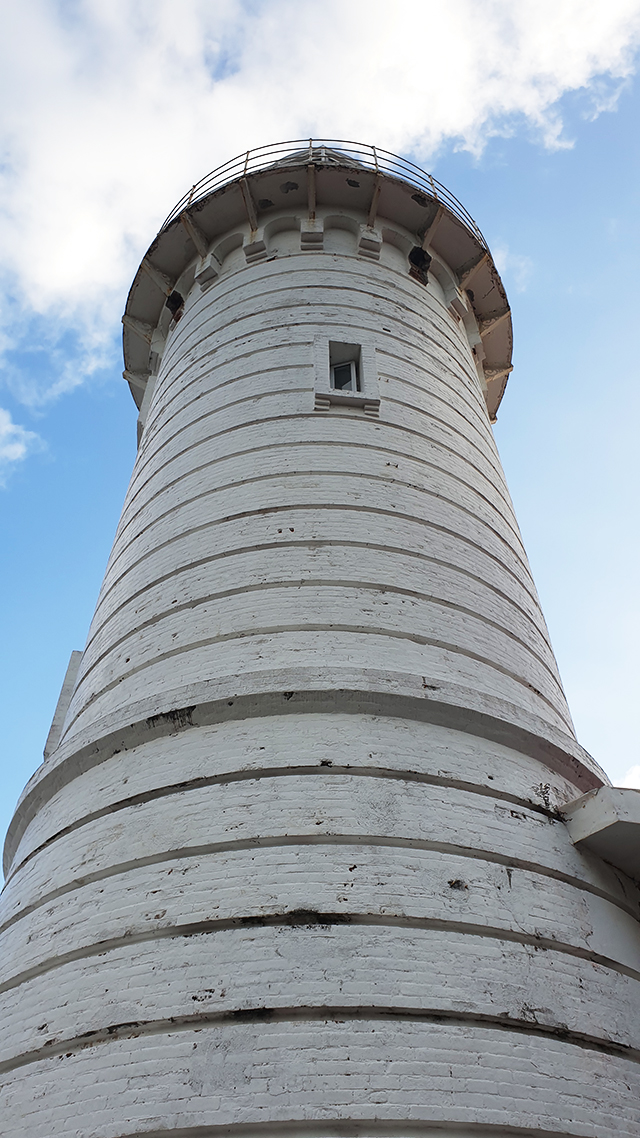 CONTINUE READING BELOW
Recommended Videos
Till this year, the Malabrigo home was also home to the Thomsons' gibbon, Charlie Brown, another part of the Thomson family's collective memories.
"Our Dad brought Charlie Brown home when I was about five years old. He was a huge part of my childhood," says Akiko. "He lived in a treehouse, and we would spend afternoons grooming him. I would carry him into the kitchen and he would take a nap. He had really long arms and would reach out and carry our dogs by the tail. I always thought I would be a Jane Goodall because of him."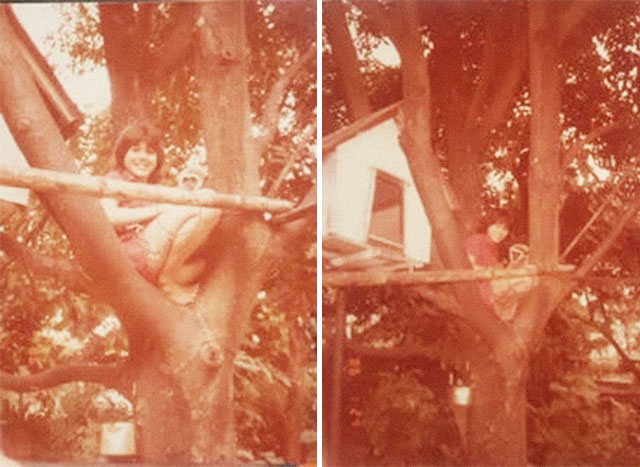 Earlier, Marsh had lived 20 years in Thailand and had gotten used to having gibbons and other animals about the home. He was assigned to the Philippines to head the U.S. Peace Corps, and later, executive director of the American Chamber of Commerce in the Philippines.
ADVERTISEMENT - CONTINUE READING BELOW
Marsh met his wife, Hiroko "on a plane and followed her around the world," says Akiko of her parents.
Hiroko is a survivor of the atomic bomb. She and her twin sister were infants in Hiroshima when the atomic bomb was detonated to end the Second World War. Their home collapsed, and their mother assumed they had been killed. Thankfully, the babies survived.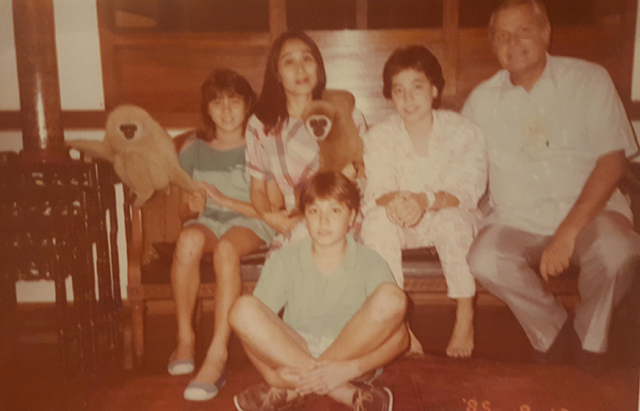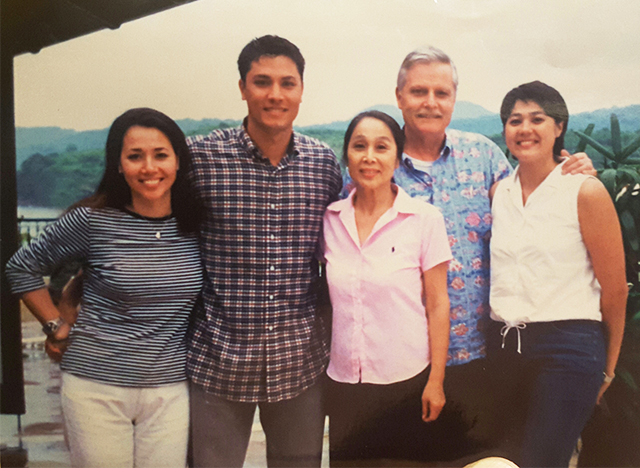 ADVERTISEMENT - CONTINUE READING BELOW
"My Mom grew up with starvation, and her love language has always been that of service. Her life has been devoted to taking care of people, especially her family," says Akiko.
"Mom is nomadic. She paints, gets inspired by nature," says Akiko. That is how the Japanese Hiroshima survivor and the American Peace Corps bigwig ended up raising their family in the Philippines.
"We were three very active kids, so our parents got us into everything. Piano, Girl Scouts, Boy Scouts, ballet, choir. And then there was swimming next door at the Army Navy Club. We all took to the water really easily. Swimming really wipes you out, so that was good for our parents. Swimming consumed all our excess energy," says Akiko, who started swimming when she was six years old.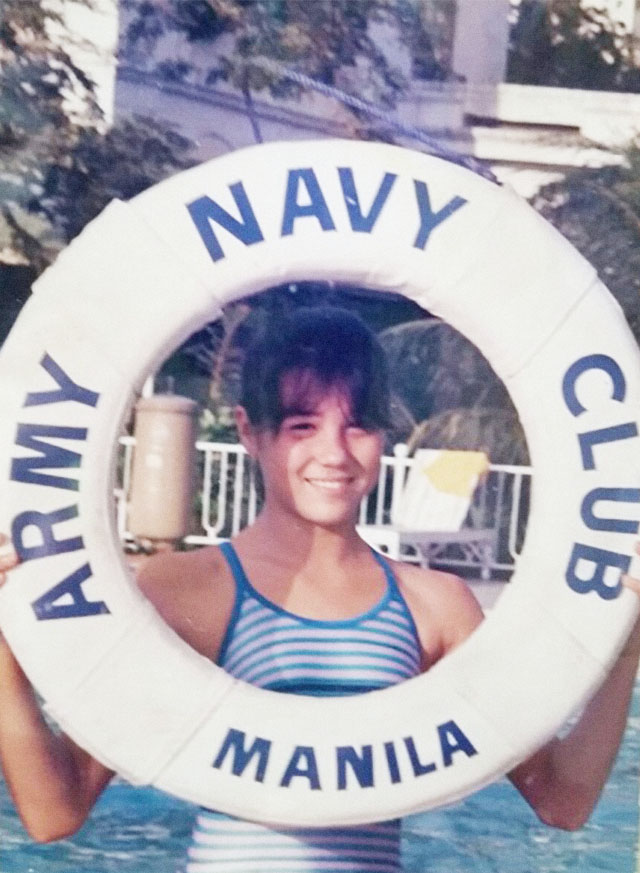 Before long, Akiko was part of the club's swim team, joining meets against other clubs around Manila. When she was 10, she was invited to join the Philippine National team, and at 12, she went off to Bangkok to join her first age group competition.
ADVERTISEMENT - CONTINUE READING BELOW
"I got my Filipino citizenship by presidential decree overnight. It all happened so fast," says Akiko. "My sister and brother wanted to be Filipinos too, but had to go through a process that went through Congress. They were approved in Congress but denied at the Senate. They would've loved to be Filipino."
Not long after Bangkok, Akiko was off to her first Southeast Asian Games (SEA Games) in Jakarta in 1987, where she won a gold medal in the 100-meter backstroke and a silver in the 200-meter backstroke. A year later, she was off to the Olympics in Seoul.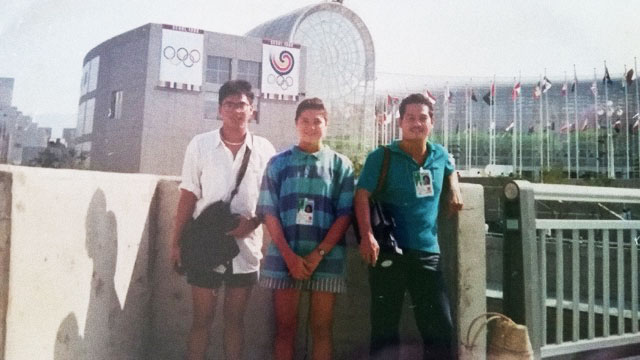 "It all kind of just happened. It wasn't planned. I know my Dad didn't have it in mind when we first started swimming, really. It was just to get out of the house, to consume our energy," says Akiko.
ADVERTISEMENT - CONTINUE READING BELOW
In 1990, Akiko and her teammate Eric Buhain were sent to southern California to spend their summer training for the 1991 SEA Games in Manila and the 1992 Olympics in Barcelona. The training program went so well, they decided to extend it, and Akiko ended up spending her senior year in high school in the United States.
At the SEA Games in 1991, Akiko won two gold medals (100-meter and 200-meter backstroke) and two silver medals (50-meter and 100-meter freestyle). Eric won five individual gold medals. The two were the toast of the Philippines.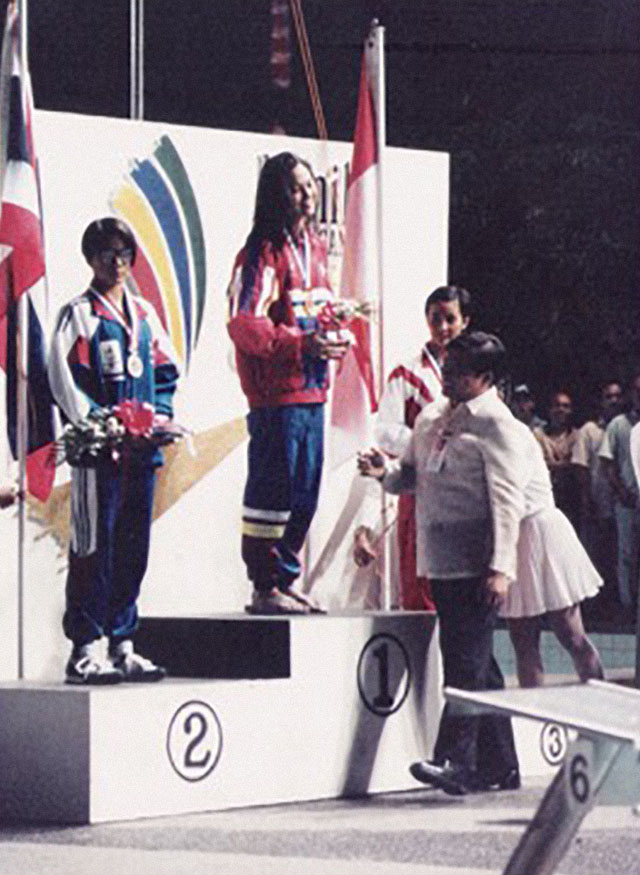 After the 1992 Olympics, Akiko found her way to the University of California at Berkeley, not too far away from where her sister, Julia, was studying.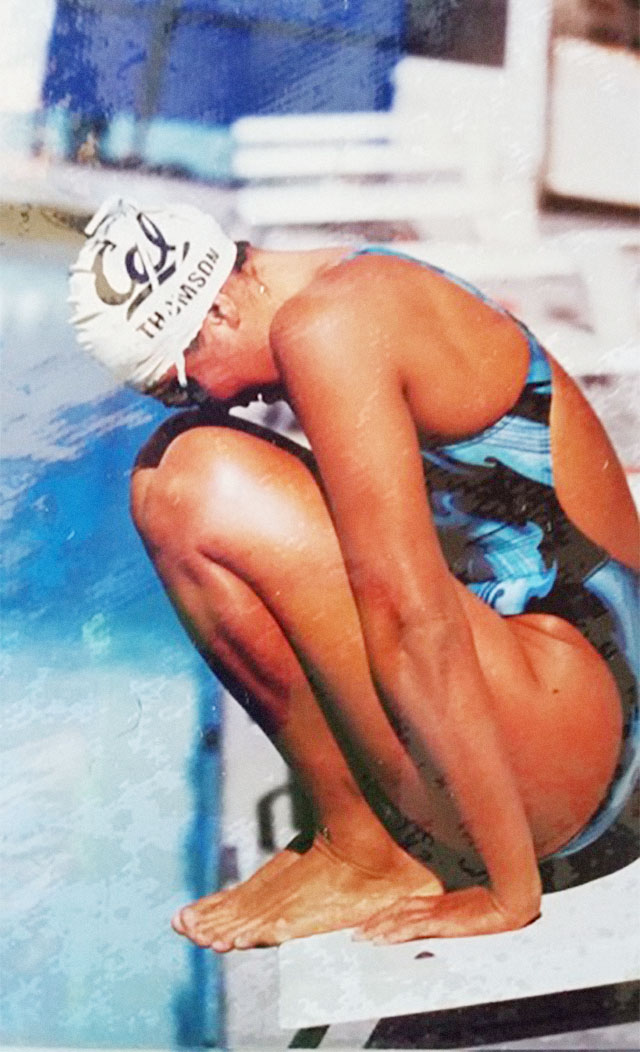 ADVERTISEMENT - CONTINUE READING BELOW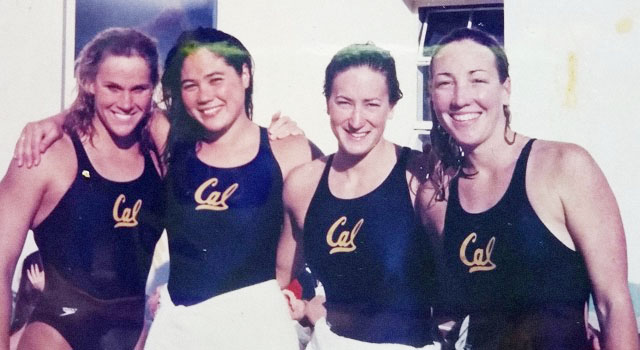 "I majored in Anthropology and minored in Theater. My Mom would say I majored in swimming," says Akiko, who was co-captain of the university's swim team in her senior year.
After her final Olympics in Atlanta in 1996, Akiko moved back home to the Philippines. Not long afterward, she met Chips Guevara through her best friend, Len Cabili.
"We were friends for 10 years before we started dating. I must admit I kept him at arms' length. I had this image of the man I was going to marry, and Chips wasn't him. I thought I would marry an athlete, someone very tall, like me," says Akiko, laughing.