Every so often, the universe sends Karen Santos a sign, and everything else just seems to fall into place. Best known these days for Kassa, her brand that sells fine linens and table accessories, Karen now also offers fine furniture—everything from Louis XVI-style chairs to midcentury collectibles, from 18th-century mirrors to Napoléon III pieces—brought in from a network of antique dealers abroad. This month, Karen, who has been dubbed by friends as a "lifestyle provider," gives her clients a peek into her new, partially completed showroom where she will have her fourth sale of treasured pieces.
Pinning down the perfect location wasn't too difficult, as usual. "I was at a dinner—it was my birthday—and I just mentioned to a friend that I was looking for a space, and he said he had a property in the area I had in mind and he was willing to rent it out. I thought to myself, wow, this is just too easy," she laughs.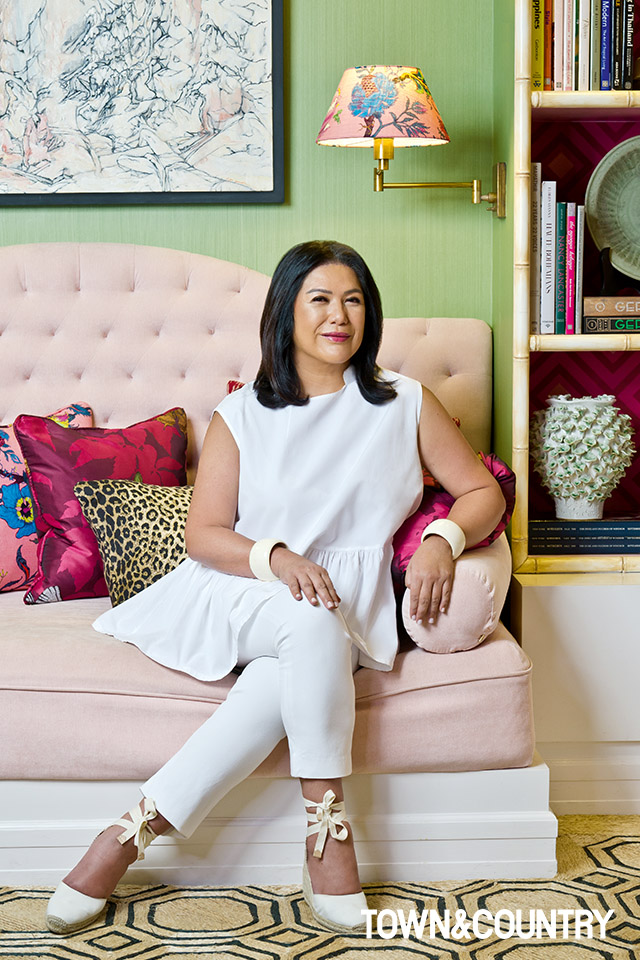 ADVERTISEMENT - CONTINUE READING BELOW
With the new showroom, Karen is back in the retail business, something she's been flirting with since selling her knitwear business, Kashieca, to the Suyen Group 14 years ago. Founded in 1988, Kashieca was named after Karen and her sisters Shiela and Camille. "At the time, the Ayalas had just opened Park Square One and they wanted my mom, who was in the knitwear business, to open a shop. I had just come back from Italy, where I learned more about maglieria, knitwear, so my sisters and I decided to do it," recalls Karen.
After more than a decade, it was time to move on, she reflects, adding that she has no regrets. Before the sale was finalized, Karen was already dipping her hands into another pie, distributing natural stone flooring. "I had a friend from Indonesia living in the Philippines, and her family had a quarry back home. She asked if I could help her bring in stone, and that was it."
Soon enough, the need to express herself creatively coupled with other circumstances pushed Karen to start Kassa. "For linens, I was so frustrated by not being able to find the right printed tablecloths. I couldn't get the right size or a certain length. It was such a pain. Someone pushed me to make them myself, and I did. I wanted to go back to working with fabric and colors and being creative again, without having the pressure of meeting a certain price point. When you want linens, it's a luxury. I do it at a certain price point because I give people the best product and the best quality," she says.
ADVERTISEMENT - CONTINUE READING BELOW
Recommended Videos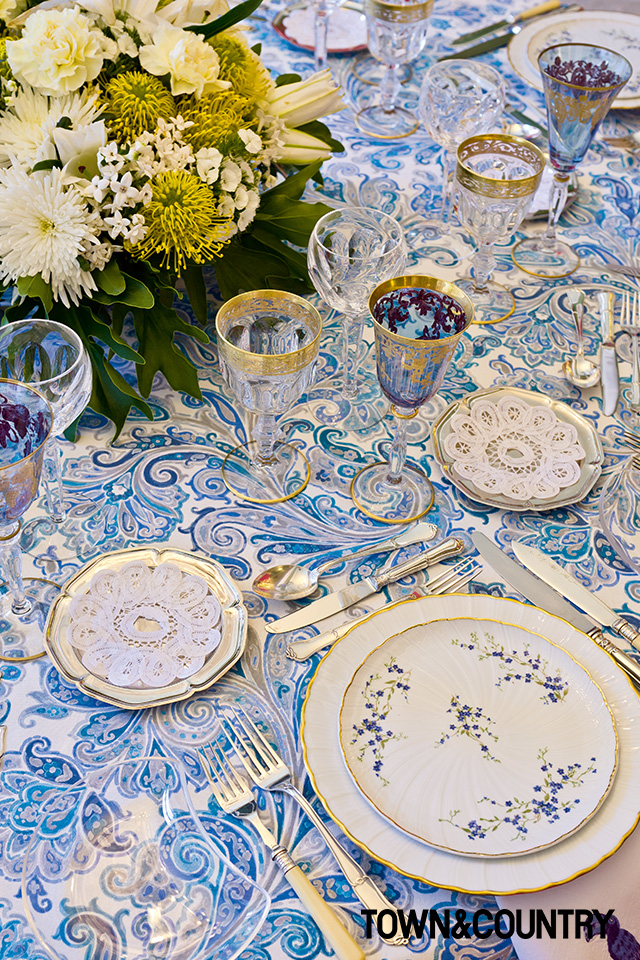 Le Bernardaud Limoges plates, Vetrerie di Empoli and Waterford glasses, Lalique salad plates, J. Perez cutlery, and Kassa tablecloth and hand-embroidered toucan napkins and doily
It's the same idea with her luxe furniture finds, her latest venture fuelled by a deep personal interest. "It all started because I wanted to fix my flat. So I went on a trip and met a few dealers. I thought, 'What heck, I want it all but how am I going to bring all of it back?'" The logistics seemed difficult, but she didn't give up on the idea. Karen showed snaps of the items available to her interior designer friends who agreed to order some pieces through her. Soon she had enough orders to load three-fourths of a shipping container; the rest Karen filled up with furniture for herself.
The first Kassa furniture pop-up took place in October 2016, and so far each one has been successful, close to selling out. Sometimes, Karen acknowledges, her instincts have been wrong. "Of course, I think I've made some mistakes with my purchases, and I'm sure that there will be some more, but I do believe that every piece will find a home," she says confidently. One of those "mistakes" cost her a tidy sum. There was a chair that was being passed up at her popups, despite being reasonably priced. She eventually found a buyer, but after the sale was agreed, she learned the shocking truth. "We determined it was an original Pierre Jeanneret, worth, according to another dealer, 10 times the price. I was sitting on a goldmine, but I didn't know it. Obviously, the one who sold it to me originally didn't know it too. It's a lesson learned, I didn't do enough research."
ADVERTISEMENT - CONTINUE READING BELOW
But why was the piece ignored in the first place? Maybe the answer to questions like this all comes down to personal taste. Karen diplomatically skirts around the issue. "Taste is an expression of yourself, and who am I to judge?" she says. "It's in the eye of the beholder." Looking around her eclectically furnished living room, awash in muted pink tones, Karen lets out a hearty laugh. "Designers who like black and gray might come around and say, who does this woman think she is, giving advice?"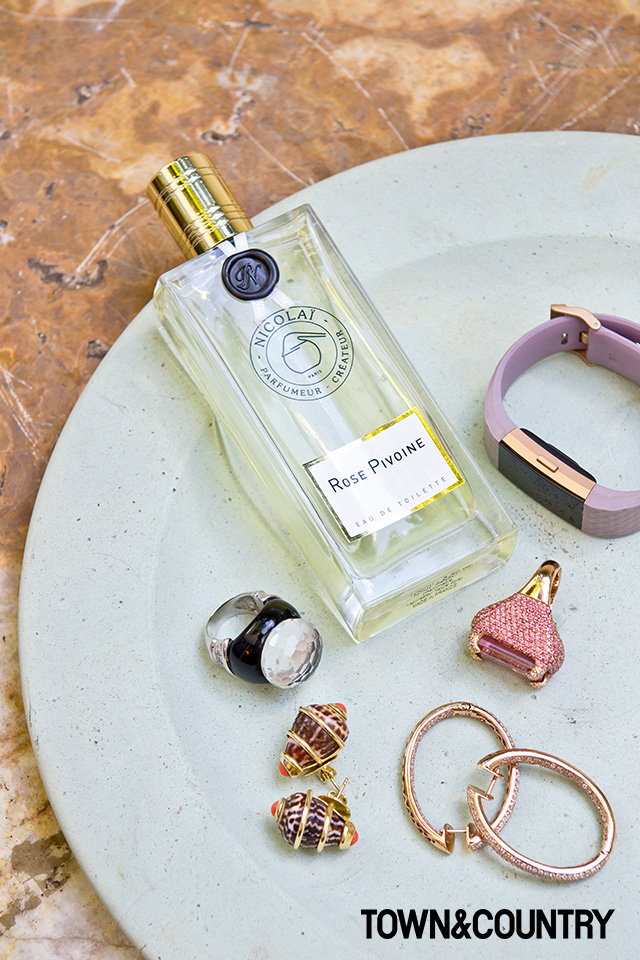 Karen's favorite cocktail rings and fragrance with her Fitbit
Source of inspiration
"The eye has to travel," Diana Vreeland famously said. In my case, my eye has been traveling all my life—to the places I go, to the museums I have visited, to the magazines, books, and blogs I read.
Greatest professional influence
My mother. She taught me the value of work.
ADVERTISEMENT - CONTINUE READING BELOW
Favorite item you've designed
I love the table linens I design. I don't have a favorite, I love them all.
Most admired designer
If I were to choose one, it would the late Jaya Ibrahim. Indonesian in origin with no degree in design, he trained under Anouska Hempel. Jaya's interior design was about balance and harmony, Western and Asian. He later returned to Indonesia and designed the Legian in Bali, Amanjiwo in Borobudur, and the Dharmawangsa in Jakarta; to date, they are my favorites among his work.
Ways to discover new design trends
Going to fairs and seeing what is out there, chatting with my dealers, following people on Instagram.
Things on your work desk
At any given moment I can have fabrics, natural stone samples, catalogs, a calculator, and of course my computer and iPhone.
Your idea of the perfect home?
One that generates good energy.
Favorite part of your house?
My room.
Most treasured piece of furniture?
All my furniture is special to me; each one has a purpose and a story
What do you consider a must-have item in any home?
You can never go wrong with a good set of table linens.
Favorite stores
Selfridges in London, Le Bon Marché in Paris, and the Dries van Noten store in Paris not just for the clothes but also for the beautiful interiors done by Gert Voorjans. But my ultimate shop would be my store Kassa.
Style icons
My choices perhaps reflect my age, but their style has always been timeless: Anna Wintour, Carolina Herrera, and Donna Karan.
ADVERTISEMENT - CONTINUE READING BELOW
Describe your style
Age-appropriate!
Something you'd never leave home without?
Blue jeans and a black dress. I always throw them in my luggage whether I end up wearing them or not.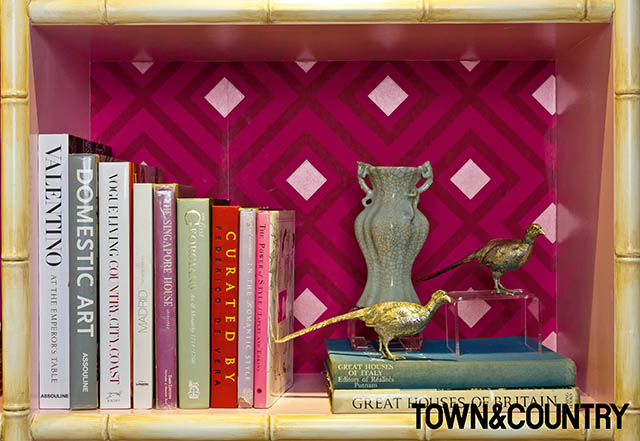 David Hicks wallpaper on Karen's faux bamboo-bordered bookshelf, housing books, a celadon vase, and sterling silver birds
Favorite websites
Habitually Chic and The Business of Fashion.
Favorite phone/tablet app?
With the traffic in Manila, I can't live without Waze, and for my immediate news updates, I turn to Huffington Post.
Favorite part of Manila? Where would you bring foreign guests?
I would send them to take part in a tour of Manila led by Carlos Celdran!
Favorite city to visit
London.
Favorite urban hotel
L'Hotel in Paris, Oscar Wilde's last home, remodeled by Jacques Garcia.
Countryside hotel or resort
Amanjiwo in Yogyakarta designed by Jaya Ibrahim.
Travel must-haves
An open mind and a sense of adventure.
ADVERTISEMENT - CONTINUE READING BELOW
Vacation spot
To be honest, I am so happy to just be in my room!
Place you've never been, but would most like to visit
I would love to see Africa one day.
Way to rejuvenate
Sleep and more sleep!
Fitness regimen
A brisk walk with Spotify. Having said that, I must get back to my Pilates.
Happiest moments
When my eye is traveling.
Words to live by
Everything in moderation, nothing in excess.
Guilty pleasure
Home-made chicharon from a dear friend's kitchen!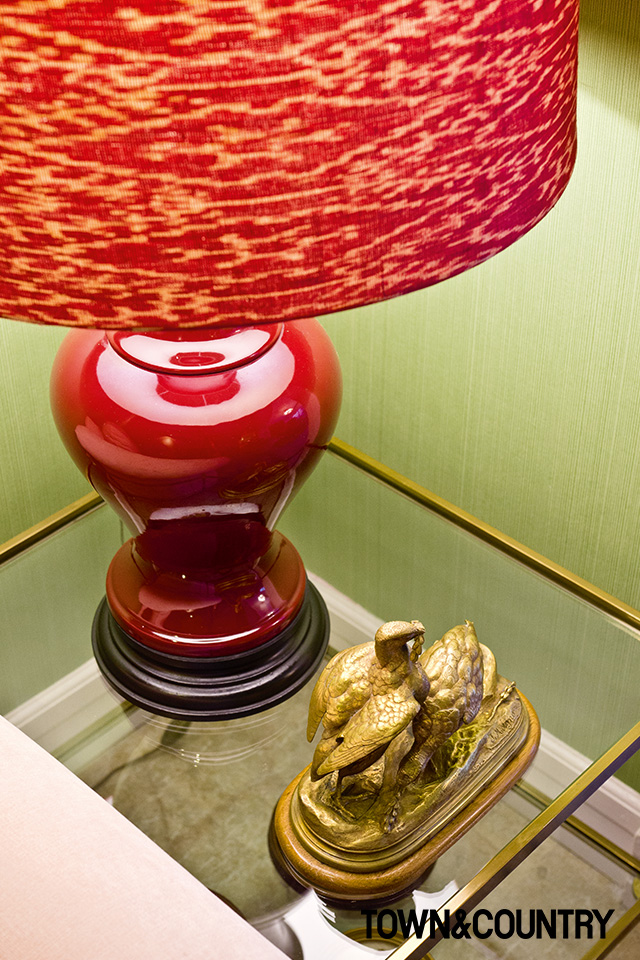 19th-century Jules Moigniez sculpture and a 1970s lamp with a tinalak shade
Favorite chef
My cook, whom I trained.
Favorite dish
Oh, lots! But I must say that after a trip my comfort food is a homecooked adobo with boiled rice.
Favorite place to celebrate
I think a celebration at home is always special.
Drink of choice
Apparently, vodka has less sugar so I have been drinking that lately; otherwise a good bottle of wine would make me happy.
ADVERTISEMENT - CONTINUE READING BELOW
Dream dinner guests
A dinner table of women interior designers with Elsie de Wolfe, the woman who invented interior decoration as a profession, as guest of honor, with the likes of Anouska Hempel, India Mahdavi, Muriel Brandolini, Kelly Hoppen, Kelly Wearstler would be fantastic, but alas that would be impossible.
Must-have item on your dinner table
Tablecloth or placemats, but definitely cloth napkins—no paper, please!
Dessert
Sans rival.
Writer or book
I just finished Belgravia, by Julian Fellowes, and am now reading Madame de Pompadour, Mistress of France, by Christine Pevitt Algrant.
Film
My all-time favorite romantic comedies are When Harry Met Sally and Bridget Jones's Diary and my all-time romantic drama is The Way We Were.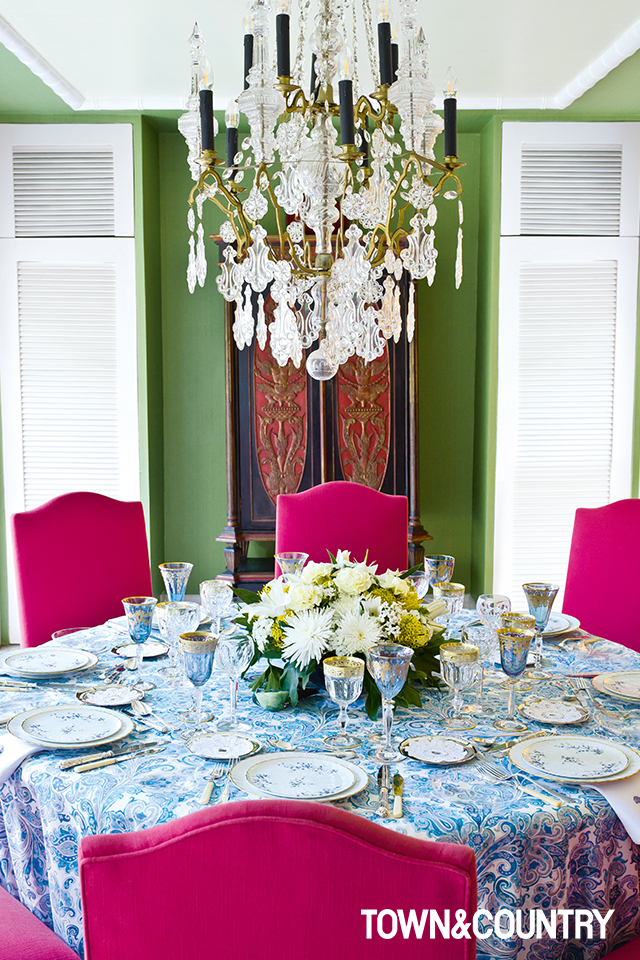 A Louis XV-style chandelier above her dining table
Favorite form of entertainment
At the moment, watching Netflix! When I travel, museums are a must. My favorites are the Sir John Soane's Museum in London, the former home of the 19th-century architect, which he designed himself and which houses his collection of world-class art, antiques, and drawings; the Wallace Collection at Hertford House, London, where my interest in 18th-century French furniture, paintings, and porcelain was brought to the fore. What I love about these types of museums is that it gives one a peep into the way people lived.
ADVERTISEMENT - CONTINUE READING BELOW
What's currently on your music playlist?
My workout mix, SparkPeople's Cardio Mix, and 2018 Dance Workout Music, to keep me going when I brisk walk.
Favorite actor of all time
Meryl Streep.
Favorite work of art
To choose one is hard, though I remember very vividly at the very impressionable age of 15, I was at the National Gallery in London. I was studying the paintings of the Renaissance period and exhausted with information overload from my tutor, I decided to rest and sit down in front of Monet's Water-Lily Pond and felt a sense of tranquility.
This story was originally published in the April 2018 issue of Town&Country.