This is the story of a wisp of a girl who lives in a house on a hill with two dogs and 15 horses.
Her name is Candice Gotianuy.
At Candice's house, the unassuming gates open up to a sweeping driveway leading to the stable, not too far from her front door.
"I wanted my horses to be what I see first when I get home, and what I see last when I leave," says Candice of her favorites, Magnum, Taj, and Avalon, steeds who had been brought in from Amsterdam. "They make me so happy."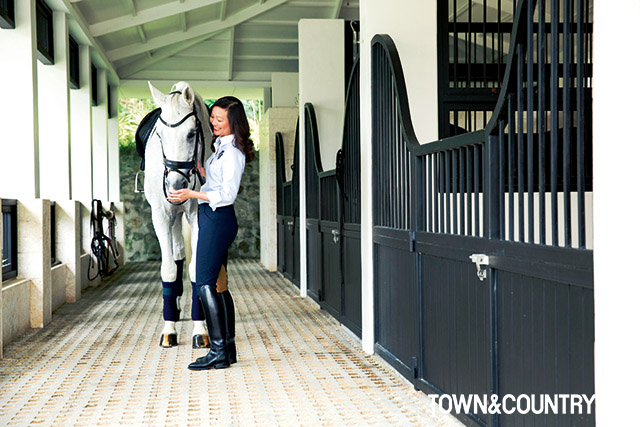 Candice's Whistlejacket Farm is down the hill and around the bend from where she lives, because when she was a little girl in Cebu, she dreamt of having her own horse and a place where other children could nurture their love for horses. Candice had spent many childhood summers in Baguio with her Manila cousins, astride horses from Wright Park cantering down mountain trails. Candice, an only child, says those memories are some of the happiest of her life.
ADVERTISEMENT - CONTINUE READING BELOW
A few years ago, Candice brought in her good friend Tata Montilla, a SEAGames and Asian Games competitor and medalist, to teach at Whistlejacket's riding school several days a week. She describes him as "a firm yet encouraging instructor who is passionate about the sport and with teaching it well." And while Candice says the venture is more about passion than business, "it's about horses and dreaming and passing it on."
But Candice's passion for education goes much further than Whistlejacket. Candice's day job title is Chancellor of the University of Cebu, the school founded by her father, Augusto Go, in 1964.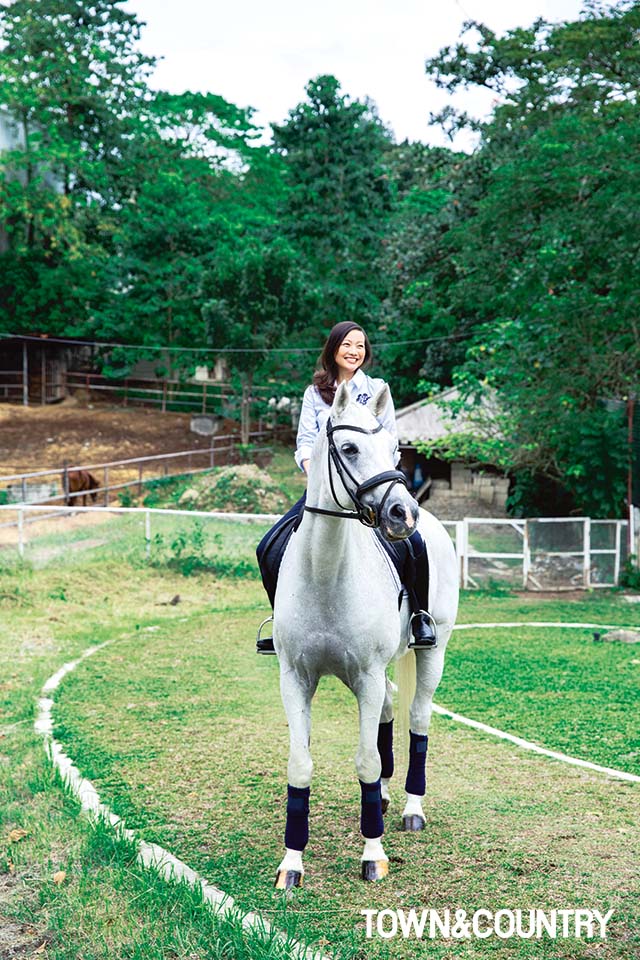 Once sneered at for being a diploma mill providing cheap education, Candice has transformed the university into a well-respected higher education institution. It's now the largest privately held university in the country, with over 50,000 students spread over five campuses, and known for producing board topnotchers in different fields.
Last October, the University of Cebu swept all top 10 places in the naval architect and marine engineering board exams. Since there were two spots where there were ties, there were a total of 12 out of 10 on the list. Four of them were women.
"We were overjoyed and overwhelmed," says Candice. "One of our core values is excellence and we drill excellence into our students."
I like challenges and making things better. And that's what I told myself I would do with the school. That's what drives me, making things better.
The university has been known for giving cars or cash incentives to top students and their mentors depending on the field.
In March of 2016, the top two placers in the nation's Mechanical Engineering boards were both from the University of Cebu. Number one Marina Luchavez was rewarded with a brand new Toyota Wigo. A year earlier, Marina's sweetheart, Micah Arceño, also a University of Cebu alumnus, had topped the same exam and also won a car.
In 2015, Michelle Liao was the first female bar top-notcher from the University of Cebu, placing fifth in the bar exams. UC has produced three other placers in the top ten since opening its law school in 2002—Al-Shwaid Ismael in 2006 (8th), Christian Llido in 2007 (10th), and Manuel Elijah Sarausad in 2014 (6th).
Other fields where the university has produced board topnotchers include nursing, education, criminology, and customs.
Candice and her father are hoping to produce future wunderkinds in the field of medicine of well. The UC School of Medicine was founded only in 2015, the same year the family opened UC Medical Center, a 300-bed hospital with state of the art medical equipment that rivals some of the best hospitals in Asia.
ADVERTISEMENT - CONTINUE READING BELOW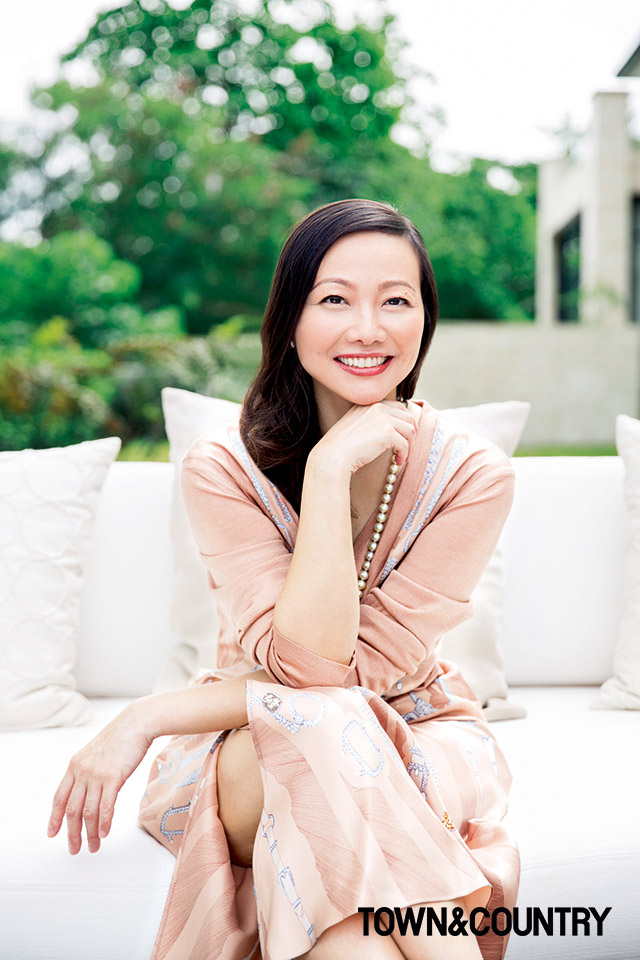 To woo the cream of the crop, the School of Medicine offers free tuition and a book allowance to pre-med graduates from around the nation who have finished summa cum laude. It offers discounted tuition to other honor graduates as well.
The university's other schools also offer numerous academic, sports, and cultural scholarships to students who excel.
"We are committed to giving quality education, and we are very committed to instilling in our students the desire to succeed," Candice says.
While the University of Cebu focuses on excellence, Candice herself admits she was not a good student during her teenage years. Back in high school at Sacred Heart School in Cebu, she snuck out of her classroom way too many times to hide and read tawdry pocketbooks. She left so much of her schoolwork undone that she had to leave school.
"I was hoping to be sent abroad, but then my friend came home from boarding school with a blue Mohawk, and that was the end of my future boarding school days in the States," says Candice, who ended up finishing high school at Brent School in Baguio, the city she had loved so much as a child.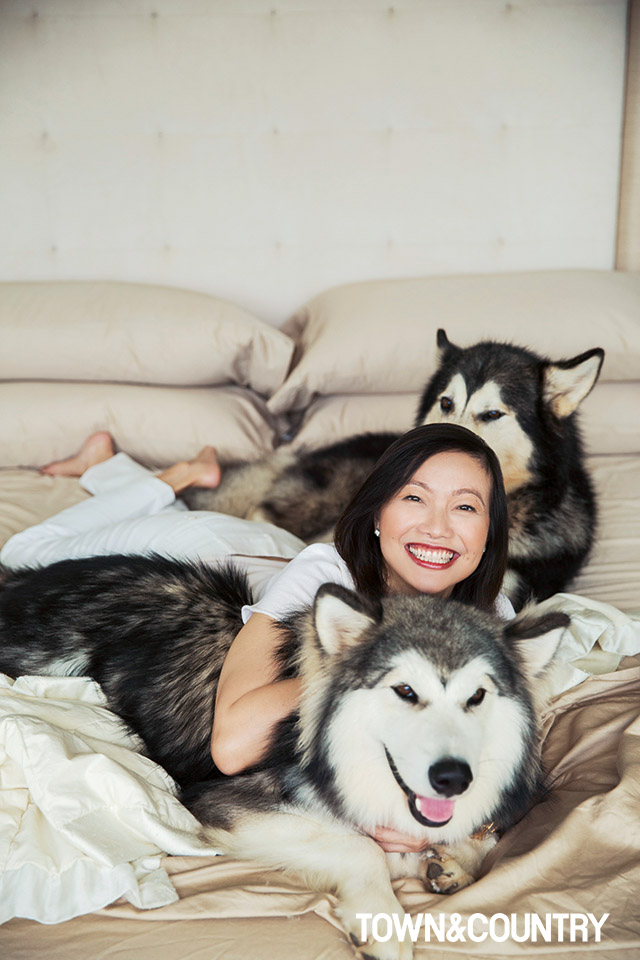 She then moved to Manila for college, where she took Political Science at the Ateneo de Manila University. Afterward, she planned on going to law school, but then had a gap of a few months before classes started.
That's when her father asked her to help him run a new campus he had just built, University of Cebu-Lapulapu and Mandaue (UCLM), at the foot of the old Mactan Bridge which connects the cities of Lapulapu and Mandaue, both vibrant economic zones.
I needed them to show them I could run the school. That I had the credentials and the brains to do it. That I wasn't just the Child of Owner.
And so Candice put law school plans on hold for the time being.
ADVERTISEMENT - CONTINUE READING BELOW
"I didn't have a choice, not really. I was being a good daughter. They had provided for me for all those years, so I told myself I should do it for just two years. But then I got stuck," says Candice.
And so the two years soon became five, and when Candice realized she would probably be staying on, she wanted to prove that she was where she was not just because she was her father's daughter.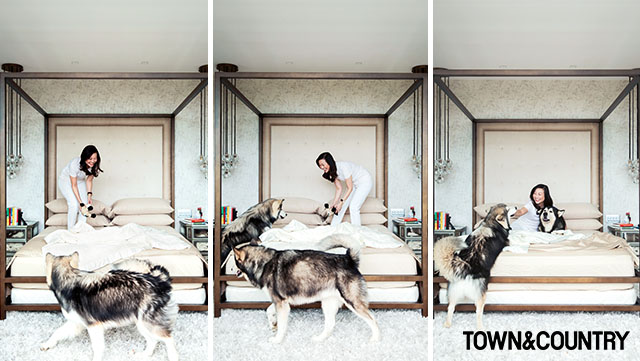 "Of course it was easier for me to rise to the top because it was my father's business, but I didn't want people to think it was just because of nepotism. I needed them to show them I could run the school. That I had the credentials and the brains to do it. That I wasn't just the Child of Owner."
That's why Candice went off to Harvard University where she completed her master's degree in education.
"I wanted to redeem myself because everyone knew I had done badly in high school. Cebu is so small. Everyone knew that and I didn't hide it," says Candice.
So when she got back, it was back to the salt mines.
"I had a love-hate relationship with my work for a long time. It took me many years to enjoy what I was doing. I did it because I had to do it. But I knew it was going to be my life, and so I accepted it," Candice says. "I like challenges and making things better. And that's what I told myself I would do with the school. That's what drives me, making things better."
And so Candice focused her energy on upgrading the standards of the school.
The first thing she and her team realized after running a series of tests was that the knowledge level of their first-year college students was in fact, the level of grade school students.
"Their reading levels and math levels were those of students in grades 4 to 6, and so we tweaked the curriculum to teach them the basics," says Candice. "How could they learn algebra if they didn't know basic math?"
And so every Saturday, instead of having the students plant trees or weed the grass, they had them sit down and read books.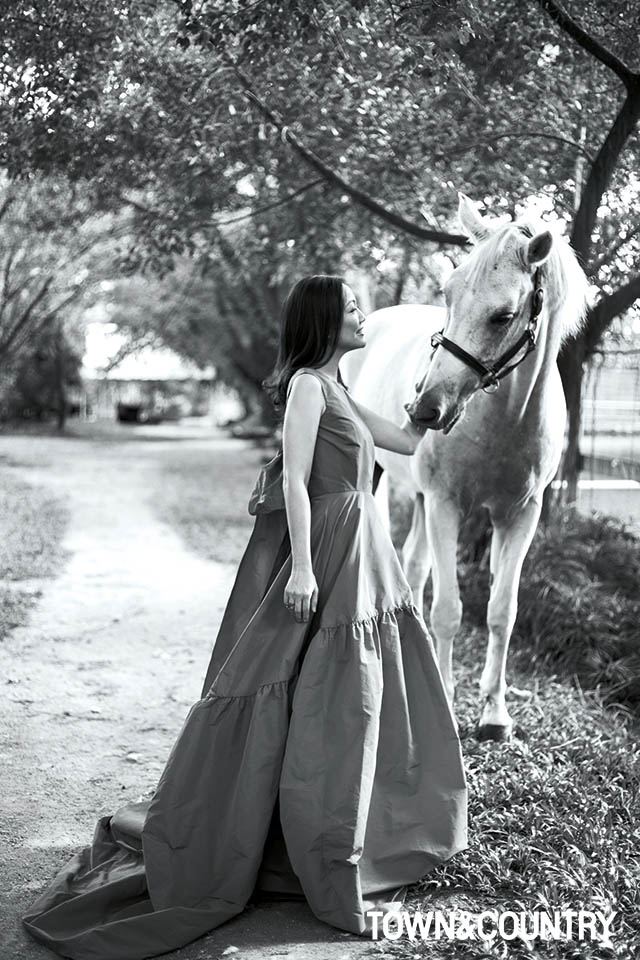 ADVERTISEMENT - CONTINUE READING BELOW
"We used the time to teach them reading and comprehension. We had them use study kits so they could understand what they were reading," says Candice. "Small things. We made things better. That's always the mantra. Make things better. Make this better. Make that better. Change this, make this better. And slowly it created a culture of excellence. They began to strive for it. They began to strive for excellence."
The challenge wasn't just with the students. There were management challenges too. After a few years at UC-LM, Candice's father put her charge of the maritime school.
"At the time it was filled with older men who were prejudiced against women, very sexist. The dean had passed away very suddenly. My Dad asked, 'do you want to run it?' I said, 'maybe not since it's a very hostile environment.' And then right then and there he announced I would be running it."
The university has had a longtime relationship with international shipping groups who offer grants to students who wish to be seafarers. At the time, the Philippines had been in danger of losing its spot on a "white list" of countries from which seafarers could be admitted on international ships due to a combination of poor academic instruction, accusations of cheating in the regulatory exams, and bad bureaucracy. The government had shut down 200 schools in the Philippines and was overhauling the regulatory commission.
"For our part, we needed to meet international standards in one year's time. And so I went to the maritime campus and called for a meeting. I said, 'Look, I know you don't like me; I also don't like you. But here's the thing, if we don't get on the white list you lose your jobs and I lose my school. So if we don't work together we both lose, but if we work together we can still get the school running, what do you say?' And so we all ended up working together and in a year we got the accreditation."
Because of the maritime school's collaborative work with Norwegian shipping companies, a few years ago Candice was invited to be consul for Norway, representing the Nordic country's citizens based in the southern Philippines. Last year, she traveled to Norway with consular representatives from other Asian countries to learn more about the country, as well as to meet the Norwegian royals, King Harald V and Queen Sonja.
"No one knew what to say to them, so I basically just made small talk with both of them," says Candice. "They asked us, 'how do you find Norway? Where did you go today? What did you do? Where do you go next?'"
Of course it would be nice to have somebody, but I haven't found someone I want to walk down the aisle with, to spend the rest of my life with. Until I find the right person I won't settle.
And as we are talking about royals, that of course leads to the inevitable rude question that is just begging to be asked. Why does Candice, the charming princess of Cebu, live alone in her house on the hill without Prince Charming?
"I like the single life. I like being single because I get to do so many things," she says. "Of course it would be nice to have somebody, but I haven't found someone I want to walk down the aisle with, to spend the rest of my life with. Until I find the right person I won't settle."
ADVERTISEMENT - CONTINUE READING BELOW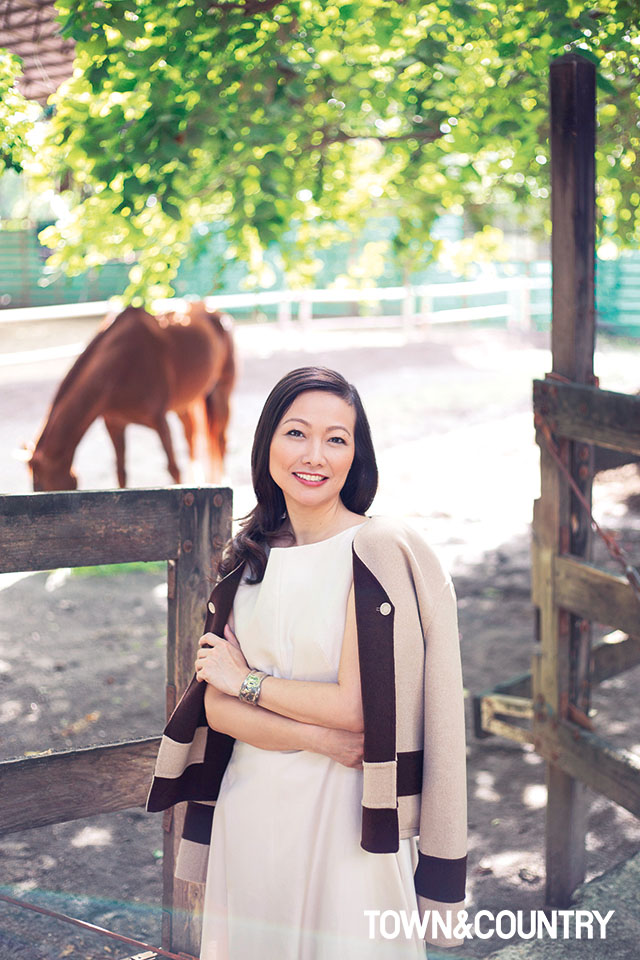 Candice laughs as she talks about how her parents have through the years tried to set her up with so many people "that at this point they'll be happy with anyone with a pulse."
"We've already given up," her mother, Elizabeth, tells us at lunch. "We've tried our best."
"We sent her to Ateneo and to Harvard hoping she would meet somebody," her father tells us at dinner with a twinkle in his eye. "But there were no buyers."
But while he enjoys ribbing his only child, the one whom, as a child, he had dressed up in shorts and T-shirts, to whom he had given trucks, tanks, and guns, perhaps pretending she was the son he didn't have, Augusto is clearly proud of his daughter.
"I provided the money, and she did all the work," he says of their hospital project, UC Med. "It was all her."
Candice words it differently.
"He is the visionary, and I am the executor," she says. "My Dad is so nice, so kind. I really love him. He's never overbearing. He lets me do what I need to do. When we finished the hospital, he held me by the shoulders, looked at me and said, 'I'm very proud of you, you should know that.' And then we opened its doors."
This cover story appears in the March 2018 issue of Town & Country Philippines.