Are the New Ride-Hailing Services in Metro Manila Making a Difference?
We tried booking a ride with the three TNCs that recently launched operations in the capital region
IMAGE Entrepreneur Philippines
The series of announcements that at least three transport network companies (TNCs) have finally launched operations in Metro Manila in the last few months was greeted with happy excitement by ride-hailing commuters in the capital region.
Since Uber ceased operation in the Philippines in the third week of April after it was acquired by Grab, it has become harder and harder to get a ride with the ride-hailing company in Metro Manila.
From a total 43,000 transport network vehicles (TNVs) before Uber stopped operations—24,000 under Grab and 19,000 under Uber—the number has gone down to only 35,000 now. Only 11,000 of Uber's drivers moved to Grab as around 6,000 of the remaining drivers have yet to be approved by the Land Transportation Franchising and Regulatory Board (LTFRB). That hampered Grab's ability to meet the combined demand for rides from both Grab and Uber users.
In addition, many of the 35,000 Grab drivers have become less active, cutting the number of trips they're making every day, due to lower revenues and take home pay. This came after the LTFRB suspended the time component of the fare that Grab charges equivalent to Php2 per minute.
ADVERTISEMENT - CONTINUE READING BELOW
So, the elation felt by ride-hailing commuters that new TNCs are launching their operations in Metro Manila is understandable.
Yet, weeks after the supposed launch of the new TNCs' services in the national capital region, the sentiment on social media is mixed, especially about their availability. While some have been able to book rides, many others haven't been able to do so.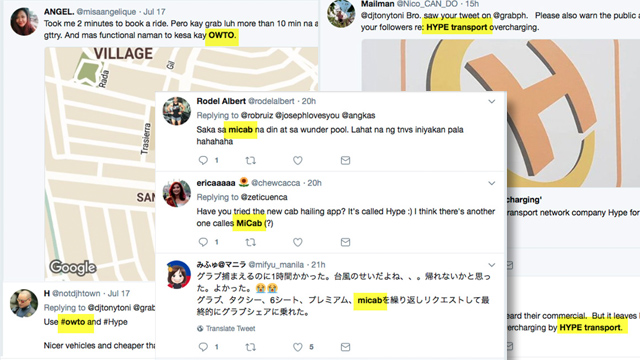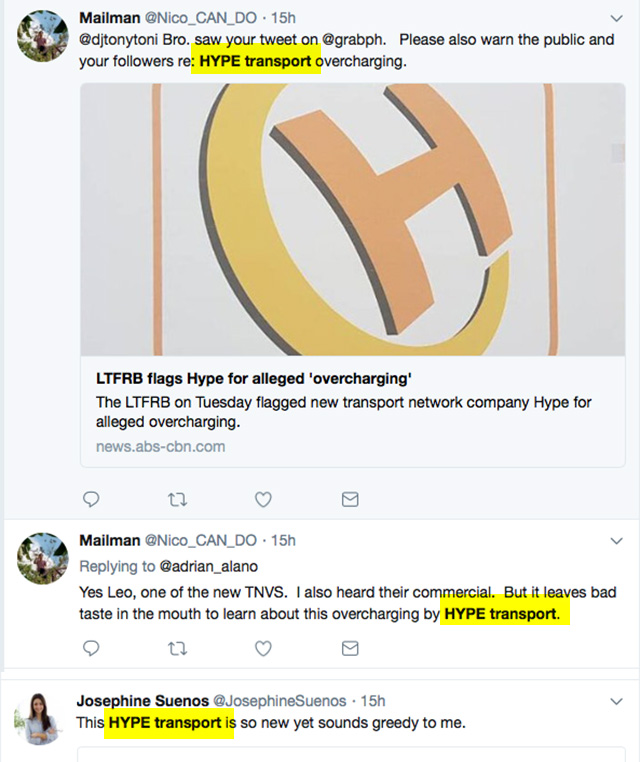 Snapshot of reaction on social media about the new TNCs operating in Metro Manila
Curious to find out for ourselves, Entrepreneur Philippines staff spent a day last week trying to book rides with the three new ride-hailing apps in Metro Manila: Hype Transport, Micab and Owto. We tried to book a trip on three different times that day— 7 a.m., 12 nn and 6 p.m. Each time, three attempts were made to book a trip from our office in Pioneer St. in Mandaluyong City to Capital Commons in Pasig City.
Disappointingly, we failed to book a trip with any of the three new TNCs, confirming why there are many posts on social media expressing frustration over their inability to hail a car or taxi through the new ride-hailing apps.
Entrepreneur Philippines tried to reach out to Owto, Hype Transport and Micab for some explanation but only Micab has replied.
Micab CEO and co-founder Eddie Ybañez said a contributong factor is what he called the thousands of "nefarious" and unusual bookings on the Micab platform that limited the availability of cabs to other users. He said Micab drivers often receive "phantom bookings" or trip requests made by "unresponsive" users, preventing them from responding to genuine bookings. One of the unique features of the Micab app is that drivers are not allowed to cancel bookings.
"After the phantom booking, our taxi drivers would receive a call inviting them to a (an) orientation," from a rival ride-hailing company, he said. "This pattern has happened thousands of times, and the numbers that our drivers receive calls from are sequential, suggesting they are committed by a single entity."
ADVERTISEMENT - CONTINUE READING BELOW
In a press conference in June, he disclosed that Micab had signed up only 1,600 taxi drivers in Metro Manila compared to 25,000 daily bookings. It expects the number of its drivers to climb to 5,000 by end-July, he said.
In a related development, the LTFRB on Tuesday, July 17, issued an order asking Hype Transport Systems to explain why it included a time charge in its fare of Php2 per minute, according to ABS-CBN.com news website. If it orders Hype to suspend the fee, or worse, to pay a fine and reimburse passengers, as it did with Grab, that could be a blow to Hype's ability to attract drivers at this point when it's just starting. Hype has yet to respond to a request for comment on the LTFRB order.
This story originally appeared on Entrepreneur.com.ph.
* Minor edits have been made by the Esquiremag.ph editors.
More Videos You Can Watch