Drive
The PNP Now Has Toyota Prius Patrol Cars
A mean, green crime-fighting machine
IMAGE Toyota Philippines
Well, this is a surprise. Earlier today, photos of a truck full of Toyota Prius police cars surfaced on social media. They were white, equipped with sirens, and featured bodywork decals and the word pulisya plastered on the hood and the rear end.
Curious, we reached out to Toyota Motor Philippines (TMP) to find out if these were legitimate police units. According to the company, they are legitimate, and were donated to the Philippine National Police (PNP) and various other agencies by the Japanese government.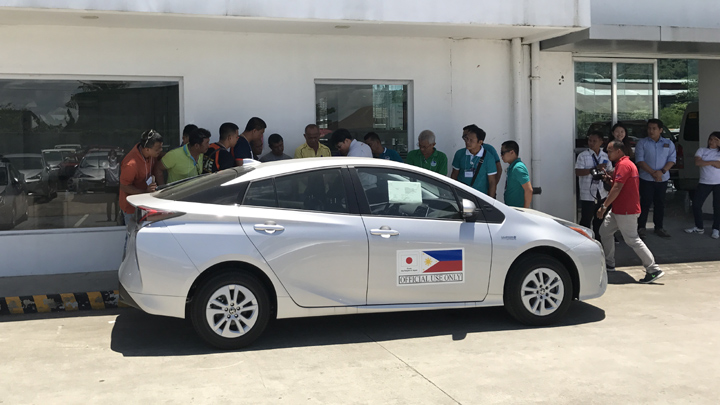 ADVERTISEMENT - CONTINUE READING BELOW
A total of 77 units were donated to the Philippines back in 2017 via two separate turnover ceremonies: one inside the Department of Energy compound in Bonifacio Global City, and another at a PNP regional office in Leyte. TMP also provided us with photos of non-patrol-car units in Tacloban (see above). We presume these were what the units looked like before the PNP attached the official decals.
Not bad at all. If you think about it, the Toyota Prius is a perfect crime-fighting vehicle because criminals will never hear its ridiculously quiet powertrain coming.
You can check out the photos of the hybrid PNP patrol cars in the Facebook post below. Have you seen any of these units patrolling a neighborhood near you?
Topgear.com.ph. Minor edits have been made by the Esquiremag.ph editors.
Light-hearted entertainment with a touch of intelligence and satire.
Tomas Cloma was a navigator, a dreamer, and a lawyer. Most of all, he was a patriot.
Luckily, the 71-year-old star appears to be doing fine.
The government revives "Yosi Kadiri," the iconic anti-smoking campaign of the '90s.
Like a lifesaver, but for your look.
Including Tarantino's 'Once Upon a Time in Hollywood' and a new zombie horror with Bill Murray and Adam Driver
He's lost teeth and the tip of his finger, but most recently hurt his ankle filming Bond 25.
Why you don't need hectoring, pestering parenting books in your life
The new title from Respawn promises intense lightsaber combat, a new planet, and a wealth Star Wars lore.
You very, very nearly saw the House of M storyline on screen
Bad news for anyone who wants to catapult themselves hundreds of feet into the air