Drive
The PNP Now Has Toyota Prius Patrol Cars
A mean, green crime-fighting machine
IMAGE Toyota Philippines
Well, this is a surprise. Earlier today, photos of a truck full of Toyota Prius police cars surfaced on social media. They were white, equipped with sirens, and featured bodywork decals and the word pulisya plastered on the hood and the rear end.
Curious, we reached out to Toyota Motor Philippines (TMP) to find out if these were legitimate police units. According to the company, they are legitimate, and were donated to the Philippine National Police (PNP) and various other agencies by the Japanese government.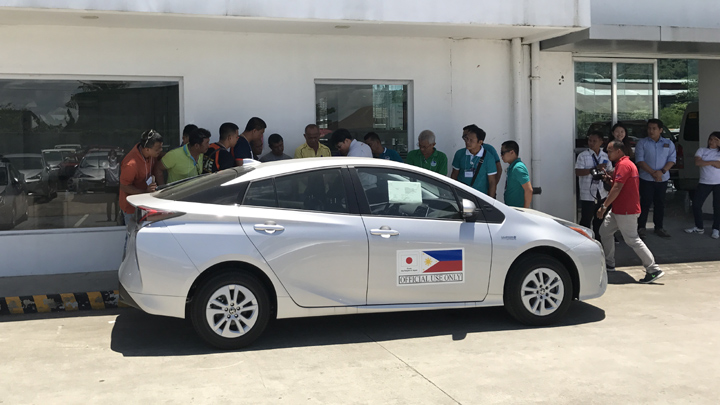 ADVERTISEMENT - CONTINUE READING BELOW
A total of 77 units were donated to the Philippines back in 2017 via two separate turnover ceremonies: one inside the Department of Energy compound in Bonifacio Global City, and another at a PNP regional office in Leyte. TMP also provided us with photos of non-patrol-car units in Tacloban (see above). We presume these were what the units looked like before the PNP attached the official decals.
Not bad at all. If you think about it, the Toyota Prius is a perfect crime-fighting vehicle because criminals will never hear its ridiculously quiet powertrain coming.
You can check out the photos of the hybrid PNP patrol cars in the Facebook post below. Have you seen any of these units patrolling a neighborhood near you?
ADVERTISEMENT - CONTINUE READING BELOW
Topgear.com.ph. Minor edits have been made by the Esquiremag.ph editors.
Douglas MacArthur is famous for liberating us from the Japanese, but he's also known to have had a passionate affair with Dimples Cooper.
This small detail might also point to a greater mystery in the show.
Studio Lorico, the designer's creative space, will be a seasonal one.
Catch up on these biopics of real-life heroes and let Pinoy pride swell.
Before you let yourself get fooled, it pays to do your due diligence and look out for the telltale signs of a fake. Here are just a few of the dead giveaways.
The rulebook has been well and truly burnt, so why are we still adhering to it?
The reality is that there are other popular apps tracking a lot more important information than a selfie.
Rogue One and Solo were both marred by production issues.
This is what would happen if the Philippines left the United Nations.
It doesn't hurt to be prepared for what ever comes your way.