Motorcycles
The BMW HP4 Race Bike Costs P5.8 Million, and This is What You Get
Can you guess who the first crazy rich owner is?
IMAGE Aris Ilagan
Almost a year after this Bavarian track beast made its way to different BMW Motorrad dealerships worldwide, it has finally landed on Philippine soil. Yes, folks, the BMW HP4 Race is here.
Only 750 of HP4s have been produced by BMW in Germany for performance-hungry riders worldwide. Each unit, which costs P5,800,000 , has a numbered plaque stamped just above the headset.
Gil Balderas, the director of BMW Motorrad Philippines, turned over one of the HP4s to the first buyer, Emil Banno. The lucky customer traveled to Valencia, Spain, last March to test this track beast. It was a case of love at first sight for Emil.
Racing coach Marc Wilson of the California Superbike School laid out the technical specifications of the HP4. Here are 11 jaw-dropping facts and mind-blowing stats about the BMW HP4 Race: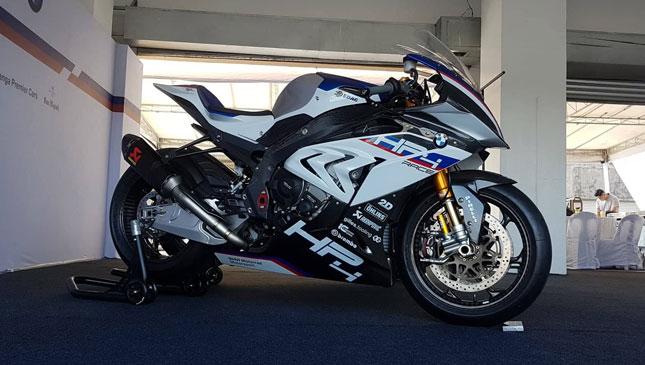 ADVERTISEMENT - CONTINUE READING BELOW
1| Light is might.
The first thing that's going to hit you about the HP4 is that it's ultra-lightweight. With a dry weight of only 146kgs, this machine has almost the same weight as the KTM 390 Duke, a 400cc naked bike.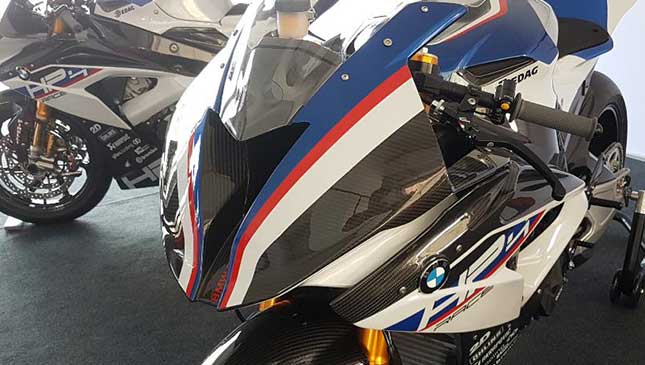 2| The meaner, the better.
Its hand-built 999cc inline engine revs up to 14,500rpm. Maximum power is 215hp at 13,900rpm, while maximum torque is 120Nm at 10,000 rpm. In other words, an ordinary rider needs to be brave to push this bike to the limit. To squeeze the best out of the HP4, the rider needs to be a factory racer.
ADVERTISEMENT - CONTINUE READING BELOW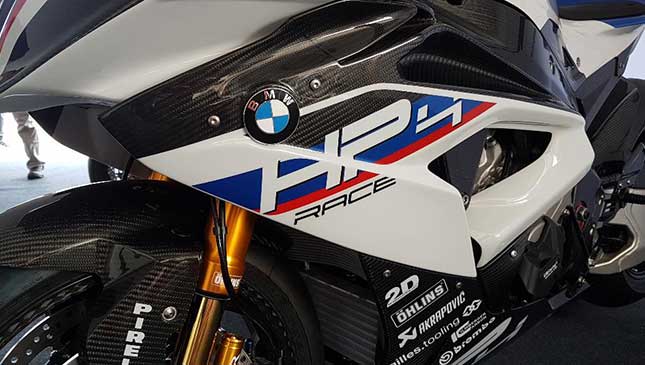 3| Less aluminum parts.
The HP4's main frame is made of full carbon fiber which weighs only 17.2lbs. It's roughly 8.8lbs lighter than the S1000 RR's aluminum structure, but doesn't compromise on strength and durability. These Germans are so innovative that they were able to make some areas of the frame flexible and others stiff, depending on the function of the attachments.
ADVERTISEMENT - CONTINUE READING BELOW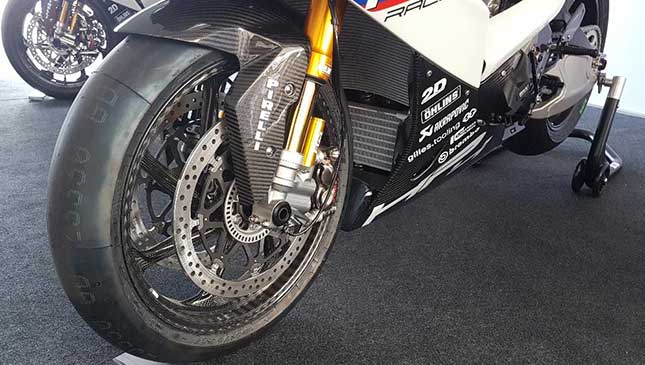 4| Wheels of fortune.
The carbon technology of the HP4 was handed down to its front and rear wheels. This makes them 30% lighter than the forged aluminum wheels. Theyr'e also more durable than the metal version.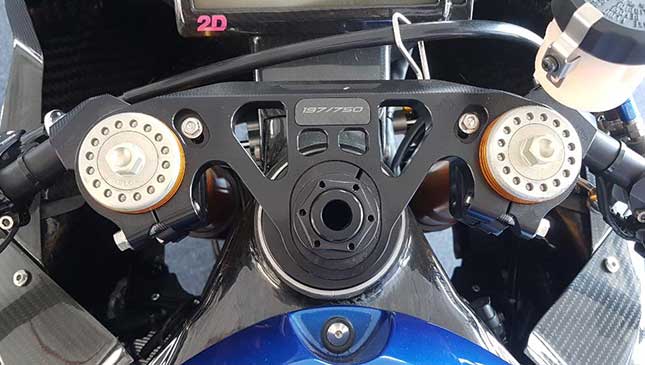 ADVERTISEMENT - CONTINUE READING BELOW
5| Awesome stopping power.
The powerful HP4 Race gets its stopping power from the Brembo GP4 RR monobloc calipers (nickel-plated) in front, and single-disc Brembo racing brakes at the rear. Both are fitted with titanium pistons that are light and easy to operate.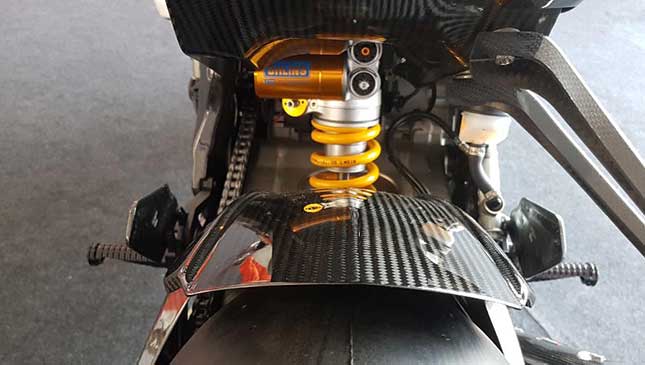 6| Top-quality race suspension.
Derived from the World Superbike Championship experience, the suspension of the HP4 is composed of the Ohlins performance parts: The FGR 300 for the front fork, and TTX 36 single shock for the rear with adjustable knobs for compression and rebound. This setup keeps the rider in full control—whether you're braking hard or attacking corners at high speed.
ADVERTISEMENT - CONTINUE READING BELOW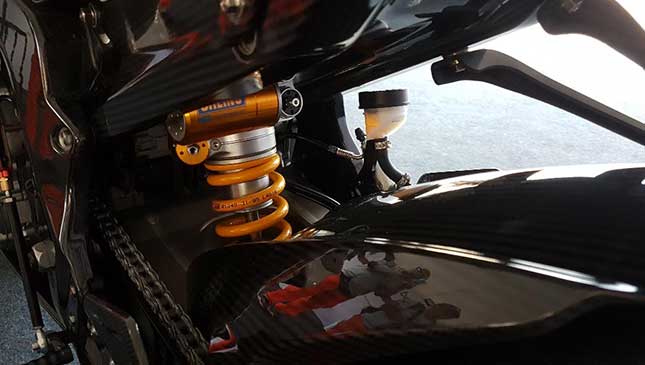 7| Four riding modes.
Depending on the track conditions and style of the rider, the BMW HP4 Race offers four riding modes: Dry 1, Dry 2, Rain, and Intermediate. Just ride on and the bike will correct itself on the tarmac.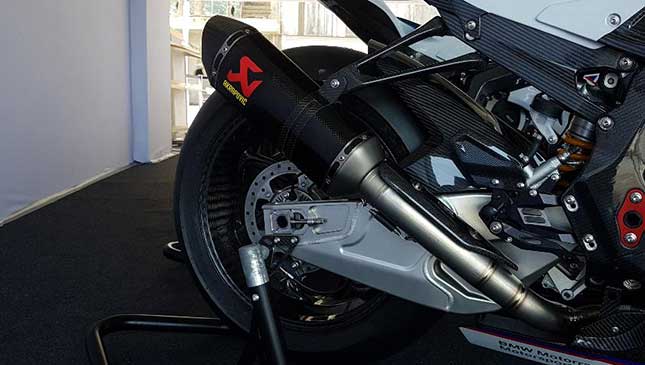 ADVERTISEMENT - CONTINUE READING BELOW
8| Advanced rider aids.
Using the color-coded buttons at the left and right handle grips, the rider can electronically tune the traction control, engine braking control, pit lane speed limiter, and launch control. And if you're not a fan of electronics, you can easily turn them off.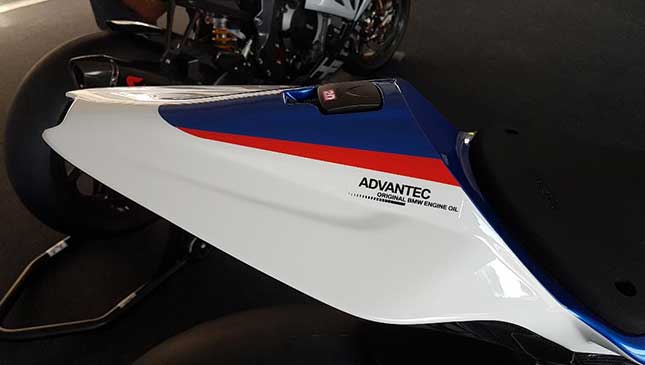 ADVERTISEMENT - CONTINUE READING BELOW
9| Height is not an issue.
Given that the HP4's seat height is 33in, a Pinoy with an average height of 5'5" would have problems balancing this bike. Since the BMW Motorrad engineers already had the Asian market in mind right from the start, they came up with a three-stage, height-adjustable frame. This allows the seat height to be adjusted between 33.3in and 32.1in. Thank heavens!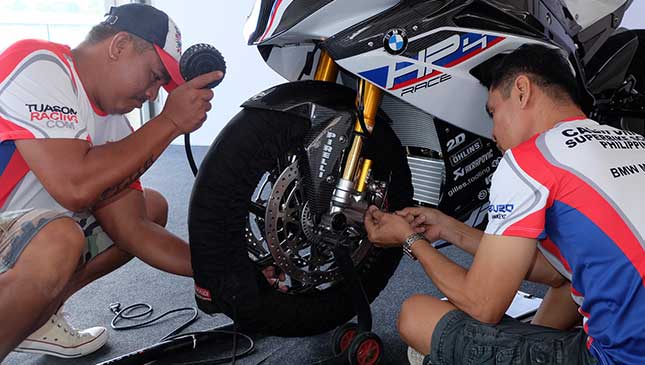 ADVERTISEMENT - CONTINUE READING BELOW
10| Reverse shift pattern.
This will entail a lot of adjustment for first-timers. With the HP4, upshifting means stepping on the gear pedal while downshifting requires upward movement. It's the same shifting pattern used on MotoGP bikes. However, the rider will likely have fun with the double declutching quick shifter and auto blipper which ensure seamless gear changes.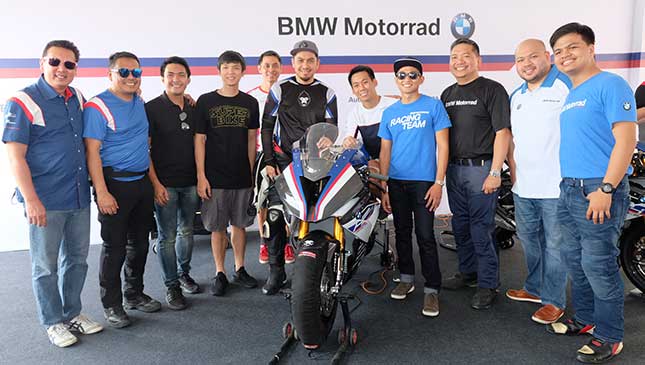 ADVERTISEMENT - CONTINUE READING BELOW
11| Track time information.
Designed for serious motorbike racing, the BMW HP4 Race is equipped with a 2D dash display and data logger that show the recorded lap times, number of laps completed, and status of other electronically operated settings.
This story originally appeared on Topgear.com.ph. Minor edits have been made by the Esquiremag.ph editors.
Mother, advocate, reluctant politician, and senatorial candidate Nancy Binay has one of the most recognizable names in Philippine politics. Nevertheless, she's working doubly hard to prove that she deserves to be here.
Joe and Anthony Russo are taking on an even greater challenge: building a new studio from scratch.
Long-time GoT writer Bryan Cogman's series has officially gone the way of half of Westeros.
Magellan died because he underestimated the battle-hardened Filipino natives.
Carlo Francisco Manatad's "Whether the Weather is Fine" receives €130,000 from the Centre National du Cinéma et de l'Image Animée and Institut Français.
In the U.S., ticket pre-sales equaled those of "Captain Marvel," "Avengers: Infinity War," "Aquaman," and "The Last Jedi" combined.
Before the year ends, Grab will be an undeniable force in the digital wallet space.
"He's tried many times with many Three-Eyed Ravens".
It's another massive art installation by Biboy Royong.
"Stan" is now an official noun and verb. Now onto mom's spaghetti.