Women
6 Reasons Meghan Markle Should Be Queen Immediately
Even if it's only for our hearts.
IMAGE Getty
Oh blessed be the day, it's happened! Prince Harry is to marry Meghan Markle. Kensington Palace has released a statement; the club promoters of Las Vegas have begun drafting their stag do pitches and Prince George has already dispatched an aide to Saville Row to commission a pair of bespoke embroidered shorts ready for the big day.
An unlikely romance that occurred after Harry decided that actually he was quite into Rachel off of Suits (to be a fly in the phone during that first text message), Markle appears to be the sharp and outspoken antidote to the dry "Princess Beatrice on a night out with James Blunt, the absolute lunatic!" PR image that's usually associated with our royals.
A feminist, activist (and Rachel off of Suits), here are six reasons why we can't wait for Meghan Markle to take the throne*.
*For this to actually happen, according to an ancient royal decree, Markle must defeat Kate Middleton at a game of rock-paper-scissors (best of five), to be partaken at dusk on the first day of March, beneath the shadow of St James's Palace with Prince Phillip officiating.
She's Already A Brilliant Humanitarian
A Global Ambassador for World Vision, a relief charity focusing on clean water, Meghan has, among other trips, visited Rwanda to witness the effects that sanitation can have on local communities, while also maintaining a position as a UN women's advocate; supporting the likes of Emma Watson and addressing UN secretary general Ban Ki Moon and an assembly of other very important people.
Of her work, she's said: "My life shifts from refugee camps to red carpets. I choose them both because these worlds can, in fact, coexist...I've never wanted to be a lady who lunches—I've always wanted to be a woman who works."
Still needs to work on the dancing a bit, though.
ADVERTISEMENT - CONTINUE READING BELOW
She Likes Donald Trump About As Much As You Do
Before becoming entangled in the royal omerta that forbids one from voicing one's opinions, Markle took to Comedy Central's Nightly Show with Larry Wilmore to call the then-potential-president Donald Trump "Misogynistic" before saying that she'd probably stay in Canada if he won.
We wonder how she feels about Brexit?
Oh...
She's a Dog Person
Look: he's wearing a little jumper.
The (soon to be dethroned) Queen will be pleased.
She's Proud Of Her Mixed Race Heritage
The first person of mixed heritage to become part of the royal family, Markle has addressed her race in the past, writing in an essay for ELLE.
"While my mixed heritage may have created a gray area surrounding my self-identification, keeping me with a foot on both sides of the fence, I have come to embrace that. To say who I am, to share where I'm from, to voice my pride in being a strong, confident mixed-race woman. That when asked to choose my ethnicity in a questionnaire as in my seventh grade class, or these days to check 'Other', I simply say: 'Sorry, world, this is not Lost and I am not one of The Others. I am enough exactly as I am."
Nice.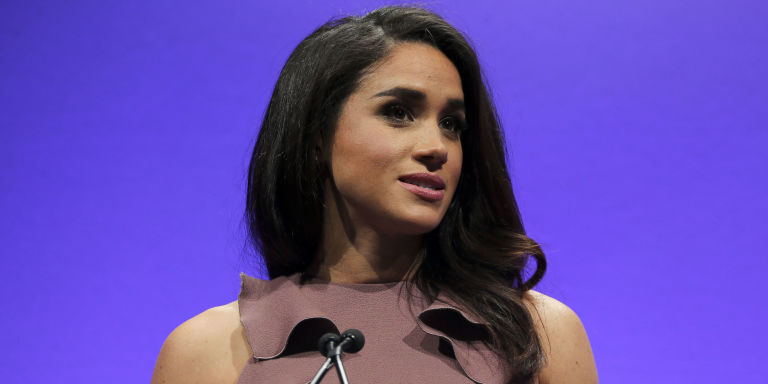 She Has Extremely Good Handwriting
A grossly under-looked trait when considering a potential royal's eligibility. To all those Twitter eggs from Milton Keyes who reckon that Meghan Markle isn't fit for the gilded throne because she's on TV sometimes, we would like to point you to the above.
That's queen-grade calligraphy, Mark who "works in software engineering and whose trash opinions are his own".
She's Rachel Off of Suits
Rachel off of Suits is marrying Prince Harry.
What a timeline...
This story originally appeared on Esquire.co.uk.
* Minor edits have been made by the Esquiremag.ph editors.
ADVERTISEMENT - CONTINUE READING BELOW
Premium Scotch whisky Macallan launches a new edition destined to appreciate in value.
To begin Esquire's series of interviews with candidates seeking posts in 2019, we speak to Samira Gutoc, a hijab-wearing Muslim who is running for the Senate in the hopes of bringing the 20-year absence of a Muslim legislator from the Upper Chamber to an end.
The drugs, art, and punk of Lower East Side defined the late writer and chef.
Melissa Reese, who is also half Filipino, now has kids dressing up like her for Halloween
Palm returns to the market with a smaller companion device to help you disconnect.
And why it's okay to play the villain.
You can wear this one to different occasions.
The Crimes Of Grindelwald star nuked the rule book.
A zombie film from Korea, new anime based on Filipino graphic literature, and other highlights
There are many. We found the best. Because no matter how good your camera or phone, a few post-production tweaks make a huge difference.
Suddenly all the magic and religion makes sense.