Lifestyle
A Filipino Geographer Is Reminding Us How Useful Maps Can Be in a Crisis
The Philippine map has never been this fascinating.
Philippine geographer David Garcia is bringing some science to social media with his carefully crafted and now viral map "The Philippines: 100 of 7641 Islands," which depicts the largest islands in the archipelago.
Included are Luzon, Mindanao, Negros, Samar, Panay, Palawan, and Mindoro, as well as numerous islands scattered around Luzon, Visayas, and Mindanao. With painstaking detail and heavy-duty research, the map depicts the topography on each island, with a color spectrum of green, white, and orange to represent the valleys, hills, and mountains as elevation and relief increase.
The Internet was quick to react to the post published online only a day ago and it now has a total of almost 2.3 thousand likes and counting on both Mapmaker (Garcia's cartography Facebook page) and Garcia's personal profile. 
Holding a BS Geography and a Master's Degree in Urban and Regional Planning from University of the Philippines Diliman plus an MSc Geospatial Analysis from University College London, Garcia has worked as a mapper and urban planner for the United Nations during Super Typhoon Haiyan. He is currently a Geographical Information System Specialist at LSE Cities, a research center at the London School of Economics and Political Science as he shares his creative cartography projects online.
ADVERTISEMENT - CONTINUE READING BELOW
Apart from his currently trending map, Garcia also produced "A Hundred Years of Earthquakes inside the Philippine Islands" which tracks the concentration of seismic activity in the last century.
Another "Fifty Years of Cyclone Paths inside the Philippine Islands" traces the hazardous trail that storms and typhoons have taken across the nation for the last 50 years.
ADVERTISEMENT - CONTINUE READING BELOW
Beyond his creative representation of the Philippines' geographic state, Garcia's latest post, "Making Maps Useful for Addressing Disasters and Climate Change" tackles the need for usable maps that could be crucial in times of crisis. He notes the issues with map-reading, such as accessibility, misunderstanding, representation, and ambiguity. With this project, Garcia hopes to solve this by ensuring that, in times of crisis, Philippine communities are better equipped with geographic information that they can access and fully understand. According to Garcia, in the long run, usable geographic information will positively impact policy, planning, and project management.
Other maps on his personal blog, Spatialist, track geohazards in the Philippines by plotting coasts, roads, cities, towns, villages, settlements, rivers, steep slopes, trenches, faults, and volcanoes. Garcia also shares his projects in urban and rural planning with a Philippine population density map showing the contrast between 2000 and 2015.
Geohazards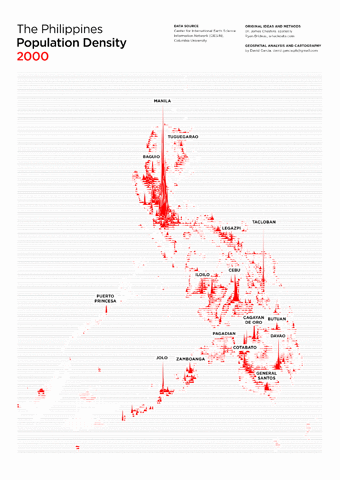 ADVERTISEMENT - CONTINUE READING BELOW
Density
As Garcia puts it, "Maps are not just data and color. They're products of choices and contexts of actors who wield power and influence in pursuit of goals and beliefs. And those choices can affect people who don't map." By employing critical geographic thought and computational geo-tools, the London-based geographer translates data into meaningful visualization to accomplish his vision of critical, computational, and creative cartography.
But overall, these maps aren't just a means to plot our environment—beyond the boundaries they define, they work to reignite the spark under Philippine science in order for our homegrown experts to gain the attention and praise they deserve.  
It aims to be the prime app for first time Internet users.
The rising business tycoon from Davao plans to raise P18.5 billion from the offering.
It's the first time athletes will receive international sporting medals for competitive video gaming.
Esquire takes the Ghibli out for a quick spin
The Brooklyn Nets jersey is designed for fans.
The rich go to one source for their exclusive parties.
These historic, well-designed buildings deserve to be appreciated.
Not all fine watches are produced in Switzerland, the watchmaking capital of the world. Here is a list of companies creating quality timepieces in other parts of the globe.
The basketball legend talks the Dream Team, becoming a businessman, and repping a brand that's pretty much perfect for him. (It's Champion.)
Humans don't always marry members of their own species.