David Medalla still chooses to carry the passport which makes most difficult his peripatetic lifestyle. He has lived and worked in London, France, Italy, and the USA, and has travelled through and created art in South Africa, Brazil, India, and Tibet, to name but a few. Yet it is this ownership of his birthright, a much maligned travel document identified by the color it is not (it is not blue), that cosmically propels him to keep traveling, if only for the prosaic reason that his visa keeps running out.
"Life is an oscillation between necessity and choice," he tells me. It's necessary for him to endure long lines at embassies, even at 70, but it remains his choice, despite having been granted UK citizenship. It's all part of his plan: Near the end of his life, he wants to quietly slip back into the country and live on an island, without the fanfare of a native son's return, such as what he has received during his most recent visit to Manila. "I'm not being romantic, it's just nice to be able to meditate and look back on your time and analyze it, gure out where things went wrong and well," he says.
Few things, it seems, have gone wrong with Medalla's storied life, and if they have, he would have found ways to turn them around. He would have promptly made an impromptu out of lemons. He lives art that way. He moves through the world with an astonishing degree of openness and whimsy that good things can't help but happen to him, from chance encounters to lasting friendships with the sort of people one only reads about. He is linked with them once more in "Migrations," Tate Britain's ongoing survey of 500 years of British art history, where Medalla's iconic 1964 Bubble Machine sits next to works from Picasso and Mondrian and other fellow artists who have migrated permanently or impermanently to England. And he will be known as a Filipino artist, because that's what he has chosen, despite his three-decade long absence from his home country, that's what he is.
ADVERTISEMENT - CONTINUE READING BELOW
ERMITA IN THE 1940s, where Medalla was raised, was the cosmopolitan center of town, and Medalla has happy memories of growing up here. Without much nostalgia, he recalls a stimulating childhood filled with poetry, music, painting, and plays at home, hanging out with the foreign sailors at the port, and playing in the kangkong marshlands of what Makati used to be. Barely a teenager, he immersed himself with the Cordillera tribes people and translated some of their epic songs into English.
He credits this early exposure for his ability to adapt to the shifts and changes that happen much faster now. That doesn't mean he just accepts everything that happens, however. When he returned to the Philippines in 1969 after moving to Europe, and saw the monolithic Cultural Center of the Philippines rising above his beloved Manila Bay where he used to swim as a child, he got so angry he made a movie about it. "Teddy Locsin, Garcia Villa, and Nick Joaquin all thought I was insane being against a cultural center," he says. "You can have a cultural center, but there must be a unity between art and nature." He remembers driving down the former Dewey Boulevard and realizing, "But of course, our former first lady grew up in a garage! She never saw the sea."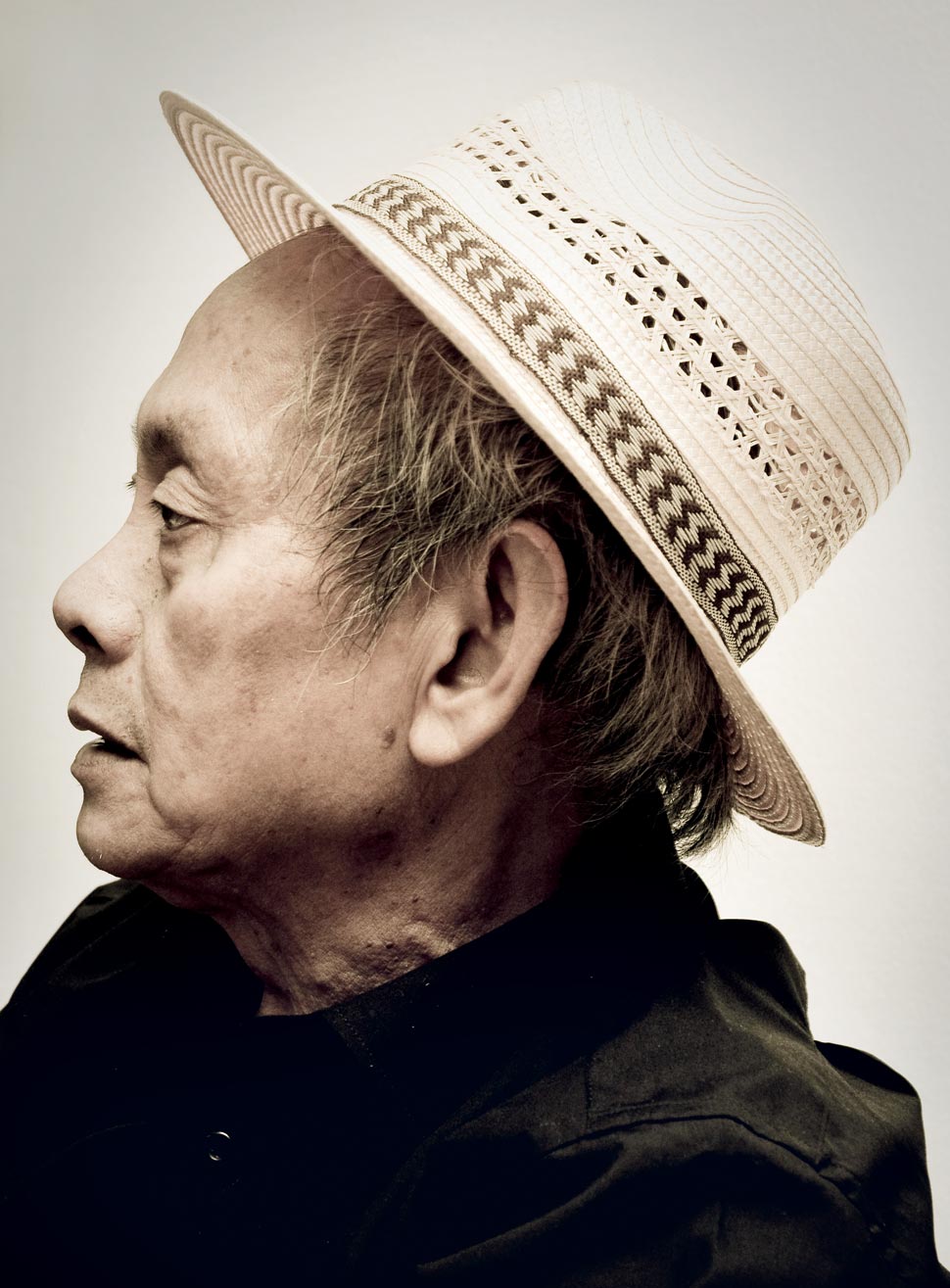 Medalla's typically meandering monologue, triggered by just one question, is interrupted by the simultaneous ringing of multiple telephones in the Ateneo Art Gallery library. Nobody answers. "We're like in a Bunñuel film," he remarks. I feel like I'm in a Woody Allen film. Midnight in Paris, to be exact, where Owen Wilson's character is time-transported to the roaring '20s of Paris and he meets, by happenstance, the greats of that era: Fitzgerald, Hemingway, Picasso—and Buñuel. A verbal jaunt through Medalla's life will involve many pit stops and digressions and famous landmarks. But he doesn't lose sight of the destination, or the origin for that matter. The former child prodigy is now a septuagenarian with an incredible memory. And incredible memories, chained as such:
Marcel Duchamp created Medallic Sculpture in honor of Medalla and his Bubble Machine. A play on words, the piece was shaped like a medallion with metal bubbles. Aiding Medalla's search for Rimbaud's tracks, Duchamp had also led him to Man Ray, who would be one of the first artists to see his first bubble machine prototype, which was no larger than a finger. Medalla was 21, and he had been experimenting with his personal memories, a recurring motif of clouds and bubbles that has followed him in daydream states since he was a child. The story, with its various subplots, has been told often enough to transcend into myth, a Medallic myth, but it bears repeating:
David was about 19 or 20. He went to Edinburgh and met a young writer and musician named Viv McCorry, and together they toured a brewery with its huge vats brimming with boiling bubbles. After getting a bit drunk, they climbed up a hill, and in the hazy mood of the late afternoon, they lay down and watched the clouds. A memory came to him:
ADVERTISEMENT - CONTINUE READING BELOW
David was three. His father was a guerrilla fighting in Makiling while the family lived in Paco. Early one Easter morning when his father was home from the mountains, they heard shots, and a lot of shouting. Somebody jumped over the fence. More shouting. When dawn arrived, they went outside and found a young guerrilla fighter dying under a gumamela tree. He was shot by the Japanese Kempeitai, but with his last breath was able to warn the Medallas to leave, because the Japanese were coming. Blood was bubbling out of the solder's mouth. The young boy thought he was just sleeping.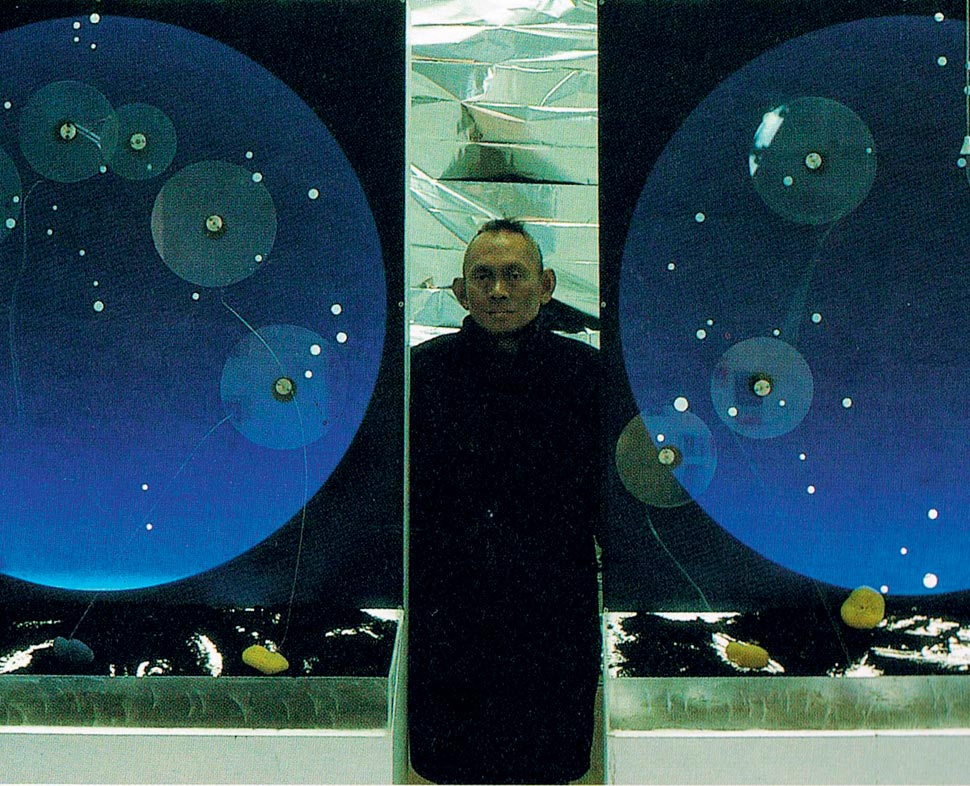 After a bout of malaria, David spent his time recuperating on the second floor of his home, above the open-air kitchen. His mother would cook guinataan, a dish bubbling with tapioca pearls and glutinous rice balls.
When he was 12, he went to New York to attend Camp Rising Sun. Flying over the Pacific in a propeller plane, he saw the bubbling waves below, and crossing the Grand Canyon, the clouds. In New York, clouds again, dusting the tops of skyscrapers.
And so on. New York, in stark contrast to the wildness that was taking over a bombed-out Manila, was a very mechanized city, and it would be this duality that would characterize his kinetic art of the '60s. The first bubble machine, a simple device that used soap and water, metamorphosed into large installations guring canyons and gates and walls and fruit.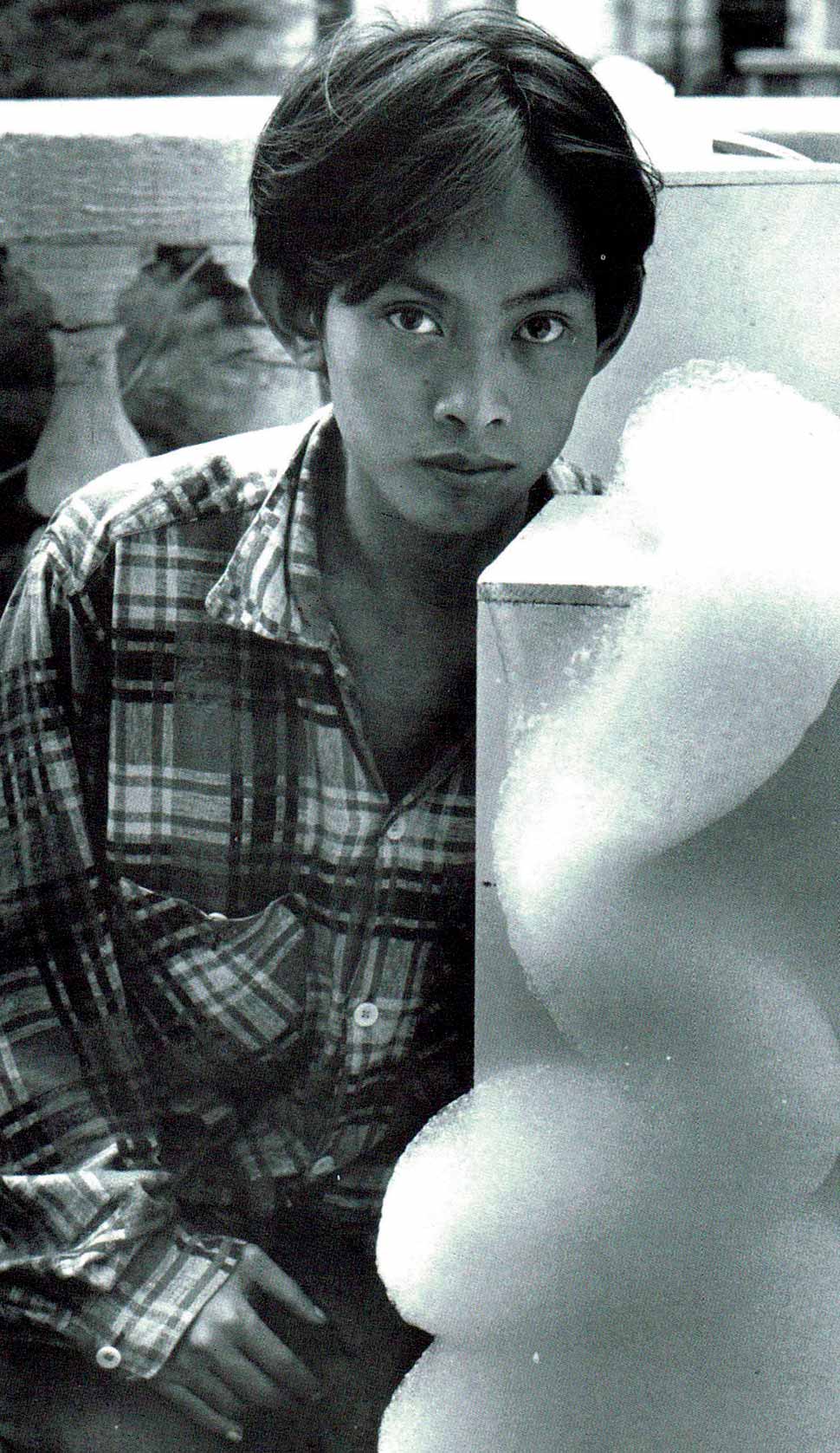 "Godfather of the foam party" should be added to Medalla's bio—these seething sculptures will make you look at your overloaded washing machine in a new light. This kind of kinetic art was also called auto-creative art, because it made and remade itself. Says Medalla, "Unlike most machine art which is repetitious, mine is organic, unpredictable..."
ADVERTISEMENT - CONTINUE READING BELOW
The bubbles were cellular, forming universes before washing away into nothingness. Clouds colluded, towers ejaculated, and fruits frothed, directed by the shape of their containers but ultimately exploding all over them. "Chaos and order existed. Motion and rest," describes the art critic Guy Brett in Exploding Galaxies: The Art of David Medalla, a monograph that features the artist's work up to 1995.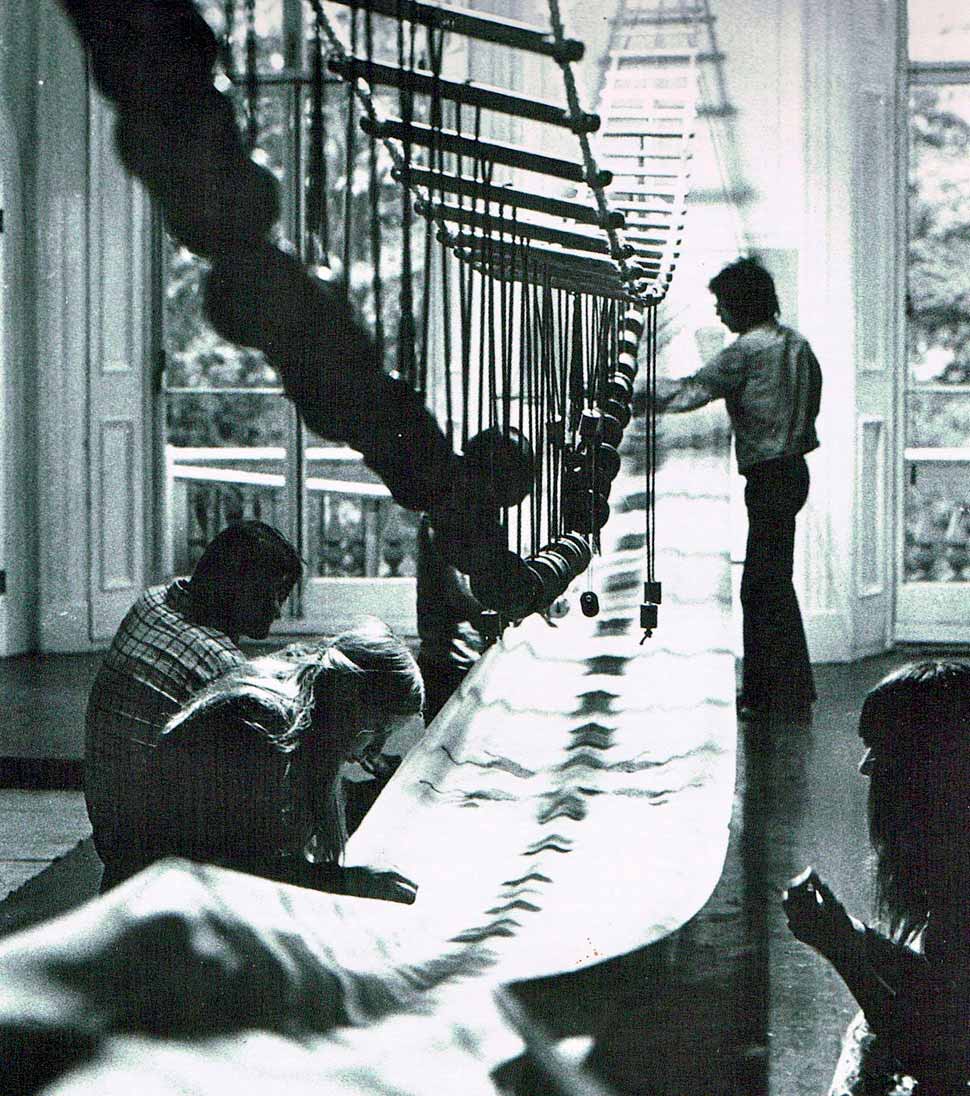 OTHER KINDS OF MACHINES FOLLOWED—the Mud Machine, which "painted" using sponges and mud; the Zen-like Sand Machine, inspired by the rice terraces, which raked concentric circles in sand; and Medalla's favorite, the bio-thermal Mohole Flower, a star-shaped contraption that would open and close according to the temperature.
Medalla engaged all of the body's senses with his machines. One particular machine was based around scent, and his boyfriend at the time was the unwitting muse. "I met a chemist and I asked him to transform smells into chemicals," he says. "So I took a pair of socks from my boyfriend, his underwear, unwashed pieces of him, and the chemist turned the odors into little pellets." These pellets were time-released, based on a sequence of how he would come home and undress. You can imagine what transpired at the show's opening—the hapless boyfriend sniffed the exhibit and said, "This smells familiar." When he reached the underwear part he exclaimed, "Oh, that's awful!" Medalla chuckles. "People were running away from this art. It became a running joke. He was very sensitive about it, people thought he didn't wash his clothes," he says. The artwork was a one-off, however. "I can't do that all the time, you'll lose friends and lovers that way."
Kinetic art's spiritual home was Signals, the London showroom (and later magazine) of the avant-garde, which Medalla ran with Paul Keeler. When it closed, he held exhibits at Indica, where William Burroughs and John Lennon would hang out, and where Lennon met Yoko Ono, with whom Medalla was very good friends. "I helped arrange their first exhibition together," Medalla recounts. The macrobiotic Ono would only eat apples and vinegar. He and Ono were usually grouped together, along with a third "Oriental," in the British art scene. "Until we had a sort of falling out—she went off with John and left her baby with her husband and me. That's not on. She was an adulteress!" Their paths have kept crossing however, in ironic ways—at the Fluxatitudes show in the New Museum in 1992, which Ono might have financed as an artistic comeback, he was given the biggest room (despite not being a Fluxus artist), and the film crew she hired to document her ended up filming him and his mural. The two are linked again at the Tate exhibit.
ADVERTISEMENT - CONTINUE READING BELOW
He's also had an incident with Burroughs that could very well be apocryphal, except that it's not. At a show at the Indica Gallery, Burroughs took one look at a Mud Machine and said, "Ahh, the towers of evil." Medalla retorted, "William, do you mind shutting your mouth?" because nobody was going to buy the "towers of evil." They didn't speak for years. Medalla saw Burroughs towards the end of his life at an exhibition of Brion Gysin. Francis Bacon also happened to be there, and asked Medalla why he was ignoring Burroughs. Medalla confronted the author about the insult so many years ago. Burroughs replied, "I was praising your art. Have you not heard of Baudelaire?" The Fleurs du Mal equation only meant that his work was a turning point in sculpture. Medalla felt duly stupid, but chided Burroughs and said he should've just used the French.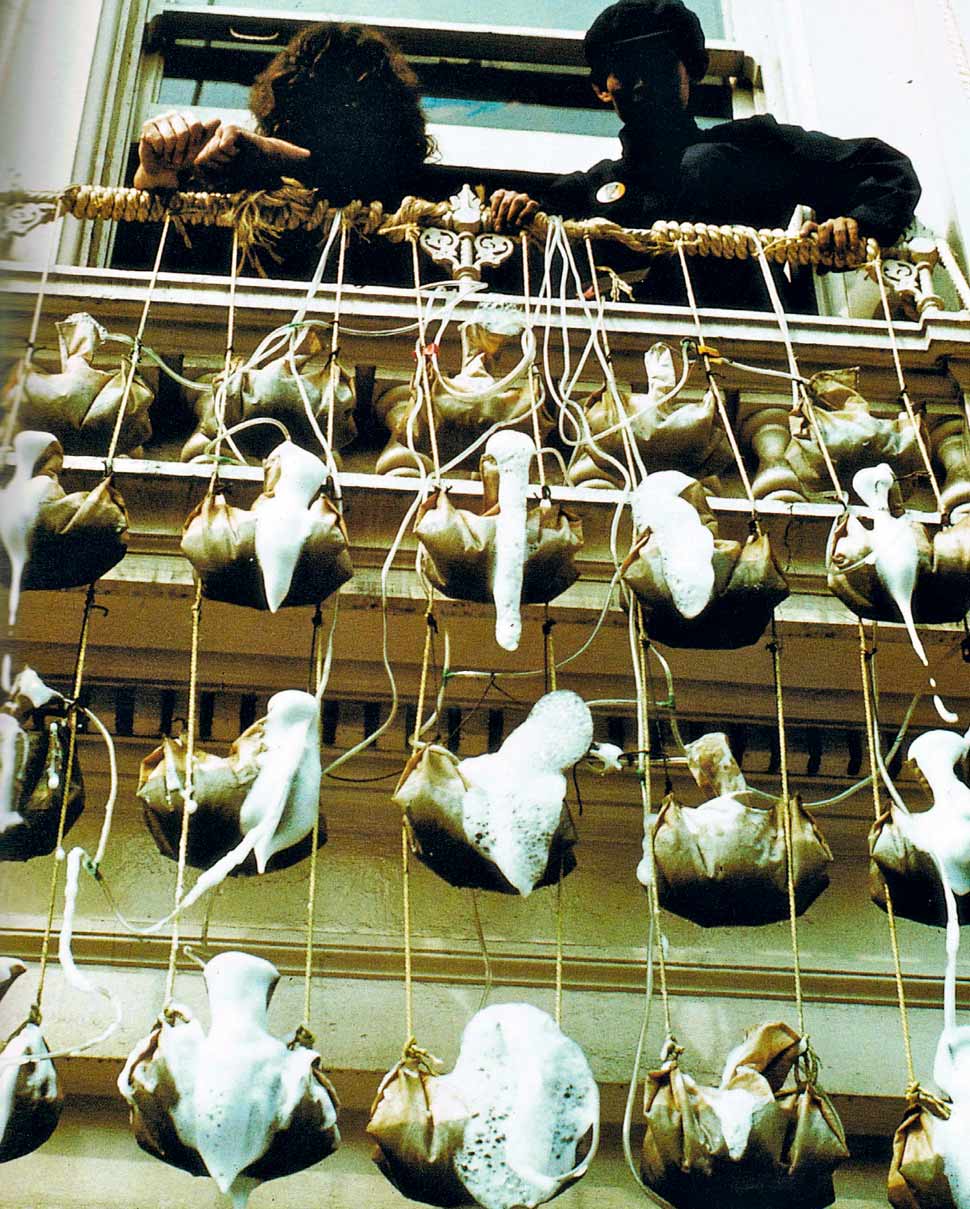 Yet despite his achievements, his output, his innovativeness and his audacity, he has always been considered a "marginal artist"—marginal to the British establishment, at least.
After Signals, Medalla formed The Exploding Galaxy in 1967, and this had a more anarchic hippy vibe that went with the times, as opposed to the technology-art-nature ethos at Signals. The group staged public performances and dressed in bizarre Dadaist fashion, and was constantly harassed by the press and the police. In 1971, he founded the Artists Liberation Front, a more politicized group during Medalla's Marxist phase that evolved into Artists for Democracy in 1974. In the decades that followed, he would establish many more groups and clubs, some cheeky, some serious, like the Baroque Buddha Brotherhood, the Mondrian Fan Club, the Society for Anglo-Chinese Misunderstanding, and the London Biennale festival.
Yet despite his achievements, his output, his innovativeness, and his audacity, he has always been considered a "marginal artist"—marginal to the British establishment, at least. Perhaps it's his Third World status, coming from a position that questions, contests, and ultimately threatens Western hegemonic culture. The Tate's Migrants exhibition and his inclusion in it is an acknowledgement of the contribution migrants and marginals made, indelibly shaping British art culture. Medalla himself always took the stance of not belonging anywhere, but being at home "everywhere." Of course, the Philippines is more home than home, and that is why he has never traded in the inconvenience of a brown passport. If there was anything that he did wrong in his life, it was that he didn't come back often enough and infect our part of the world with his imagination and genius, his vision of a transformative world constantly undoing itself, his ephemera, his bubbles.
ADVERTISEMENT - CONTINUE READING BELOW
This story first appeared in the May 2012 edition of Esquire Philippines. Minor edits have been made by the editors of Esquiremag.ph

>