Fashion
How White Socks Became Cool Again (and How to Wear Them Outside the Gym)
The return of what was once the worst fashion crime for men
In a recent poll taken in the Esquire office—a hotbed of style-related discourse, naturally—white socks were voted, alongside ultra deep V-necks, square-toed shoes and spray-on skinny jeans, as among the most heinous things a man can wear. Though those other garments are certainly unforgivable, on the point of white socks I was forced to give pause. Because there's talk in some quarters of the white sock—whisper it—becoming cool again. Yes, you read right. Again.
Paul Newman is not afraid of white socks.
Believe it or not, white socks haven't always been so widely despised. Paul Newman is one of a handful of famous men in history who've managed to make white socks look great. There's a photo of the actor, one which every men's magazine and website has published at least 300 times, which shows him reclining on a skiff in the Florida Keys, beer in hand, looking every bit the modern style icon [above]. He's wearing a pale sweater, some white jeans, a pair of white tennis shoes and with them, a pair of Daz-white socks.
ADVERTISEMENT - CONTINUE READING BELOW
Elvis in Jailhouse Rock and white socks in 1957.
Elvis was another fan. The snarl-lipped singer looked amazing wearing a pair of white socks in the 1957 film Jailhouse Rock; Dean Martin wore white socks with his loafers well into the 1970s (and looked brilliant doing it) and Michael Jackson created a look all his own by wearing white socks with cropped black trousers for countless performances (perhaps most notably during the 1984 victory tour, when he wore a pair of white, Bill Whitten-designed, Swarovski crystal-encrusted socks to perform 'Billie Jean').
CONTINUE READING BELOW
Recommended Videos
Jacko tours his Swarovski crystal-encrusted white socks in 1984.
In the real world, it was the preppy young college men of '50s that first made white socks work. Famous for cultivating athletic, intelligent boys furnished with slick crew cuts, bright Madras shorts, beaten up penny loafers and bright white socks, it was in the Ivy League universities of America's west coast that white socks garnered a cult style status they had not achieved before—confined as they had once been to the locker room, the track, and the field. For the first time since the days of britches and Beau Brummell, rich, young, intelligent men (like Newman) were wearing white socks with smart tailored clothes and looking great doing it.
So what went wrong?
Though one argument is that white socks simply ran their course; that they fell out of fashion, much like Teddy boy suits, or boot cut jeans, another is that over the years the white sock came to represent a notion of masculinity which itself became outmoded. Where the white tube sock was once the signifier of a virile champion of the athletics track or the louche calling card of a hard drinking, hard womanizing rat packer, by the late nineties and early noughties these masculine paradigms become defunct. White socks became synonymous with creepy, handsy uncles who'd wear them with sandals bought from the classifieds section of The Daily Express. A stigma which, let's face it, Jacko probably didn't help remedy.
White socks are definitely starting to look cool again.
Personally? I've always had a fraught relationship with white socks. As a child I would feel a rush of nausea whenever my usually stylish dad would wear his beaten up boat shoes with a pair of baggy blue tracksuit bottoms and some off-white, bunched up tube socks. It was his off duty look and I hated it. As punishment, and much to his confusion/fury, I would regularly steal balled up bundles of his white socks and hide them under my bed. A few years later I was forced to wear a pair of white socks as a pageboy at my aunt's wedding and cried so much at the indignity of the situation I was too red faced and furious to appear in any of the wedding photos.
ADVERTISEMENT - CONTINUE READING BELOW
Telling then, that even I have to admit that for 2017 white socks have finally pulled themselves up. Whether they're being worn ironically with Adidas or Supreme pool slides by the gender fluid fashion crowd, sported with aggressive sportswear on the gay scene or teamed with skate shoes by a new, more soulful brand of urban artist (think Loyle Carner or Frank Ocean), white socks are definitely starting to look cool again.
A model at Todd Snyder S/S 2017 show during New York Fashion Week. Note the distinctly white socks.
The fashion brands have caught on, too. Whether they're being shown in a prepped up way at American labels like J Crew, where for Spring Summer '17 they were teamed with desert boots and chinos, or Todd Snyder, where they were worn with Adidas Gazelles and slim cut jeans (very Newman); or whether they're being worn in weird and wonderful ways at the high fashion brands (Gucci showed theirs pulled up and worn with buckled hybrid Mary Janes, while Dries van Noten showed his pulled up and teamed with oversized shorts and bovver boots) white socks were very much the thing at the menswear shows.
ADVERTISEMENT - CONTINUE READING BELOW
White stockings with Mary Janes won't be for everyone, so if you're looking to embrace the trend yourself this summer I'd recommend looking at the latest offerings from high fashion sportswear brands Off White and Gosha Rubchinskiy. The look at these hip new(ish) labels was very much nineties skater boy. At the former, creative director Virgil Abloh showed cut off bleached jeans teamed with white socks and skate shoes – the models had mullets and the look was rad. At the latter, super-short nylon sports shorts were teamed with knitted polo shirts and tennis shoes as white as the Russian snow.
Still not convinced? You could just go the full Newman. The key? Much like in the photo of the actor on the skiff, ensure that your shoes and trousers are within a tone or two of your socks and you won't go far wrong. A pair of pale stone chinos from Gant with some millennial pink skate shoes from Vans, for instance. Or some cream Converse High tops with some slim white jeans from cult French brand AMI.
Here are 5 items that, together, will have you embracing the white sock like a pro.
1| The Sock
ADVERTISEMENT - CONTINUE READING BELOW
White Egyptian Cotton Socks by Pantharella, pantherella.com
2| The Sneaker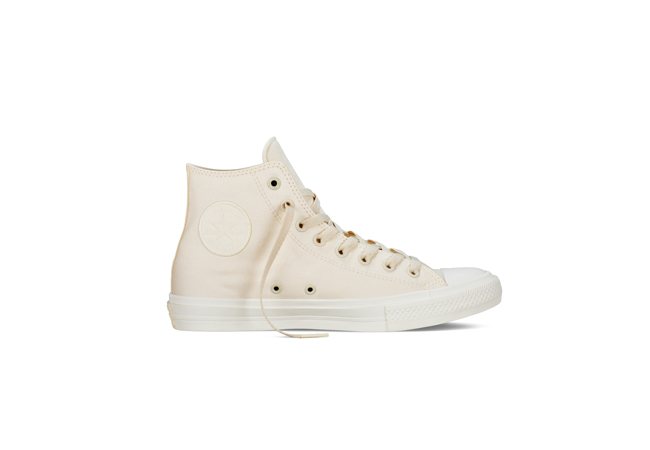 Parchment Chunk II by Converse, converse.com
3| The Jeans
Slim fit denim jeans by Ami, mrporter.com
4| The Tee
ADVERTISEMENT - CONTINUE READING BELOW
Striped jersey tee by Oliver Spencer, matchesfashion.com
5| The Jacket
Peach Cotton Corduroy Bomber Jacket by Simon Miller, mrporter.com
This story originally appeared on Esquire.co.uk.
* Minor edits have been made by the Esquiremag.ph editors.
More Videos You Can Watch