Meet Lolo Delfin, a Retired Pisay Teacher That Now Teaches on the Street
The classes started back in March.
IMAGE FACEBOOK
A retired Philippine Science High School teacher has captured the heart of the internet for teaching kids in his barangay.
Delfin Angeles taught at the Quezon City high school for 37 years. He began at the school as an integrated science and physics teacher in 1984 and officially retired in 2021. Before that, he began teaching in his hometown in Laguna in 1975.
But, even though Angeles is retired, he still can't turn his back on his chosen profession. These days, he teaches kids from his area with the streets as their classroom. At first, he was called Lolo Delfin by the kids, but now they call him as Teacher Delfin.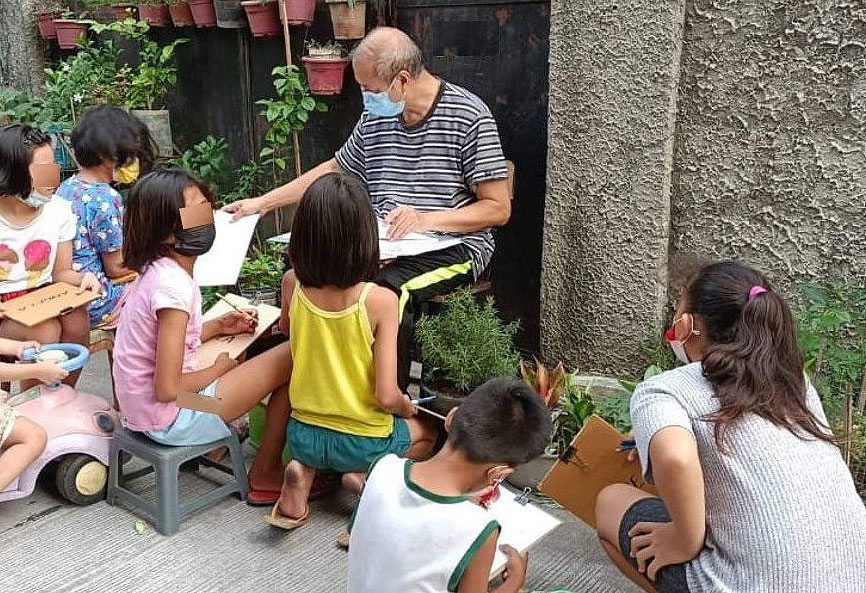 Angeles posted his story on Facebook early in June. He says he was watering his plants in his home in Sta. Ana, Manila when a group of kids came to him. "As I water and tend my plants by the street sides, children came around asking me, llolo, anong plant iyan.'" He continued, "I got to know them and at random I ask them, 6x7 or 8+7 or to say something in English."
ADVERTISEMENT - CONTINUE READING BELOW
"One day, they said, 'Lolo, turuan mo kami.'" And the rest was history. He calls his class Eskwelahang Munti, and he's been teaching non-stop since March. He's even asked other teachers for school supplies.
"Now we have face-to-face class. I prepare math, english, science lessons. I asked friends for old pencils, ball pens, crayons. I cut cardboard boxes to A4 size, from the grocery, to make clipboards for writing. Since then, they have ceased calling me lolo. Now, it is, 'teacher!' No, I won't teach falling bodies, though I did teach them balancing equations!! (When it rains, classes are suspended, all levels.)," he said.
Users couldn't help but comment on his post. Angeles just says, "You and I know, it's a blessing to be a teacher. Teachers never grow old; When we started lessons, they stopped calling me lolo. they now call me teacher. 'Isn't that great?'"
From: PEP.ph
More Videos You Can Watch