Lifestyle
5 Very Crazy, Very True Friday the 13th Stories
Not a good day for history.
IMAGE Getty
Today is Friday the 13th, so there's a lot of bad juju heaped onto it. 
Congrats!
But no juju can be as bad as the bad juju in these stories, collected over decades of Fridays the 13th. 
1| Black Cat Curse
On Friday the 13th, 1969, a black cat darted onto the field during a decisive late season matchup between the Cubs and the Mets, both jockeying to lead their division. As the story goes, the cat ignored the Mets and stared into the Cubs dugout for 10 seconds before disappearing. The Cubs crumbled after that game, losing 18 of their next 27 games and toppling from first place in the division. They didn't really shake that curse until last season—and then lost to the Mets in the playoffs.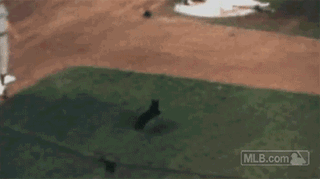 ADVERTISEMENT - CONTINUE READING BELOW
2| Lightning Strikes
At 13:13 military time on Friday the 13th in 2010, a 13-year-old boy was allegedly struck by lightning in Suffolk, England. He survived with only a minor burn. And from that moment on, he had, hands down, the best party story of all time.
3| Tupac's death
In September of 1996, Tupac Shakur died on Friday the 13th, almost a week after he was shot four times in a drive-by. Of course, scores of conspiracy theorists maintain that he's not actually dead.
4| Plane crash, cannibalism, and an avalanche
On Friday, October 13, 1972, a plane full of Uruguayan rugby players crashed into the snowy Chilean mountains. Only 27 of the original 45 passengers survived. The bad luck continued: without supplies, the survivors had to eat their dead teammates. A few weeks later, an avalanche killed eight more. And the 16 remaining survivors were not rescued until the end of December. Horrifying. 
5| The pinnacle of all fakery
ADVERTISEMENT - CONTINUE READING BELOW
In 1923, the Hollywood sign was unveiled on July 13. Originally, it said "Hollywoodland," and it advertised a new housing development. So you could say the entire movie industry, symbolized by this sign and symbolizing vanity, commercialism, sell-outs, etc., etc., has its origins on Friday the 13th. Makes sense.
This story originally appeared on Esquire.com.
* Minor edits have been made by the Esquiremag.ph editors.
The "Explore" collection is everything you could need (and want) for great adventure style.
Douglas MacArthur is famous for liberating us from the Japanese, but he's also known to have had a passionate affair with Dimples Cooper.
This small detail might also point to a greater mystery in the show.
Studio Lorico, the designer's creative space, will be a seasonal one.
Catch up on these biopics of real-life heroes and let Pinoy pride swell.
Before you let yourself get fooled, it pays to do your due diligence and look out for the telltale signs of a fake. Here are just a few of the dead giveaways.
The rulebook has been well and truly burnt, so why are we still adhering to it?
The reality is that there are other popular apps tracking a lot more important information than a selfie.
Rogue One and Solo were both marred by production issues.
This is what would happen if the Philippines left the United Nations.