Lifestyle
Trust Us, Your Valentine Is Dying to Get These Hilarious Flower Arrangements
Saint Jo Flowers' viral Valentine's Day arrangements are back.
IMAGE FACEBOOK
For those of you who are in a serious relationship, managing a "situationship," pining after a crush, or even just supporting your kilig-deprived single friends, flowers are a must-buy present this Valentine's Day—as they are every February 14. Though old-fashioned, pretty boxes and bouquets of fresh blooms are a no-fail way to show someone just how much you care. But in case you're looking for an arrangement with a little more standout power than the usual tulips and roses, check out local shop Saint Jo Flowers. For Valentine's Day, they're offering what they call Pamatay Na Valentine's Flowers. These out-of-the-box arrangements are sure to make for a memorable V-Day—one look at them and you'll understand why.
More: The 20 Best Places to Buy Flowers
Where Valentine's-themed bouquets are usually all about romantic colors and extravagant arrangements, Saint Jo's Pamatay Series resembles the kind of flowers you'd see at a funeral—think a wooden stand decorated with white blooms and a ribbon with a message draped onto the flowers—but in a smaller size that stands at about 12 inches tall. Each white flower arrangement costs P800 while arrangements with colored flowers are priced at P1,000.
This macabre-slash-hilarious spin on the usual V-Day bouquet first rose to popularity in 2017 after going viral on Facebook. Now, the arrangements have come back to life and are still as funny as they were the first time around. Aside from the obvious allusion to death, the Pamatay Flowers feature silly quotes and messages on the ribbons in place of the sympathetic lines you'd see on arrangements made for funerals. Each quote uses a deathly (if you know what we mean) play on words to drive home the comically dark theme. And while they're sure to make you laugh out loud, they can be just as sweet and thoughtful as any old-fashioned bouquet—especially if your S.O. is into that dark humor.
ADVERTISEMENT - CONTINUE READING BELOW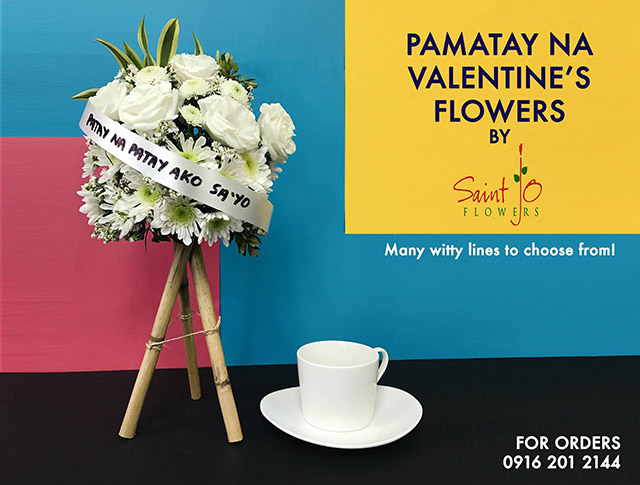 You can go for arrangements with playful but affectionate lines like "Patay na patay ako sa'yo" and "You're drop dead gorgeous" on the ribbon for your S.O. If you're feeling extra cheeky, the "patay, mahal na kita" version is a great option along with "patay ako sa BF mo"—at least if you're willing to make that kind of joke on Valentine's Day. Saint Jo even offers an arrangement with the word "Pare, pulis ako" if you want to go all out with the absurdity. The flower shop has got plenty of witty lines to choose from so you're sure to find something to make your other half laugh out loud—or slap you across the face; it could go either way. Disclaimer: We're not responsible for any outcome.
"Patay, Mahal Na Kita" Flowers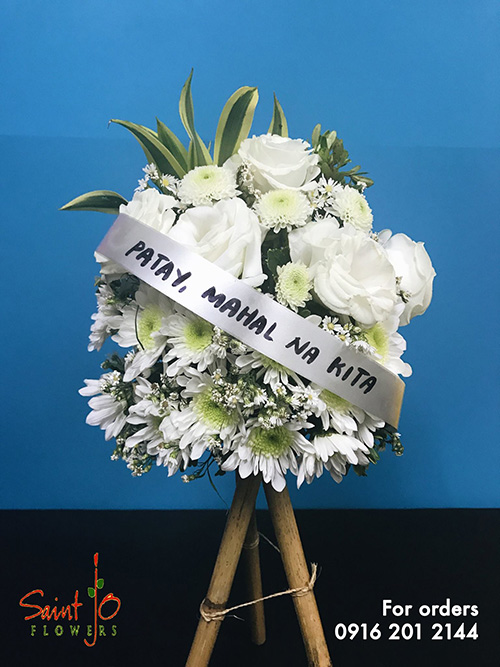 CONTINUE READING BELOW
Recommended Videos
"Nakamamatay Ang Ganda Mo" Flowers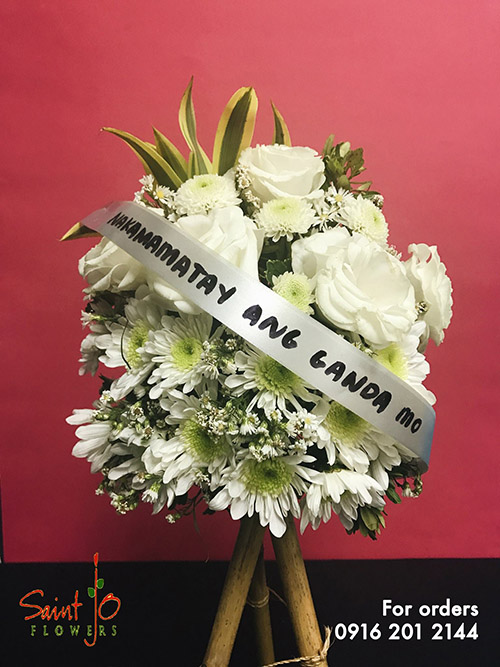 "You're Drop-Dead Gorgeous" Flowers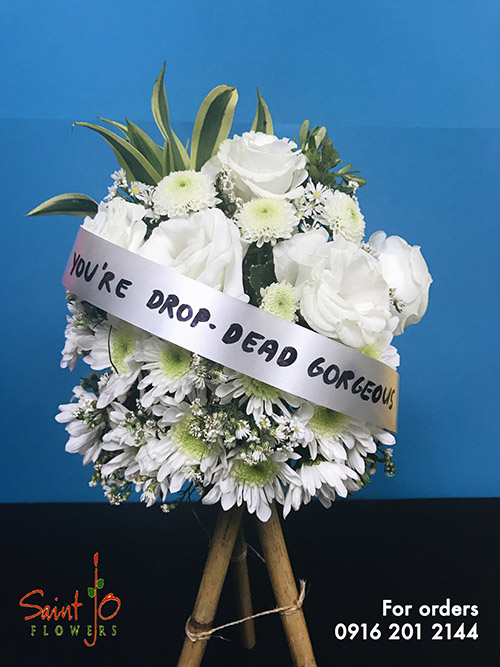 "Patay Na Patay Ako Sa'Yo" Flowers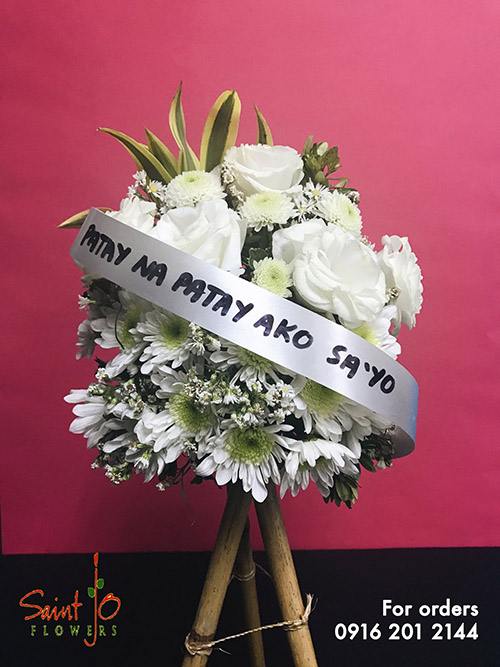 ADVERTISEMENT - CONTINUE READING BELOW
"Patay Ako sa BF Mo" Flowers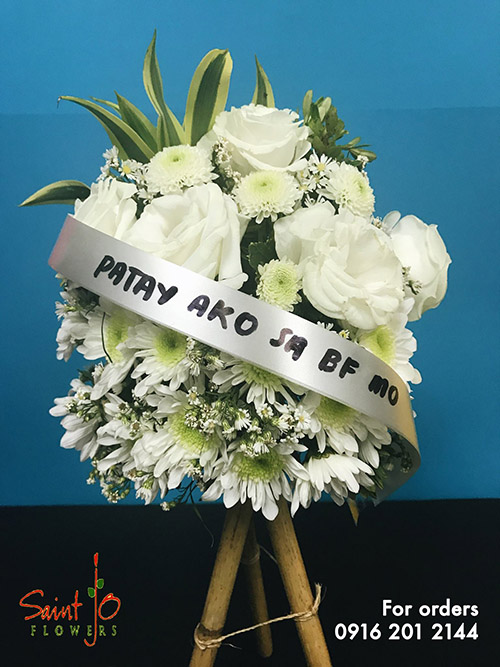 "I'm Dying to See You" Flowers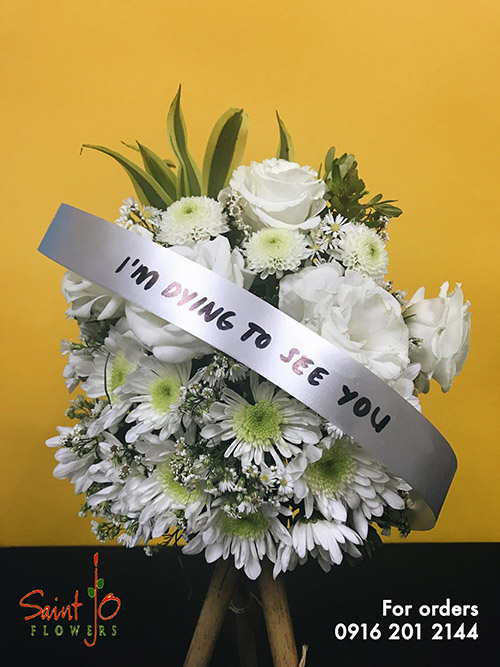 "You Have a Killer Smile" Flowers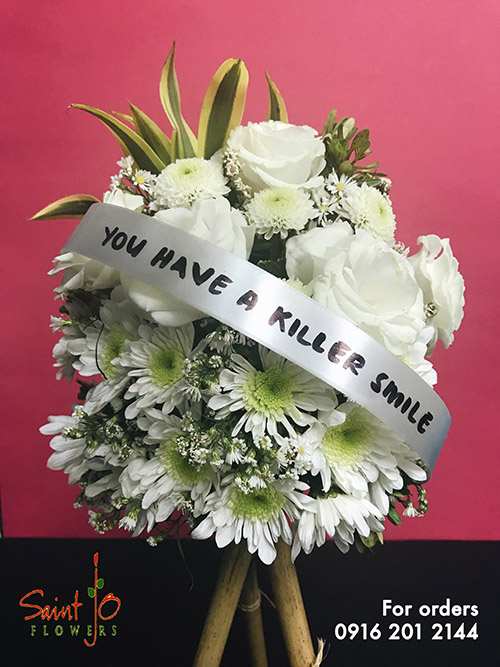 ADVERTISEMENT - CONTINUE READING BELOW
"Pare, Pulis Ako" Flowers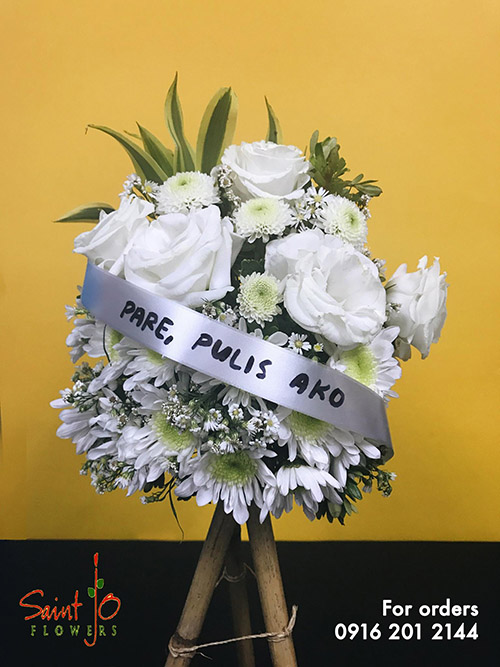 From: SPOT.ph
Discover the best of culture, business, and style from Esquire Philippines. Visit Quento for more stories and subscribe to our YouTube channel for new videos.
More Videos You Can Watch