Movies & TV
Charlize Theron's spy action thriller Atomic Blonde has the best trailer of the year so far
This will be the next John Wick.
IMAGE Focus Features
Charlize Theron was clearly not satisfied with simply playing one of the best female action heroes in the past decade. After portraying Furiosa in Mad Max: Fury Road, the Oscar-winner is starring in not one, but two major action movies in 2017. She's playing a high-tech villain in The Fate of the Furious, and a lethal assassin in July's Atomic Blonde, which released its first trailer on Friday.
Atomic Blonde follows Theron's Lorraine Broughton, an agent in the British secret service who is dispatched to Berlin to figure out why so many spies are getting killed. The trailer doesn't disappoint, starting with a truly awesome single-shot fight scene.
Fittingly, people immediately compared Theron in Atomic Blonde to Keanu Reeves in the John Wick movies. And it makes sense, because Atomic Blonde's director, David Leitch, was the co-director of the first John Wick.
@atomic_blonde soo Charlize Theron plays John Wick?
I'm game!

— Sean Gorman UK ???? (@SeanGormanUK) March 10, 2017
holy shit Atomic Blonde. it's like John Wick meets Bound

— Keanu_reevebooks (@TheVictasticK) March 10, 2017
Placing request for a JOHN WICK/ATOMIC BLONDE crossover for 2019. https://t.co/B4gOLDAhJm

— Call Your Reps (@gregpak) March 10, 2017
The trailer features Agent Broughton showcasing her "impressive set of skills"—which is mostly beating the shit out of people to "Killer Queen." She also romances Sofia Boutella's French operative and possibly James McAvoy's MI6 contact, along the way. John Goodman and Toby Jones round out what looks like a stellar cast.
ADVERTISEMENT - CONTINUE READING BELOW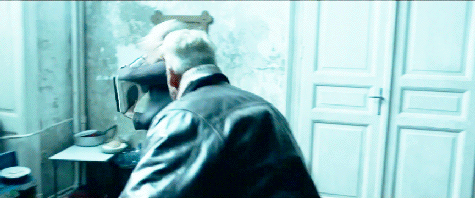 This story originally appeared on Esquire.com.
* Minor edits have been made by the Esquiremag.ph editors.
Don't make that face at us. It is delicious.
Here's what you need to know about the newly crowned Miss World Philippines.
As film season ramps up, a look at who might win big come February.
P100 for 5 and Love Food Give Food are projects of global organization Action Against Hunger.
Society has changed since 1999, and with it our notions of what constitutes daring, clever or even acceptable.
Think of it as a digital cleanse
I used to think that kids were fascinated with dinosaurs because they're massive and scary. Now I'm not so sure.
It will cost over P179.9 million to build.
We swear by this vacuum-insulated mug for hot, hot coffee for hours on end, thanks to its innovative lid.
Take a peek at the possible designs for this new airport!