Movies & TV
The 20 Best Vampire Movies, Ranked
Some are sexy, some are serious, some are hilarious. All of them are a little scary.
IMAGE Magnet Films
Vampires in their various forms—supernatural beings whose immortality requires them to quench their thirst for blood—have appeared in the folklore of many cultures. Since Bram Stoker published Dracula, the quintessential vampire tale, in 1897, Western culture has seen a particular obsession with the monsters. Naturally, the horror genre is awash with movies about vampires (many of which are modeled on Stoker's novel, either directly or loosely), and vampires have made appearances in countless films. The best movies, however, bend the rules of the vampire sub-genre, as the vampire naturally offers itself up to a many interpretations. Here are the 20 best movies to feature vampires—some classic, some twisted, some sexy, and all indelibly alluring.
20| 30 Days of Night (2007)
A small Alaska town prepares for an annual polar night, a month-long period when the sun disappears from the horizon. But with the excruciatingly long night comes a band of bloodsuckers who have plans to feast on the town's residents.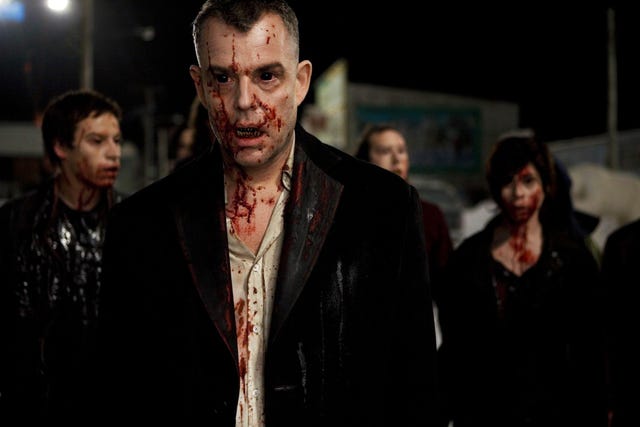 ADVERTISEMENT - CONTINUE READING BELOW
19| Vampire's Kiss (1988)
You'd be correct in assuming that a vampire movie starring Nicolas Cage would be absolutely batshit insane. Playing a club-hopping yuppie in '80s Manhattan, Cage's character slowly loses his mind—culminating in his obsessive belief that he's turning into a vampire.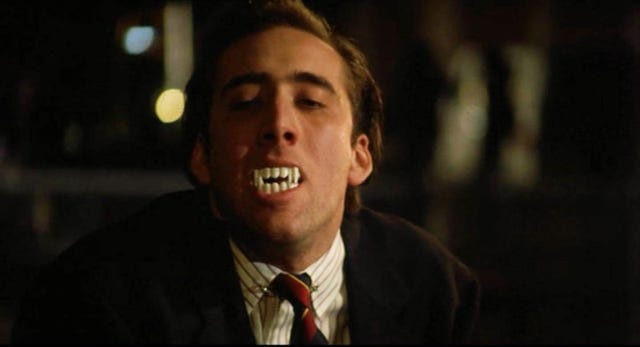 18| Buffy the Vampire Slayer (1992)
Sure, the long-running TV series has overshadowed this campy '90s teen comedy (also written by Buffy creator Joss Whedon), but don't sleep on this little gem, which stars Kristy Swanson as the valley girl who comes into her own when she discovers she's the next in a long line of vampire killers.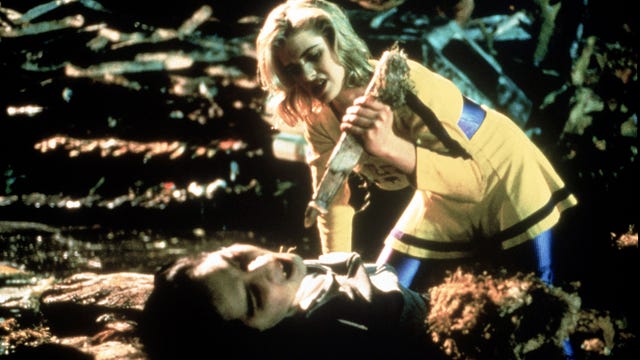 CONTINUE READING BELOW
Recommended Videos
17| Blood for Dracula (1974)
Andy Warhol produced this cult classic starring Udo Kier as the famed Transylvanian count, who travels to Italy in search of virgin blood to regain his strength. The film co-stars noted Warhol superstar Joe Dallesandro and features a cameo from Roman Polanski.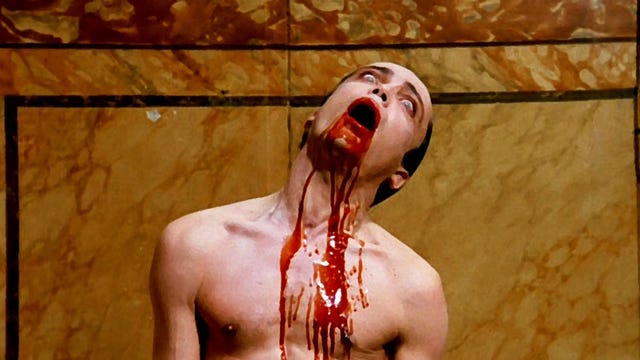 16| What We Do in the Shadows (2014)
Flight of the Conchords' Jermaine Clement co-wrote, co-directed, and co-starred in this comedy alongside Taika Waititi as 8,000-year-old vampires who share a flat in Wellington, New Zealand. Along with their two roommates, the vampires struggle with keeping up with modern-day life as they're unable to go out during the day—that is until they turn an intended victim into a new vampire and bond with him and his best friend, Stu.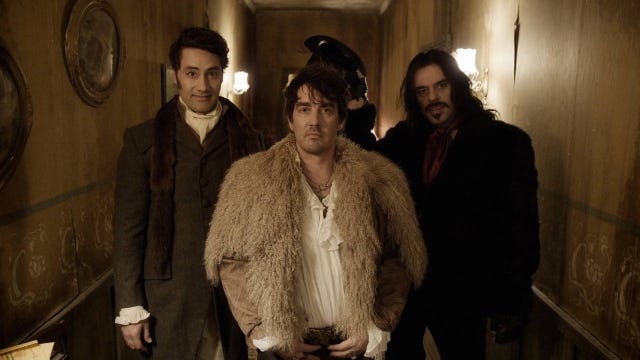 ADVERTISEMENT - CONTINUE READING BELOW
15| Shadow of the Vampire (2000)
F. W. Murnau's landmark silent horror film Nosferatu launched the vampire movie genre when it was released in 1922. Eight decades later, John Malkovich stars as Murnau in this behind-the-scenes tale of the making of the film, which reveals that its lead actor (played perfectly by Willem Dafoe) is actually a vampire.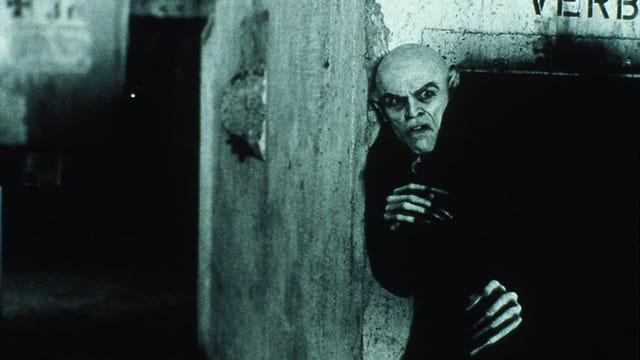 14| The Fearless Vampire Killers (1967)
Roman Polanski directed and starred in this spoofy comedy, which also featured his future wife Sharon Tate, playing the bumbling apprentice to a vampire hunter named Professor Abronsius. On a mission in Transylvania, the duo encounter the devious Count von Krolock and must defeat him to save a small village from certain doom.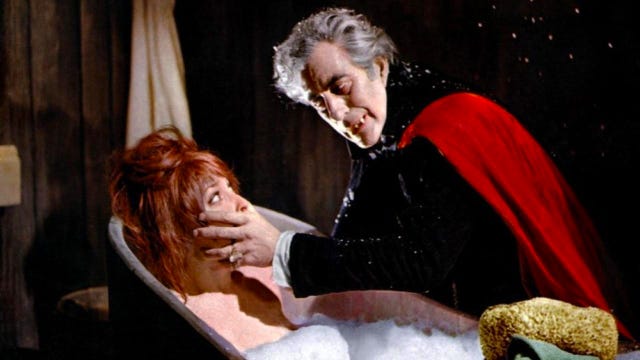 ADVERTISEMENT - CONTINUE READING BELOW
13| Blade (1998)
Often unrecognized as the first successful Marvel Entertainment production, Blade stars Wesley Snipes as the titular superhero: a half-vampire who possesses superhuman abilities and uses his powers to fight against the race of vampires led by Deacon Frost (Stephen Dorff), who aims to defeat humanity and control the world.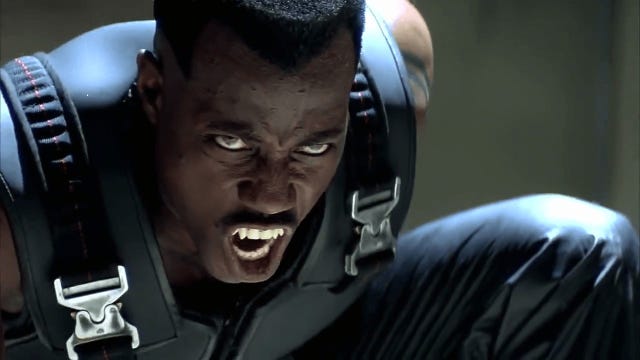 12| Thirst (2009)
Korean auteur Park Chan-wook directed this inspired adaptation of Émile Zola's classic novel Thérèse Raquin, giving it a surprising horror bent. After a botched vaccination experiment, a Catholic priest becomes a vampire. But blood isn't the only thing he lusts after once he reconnects with a childhood friend and meets the man's beautiful wife.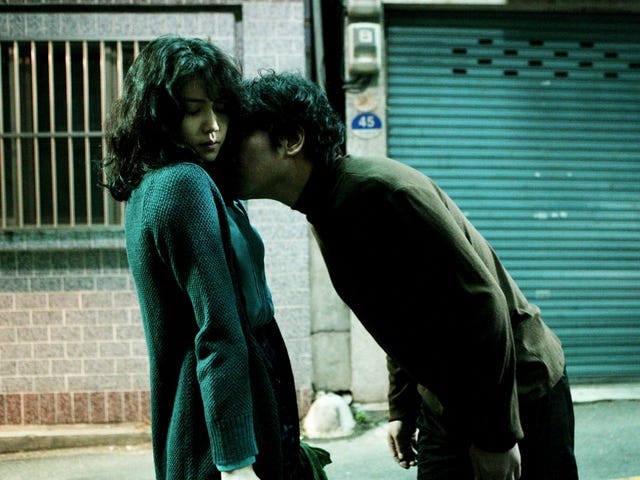 ADVERTISEMENT - CONTINUE READING BELOW
11| Near Dark (1987)
Kathryn Bigelow directed this Western-themed vampire road movie in which a young man gets involved in a roving group of modern-day vampires, who drive across the American West in RVs during the day and hunt at night.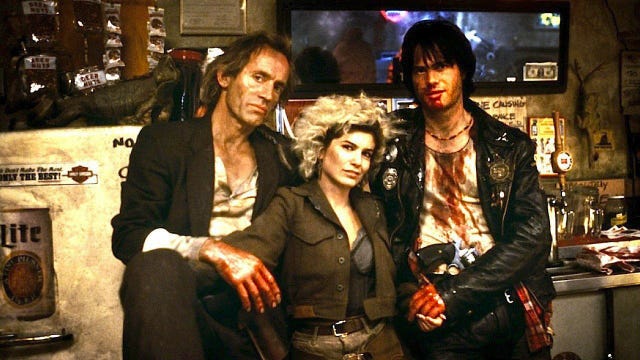 10| Only Lovers Left Alive (2013)
Adam (Tom Hiddleston) is a depressed musician who cannot handle the existential dread of everyday life. But a reunion with his devoted lover Eve (Tilda Swinton) reignites his passion for life—that is until her wild little sister comes in to shake things up. Oh, and of course: They're vampires, having lived and loved and loathed humanity for centuries.
ADVERTISEMENT - CONTINUE READING BELOW
9| The Lost Boys (1987)
Blood-suckers got a punk-rock spin with this late-'80s Joel Schumacher horror-comedy, in which two brothers (Jason Patric and Corey Haim) discover that their new town is controlled by a gang of vampires led by a bleach-blond Kiefer Sutherland.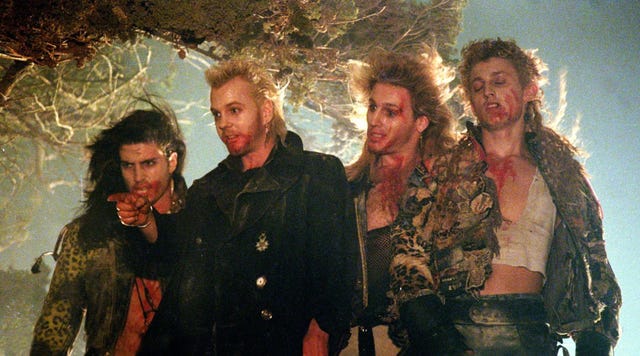 8| The Hunger (1983)
Catherine Deneuve plays a seductive immortal in early '80s New York City—a woman who is as stylish as she is beautiful. When her companion (David Bowie) begins to fade, she sets her sights on a new lover: a doctor played by Susan Sarandon.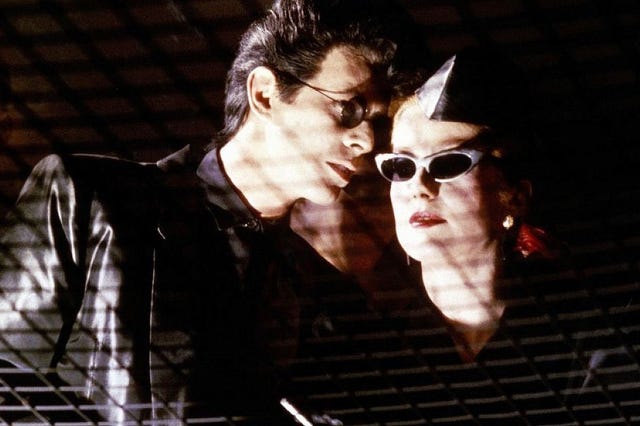 ADVERTISEMENT - CONTINUE READING BELOW
7| Nosferatu the Vampyre (1979)
Klaus Kinski and Isabelle Adjani star in Werner Herzog's remake of Murnau's Nosferatu, a stylistic marvel that earned critical acclaim and box office success across the world.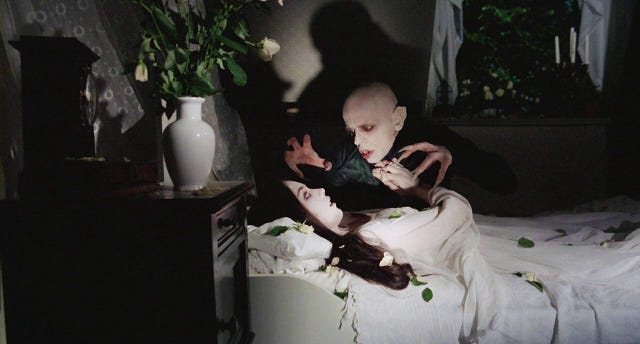 6| A Girl Walks Home Alone at Night (2014)
Ana Lily Amirpour's directorial debut is described as "the first Iranian vampire Western." Sheila Vand stars as the titular unnamed girl who roams around a small Iranian ghost city, stalking its lonely residents.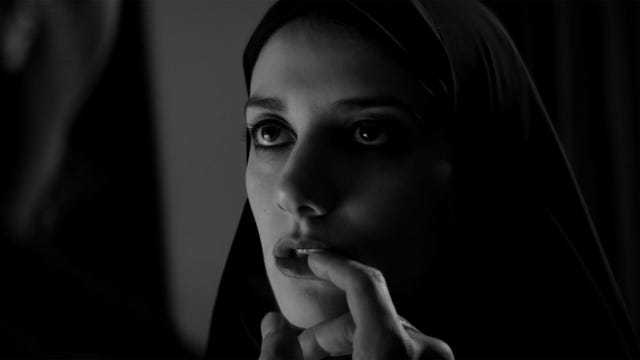 ADVERTISEMENT - CONTINUE READING BELOW
5| Cronos (1993)
Guillermo del Toro launched his genre-bending career with this tale of an antiques dealer who discovers a 16th century contraption that stabs anyone who opens it, giving that person eternal youth. But it comes with a price—the desire for human blood—and a pair of men who are hunting for the device.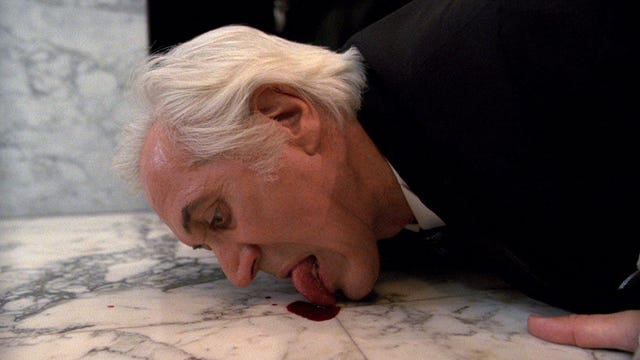 4| Let the Right One In (2008)
The 12-year-old Oskar lives a lonely life in Stockholm with his mother, where he's regularly bullied by his class mates. That changes, however, when new neighbors move in next door: an older man named Håkan and a young girl named Eli. As Eli and Oskar begin a friendship and they hang out at night, Oskar soon realizes that his new friend isn't a cute young girl after all.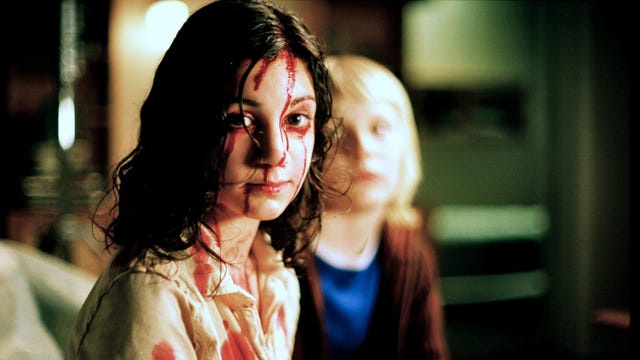 ADVERTISEMENT - CONTINUE READING BELOW
3| Interview with a Vampire (1993)
Neil Jordan's adaptation of Anne Rice's novel is super '90s, with heartthrobs Tom Cruise, Brad Pitt, and Antonio Banderas playing brooding immortals dealing with the neuroses that comes with ever-lasting life (and a desire for human blood). It's probably one of the most homoerotic movies ever made, and it introduced the world to Kirsten Dunst, who plays a maniacal child vampire.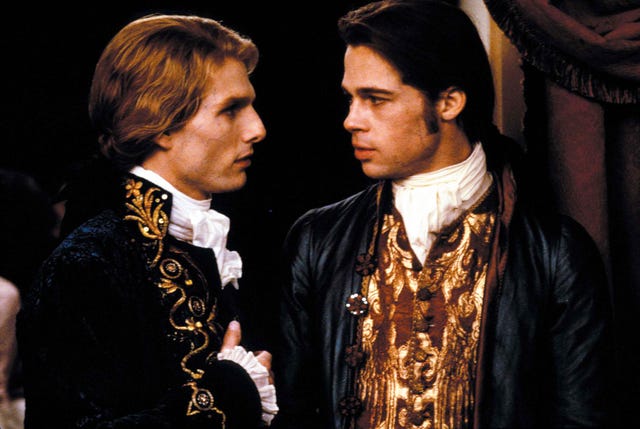 2| Bram Stoker's Dracula (1992)
You could call this Francis Ford Coppola's Bram Stoker's Dracula, but that title would be too unwieldy. And while the famed Godfather director's adaptation of the seminal vampire novel does teeter off the edge into vampire mania, it's still a lush, faithful, and star-studded version of the classic horror tale with Gary Oldman delivering a tour-de-force performance as the blood-sucking villain.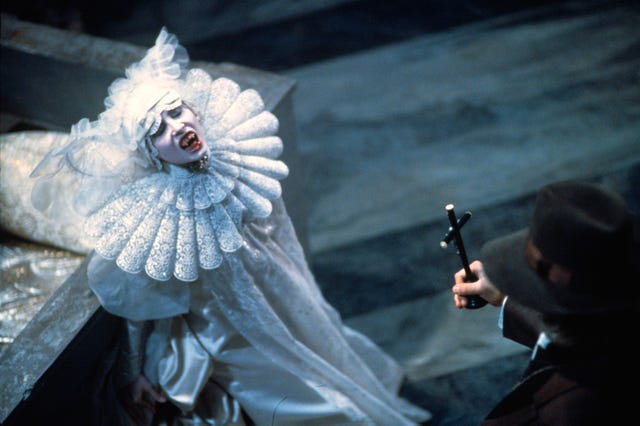 ADVERTISEMENT - CONTINUE READING BELOW
1| From Dusk Till Dawn (1996)
Robert Rodriguez directs this cult classic starring George Clooney and Quentin Tarantino (who wrote the script) as the bank-robbing Gecko brothers who cross the border into Mexico with hostages in tow. But when they arrive at the Titty Twister, a strip club in the middle of the desert, their hope for refuge is lost when the bar's patrons and employees are revealed to be vampires led by a ferocious queen, Santanico Pandemonium (Salma Hayek).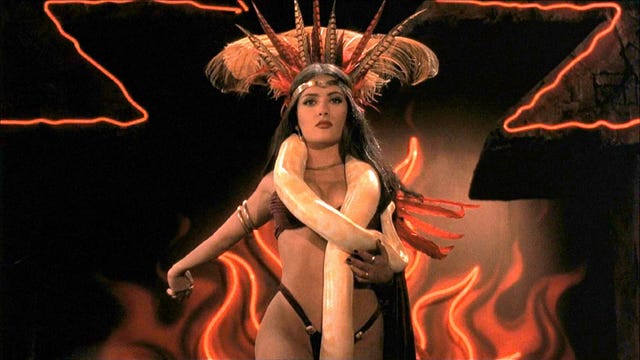 This story originally appeared on Esquire.com.
* Minor edits have been made by the Esquiremag.ph editors.
More Videos You Can Watch