5 Summer-Ready Airbnbs South of Manila
IMAGE Kristoffer Cruz & Emily / Airbnb
There's no question about it. For families with young children (or for any group cooling off in the middle of the hot summer), it is not a vacation when there is no swimming pool. Many families pick a hotel or resort based on this amenity, and a pool makes a vacation house for rent a more attractive prospect. So to help pool-obsessed families for their next holiday out of town, we went combing through Airbnb to check out homes with pools that are a few hours drive south of Metro Manila. Bring a bunch of family relatives and friends as most of these homes will be much easier on the pocket that way. Have a happy trip!


1. Villa at Ricarte's Hill
Nasugbu, Batangas
P5,194/night for 4 guests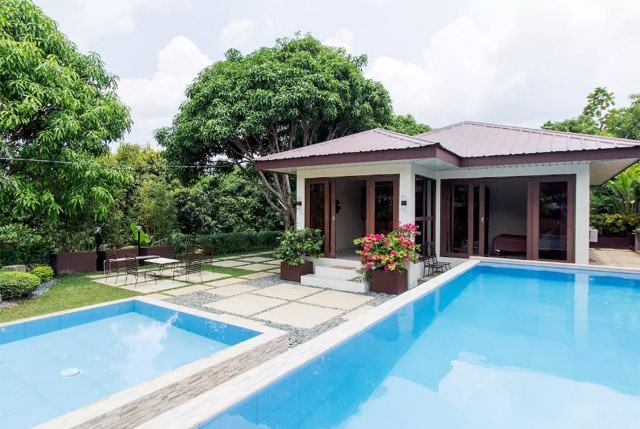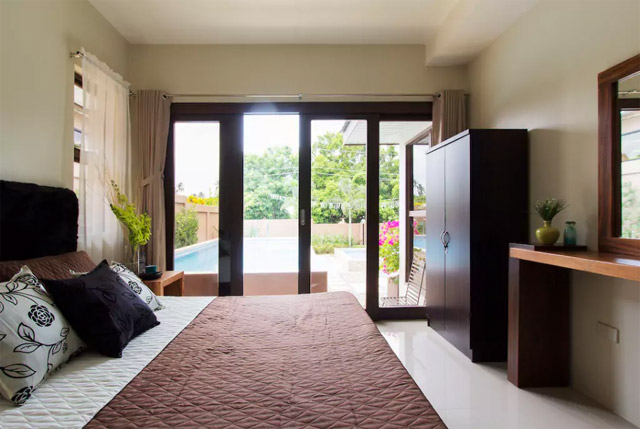 ADVERTISEMENT - CONTINUE READING BELOW

Far from noise and pollution, this two-bedroom villa is a pleasant escape from the city for a young family. It has two private pools — a shallow, smaller one for kids and a larger pool for adults. It comes with a stocked kitchen, a grill, hammocks, and you can even rent tents if the kids want to camp out. If you don't feel like cooking, the hosts can prepare meals for you, too. The home is perfect for four guests, but it can accommodate up to 10.

What past guests have been saying:
"The place is very nice and looks the same as you see in the pictures provided. It's very clean also. Basic utensils are also available. The rooms are very spacious and not cramped. The children's pool has just the right depth for toddlers." — Kristina Marie, November 2017

See Villa at Ricarte's Hill's listing on Airbnb here.

2. Casa Del Sol Amadeo
Amadeo, Cavite
P7,971/night for 16 guests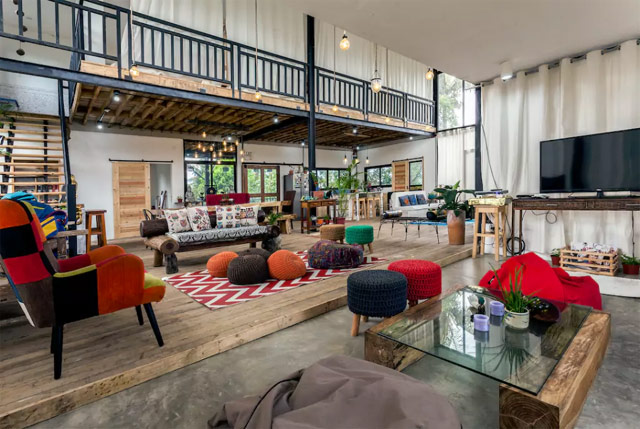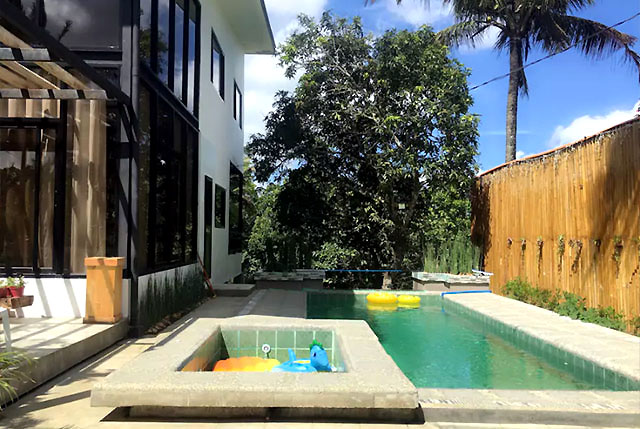 Call the relatives! The young and old alike will fall in love with the rustic, Bohemian design of this home. Everything from furniture to decor is pretty. The house, located in a farm lot, is spacious, with both the living areas and bed spaces in an open floor layout, just perfect for family bonding time. Aside from the Bali-inspired green pool, there's also a play area for kids in the garden, a swing on the balcony, and bean bags all around.

What past guests have been saying:
"The place was as beautiful, if not more beautiful than it looks in the photos. The wide range of amenities made our stay comfortable, and the entertainment (karaoke, board games, etc.) helped provide bonding activities. The weather was a bit hot during the afternoons, but mostly, it felt fresh and airy." — Jessica, June 2017

See Casa Del Sol Amadeo's listing on Airbnb here.


3. Casarina Verde
Lemery, Batangas
P11,982/night for 10 guests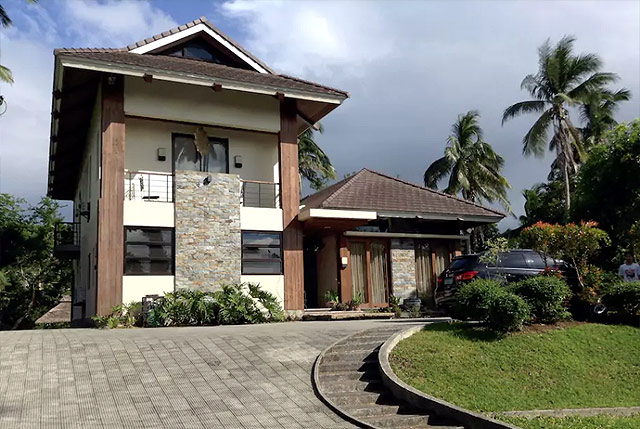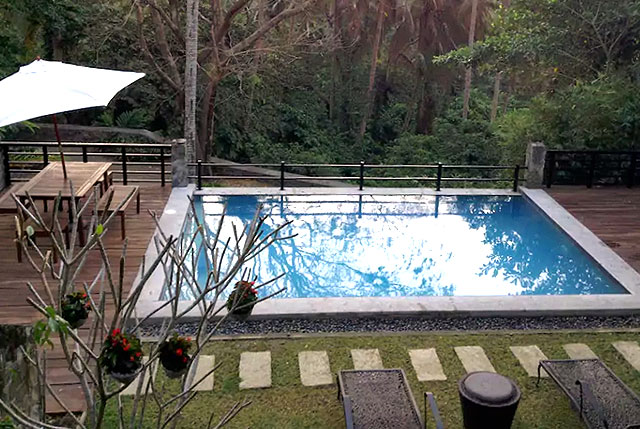 ADVERTISEMENT - CONTINUE READING BELOW

You'll feel right at home in this three-storey house. It can accommodate up to 10 guests and has three bedrooms, four baths and, of course, a lap pool. In case you're worried there is nothing else to do, the attic is a recreational area with a billiard table and a dartboard. It also has full-on kids' play area complete with a play mat, shelves of books, and toys! The outside has a camping space where you can have a bonfire. The area is perfect for biking, too, said the owner of the home.

What past guests have been saying:
"Sarina's place is lovely and homey. The kids enjoyed the pool and play room. I like the camping and bonfire area, perfect place for sharing stories and beers. The rooms and toilets are clean. Just don't forget to bring mosquito repellant, there are mosquitoes at night." — Kristina, November 2017

See Casarina Verde's listing on Airbnb here.
4. Balinese-inspired Villa
Calamba, Laguna
P15,016/night for 16 guests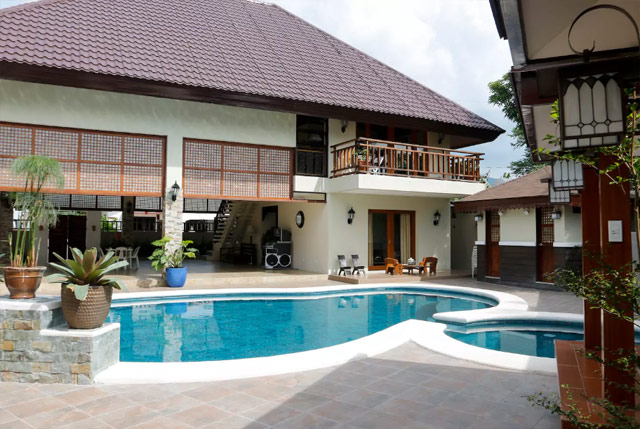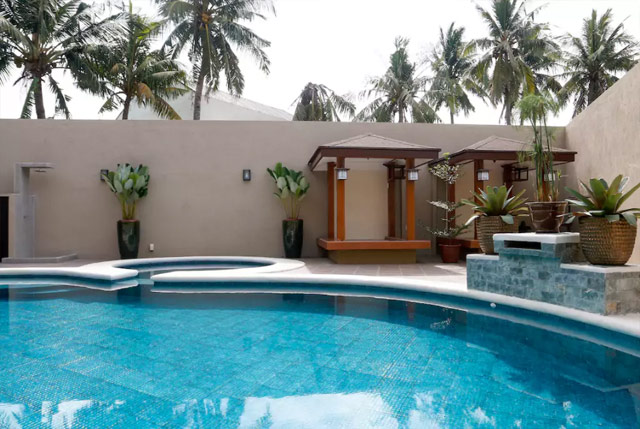 Feel like you're really on vacation at this tropical-themed Balinese-inspired villa. This four-bedroom home comes with two pools, one for kids and one for adults. It's just right for 16 guests, but it can accommodate up to 23. It also has a grilling area but makes sure to bring cooking supplies and utensils because they only have an electric stove top and refrigerator. Titas and Titos, rejoice—they have a videoke machine!

What past guests have been saying:
"The place is as good as it is advertised, if not better. Beautiful, relaxing and spacious, especially conducive for family outings. Highly recommended and will definitely book again." — Jc, January 2018

See Balinese-inspired Villa's listing on Airbnb here.


5. The Lake House at Caliraya
Cavinti, Laguna
P20,005/night for 12 guests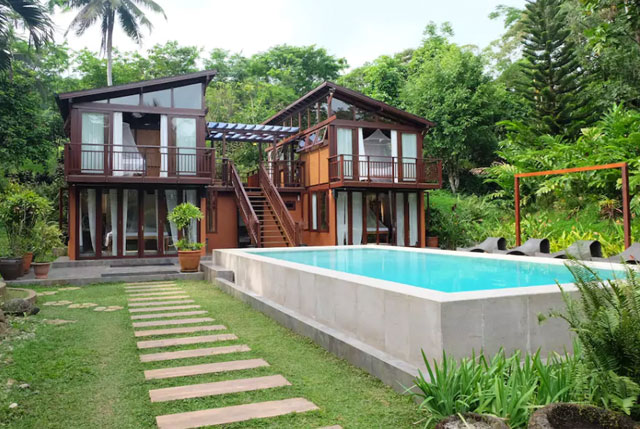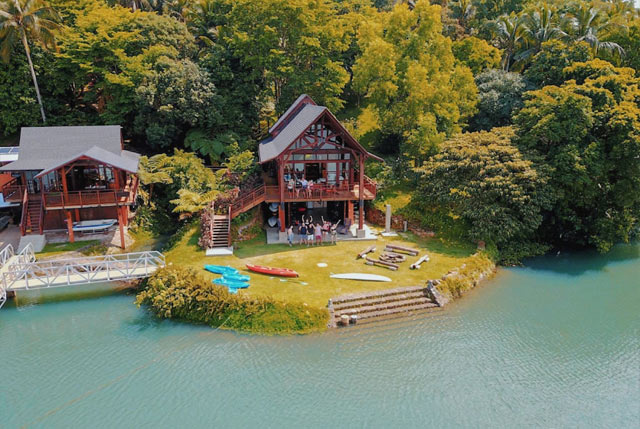 ADVERTISEMENT - CONTINUE READING BELOW

This home is pricier than the rest, but not only does it have a pool, it is located on a mountain lake, giving you a spectacular view! It has six bedrooms, a fully equipped kitchen, indoor and outdoor dining areas, a pool, and a sprawling lawn with a bonfire pit. Your stay also includes free use of kayaks, fishing gear and other watersports activities, daily breakfast for guests, and marshmallows and hot choco for the bonfire. You're already thinking of returning before your vacation is over.

What past guests have been saying:
"We had a blast! My 5-year-old daughter loved everything about the place—the lake, pool and the complimentary mallow toasting and bonfire at night. The place is truly secluded so you will have the feel of having the island to yourself. Staff was very helpful and attentive to our needs. The host Simonette went out of her way to arrange different breakfast viand and special beds for my parents at the lounge area. We love the beautiful interior and design of the place." — Bg Maria, July 2017

See The Lake House at Caliraya's listing on Airbnb here.
This story originally appeared on Smartparenting.com.ph.
* Minor edits have been made by the Esquiremag.ph editors.
More Videos You Can Watch