I hate Bollywood. I hate it for showing me endless sequences of unrequited love stories, which turn into romances that cannot ever be found or replicated across a normal human lifetime. I hate Bollywood for making me feel like dream men could exist in the realms of reality, and with one dance number, they could end up becoming the greatest and most passionate loves of our lives. I hate Bollywood for enveloping me in the likes of icons such as Shah Rukh Khan, who to this day, remains the one person I'd donate a kidney to, if he were in need. But alas, I cannot hate Bollywood today. Because upon meeting Ranveer Singh, I've come to recognize that perhaps what's sold on screen, really can transpire beyond it; and maybe, just maybe, the dream guy really does exist.
It's 8:00 p.m. in Mumbai and we've just finished a long day of shooting for our cover, when I'm tapping nervously on the sofa, shifting positions with a cocktail of anxiety and excitement. We're in a warehouse studio, inside one of the many plush green rooms and I'm awaiting (with bated breath) the entrance of Ranveer, so we can begin our interview. A part of me cannot believe this moment is occurring. Just months before, I jokingly (but very passionately) said to Vanessa, our Creative and Production Group Director: Do you think we could get Ranveer Singh on a cover? I wanted to go where we've never been before: to Bollywood—and just like that, it happened. For any doubters of the power of manifestation, I'm living proof it works. That, and having an amazing Creative Director. Now, it's October and I'm fidgeting with my pen, trying to swallow every last gulp of air I can before Ranveer walks in.
ADVERTISEMENT - CONTINUE READING BELOW
Why are you so starstruck, Rahat? Don't you interview celebrities all the time? I can hear you asking. The truth is, this feeling isn't one of being struck at all, but rather, one of great anticipation. I've grown up on Bollywood movies; raised on them, built on them and founded on them. A huge part of my soul derives from the whimsical fancies of Bollywood and I know in this, I'm not alone. Here in this room in Mumbai, I'm representing thousands, nay millions, nay billions of people who adore and celebrate Bollywood with the same reverence I do. It's also not lost on me that this will be Ranveer's debut on a Singaporean magazine cover, as the first-ever Bollywood celebrity to ever grace Esquire Singapore. It's a moment of history in the making, and not one I'm planning to take lightly.
Much repositioning of my legs and 20 sips of my water later, in enters Ranveer, adorned head-to-toe in an Adidas matching tracksuit. The only way to describe his presence is swaggerful (yes, that is not a word, but now it is). He struts with an air of relaxed confidence that seems hard to contrive, and sits down neatly on the sofa, beside me. We've spent an entire day together at this point. From his boom-box clad entrance into the studio for our shoot ("I love this, man!" He says over and over as we click each shot), to the humility and modesty with which Ranveer carries himself through the day (taking time to offer selfies and handshakes to all members of the working team), to his now warm, open and enthusiastic demeanour, Ranveer has managed to truly surprise me in my expectations of what stardom can look like in the modern age.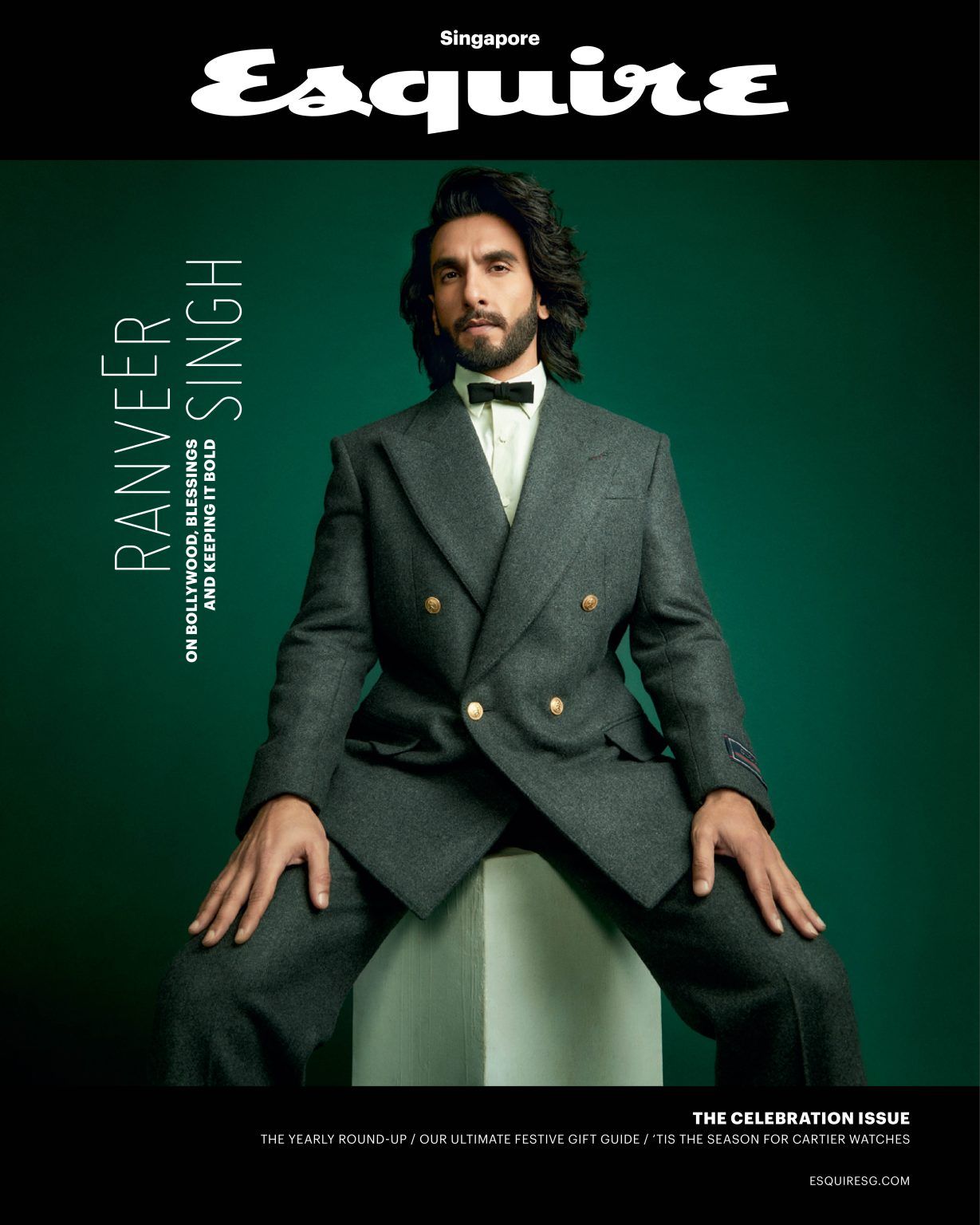 Debuting in 2010 with his first super-hit film under India's most coveted production banner [Band Bajaa Baaraat, Yash Raj Films], Ranveer Singh has managed to catapult his way from middle-class boy with a dream, to international luminary with panache. Over the last decade plus, he's worked on over 25 films, grossed millions in worldwide ticket sales, become an icon of Indian and global fashion, and married Indian cinema's current leading lady and celebrity in her own right, Deepika Padukone.
In fact, Ranveer has fast developed a reputation as being one of the only male stars in Bollywood to openly hype up the accolades of his wife, arguing on several occasions that he sees it as an empowering (not emasculating) feeling to watch her thrive, even if it means it's beyond his own success. Perhaps his unconventionality in this measure—alongside his willingness to unapologetically frequent appearances on chat shows, red carpets and award ceremonies, clad in bold colours and prints from hot pinks to snakeskin galore—has been truly the reasons why Ranveer has become far more than just a cinema star. Rather, he's culminated into a sort-of inadvertent pioneer of challenging modern 'masculinity' in India today, standing for the ideals of gender equality, self-expression and redefining notions of sexuality.
ADVERTISEMENT - CONTINUE READING BELOW
After many more sips of water and the exchange of several pleasantries, we finally begin. It doesn't take long to sense Singh's authenticity as we speak, first and foremost of which shines in the way in which he refuses to pander to an idealisation of who others want him to be. He's happy where he is and grateful for it, and over the course of the next 90 minutes, I discover how and why.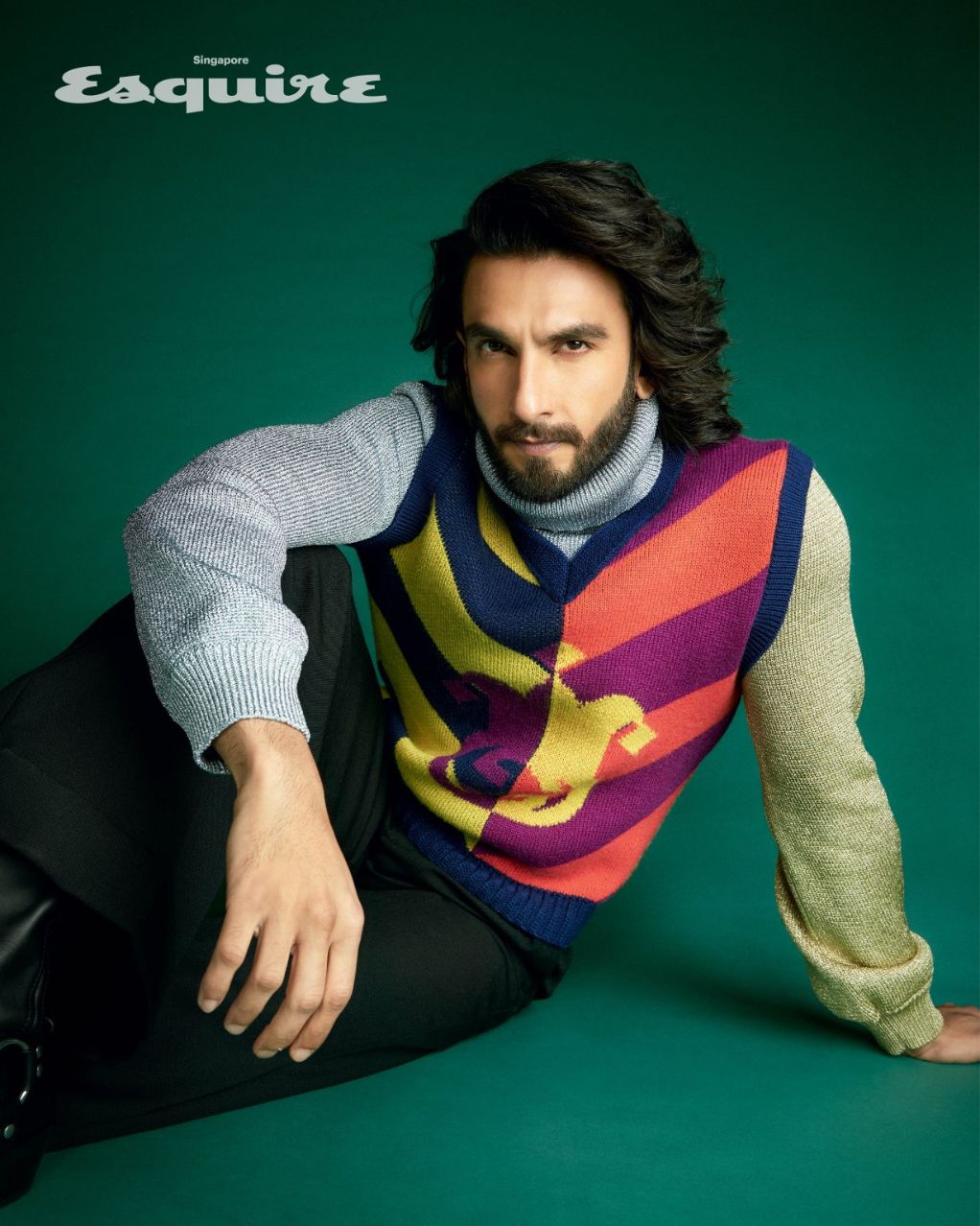 Ranveer, I feel like we really smashed it today!
Each and every one smashed it. I'm so glad. From the styling team, to the photography team, this subject is closed. Everyone came together so nicely; it was like silk today. Wow.
You're the first Bollywood celebrity on the cover of Esquire Singapore in the publication's history. Are you aware of the presence you have globally and the impact you have made, in terms of changing perceptions when it comes to men's fashion, masculinity and the like?
I don't know where to begin! You know, in the recent past with my engagements [specifically with the NBA], it's been such a grand success. And I was able to connect [with so many people] to a degree which made me think about exactly this. I think I'm becoming well-versed with the language of global culture. I grew up pretty much in front of the TV screen, and I was glued to the idiot box throughout my childhood. I've been very influenced by Western culture in many ways. I'd watch a lot of MTV, so in addition to being an absolute Hindi movie fanatic, I was also watching a lot of music television. So, [things like] sports culture, music and fashion; I've been engaging with them since a very young age. I also think a large part of the appeal is that the world is in an age of technology. First, there was mobile phone technology, then the Internet and now mobile phones, then social media. We've reached the stage where it's almost becoming like one world. I think that's what's resonating in today's times.
What do you think has been key to your success in connecting to culture and as a result, a global audience?
I think authenticity. I think anybody expressing themselves in an authentic way, appeals to anybody. Regardless of the culture; they heal from it. Authenticity, sincerity and honesty: these things transcend boundaries. You know, even in the world of film [the line of work that I come from], you can take Parasite as a shining example. It was a film made out of Korea—from a very specific culture—but it went and conquered the highest heights of international cinema.
ADVERTISEMENT - CONTINUE READING BELOW
Like I said, through things such as social media, the world has really changed. I feel like whenever I go on any overseas engagements, whether it's for the Premier League, or for the NBA, I find that social media has almost become my calling card. I meet these mega celebrities, and the first thing they will be like is: Oh, let's check you out. What's your Instagram? I think in that way, the world has become much more advantageous to me in my endeavour to export or celebrate my culture.
In recent years, there's been much discourse about how insulated the Bollywood industry can be sometimes, with the debates around nepotism and the like. Do you think people relate more to you in a way, because you came from 'the outside'?
In my position, it was very far-fetched to think that I could do this. Around the turn of the century—when I was in 10th grade, I wanted to act. But I kind of gave up on it, thinking it was too far-fetched. Because the examples of people having made it into this glitzy industry from the outside were too few-and-far-in-between. There was just Mr Shah Rukh Khan, Mr Amitabh Bachchan and Mr Akshay Kumar. That's it. At the time [around the year 2000], I looked around me and all the new upstarts were somebody with some kind of great legacy; whose fathers were great superstars or big-time producers or directors. So, I gave it up.
And then, there was an incident that happened that completely changed it for me. After four years of giving up on that dream, I was pursuing writing in the meantime. But… it came to a stage where I was like to myself: Man, it looks far-fetched. But at least let me give it my best shot. You know? I can accept it not happening for me, but I can't accept not giving it my best shot. So, I said: Let me try. If it doesn't happen, it doesn't happen. But whatever factors are in my control, I'm going to use those faculties to try and make it happen for myself. You could say that I created my own luck in that sense. The whole manifest your life thing; and manifest it very literally.
I used to literally have a vision board after I read The Secret [by Rhonda Byrne], which my mother had advised me to do. There was one chapter about the vision board that really stuck and resonated with me. So, in my struggling years, my personal space had a vision board. It's the most surreal story, because my sister had photoshopped my face on to two posters of Yash Raj Films and [laughs as he recounts this], oh my God, she had even photoshopped my face on to a person holding a Filmfare award [India's equivalent to the Oscars]! This is years before I even got the call to work with Yash Raj. So, I did manifest it. I hustled hard and created my own luck.
ADVERTISEMENT - CONTINUE READING BELOW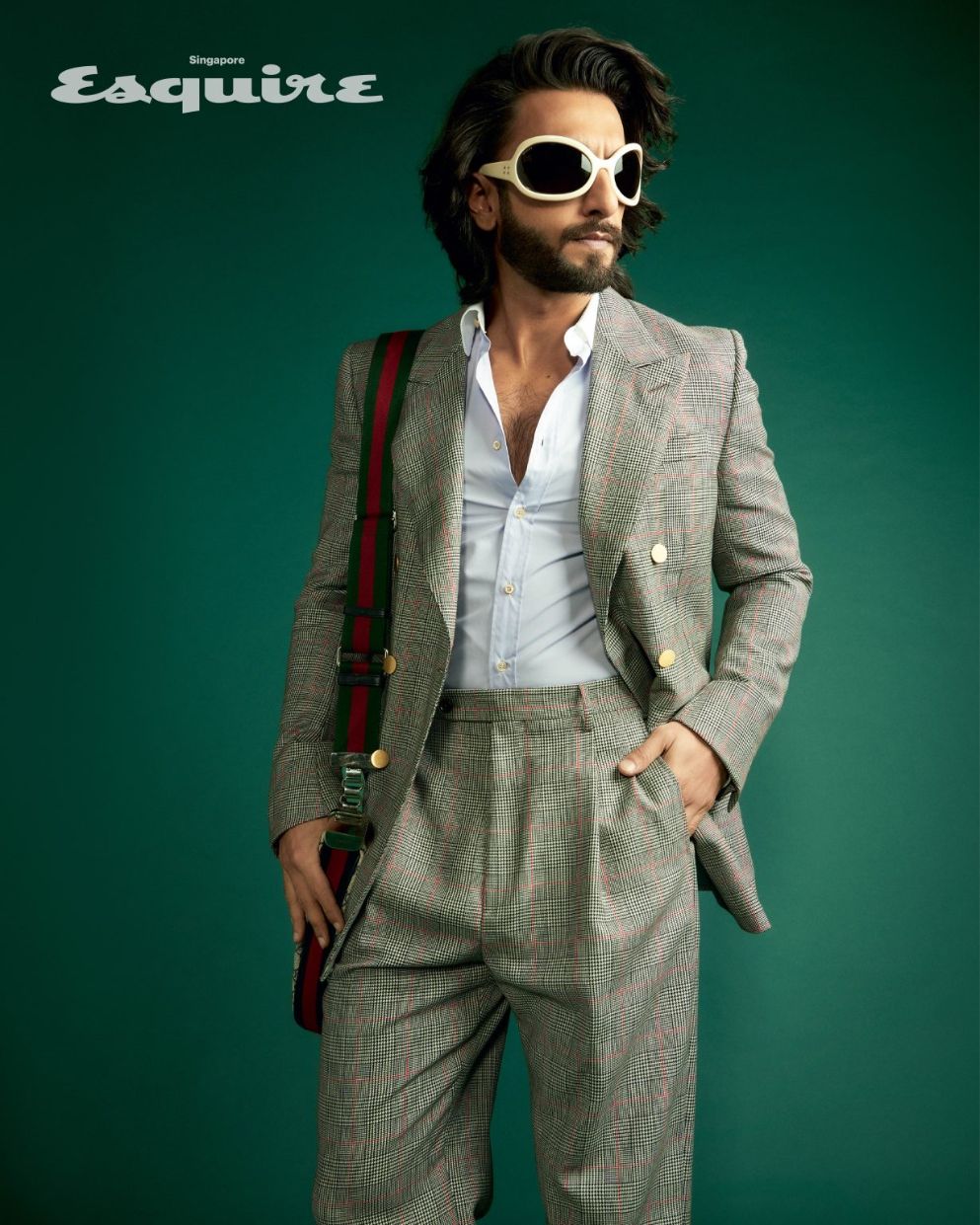 What do you think helped you stand out in a sea full of hopefuls?
I guess the couple of advantages I had were: one, I had very supportive parents. They believed in me and told me to pursue whatever was in my heart. Because when you work towards it and if your heart is in it, I believe you will excel at it [whatever it is]. If you're doing something that your heart is not in, then it's not going to happen. Two: I'm born and raised in suburban Mumbai, which is pretty much the heart of the entertainment centre of the country. So, I always had a square meal and a roof over my head. But that was about it. From then on, I really had to forge my own path. I had no idea of what I wanted when I was trying to make it. I was scratching my head, thinking: How am I going to do this? And I was basically grabbing in the dark, flapping my hands to catch something and yeah, then slowly, it happened.
Given your journey from the start and in spite of having supportive parents, it's not often you see a middle-class boy go from the proverbial 'rags to riches' in this industry. How did fame come to you and did you ever anticipate it to be in the manner it did?
You know, for me it was overnight. Band Baaja Baraat came out on a Friday and in a matter of—actually literally overnight, I was famous. And I struggled with that [overnight] fame for at least three or four years before I became comfortable in becoming a public figure. Because nobody in my immediate family was famous; we didn't know what it meant to live life as a public figure. It is a very different life. Especially now, with mobile phones and cameras and social media; the meaning of being a celebrity is very different in today's day and age. And this life is very, very abnormal.
When I hang out with my friends who have seen me in my new and old contexts, they're like: Wow man, your life is crazy. How do you deal with this? It's not normal. It took me a few years. Because suddenly on a Friday, I was like a normal guy, and the next day, I was famous. I kept asking myself like: Who am I? What am I supposed to be in this projection? Do these people really connect with me through my work, yet they don't really know who I am? What am I supposed to wear? What am I supposed to say? What am I supposed to do? How am I supposed to behave? I was just at sixes and sevens; I just didn't know who to be or how to be.
ADVERTISEMENT - CONTINUE READING BELOW
There's no school for fame, is there?
Yeah! [Nods in agreement.] It was really a process of internalising it, and it took me four years, through the validation that I got for my work. That gave me a little bit of self-confidence, and then that self- confidence allowed me to express myself in an authentic way. And when I did, it started resonating with people. So, I was like: Well, this works. Of course, whatever you are, whatever you say, or whatever you do, there's always going to be different opinions. But I became comfortable with that. It's only now after having spent 12 years in show business that I find myself at ease with the attention.
Any amount of people and any amount of cameras is fine by me; but there are certain parts of my life that I hold very dear. Behind closed doors, in my home, I'm extremely private. You know, a lot of fans of mine, and a lot of fans of Deepika's [Padukone, Ranveer's wife] communicate with me through social media and they're like: Y'all don't appear enough together; y'all don't share your lives with us enough. But that's a conscious choice, you know? It's just, those are the dearest parts of my life that I choose to protect from the public gaze. So, you will never see a picture of me from the inside of my home, you know. That's like my safe place. There needs to be one place in the world where I can just be and not feel like eyes are on me.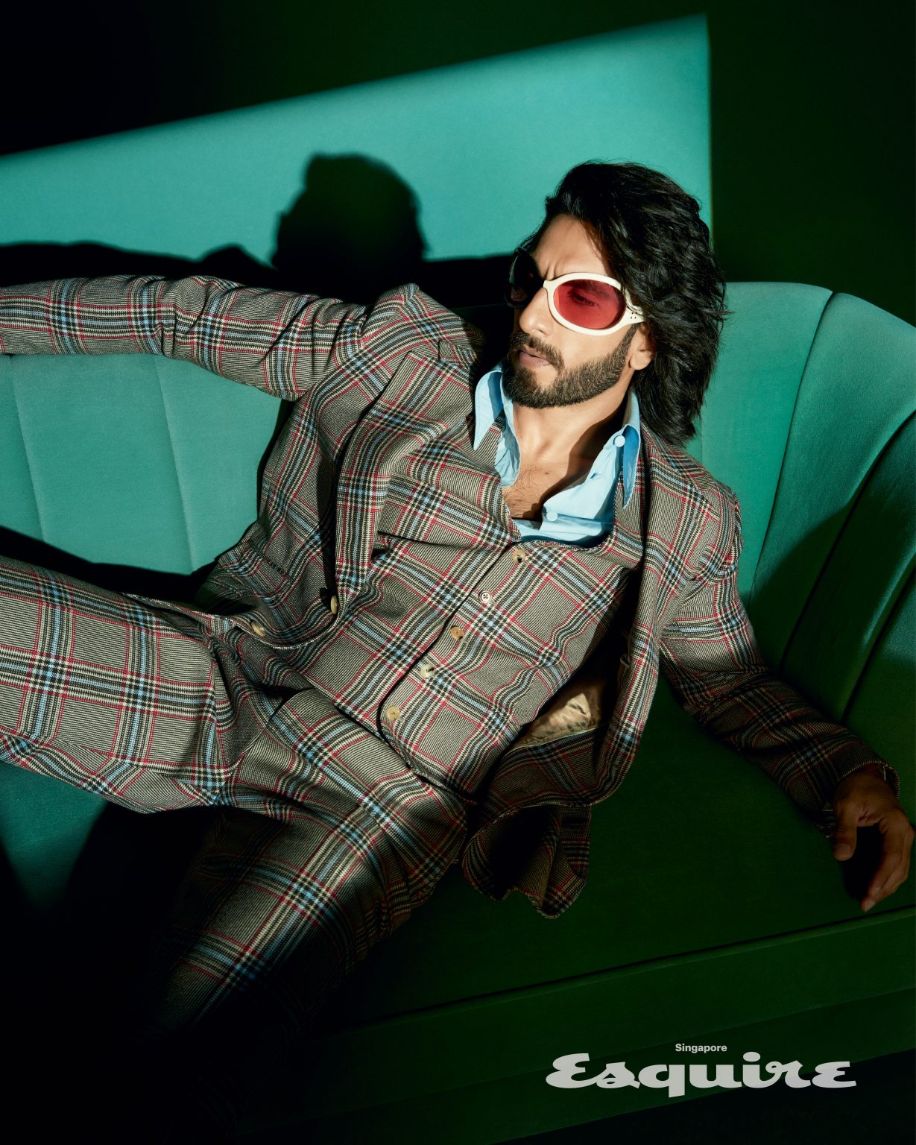 So, would you say your family and home life with Deepika play a huge role in keeping you grounded and having a sense of 'normalcy' through mega stardom?
Fortunately, I have a very close-knit circle of near-and-dear loved ones. My mum, my dad, and my sister—who was like a second mother to me [growing up]. I have my three best friends who have been so for more than half of my life. In fact, I went to the NBA with Rohan [Shrestha]. I'm 37 now and I've known him for 34 years; we were literally in kindergarten together. Then with Deepika, the way she is and the way her family is—they live in Bangalore, away from the limelight. They're like, as you said, a very simple middle-class to upper middle-class family, and they're centered and grounded people.
ADVERTISEMENT - CONTINUE READING BELOW
She [Deepika] also came from the outside. That's why we were able to connect so much; because our experiences have been so similar. She's also had to work her way up in the entertainment business. She's that classic story of packing a suitcase and coming to the big, bad city. We've both connected over the rejections, the humiliations, the struggle, the reliance on one's supportive family, etc. And you know, just that constant battle with your own self-belief, of which you have so many experiences in the time that you're trying to make it. So, it is this support system of friends and family that I have, that's a large part of the reason I'm still able to be grounded in spite of everything that's happening.
How do you think your work has helped you evolve over the course of the last 12 years—personally?
I really have to stop and pinch myself a lot. Like, is this really happening to me? This is straight out of a dream even now, you know? I… [pauses to think] I cry easy. I think it's a recent phenomenon; I've become this person. Over the past three years, I think the pandemic had a very deep effect [on me]. Being a Cancerian perhaps, or being an empathetic person and a compassionate person [by nature], it was hard to see that kind of degree of pain and suffering in the world. I'm always on the brink of breaking down now, and I get overwhelmed by sentiments and emotions so easily.
I'll give you an example. I'm in my car… [pauses, with visible emotion] and there's a rickshaw driver… [pauses, eyes welling up] who is really old. He's riding his rickshaw… and you can see the experience on his face and you can see how the world and its ways have worn him down. You can see that on his face—an old uncle. [Ranveer pauses, in tears.] He looks at me and his face lights up. It's the most beautiful thing. Can you imagine? I'm sure his life is tough and he has all of these struggles. You can see on his face that time and experience have not been kind to him. I was watching him for a while before he turned to face me. I like to observe people—it's a habit I have. I was just watching him and watching his face and you know, he suddenly looked towards me and his eyes lit up and he was smiling… and I'm like: Man, this is insane. It's [insane] that I can have that kind of impact on someone's day, on account of what? Being an artist?
So, I'm very grateful for where I am in life—and that gratitude is what overwhelms me every day. I'm very blessed.
Moving a little to fashion. There's always much said about your personal style. You've been labelled flamboyant or the like. Some people even say that you dress the way you do to be antagonistic and almost with a 'to- hell-with-everyone' kind of attitude. Is that true?
Yeah! [Laughs] Maybe, yeah, I won't deny that! I like to subvert conventional ideas.
ADVERTISEMENT - CONTINUE READING BELOW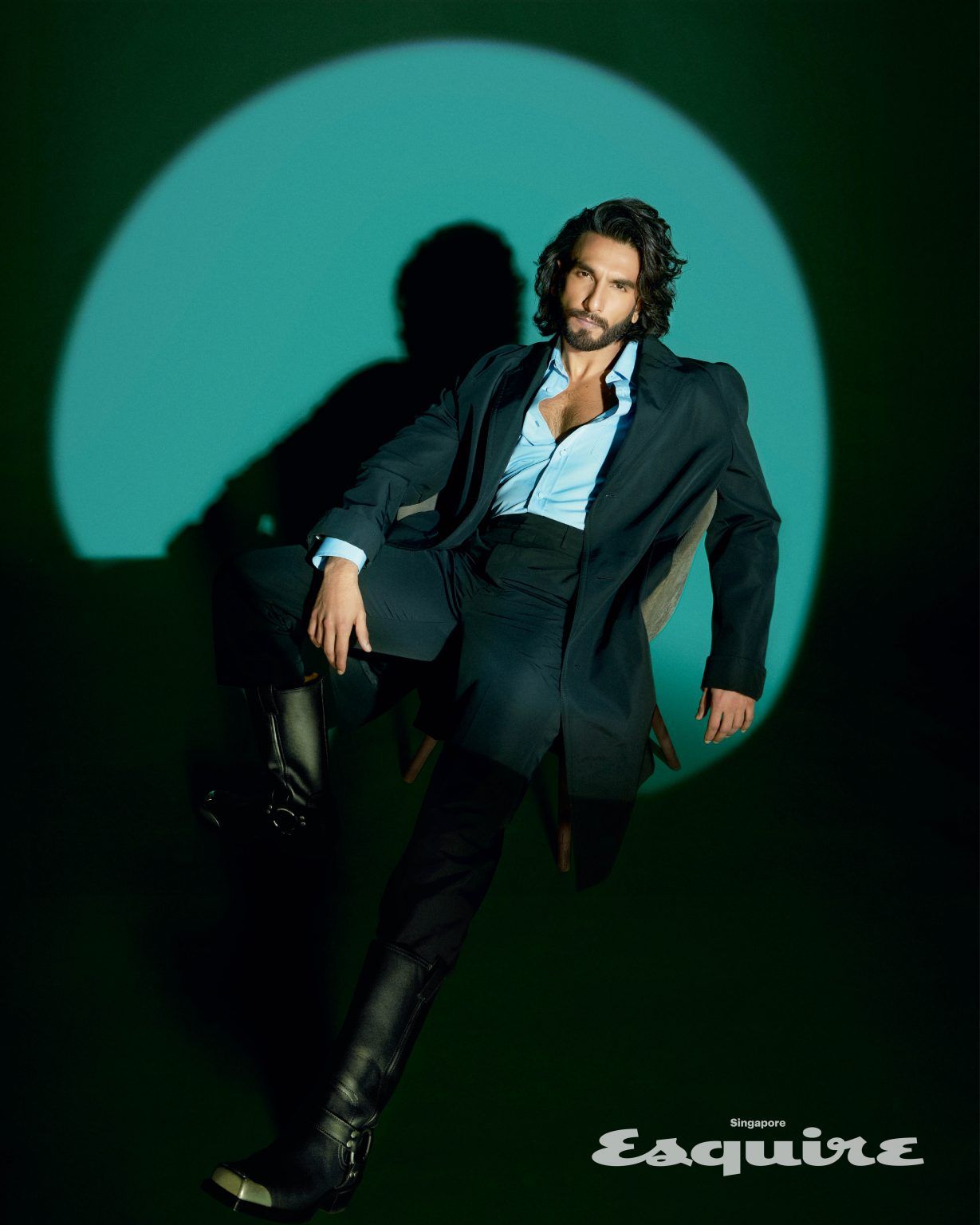 Why?
I think I'm just… I'm just a little s… [laughs]. I like to subvert and challenge conventions… I'm extreme in my ways. I'm attracted to things that are avant-garde and I always have been. It's just how I'm wired and I really could not tell you why. At every level in my life, I'm just an extremist. If I love, then I love with every ounce of my being. If I'm in, I'm all in. As far as my personal style is concerned: I wasn't always confident about expressing myself authentically as a celebrity, because I was afraid of being judged. I'd ask myself: What is an actor in the Indian film industry supposed to wear?
So, I'd conform. I'd wear all the trends, shop at the popular high-street brands, wear what's on the mannequins, etc. But I wasn't always like that. Somewhere along the way in grappling with my newfound fame, I forgot who I'd always been—which is atrangi [the Hindi word for colourful]. I used to have a mohawk in third grade, which in our part of the world, was unheard of! I went and got my ears pierced. I'd always be having fun with my appearance. It's just that I have this free-flowing creativity. I am naturally a creative and expressive person, and my appearance is just an extension. It's just one of the ways in which I create and I express. So, I do my hair in different ways, I wear all these clothes that aren't considered conventional and I've been like this since I'm a kid.
Why do you think people are so shocked by seeing you break these rules of conventionality?
You know, I have this WhatsApp group with 30 to 40 of the people I grew up with and they all used to call me atrangi in school. So, that entire bunch is not surprised at all when they see me doing this. For them it's like, okay, it's just you doing you—the way you've always been. But I think in our culture and in the timeline of mainstream Hindi cinema, I don't think we've seen a man making the choices that I've made. And I think that's what's unique about it and draws attention to itself. Though I must admit to you, it's just me being who I've always been. I feel like I get bored very easily with the blacks and navys and greys and browns and after a point, I'm like: for how long in the same silhouettes… what more?
ADVERTISEMENT - CONTINUE READING BELOW
And now I actually have young men coming up to me and being like: Bro! You are the reason we're now confident in wearing this or doing this; it's like you've opened up new doors for us! That's one of the things that gives me the most amount of fulfilment—when people come up to me and say that I'm a one-of-a-kind movie star in India and that for the first time, I've been able to encourage people just by being the way I am. It's given them a chance to shed their conditioning and have men become more comfortable. They can show emotions, they can wear colours, they can express themselves, they can be openly supportive of their spouses, etc.
And a lot of this has to do with my upbringing. I'm a Mama's boy. My dad— and all credit to him—throughout my formative years, was out there being the best provider he could be for our family.
So, I've really been raised by my mother, my sister and my grandmother. If I have to self-analyse, that's what I'd say it is. I was raised by very, very strong women. So, the idea of this conditioning and this idea of chest-beating masculinity… I don't know… it's always been in my grain to… [pauses] if I have to sum it up, I'll say I've never been normal!
So, does that mean having your own fashion line is something that's in the works?
I think I'm very engaged with my movies and my characters at the moment… and when I do it [and I will do it], I won't half-ass it. I will give it more than 100 percent, pretty much like anything else in my life. When I do it, I want to give it my all. But I'll get there. There are always ideas brewing in my head and I'm pretty sure about the palette I'd do first and the color scheme… though I won't reveal it yet!
Finally, Ranveer, tell us what's next for you. What're you most looking forward to celebrating outside of this cover?
Deepika and I just bought our first house together, so we're building our home! I moved into her place after the wedding, so it's been about four years now. But this is our first home together. Because she's so busy with everything she does and I'm also busy, and she's very homely. She's very gharelu [the Hindi word for homebody]. We don't go out much and we love spending time with each other at home.
ADVERTISEMENT - CONTINUE READING BELOW
So, this home that we've gotten is a couple of hours outside the city; it's quiet, it's secluded and it really is the perfect place for us to spend our quality time. She's put her heart into decorating it and she's very house-proud, and I love observing that child-like excitement in her and I encourage her to do it more and more. She's a closeted interior decorator with a lot of fluid creativity. I tease her that she's like a little girl with a doll house. She loves playing homemaker, and I find that extremely endearing. So, at this moment, I just want to spend quality time with my wife at home.
---
This story was originally published in the December 2022/January 2023 issue of Esquire Singapore.
Story by Rahat Kapur
Photographs by Nishanth Radhakrishnan / Feat. Artists
Creative directed and produced by Vanessa Caitlin
Associate Creative Producer Hazirah Rahim
Fashion Editor Gordon Ng
Styled by Jahnvi Bansal / Feat. Artists
Produced by Imran Khatri
Production by Imran Khatri Productions
Makeup by Mahadev Naik
Hair by Aalim Hakim
From: Esquire SG