Fashion
20 Things Every Man Should Have in His Wardrobe
The essential building blocks of your personal style.
IMAGE Unsplash
The list of basic essentials that should constitute the wardrobe of every stylish man is not particularly long. From simple (yet high quality) shirts, to perfectly cut chinos, to the one suit you have no excuse not to own; here, we've selected the 20 basics that should form the foundation of any successful wardrobe.
1| A White Button Down Shirt
There's very little that won't go with a button down shirt. Worn with a suit for a more casual look, under a crew neck jumper at the weekend or teamed with a pair of slim chinos and a statement belt, this is the most versatile item in your wardrobe. Opt for a shirt cut from thick, soft cotton.
ADVERTISEMENT - CONTINUE READING BELOW
2| A Pale Blue Shirt
An essential workaday item, this. Wear with a beige, gray, or navy suit, a tie in a darker shade of blue and wait patiently for your promotion.
3| A White Grandad Collared Shirt
A good, modern option if you don't feel like wearing a tie, a white granddad shirt looks the business teamed with a deconstructed blazer and jeans or worn smart with your suit.
ADVERTISEMENT - CONTINUE READING BELOW
4| A Navy Blue Crewneck Jumper
Ok, we did say that the white button down shirt is the most versatile item in your wardrobe, but a cotton mix crew neck in an adaptable shade of navy can be worn with pretty much everything, and will act as a layer in winter and a feature piece in summer. Faultless.
ADVERTISEMENT - CONTINUE READING BELOW
5| Slim Navy Chinos
A good alternative to jeans and great if you don't want to wear suit trousers, a slim pair of navy chinos is ideal for summer or winter. Wear with a shirt, shirt and jacket, t-shirt, t-shirt and bomber—the options are endless.
ADVERTISEMENT - CONTINUE READING BELOW
6| Wool-Flannel Trousers
Worn with a white shirt or tucked in Tee with a crewneck jumper or navy blazer over the top, a pair of gray flannel trousers are the ideal bridge between casual and formal.
7| Petrol Blue Suit
If you wear a suit to work (and even if you don't) you should always own more than one. A petrol blue, single-breasted option is a great place to start.
ADVERTISEMENT - CONTINUE READING BELOW
8| Denim Jacket
The denim jacket, it's easier to wear than you think, worn under an unlined navy blazer, worn over a loopback sweatshirt or simple tee, or even worn with a pair of jeans in a different hue, the look you should go for is casual, but in control.
ADVERTISEMENT - CONTINUE READING BELOW
9| Brown Suede Chelsea Boots
Understated, chic and as easy to wear with smarter looks as they are with jeans, a good pair of Chelsea boots is a year round essential. And, even better, no more laces!
10| Simple Sneakers
These speak for themselves. Opt for white and wear yours in a few times. The more bashed up they are, the better they'll look.
ADVERTISEMENT - CONTINUE READING BELOW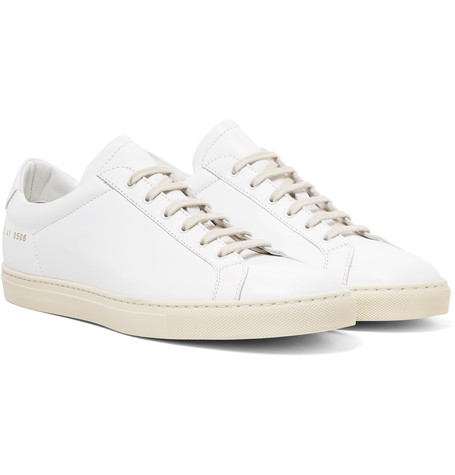 11| Tan Derbies
Brilliant with navy and just as good with gray, a pair of tan derbies works as well with denim as it will with more traditional tailoring.
ADVERTISEMENT - CONTINUE READING BELOW
12| Oxblood Penny Loafers
Team these classic loafers with some cropped, slim chinos (like the blue ones in this list) and invest in some invisible socks to prevent unpleasant smells.
13| A Pair Of Black Lace-Ups
Every man needs a pair of chic black lace-ups. They're simple enough to be worn with a suit, while the elegant shape means that they can just as easily be worn with a tux. Wear with jeans at your peril.
ADVERTISEMENT - CONTINUE READING BELOW
14| Slim Indigo Selvedge Jeans
A good pair of jeans should be slim, but not too tight, stiff but not so stiff that you can't bend your legs and they should also be blue, naturally. A pair of classic dark selvedge denim tick all those boxes and then some.
ADVERTISEMENT - CONTINUE READING BELOW
15| A Good Quality White T-shirt
Because this will go with everything you own. Just be sure to invest in something cut from high quality cotton. Not only will an expensive fabric feel better against your skin, anything sub-par will suffer at the hands of your washing machine.
16| A Good Quality Navy T-Shirt
ADVERTISEMENT - CONTINUE READING BELOW
Because it's nice to wear something other than white, and this will look chic worn under a simple blazer in a neutral shade, like this Sunspel number, for instance.
17| A Beige Trench
This probably won't fly on an ordinary day in our climate, but it's good to have one reliable piece of outerwear you can take to colder countries. It would also serve you well during the local rainy season, as that was one of its original purposes.
ADVERTISEMENT - CONTINUE READING BELOW
18| A Light Bomber
An outer layer that looks good on everyone, invest in a simple, slim cut in a dark shade of cotton or light technical fabric.
ADVERTISEMENT - CONTINUE READING BELOW
19| A Navy Blazer
A navy blazer is the perfect piece of transition tailoring. For the colder months go for a darker shade in brushed cotton.
20| A Pair of Wayfarers
The frames that suit every face, a pair of classic black Wayfarers should be the foundation of your sunglasses collection (what do you mean you don't have one?), helping you stay sharp and squint-free whatever the season.
ADVERTISEMENT - CONTINUE READING BELOW

How to Build a Classic Men's Wardrobe?
The essential white shirt, the jean jacket, the penny loafer, the bomber—you don't need a whole lot of stuff nor a suite of complicated pieces to build a wardrobe that works every day and, with care, forever. What's most important to remember is to choose pieces that transcend the fickleness of trends. Note, for example, how the navy jacket remains largely unchanged throughout the decades. Maybe its just a bit trimmer or softer now, but its still feels similar to the one that your father or even your grandfather wore way back when. That's what we mean when we say choose something classic.
ADVERTISEMENT - CONTINUE READING BELOW
This story originally appeared on Esquire.co.uk. Minor edits have been made by the Esquiremag.ph editors.
Manila Water will cut services to work on emergency repairs.
'I wept a lot yesterday. I've been weeping today. I'm far from done crying, for Kobe and Gigi, the Black Mamba and his Mambacita.'
Most of the items sold online come from China.
Filipinos show outpouring of love for the basketball legend.
Simple ratios you need to learn to estimate the fair value of a stock.
Celebrate Single Awareness Day with these hilariously named and absolutely delicious flavors.
SM Supermalls currently has over 80 malls in the Philippines and China.
With the bans lifted, residents can now return to their homes. But the damage is already done.
Not even the richest man in the world is safe from a simple cyber attack.
Even with his fly down, it's hard to get behind this fit.