Mindanao Designers Withdraw Support for Miss Universe Philippines 2021
The Fashion Designers Guild of Mindanao has officially withdrawn its support for the Miss Universe Philippines 2021 pageant.
In a statement posted to Facebook by member Neil Patrick Jimlani, the guild cried foul over the Miss Universe Philippines organization forfeiting the gowns and costumes they created for the candidates.
Designers Mark Joseph Sayad, Aries C. Buenvenida, Nicky de Asis, and Richard Pulatche were listed as members of the guild.
According to the statement, the designers were approached by a team of Miss Universe Philippines-affiliated handlers, and were asked to provide all the gowns for the candidates to wear for the pageant. However, after the announcement of the Top 30, the organization allegedly backpedaled, tapping instead other designers for the gowns.
"We would like to express our disappointment to the team of handlers who tapped us to provide all the dresses to be used for the upcoming Miss Universe Philippines 2021," the statement read.
"We felt disrespected, dishonored, and disregarded by [this] team of handlers who asked us to help them provide the national costume, gowns, and OOTDs before the selection of the top 75. We agreed, full-heartedly without hesitation because we wanted to show support even if it [cost] us our extended time, efforts, and money which we took from our own pockets. During our meeting it was clear to us that all dresses will be worn during the event, we were even asked for [sketches] for approval.
"However, when the Top 30 was announced, the wind [had] changed, some dresses will not be worn on the actual event because they (the handlers) also tapped other designers to showcase their works (so unfair).
ADVERTISEMENT - CONTINUE READING BELOW
"With this, we withdraw our support to the team and with great dismay may all of you find peace for using us to feed your own benefits.
"Congratulations for making them at the top 30 but its not a be all and end all of everything, there are people who are disheartened by what these people have done."
As of writing, the exact number of gowns and costumes the Mindanao designers were contracted to create for the pageant is unclear. It is also unclear how many of these were forfeited. Preview has reached out to Jimlani for comment.
Miss Universe Philippines, currently directed by Miss Universe Philippines 2011 titleholder Shamcey Supsup, has yet to issue a response.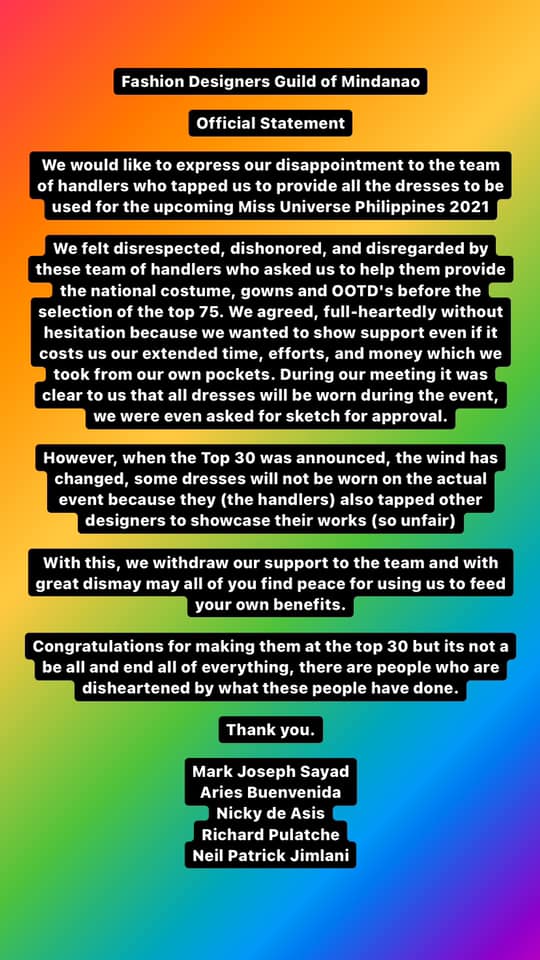 This callout hearkens to the round of controversies that took place last May, during the weeks surrounding the Miss Universe 2020 pageant. Filipino designers Michael Cinco, Jaggy Glarino, and Rian Fernandez similarly took to social media to cry foul over mistreatment at the hands of various Miss Universe satellite organizations.
The Miss Universe Philippines 2021 finale is set to take place on September 25, Saturday. Currently, TikTok star Ayn Bernos, model Maureen Wroblewitz, actress Kisses Delavin, and Steffi Rose Aberasturi are forerunning crowd favorites.
From: Preview
More Videos You Can Watch