Fashion
This Is What It Takes to Craft a Luxury Watch
Panerai marries Italy's legendary design with Switzerland's watchmaking know-how.
IMAGE Esquire
When it comes to engineering and design, the Italians have been at the top of the heap since the Renaissance. In terms of watchmaking, though, it's the Swiss who have, for about the last 400 years, occupied the highest rung.
So what happens when you bring those two cultures together to make a watch? You end up with Panerai, a brand that marries the elegance and creative engineering of the Italians with the mechanical know-how of the Swiss.
"We are, first of all, a brand of style. Inspired by Italy, made in Switzerland. We combine very simple, but very identifiable design, which is always associated with strong mechanical content," says CEO Jean-Marc Pontroué.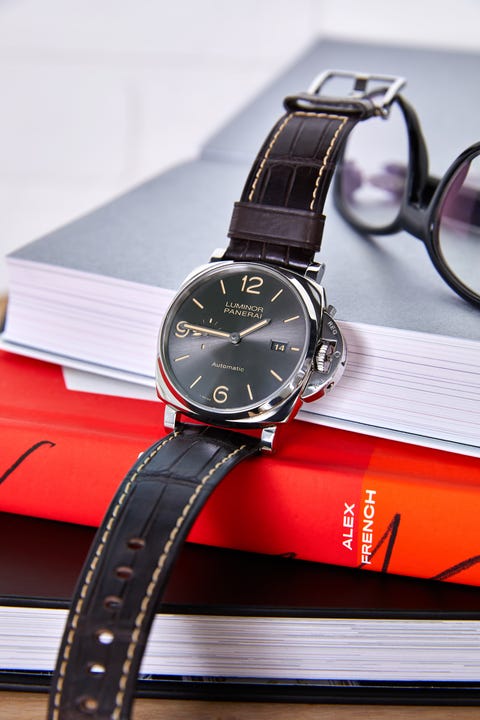 Of course, form is just the beginning. "It's important that our creativity has a function," he adds. When we meet, Pontroué points to the watch face and case design of the Luminor Due as an example. Though the cushion shape and large Arabic numerals of the dial are key stylistic features of the Luminor 1950, both serve very specific functional purposes.
ADVERTISEMENT - CONTINUE READING BELOW
For the former, it's the patented safety-lock system that gives the watch its distinctive shape—a consideration that stems from the first Panerai watches, which were designed for the Italian navy. "When you dive, the last thing you want to have happen is that you accidentally change the timing," says Pontroué. "Can you survive five seconds, five minutes, or five hours?"
The watch dial is also designed with divers in mind. "It's easy to read. When you dive, you want [your watch] to give you the exact information you're looking for without losing time interpreting what you're seeing," he adds.
And then there are the materials. The Luminor Due collection was developed using three key materials: steel, titanium, and gold. But not just any steel, titanium, and gold. "The red gold used by Panerai is a special alloy, different from standard red gold, called 5Npt," says Alessandro Ficarelli, director of product development. "This special compound is characterized by a higher percentage of copper, giving the material an intense red shade which lends great depth to the color. And a percentage of platinum, which helps to prevent any oxidation of the metal."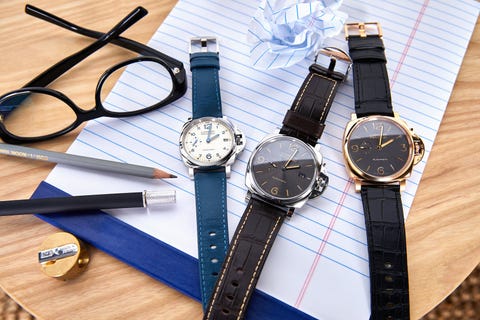 CONTINUE READING BELOW
Recommended Videos
The titanium too is grade 5, which is the strongest titanium you can get and also very rare. (Generally, only grades 1 to 4 are available commercially.) Panerai also uses a special red-gold alloy that is both incredibly light and incredibly strong. "It's different from anything you can find on the market," says Ficarelli. "It has a percentage of copper for lightness, and a percentage of platinum that helps prevent oxidation."
Of course, for an Italian company, it isn't enough to have a great watch made from high-end materials. There has to be plenty of innovation and creative engineering behind it as well. The Luminor Due provides both largely in the form of its offset micro-rotor—an elegant design solution that allows for considerable space saving.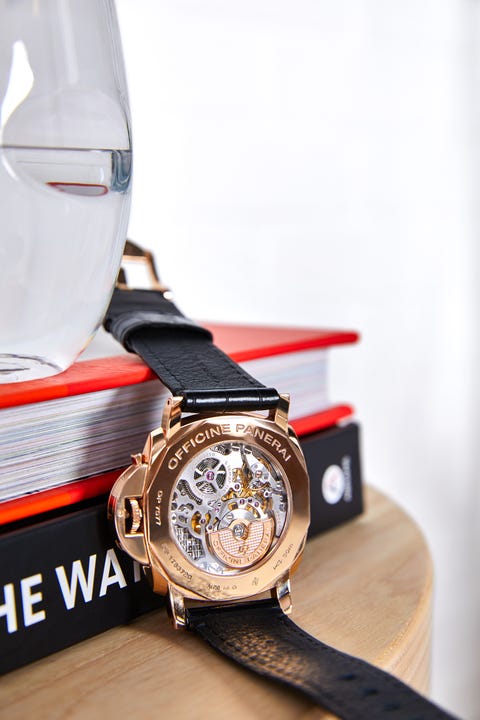 "Thanks to the oscillating weight and micro-rotor, we have a movement that is 4mm thick," says Ficarelli of the brand's engineering breakthrough. "It's almost half of a standard movement. For this reason, we can reduce the total thickness of the case by almost 40 percent."
ADVERTISEMENT - CONTINUE READING BELOW
And beyond that, it allows for an aesthetic element rarely seen on luxury watches today. "When you have a big rotor, it hides away 30 to 50 percent of the movement. The micro-rotor allows you to reveal most of the movement." says Pontroué. He compares it to the engine-revealing rear window of a certain Italian luxury sportscar. "The engine is open, because it's a piece of art. It's the same here."
This story originally appeared on Esquire.com. Minor edits have been made by the Esquiremag.ph editors.
More Videos You Can Watch