Travel
PHOTOS: The Soon-to-Open Mactan Cebu International Airport Already Looks Awe-Inspiring
Booking a flight now just to look at that gorgeous new airport.
Hearing about the world's first resort-airport opening right smack in the heart of Cebu had us excited and scrambling to plan our trips to Mactan stat. If you're as enthusiastic about this as we are, then you're in luck. The Department of Transportation just released progress photos of the Mactan Cebu International Airport's Terminal 2 as it's being constructed, courtesy of GMR Megawide. Take a look:
ADVERTISEMENT - CONTINUE READING BELOW
ADVERTISEMENT - CONTINUE READING BELOW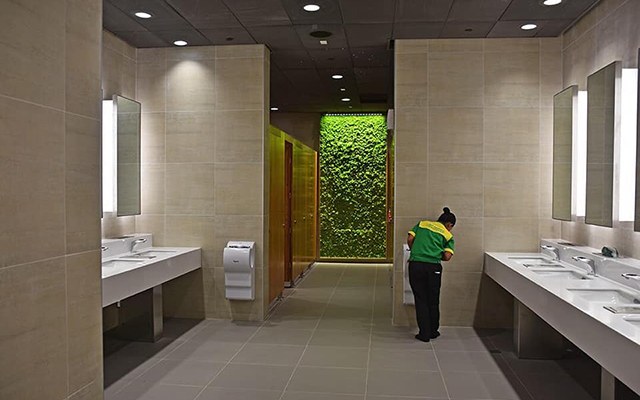 ADVERTISEMENT - CONTINUE READING BELOW
Even the airport bathrooms look promising!
ADVERTISEMENT - CONTINUE READING BELOW
The new terminal of the Mactan Cebu International Airport (MCIA) is expected to increase the airport's annual passenger capacity from 4.5 million to 13 million, and will be catering to travelers from both domestic and international flights. And you could visit the place sooner than you think the terminal-building is scheduled to be inaugurated and opened to the public on June 7. Will we see you in Mactan by then?
This story originally appeared on Spot.ph.
* Minor edits have been made by the Esquiremag.ph editors.
Douglas MacArthur is famous for liberating us from the Japanese, but he's also known to have had a passionate affair with Dimples Cooper.
This small detail might also point to a greater mystery in the show.
Studio Lorico, the designer's creative space, will be a seasonal one.
Catch up on these biopics of real-life heroes and let Pinoy pride swell.
Before you let yourself get fooled, it pays to do your due diligence and look out for the telltale signs of a fake. Here are just a few of the dead giveaways.
The rulebook has been well and truly burnt, so why are we still adhering to it?
The reality is that there are other popular apps tracking a lot more important information than a selfie.
Rogue One and Solo were both marred by production issues.
This is what would happen if the Philippines left the United Nations.
It doesn't hurt to be prepared for what ever comes your way.