The 10 Biggest High Society Scandals in the Philippines
The ultra rich aren't like you and me. Or are they? To those of us not born with silver spoons in our mouths, the world that the affluent and well-bred live in may seem surreal. We often imagine they have it way better than we do-that they don't really have to work, that they can go off to Europe when they're feeling blue, or buy clothes that cost more than an average Filipino's annual income. From where we're standing, it sure looks like the grass is so much greener on their side of the fence. "What more can they ask for?" we wonder, but we may very well be wrong. Besides, a wise man once said, "The only reason the grass may look greener on the other side is because it's fake grass."
We've uncovered some much-publicized-not to mention disturbing-cases involving people whose lives seem, at first glance, like fairy tales. To avoid misinterpreting the often-dizzying details of these cases, we've quoted liberally from the news sources that discussed them and tried to cram as many details as possible into these complicated tales. As such, we also chose stories given extensive coverage by mainstream media or cases that actually involved lawyers. (If it made it to court, it must be real.)
So, if you're into stories with stranger plot twists than telenovelas, devour away. You may not know these people, nor will you ever hang out with them-but maybe you could learn a thing or two from their travails.
---
RED-HOT SOAP OPERA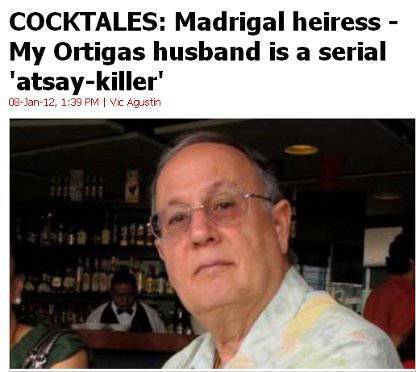 ADVERTISEMENT - CONTINUE READING BELOW
The Characters: Heiress Susana Madrigal Bayot, and her husband, former Philippine ambassador to Mexico, Francisco "Paqui" Ortigas III
The Connections: Bayot and Ortigas are both from very influential clans with numerous and vast business holdings.
Opposing Sides: Susana Madrigal Bayot vs. Francisco "Paqui" Ortigas III, who have been married for almost 44 years
Conflict Points: In a sworn statement filed at the Office of the City Prosecutor in Pasig in January 2012, Bayot said: "Paqui made Wilma (one of the dozen maids in the Ortigas house in North Greenhills) his 'sex slave' and engaged in perverted and depraved acts right in our conjugal home, in our den, in the master's bedroom and, worst of all, in the marital bed."
Bayot's testimony was backed by the sworn statements of five other household staff. She pointed out: "Perhaps exhibiting his utter moral depravity, Paqui did not even make any effort to hide his used condoms from the other maids." Bayot also alleged that one of the other maids saw Wilma performing oral sex on Ortigas while the two were inside a walk-in closet. Apparently, as Bayot intimated, Ortigas' dalliances with the household staff were a "common occurrence."
In a Manila Standard Today report, Bayot went as far as to say that Ortigas' indiscretions possibly "damaged" their son, Francisco IV ("Paco"). The report revealed: "Paco, according to his mother, made the mistake of confronting his father about the latter's affair with an employee of Concrete Aggregates, a sister company of the Ortigas and Company, where Paqui continues to be a partner."
Bayot explained in the Manila Standard Today report that "despite the father-son confrontation, Paqui still brought his mistress to the family's beach house in Calatagan." The report cited Bayot's statement that Paco "must have been visibly shaken [and] upset by the temerity of his father bringing the other woman to the family retreat that he set off in a huff on his jet ski." Bayot revealed that Paco's jet ski "hit a shallow reef, flipped, and [ended up crushing] his body." The report did not indicate the date of Paco's death.
In another Manila Standard Today report, Bayot said that she had left their conjugal home in North Greenhills in July 2011 "to protect herself" from her husband, who she claimed subjected her to "insults, [his] foul temper, and baseless accusations." Back then, Ortigas allegedly prohibited Bayot from entering their conjugal home unless he was also in the house. He likewise prohibited her from getting her belongings.
Ortigas has not yet issued any formal statement in reaction to Bayot's accusations. The Philippine Daily Inquirer did publish a story about Ortigas on January 12 but, in it, he only said he was "trying to find peace" with himself and his loved ones. He referred to a "personal crisis" but the report emphasized that Ortigas "would neither confirm nor deny the concubinage and sexual perversion-related allegations" made by his wife.
The writer of the Philippine Daily Inquirer story, Jerry E. Esplanada, disclosed: "Last weekend (referring to January 7 and 8), Ortigas told this reporter he would issue shortly a statement in reaction to the article on the scandal that appeared on Page 1 of the Philippine Daily Inquirer on January 8. He later asked for more time, saying he was waiting for the recommendation from his team of lawyers 'if it's timely or necessary to answer, or if there's any reply to the newspaper article that needs to be done.' On Tuesday afternoon (January 10), Ortigas called up to say he had been advised by his lawyers not to issue any statement or make any further comment on the issue."
ADVERTISEMENT - CONTINUE READING BELOW
---
A FATHER-DAUGHTER SQUABBLE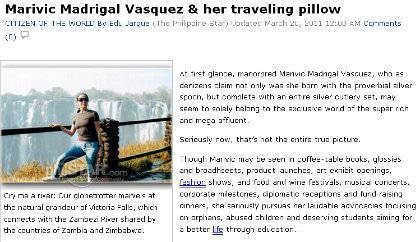 The Characters: Marivic Madrigal Vazquez (a Madrigal clan heiress), Dr. Daniel Vazquez (her father), and Pacita "Baby" Cruz (described in reports as her father's friend and travel companion, now wife)
The Connections: An article published in The Philippine Star in March 2011 gives a brief description of Marivic Madrigal Vasquez: "The eldest child of Danny Vasquez and the former Ising Madrigal Vasquez, one of the legendary daughters of Vicente Madrigal who were the toasts of the old Manila's high society, Marivic started at the Assumption Convent and graduated from UP Diliman with long stints at exclusive girls' schools in Rome, Italy, and at a leading university in Washington DC."
Opposing Sides: Marivic Madrigal Vasquez vs. Dr. Daniel Vazquez and Pacita "Baby" Cruz
Conflict Points: In June 2011, Manila Standard Today reported: "Marivic Madrigal Vasquez has been locked out of her Madrigal office building for nearly three months now by, of all people, her octogenarian father."
ADVERTISEMENT - CONTINUE READING BELOW
The report went on to reveal that "according to the grapevine," the father did it because "the daughter allegedly snubbed his friend and travel companion, Pacita 'Baby' Cruz," when they ran into each other at the Urdaneta Apartments.
The report added: "It was not clear what exactly transpired between the father, a medical doctor who lately has been in and out of the hospital, and her free-spirited daughter that prompted the old man to allegedly order Marivic's office in the Ayala Avenue building shuttered."
The father-daughter tiff also affected investment banker Andrew Gan, who rented office space from Marivic.
---
THE LADY, THE HUBBY, AND THE PRAYER GROUP BUDDY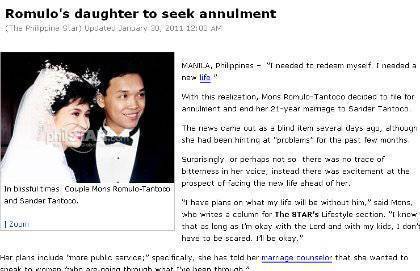 The Characters: Mons Romulo (daughter of former Department of Foreign Affairs Secretary Alberto Romulo) Sander Tantoco (her husband) and Cita Revilla (her friend and prayer group buddy)
The Connections: The Romulos are well-known in Philippine politics. Mons is the granddaughter of statesman Carlos P. Romulo. For their part, the Tantocos are recognized entrepreneurs. Revilla is part of a famous showbiz clan. Revilla was married to Ricky Yabut, the son of former Makati mayor Nemesio Yabut.
ADVERTISEMENT - CONTINUE READING BELOW
Opposing Sides: Mons Romulo vs. Sander Romulo and Cita Revilla
Conflict Points: In January 2011, Romulo bravely announced that her 21-year marriage to Tantoco was over. She cited his infidelity. She said she was also seeking an annulment.
A report published in The Philippine Star revealed: "For Mons, it was a double betrayal, because the woman involved with her husband was her friend, Cita Revilla, who was part of Mons' prayer group. She had repeatedly told Mons not to be jealous if she was frequently at her husband's office, since she was seeking his help for some project. And when Mons would be told that the two were seen at this and that restaurant, she would wonder if they were having an affair. She would be assured by mutual friends, 'Of course not,' especially since Cita had repeatedly said she'd never go with a married man because she knew what that does to a marriage and a family."
However, the report said that the so-called relationship between Tantoco and Revilla "became more and more public, to the point that the truth could no longer be denied-or ignored."
In the same report, Romulo also revealed that Tantoco had an eight-year-old love child. The report did not say who the child's mother was.
---
THE JEWELER'S FUGITIVE SON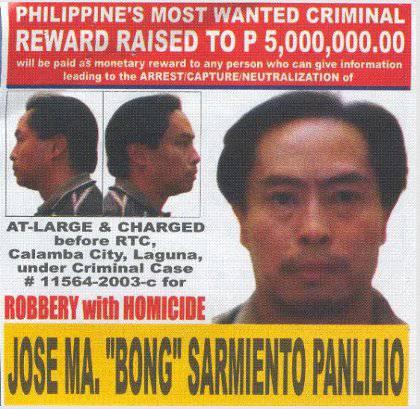 ADVERTISEMENT - CONTINUE READING BELOW
The Characters: Jose Ma. "Bong" Panlilio, the son of celebrated jeweler Fe Panlilio, and brothers Albert Gutierrez and Ariel Real, who were car traders
The Connections: Fe Panlilio was one of the grand dames of the country's pedigreed set and, at one point, she was identified as former First Lady Imelda Marcos' jeweler. Panlilio had European royalty, sultans, and sheiks as her clients.
Opposing Sides: Bong Panlilio vs. lawyer Carmencita de Castro, the mother of Gutierrez and Real
Conflict Points: According to an article published in The Philippine Star on June 12, 2010, "Court records showed that on the morning of July 15, 2003, Albert, who was a car trader, agreed to redeem Panlilio's Hyundai Starex van which was in hock for P250,000 in Laguna. The records stated that Gutierrez, 41, and Real, 38, withdrew the amount and met Panlilio somewhere in Makati City to go to Laguna, where the van will be redeemed. On the same day, De Castro said she received a text message from Ariel informing her that he and his brother, on board a Mitsubishi Pajero, were on their way to Laguna with Panlilio. That was the last time she heard from her children."
The report went on to reveal: "The (brothers' bodies) were later found [dumped] in a grassy area in Barangay Makiling in Calamba. Their Pajero was found 120 meters away. Police said Panlilio allegedly shot the victims with a .9mm pistol. Gutierrez sustained five gunshot wounds while Real was hit eight times in different parts of the body. Panlilio also allegedly took the bag containing the money intended to redeem the Starex van."
ADVERTISEMENT - CONTINUE READING BELOW
Panlilio was on the run for almost seven years. In June 2010, he was finally captured in Bangkok and then taken back to the Philippines.
---
BROTHERLY SUSPICION
The Characters: Luisito "Louie" Gonzalez, the grandson of late President Elpidio Quirino, and Federico "Rico" Delgado, his stepbrother
The Connections: Gonzalez is the son of Vicky Quirino and Luis Gonzalez, a former Philippine ambassador to Spain. After Quirino was widowed she married Federico's father, Franciso ("Paco"), who is described in a 2008 Philippine Daily Inquirer report as a "shipping magnate." Gonzalez is the ex-husband of singer Kuh Ledesma.
Opposing Sides: Gonzalez vs. the Delgados
Conflict Points: Delgado was stabbed dead by intruders on March 10, 2007 in his apartment in Malate, Manila. He had a companion who survived the ordeal, Annaliza Pesico. A Probe Profiles feature revealed that the name of one of Delgado's brothers, Franco, was written on the wall using Delgado's blood.
Pesico, who was badly beaten by the intruders but managed to escape, later claimed that two masked men murdered Delgado. She testified that the men had ended up taking off their masks. She alleged that the assailants turned out to be Gonzalez and his driver Antonio Buenaflor.
According to the 2008 Philippine Daily Inquirer report, the Delgados speculated that "the victim was killed because of documents in his possession that allegedly proved their father's assets were being siphoned off and sold one at a time by Gonzalez."
Gonzalez's camp, on the other hand, said that Gonzalez was actually confined in a hospital at the time of his stepbrother's murder. Gonzalez maintained that he was being "framed."
ADVERTISEMENT - CONTINUE READING BELOW
By 2009, Gonzalez was free. The court dismissed the murder raps against Gonzalez and his driver. Gonzalez's defense team had also questioned Pesico's credibility and labeled her statement as "inconsistent."
---
THE MOTHER OF ALL FAMILY FEUDS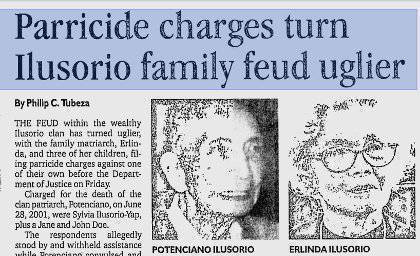 The Characters: Potenciano (the deceased patriarch), Erlinda (the matriarch), and their children Ma. Erlinda Ilusorio-Bildner, Maximo Ilusorio, Sylvia Ilusorio-Yap, Ramon Ilusorio, Marietta Ilusorio, and Shereen Ilusorio.
The Connections: According to a 2008 Philippine Daily Inquirer report, the Ilusorio patriarch was a crony of the late President Ferdinand Marcos. At one point, he had a major stake in the country's first satellite company, the Philippine Overseas Telecommunications Co. (Philcomsat).
Opposing Sides: The matriarch and three of her children (Ramon, Marietta, and Shereen) vs. Ma. Erlinda Ilusorio-Bildner, Maximo Ilusorio and Sylvia Ilusorio-Yap
Conflict Points: The unbelievably vicious feud of the Ilusorio clan-known for their hold on the posh Baguio Country Club (among other things)-got publicized when the patriarch Potenciano's health reportedly started to take a turn for the worse sometime in 1999. He was said to have had Alzheimer's and some other ailments. At the time, his net worth was allegedly anywhere from P1 billion to P2 billion.
ADVERTISEMENT - CONTINUE READING BELOW
Erlinda accused her daughters Ma. Erlinda and Sylvia of "hiding" Potenciano. Erlinda claimed that they had spirited him away and made sure that she couldn't contact him. Ma. Erlinda, in turn, accused her mother of giving Potenciano an anti-depressant which made him "weak." Ma. Erlinda's allies were her siblings Sylvia and Maximo. Their other siblings-Ramon, Marietta, and Shereen-backed their mother.
Ma. Erlinda accused her brother Ramon of wanting to be the sole beneficiary of their father's estate. Potenciano died on June 28, 2001. He was 88. He was then under the care of Ma. Erlinda's camp.
After Potenciano died, Ma. Erlinda's camp presented a will that was said to be written by Potenciano on June 8, 1999. The said will "disinherited" Erlinda, Ramon, and Shereen for various unsavory reasons. (There was no mention of Marietta.)
Erlinda's camp then accused Ma. Erlinda's camp of "delaying medical attention for the patriarch." Erlinda's camp alleged that it was part of their plan so that they could "take control of Potenciano's assets."
According to the 2008 Philippine Daily Inquirer report, the Court of Appeals upheld the Department of Justice's decision to dismiss the parricide complaints the two Ilusorio factions had filed against each other.
And, take note, this is just the short version of this sad story.
---
CLUB ATTACK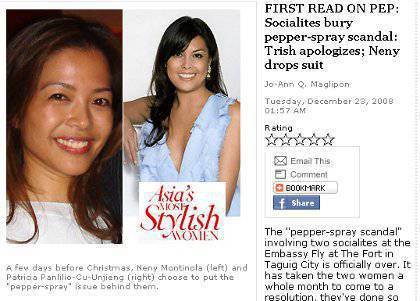 ADVERTISEMENT - CONTINUE READING BELOW
The Characters: Patricia Panlilio (daughter of jeweler Fe Panlilio), Neny Montinola (stockbroker from a prominent clan), and Ricardo Po, Jr. (a businessman and friend of both women)
The Connections: Between the three of them-they have ample ties in business and the country's affluent set. A PEP.ph article noted: "Panlilio is separated from Philip Cu-Unjieng, an editor-at-large at ABS-CBN Publishing, although their marriage is yet to be annulled. She is now the girlfriend of Ricardo Po Jr., an industry player from one of the richest families of the Philippines. Montinola was once married to Mandy Boy Eduque, himself a society figure."
Opposing Sides: Patricia Panlilio vs. Neny Montinola
Conflict Points: PEP.ph published a report about an incident that happened at the now-defunct club, Embassy, on November 19, 2008. The report revealed: "Socialite Patricia Panlilio, a former model and the daughter of the late jeweler Fe Panlilio, allegedly used pepper spray to hurt stockbroker and fellow socialite Neny Montinola."
The incident happened in the wee hours of the morning (at around 2:30 a.m.), in the aftermath of the 40th birthday celebration of then Ilocos Sur Representative Ronald Singson.
There were witnesses who alleged that Panlilio was the one who attacked Montinola. Actresses Maricar de Mesa and Angelu de Leon, who were also at the club, ended up taking Montinola to the hospital. Reports say that Panlilio merely backed away from the scene and left the club with Po. De Mesa and De Leon backed the allegation that Panlilio "attacked" Montinola when they were questioned later on.
ADVERTISEMENT - CONTINUE READING BELOW
By December that year, PEP.ph reported that Panlilio and Montinola had made peace (in a manner of speaking). The report disclosed: "Originally, Montinola was all set to sue Panlilio, the woman she accuses of deliberately hurting her with a pepper spray at a birthday party that both had attended at the Embassy on November 18. Montinola has now dropped this legal option, following Panlilio's offer to write a 'letter of apology.' This came at the end of two weeks of negotiations where only their lawyers ever sat down to meet."
PEP.ph noted that both Panlilio and Montinola refused to say anything more about the incident. The report also pointed out: "If they (Montinola and Panlilio) should have a common denominator that would be Ricardo Po, Jr., a young and wealthy businessman who has been, in his own words, 'a friend of Neny for fifteen years'.' and the boyfriend of Patricia 'for five years.'"
---
IN-YOUR-FACE CATTINESS
The Characters: Actress Gretchen Barretto, businessman Tonyboy Cojuangco (her partner), and Imelda "Meldy" Cojuangco (Tonyboy's mother)
The Connections: Barretto is an actress who's very well-known in the entertainment industry. The Cojuangcos are one of the country's most affluent clans.
Opposing Sides: Gretchen Barretto vs. Imelda Cojuangco
Conflict Points: Ever since Gretchen and Tonyboy started their relationship, rumor had it that Meldy was against her son's choice of a partner. But it was not until Gretchen's interview with Tim Yap—which was published in the Philippine Daily Inquirer's October 2, 2004 issue—that the public found out the true extent of the rift. The article's title itself was already provocative—"Gretchen Barretto breaks silence about Cojuangco matriarch."
ADVERTISEMENT - CONTINUE READING BELOW
Gretchen slammed Meldy for not acknowledging her daughter, Dominique: "When Dominique was barely one year old, she came out again in the Inquirer. That was Mother's Day, and she did it deliberately. They would ask, 'How many grandchildren do you have?' She'll name each one of them. And when it comes to Tony, she'll say, 'With Tony, my grandchild is Patricia.' It was only one name. So, of course, she was insinuating that she did not and will not accept Dominique--and with that statement, she insinuated other things as well."
She revealed that Meldy cooked up schemes in an attempt to break up her relationship with Tonyboy: "[Meldy] would pay writers to come out with rumors like I am going out with a younger, cute guy and that Tony is going out with a younger, very pretty actress. That's always at the same time, every year. And I always did not comment. Because if I did, a lot of things would come out of my mouth, a lot of things that I will regret."
Gretchen likewise had a theory about what motivated Meldy to act the way she did: "I think she's competing with Dominique for Tony's attention. And it's sad because she can keep on trying—but she's not cute. My daughter is. I find it amazing how she continues to chant 'I don't accept Gretchen, I don't accept Dominique!' Madali naman akong kausap eh (I am easy to talk to). I have accepted that a long time ago. And I wish she could stop!"
ADVERTISEMENT - CONTINUE READING BELOW
Last but not least, Gretchen questioned Meldy's character: "First of all, she's not the best example that the world can offer. Really, you know? She's got legal cases to attend to—must I mention the legal cases? If my daughter finds out when she's old enough, I can just almost hear what she's gonna say. 'What a disgrace!' She tries to act like a queen, dressed in white, jeweled up, dolled up, when we all know that she was nothing but the alalay (roughly translated to "servant") of Imelda Marcos. I just want to remind her that she doesn't impress me at all."
By 2006, Gretchen was (understandably) more subdued when she revealed to The Philippine Star entertainment columnist Ricky Lo that she hand mended fences with Meldy. She said, "You know, I've never revealed it to the media but all's well between Tony and his mom, between me and Tony's mom, and between Dominique and Tony's mom. It's not important how we ironed things out. What matters is that everything is okay now, ayos na ang lahat (all is well). Tony is very happy now. I can honestly say with all my heart that my anger is gone, wala na akong galit (I have no more anger)."
---
DOMESTIC DISTURBANCE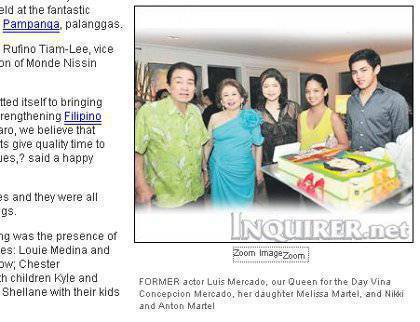 ADVERTISEMENT - CONTINUE READING BELOW
The Characters: Melissa Mercado Martel (daughter of actor Luis Gonzalez) and Robert "Roby" Puyat Martel (her husband, a businessman whose family owns-among other things-Harrison Plaza)
The Connections: Despite being retired, Melissa's father Luis Gonzalez is still known in the country's entertainment circles. Roby's family is known in business.
Opposing Sides: Melissa Mercado Martel vs. Roby Martel
Conflict points: In August 2003, Melissa was rushed to the hospital after she got shot in her own home. Initial reports alleged that she was apparently shot by Roby during an altercation.
A report published in The Philippine Star in 2004 documents what happened: "According to an executive summary released to the media by Melissa's lawyers, Roby Martel 'deliberately and with intent to kill, severely beat and shot' Melissa in their conjugal home on August 26, 2003."
The report went on to reveal that Melissa "was rushed to the Makati Medical Center and was confined in the intensive care unit for more than three weeks." Then, on December 3, 2003, "she was discharged after spending more than three months in the hospital." For the record, Roby said that Melissa got shot accidentally.
Melissa filed a frustrated parricide complaint against Roby on April 5, 2004 before the Office of the City Prosecutor of Makati City. On May 4 of the same year, Roby filed a robbery complaint against Melissa. The Philippine Star article revealed that according to Roby, "the robbery allegedly took place on January 13, 2004 in their abandoned conjugal home at the Ritz Towers." However, according to Melissa's lawyers, they took only "her personal belongings."
ADVERTISEMENT - CONTINUE READING BELOW
On July 1, 2004, then Department of Justice (DOJ) Secretary Merceditas Gutierrez issued an order designating Senior State Prosecutor Roberto Lao as acting city prosecutor of Makati to conduct the preliminary investigation of the complaint for frustrated parricide. On August 11, 2004, Lao issued a resolution recommending the dismissal of the complaint based on the affidavits of the security guards and on the affidavit of desistance signed by Melissa. On August 24, 2004, Melissa filed her appeal with the DOJ.
We tried searching for more news updates about the case but came up empty.
---
FACE OFF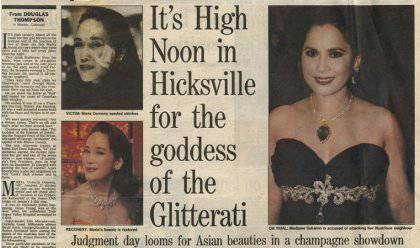 The Characters: Minnie Osmeña (granddaughter of former President Sergio Osmeña) and Dewi Sukarno (one of the wives of former Indonesian leader Sukarno)
The Connections: Osmeña is from a politically well-connected clan. She is also the ex-wife of Carnation heir Dwight Stuart. Sukarno, who is Japanese, became "an international social butterfly" after the 1967 coup that ousted her husband, who died in 1970.
ADVERTISEMENT - CONTINUE READING BELOW
Opposing Sides: Minnie Osmeña vs. Dewi Sukarno
Conflict points: In the article, "It's high noon in Hicksville for the goddess of the Glitterati," Douglas Thompson wrote that in January 1992, there was an altercation between Osmeña and Sukarno at the Primavera Restaurant at the Aspen Club Lodge in (yes) Aspen, Colorado.
Thompson noted: "The lady otherwise known as Ratna Sari Dewi Sukarno, '53' (our quotation marks), the former Japanese bar girl and one of the seven wives-now widows-of Indonesia's first President, goes on trial here on December 15, 1992, charged with gashing the face of another Asian beauty who is also her neighbor on New York's Park Avenue and in Paris."
Sukarno had reportedly attacked Osmeña in the face with a wine glass, "leaving a gash that needed 37 stitches to repair." Thompson pointed out: "It was an extremely public happening. Ivana Trump was at the door when the ambulance from Aspen Valley Hospital screeched to a stop. Supermodel Elle Macpherson, Cornelia Guest, billionaire oilman David Koch, George Hamilton and Barbra Streisand were among the guests of the Austrian host of the private party, Prince Heinrich Han-au-Schaumburg."
Thompson also provided the alleged "story" behind the Osmeña-Sukarno encounter: "It's been widely reported that Madame Sukarno insists that Minnie Osmeña called her 'a whore.' The bad feeling between the two apparently began in the summer of 1991 when the two beauties were off Ibiza on the yacht of the Marquis de Campo-florido." Sukarno was eventually sentenced to 60 days in the Aspen country jail.
ADVERTISEMENT - CONTINUE READING BELOW
---
This story originally appeared on Spot.ph. Minor edits have been made by the Esquiremag.ph editors.
More Videos You Can Watch