See Inside Manny Pangilinan's Hong Kong Apartment
In Hong Kong, the tycoon has an elegant yet homey 357-square-meter apartment, which features lucky colors, prized works of art, and opulent furniture.
IMAGE RENE MEJIA
Have you ever wondered how business tycoons relax and take a break? For a man as busy as Manny Pangilinan or MVP as many call him, a well-furnished apartment on the slopes of The Peak in Hong Kong serves as a welcome escape.
Aside from its prime location and the special pieces that complete it, the space offers privacy and anonymity—two things that anyone would appreciate. In creating a home that can help him forget about stress and the demands of work, Manny followed a few feng shui principles, chose soft colors that add to the calming feel of the place, and opted for luxurious yet cozy pieces of furniture.
With the help of a Feng shui adviser and an interior designer based in Hong Kong, the apartment became an inviting space that reflects the peaceful and laid-back life he longs for. Scroll below for a look inside the well-furnished apartment on the slopes of The Peak in Hong Kong.
The 357-square-meter apartment faces Victoria Harbour.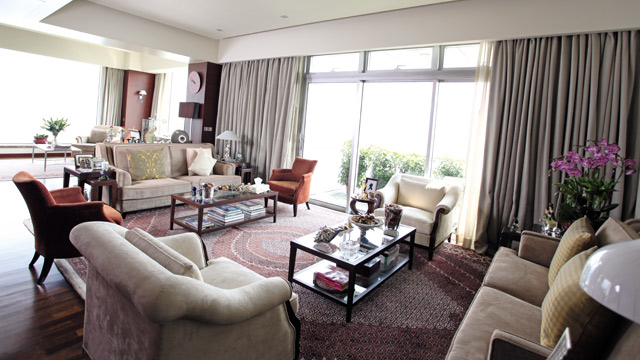 ADVERTISEMENT - CONTINUE READING BELOW
Bathed in natural light, the living area with a view is cozy and inviting. Since the building faces Victoria Harbour, MVP and his guests have unlimited access to Hong Kong's skyline. To make the home more auspicious, it underwent a transformation. Different feng shui principles were taken into consideration during its renovation. "That's why it's all beige. We sort of tore down windows and walls to make some rooms bigger. And then we needed to redecorate the walls, so on and so forth," he says. (FYI: Beige falls under the earth element for nourishment and stability. Beige is believed to create stability and calm protection for one's relationships.)
The large living room is ideal for entertaining guests and friends.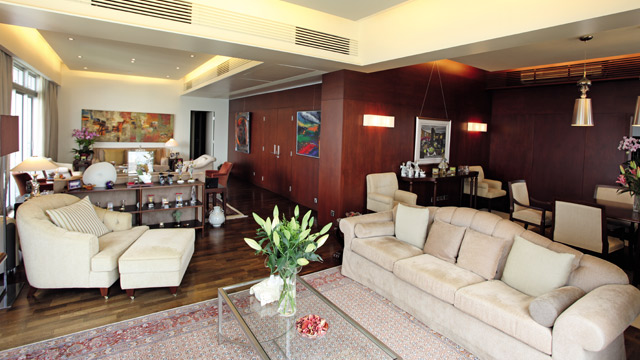 MVP loves the apartment's large windows as these let in plenty of natural light. "I don't like rooms without windows. Sometimes din kasi, I would read here. I also read the papers before going to sleep. A room looks more spacious when it has picture windows," he shares.
ADVERTISEMENT - CONTINUE READING BELOW
Recommended Videos
Aside from the living area, there's also a sitting area where visitors can stay and take in the view.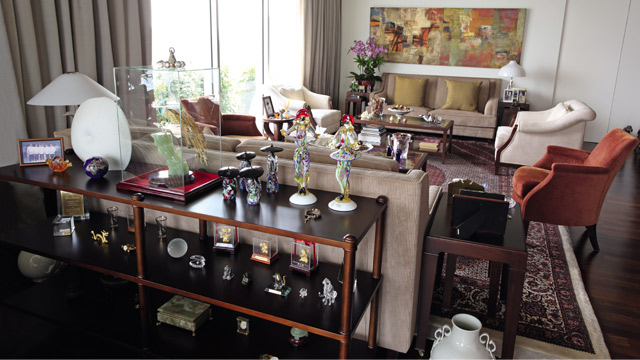 Adding color to the apartment are MVP's prized works of art: abstract paintings dominate the apartment and the businessman's Hong Kong office. An artwork by painter Ivan Acuna livens up the wall behind the sofa.
Pangilinan's living room includes a work area.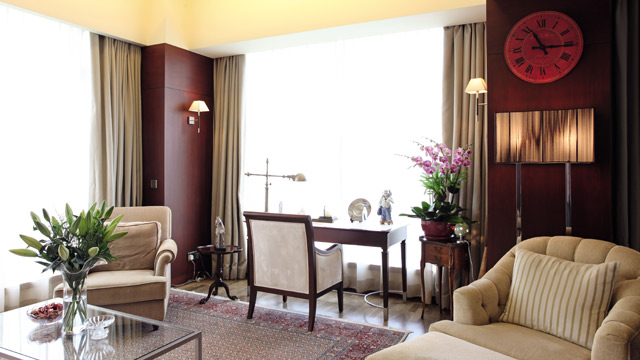 ADVERTISEMENT - CONTINUE READING BELOW
A self-confessed workaholic, MVP admits that there are days when he brings his work home. This nook features a table with a white-leather top and a comfortable chair. Both pieces follow the apartment's color scheme.
A sleek table lamp, a personalized nameplate, a Buddha figurine, and a jade figurine can be seen on the desk.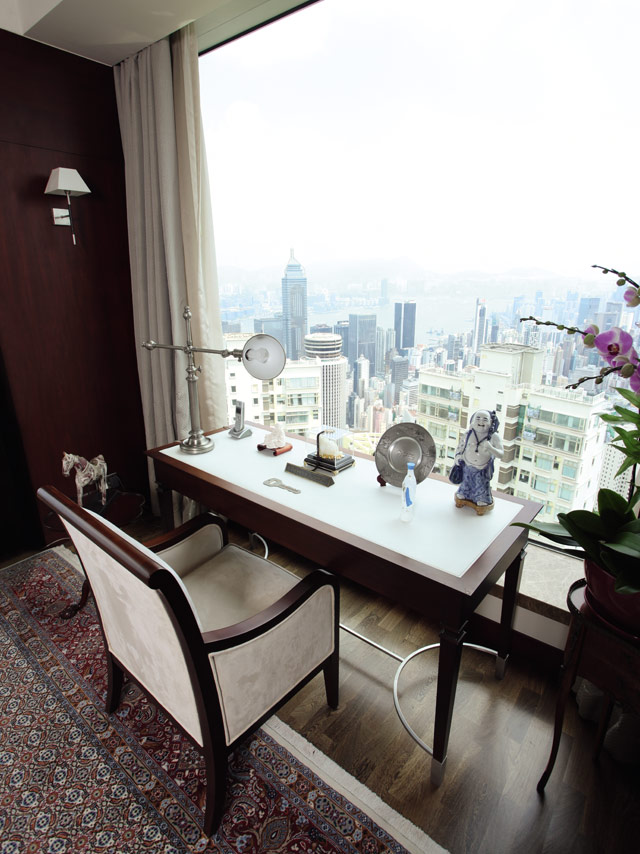 With a desk as beautiful as this and an unparalleled view of the city, we're sure he can finish his tasks efficiently. "With that kind of view, how can you not like sitting at the desk, di ba? It's good to work there kasi it faces the harbor. It's nice when you look out," he shares.
The dining area's walls and the six-seater dining table showcase a deep cherry-red finish.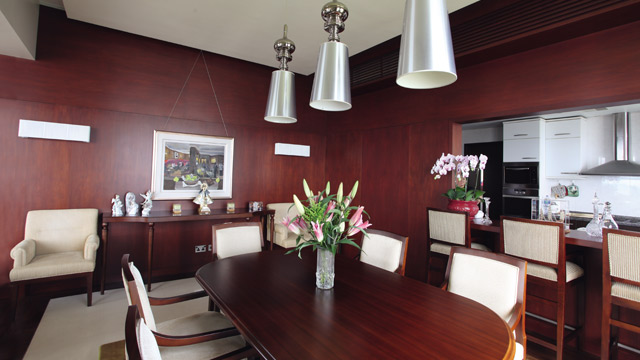 ADVERTISEMENT - CONTINUE READING BELOW
The deep hue pairs well with the neutral colors seen in the space, keeping it from being monotonous. MVP actually likes the color as it adds warmth and personality to the area. On one side of the dining area is a console table that holds a statuette of Our Lady of Manaoag, Lladro angel figurines, and rosaries. Lladro is a Spanish brand known for its art porcelain figurines.
A trio of pendant lights in sleek chrome finish hangs above the dining table.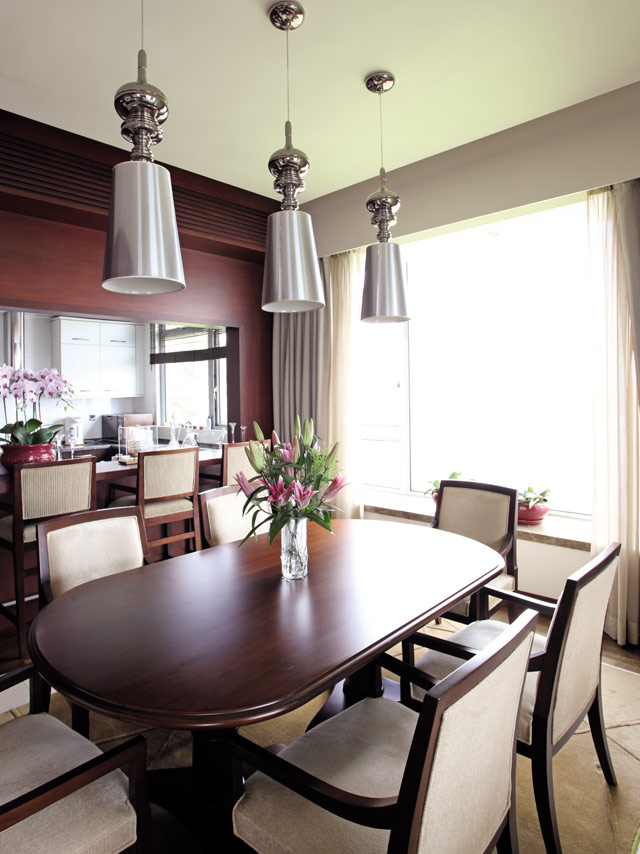 The master bedroom is reminiscent of a suite in a five-star hotel.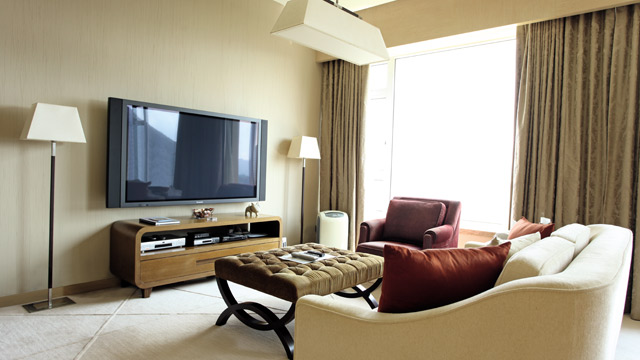 ADVERTISEMENT - CONTINUE READING BELOW
A combination of three bedrooms, it occupies a space as a big as the living and dining areas. During renovation, walls were knocked down so that a lounge area and a walk-in closet can be incorporated into the private space. The lounge area is snug and ideal for days when MVP simply wants to unwind. It has a beige couch, a maroon wing chair, and a tufted ottoman that also functions as a footrest. To make the bedroom as serene as possible, it is also completed with a wall-to-wall beige carpet, while heavy drapes dress up the windows.
Natural light streams in and makes the space perfect for rest and relaxation.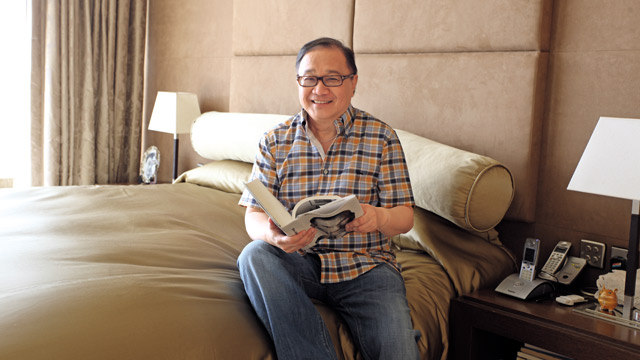 Since MVP considers the bedroom as the most sacred part of the house, he leaves all business-related concerns at the door. For a restful slumber, the businessman has a king-size bed with a padded headboard.
Pangilinan's tailor-made suits, long-sleeved shirts, shoes, and other essentials are neatly kept in a walk-in closet.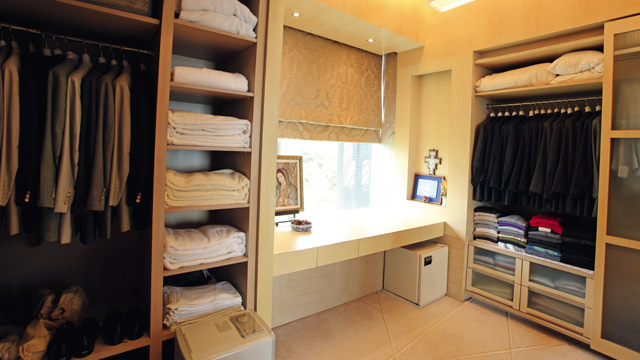 ADVERTISEMENT - CONTINUE READING BELOW
The area follows an efficient organizing system.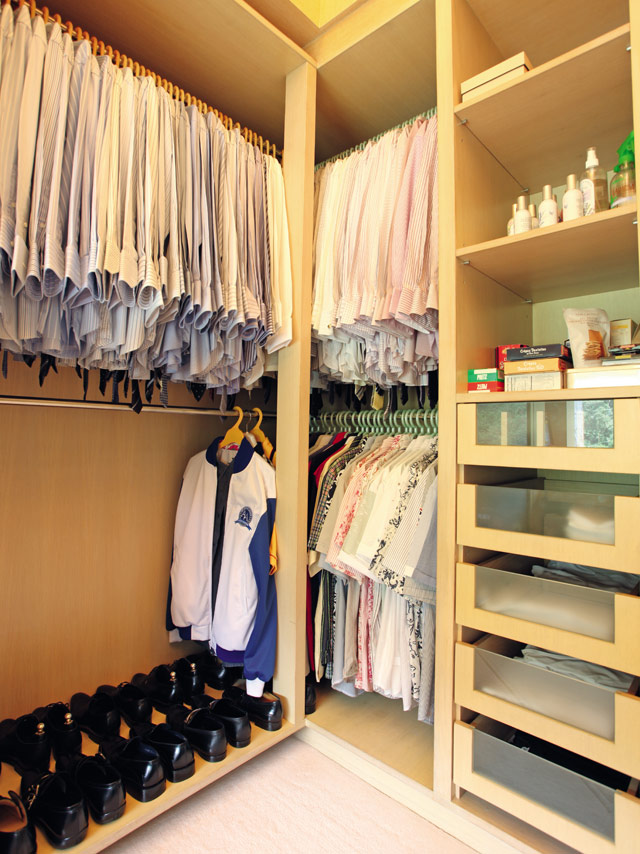 It's easy to note how spic-and-span the closet is. Suits go in one corner and long-sleeve shirts in another; even pants are arranged per type.
The first guest room has a view of the outdoors and is furnished with a comfortable bed, a side table, and a sleek lamp.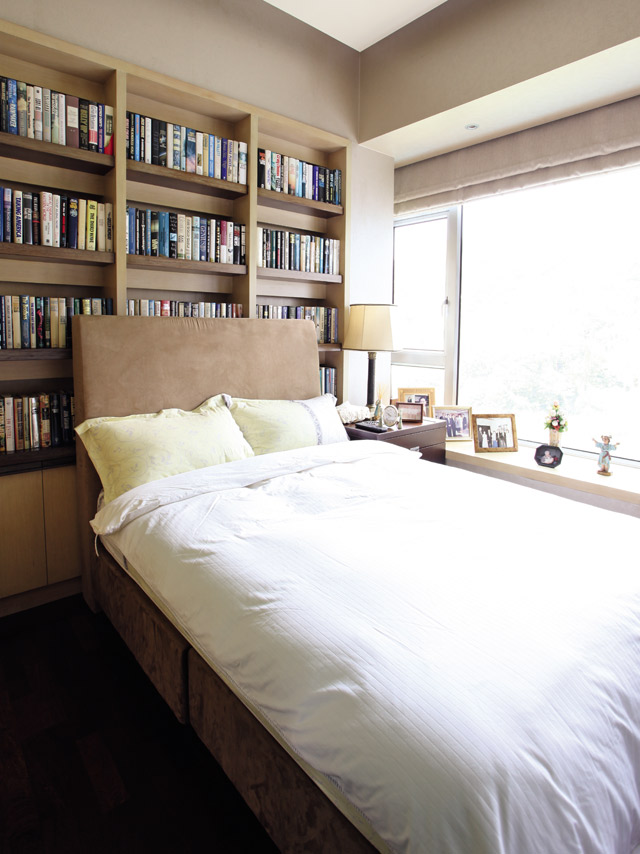 ADVERTISEMENT - CONTINUE READING BELOW
MVP keeps most of his books in the first guest room. We can't help but admire the organized shelf.
A second guest room is also furnished to welcome friends and visitors.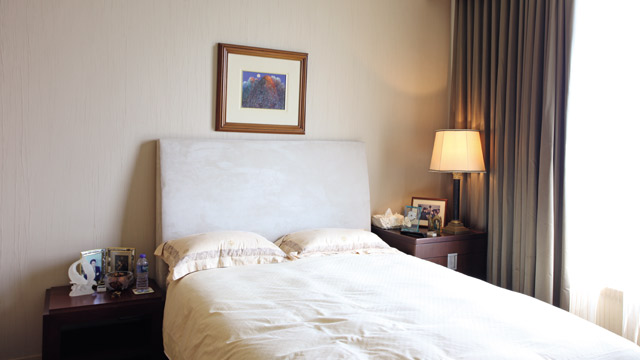 According to Pangilinan, the room is hardly ever used as he seldom entertains guests. Nevertheless, it's still furnished to welcome friends and visitors.
From: Real Living

More Videos You Can Watch