Ashton Kutcher is in pain. He's been running for ten miles through the streets of Brooklyn, surrounded by thousands of people, and suddenly his body is sending him an emergency distress signal. Kutcher is battling his way through the New York City Marathon on an uncharacteristically humid late-fall morning. The high of 75 degrees is tied for the hottest November 6 on record in New York. But Kutcher isn't focused on the weather. It shouldn't be a factor anyway. He's been prepping for this race all year in balmy Los Angeles, and he did a gnarly twenty-miler in Palm Springs in temps twenty-some degrees above this. None of that is on his mind at this moment. No, all Kutcher can think about right now is the stabbing pain in his side.
Boiler suit by Hermès; vintage Double RL shirt, stylist's own; vintage T-shirt, stylist's own; neck kerchief by AMI.
ADVERTISEMENT - CONTINUE READING BELOW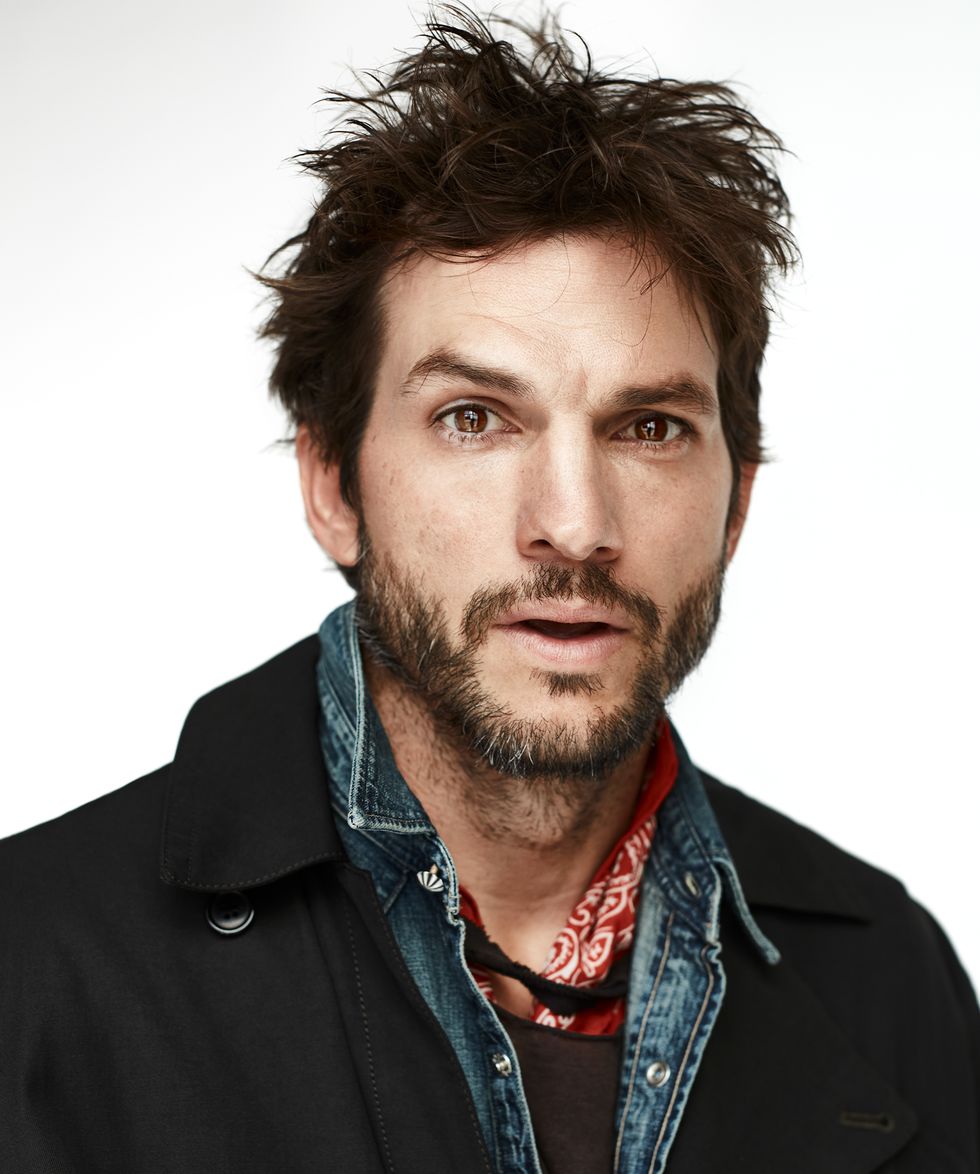 He's got to do something. There are still more than sixteen miles to go to complete his first marathon ever. People are watching. Lots of them. There's money on the line, too: He's running in support of his nonprofit, Thorn. But Kutcher is also here on another mission. A private one. Three years after a sudden and severe autoimmune disorder knocked him flat on his back and into the hospital, he wants to make sure he isn't just recovered but better than ever. Quitting is not an option.
Kutcher slows down. Breathes. In and out. Tells the friend who was pacing him to go on ahead without him. Slows down even more. Suddenly, he spies a group of Hasidic men running across the road. And then, Kutcher talks to God. "If you need me to have this side stitch to finish this race, then give me every ounce of pain you could possibly give me," he says. He accepts this pain, promises to carry it across the finish line. Unless, of course, God can do something about it. "If you don't need me to have it," Kutcher adds, "take it away."
Does God answer? That's up to you to decide. But a remedy arrives almost immediately: A burp. A fart. The stitch is gone.
---
Two months later, back in Los Angeles, Kutcher is relishing the memory of that marathon moment. When something amuses Ashton Kutcher, it's easy to tell. Big—no, huge—smile. Animated hands. Eyebrows raised and face wide open. He loves that his side stitch hurt so bad. That he didn't stop. That he accepted. That God sent a fart to ease his burden.
ADVERTISEMENT - CONTINUE READING BELOW
He's telling me the story over lunch at the Soho House in West Hollywood, not far from his Beverly Hills home. It's pouring rain—the beginnings of an unnervingly wet January on the West Coast—and Kutcher is dressed casually. Black beanie, red flannel shirt, blue jeans, and a pair of black Converse sneakers that look so fresh I refuse to believe they've ever been worn before. A half-demolished margherita pizza sits in front of him. He's slender, more so than I expected. His stubble is flaked with gray.
Kutcher, forty-four, has been famous, extremely so, for a quarter century. But it's been a while since audiences have seen him onscreen. Nine years since his last feature film, save for a brilliant performance in a supporting role last year in Vengeance, B.J. Novak's directorial and screenwriting debut. And it's been three since his last recurring TV role. Kutcher admits that the thought crossed his mind that, maybe, "I'm done." Not that he would have announced any sort of retirement. He doesn't get why anyone does. "You don't have to tell anyone!" Kutcher says, by way of PSA to his peers. "Enough already."
ADVERTISEMENT - CONTINUE READING BELOW
It's for the best that he kept his retirement thoughts private—because Kutcher is back in a big way. He is starring opposite Reese Witherspoon in the romantic comedy Your Place or Mine, out February 10 on Netflix. And elsewhere on the platform, he's currently going viral for reprising the role that first catapulted him into the public consciousness—Kelso on the sitcom That '70s Show—in the first episode of the streamer's well-received reboot, That '90s Show.
While the roles he has chosen for his acting return are familiar, he's approaching the work from a whole new vantage point. After an early career that saw him take on movie after sitcom after reality show—always grinding—and a decade-plus of frenzied tabloid attention, Kutcher is settled now. Free. He's married to an old friend who became a life partner, and he's enjoying fatherhood. Kutcher is very much financially independent, too, thanks in no small part to his wildly successful second career in venture-capital investing.
ADVERTISEMENT - CONTINUE READING BELOW
Coat by The Row; vintage Champion T-Shirt, stylist's own.